Unveiling the Secret Behind Pepperoni's Spiciness: 2+ Reasons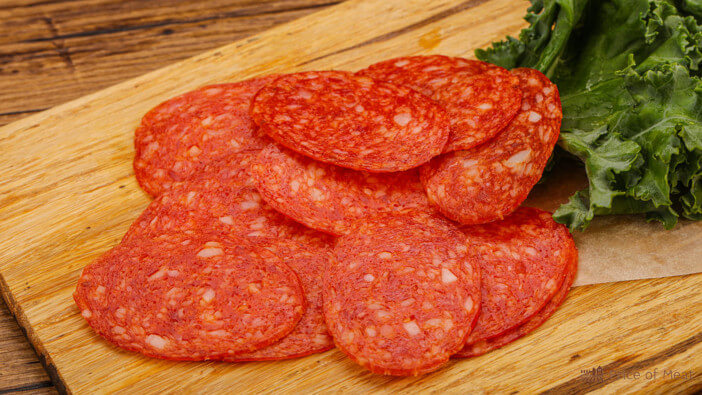 According to Science Direct, cooked pepperoni can be made within one day and is one of the most highly produced cooked meats on a large scale.
More than 251 million pounds of pepperoni are consumed annually by Americans. However, some people do not prefer the taste of pepperoni because it is spicy. So why is pepperoni spicy? Continue reading to learn more:
Disclosure: As an Amazon Associate, this site earns from qualifying purchases. Thank you!
What does pepperoni taste like?
Quick Sidenote – check out our shop for a curated selection of the best meats, cuts, sausages, and more. Open our shop in a new tab and explore!
Pepperoni is cured with salt, lactic acid, and spices, giving it a spicy, tangy, and salty flavor. In addition, pepperoni can be chewy, which is why it is often thinly sliced.
Many factors go into the flavor profile of pepperoni, and below is a list of the many reasons pepperoni has a spicy flavor.
1. The Spice Blend
Various spices are used to create pepperoni, each giving the meat a distinct flavor. Below is a list of spaces used in making pepperoni and how they affect the meat's look, texture, and taste.
Paprika: Creates the bright red color
Black Pepper: Provides a distinct aroma and flavor
Salt: Acts as a curing agent and adds flavor
Garlic: Helps balance spicy and peppery flavors
Mustard Seed: Provides texture
Cayenne Pepper: Provides heat to the meat, spicing it up
Sodium Nitrate: Acts as a curing agent to help prevent the growth of unwanted bacteria
The spices that make pepperoni "spicy" are generally the black pepper and cayenne pepper. However, it's also the interplay among all the spices, plus one other major contributor.
2. The Bacteria
The mixture of bacteria, a culture of lactobacillus bacteria, used to create pepperoni helps give the meat its tangy flavor. This bacteria is the same bacteria used to make yogurt and cheese.
FAQs about Spicy Pepperoni
Is pepperoni supposed to be as spicy as it is?
Pepperoni is pork or beef sausage seasoned with pepper and is crafted to be spicy. Often cayenne pepper is added, providing a concentration of spicy flavor to the meat, which is the key ingredient making pepperoni so spicy.
What is the main spice in pepperoni?
The main spice in pepperoni is paprika, which helps give the meat its bright red color. Paprika might be the primary spice in pepperoni, but it is not the ingredient that makes it spicy. Instead, cayenne pepper is the main ingredient that adds zesty flavor to pepperoni.
What makes pepperoni taste like that?
The cayenne pepper is the main reason behind the meat's spicy taste and, when combined with the other ingredients, creates the unique flavor pepperoni is known for.
Can you freeze pepperoni?
Pepperoni can be frozen, allowing for long-term storage of the cured meat. Though it does not need to be frozen, pepperoni placed in freezer bags can last for up to eight months to one year in the freezer.
How long can you store pepperoni in the fridge?
Whole and unopened pepperoni can be stored in the fridge indefinitely. After the pepperoni packaging is opened, it can last for about three weeks in the refrigerator. Check the packaging of the pepperoni because some do not have the phrase "keep refrigerated" on them, which means it can be safely stored in a pantry and at room temperature.
Can I store pepperoni at room temperature?
Depending upon the turkey you have affects how long it can be left out at room temperature. Pepperoni products, such as sticks that are sold unrefrigerated, can sit out at room temperature until the expiration date. Sliced pepperoni and products sold refrigerated should not sit at room temperature for more than two hours.
Where can I buy pepperoni?
Pepperoni can be purchased at most grocery stores in the meat or deli section. Additionally, most butcher shops, meat shops, and delicatessens have sliced pepperoni available for customers to purchase. Finally, pepperoni can be found in the supermarket's refrigerated and non-refrigerated sections, offering various options.
Why is pepperoni red?
Pepperoni comes from the Italian word peperone, for bell pepper; this meat resembles salmi but has a distinct flavor and coloring. Pepperoni is primarily red because of the cayenne pepper and crushed red pepper seasoning, which enhances the taste and texture of the pepperoni. Additionally, the use of paprika in the creation of pepperoni helps add to the red color of the meat.
Does pepperoni have red dye in it?
Though most of the pepperoni's red color comes naturally from the pepper and paprika used to season the meat, some manufacturers use red dye to help make the red color more vibrant. Most pepperoni manufacturers use the food coloring called Red Dye 40, also known as Allura Red AC.
The red dye used in creating pepperoni should not concern you because it is relatively safe to consume and is the most commonly used food additive today. However, Red Dye 40 has been linked to some allergies and can impair the behavior of children with ADHD.
How can you cook pepperoni?
Pepperoni has far more potential than being added to a pizza or served with cheese on a platter. Pepperoni can be chopped up and added to stuffing for a spicy flavor or added to rice for a pop of color. Some people like pepperoni in their pasta sauce and served with their favorite noodles.
Pre-cooked pepperoni can be used on sandwiches (like salami) or salads to add a salty, spicy flavor profile.
Where can I purchase the best pepperoni possible?
Grocery stores carry various types of pepperoni, but it is best to find a local Italian grocery store or deli that makes sausages in-house for the real primo stuff. Some butcher shops also make their pepperoni, which is another excellent place to purchase top-notch pepperoni.
What is the best pepperoni to purchase?
The best place for the top-of-the-line pepperoni is to buy a house-made link from a local Italian grocery store, deli, or butcher. If house-made pepperoni is unavailable, the next best option is looking for artisanal brands, such as Vermont Smoke & Cure and Citterio, both available nationwide and through online ordering.
Grocery stores' deli departments have high-quality pepperonis available, such as Hormel and Boar's Head, which are very flavorful and close to the pepperoni available at a butcher or Italian grocery store.
Bestseller No. 1
Bestseller No. 2
Bestseller No. 3
Bestseller No. 4
Hormel Original Pepperoni Slices, 3.5 oz. (Pack of 10)
Includes 10, 3.5-ounce pack of ready-to-eat HORMEL Pepperoni Original; Packaged for freshness
Deliciously crafted, pre-sliced pepperoni made from select cuts of pork and beef, plus the perfect blend of spices​
Enjoy the classic zesty flavor that comes from our traditional method of crafting dry sausage​
Every 14-slice serving of pepperoni delivers 5g protein, 0g carbs​ and is naturally gluten free
Makes a tasty addition to any pizza, pasta, cheese board, deli meat platter and more; the flavorful possibilities are endless​
Bestseller No. 5