Chinese dumplings are one of those fantastic dishes you can enjoy with just about anything (in my opinion). But, with so many possibilities, it's understandable to feel a bit overwhelmed.
Whether cooking dumplings from scratch or heating up premade frozen dumplings, there are many delicious sides to eat with Chinese dumplings.
Now, I should point out that the term "Chinese dumpling" is pretty broad. Some folks confuse traditional Chinese dumplings for potstickers.
But, while both have an outer layer of dough with an inner layer of meat, beans, or vegetables, potstickers are a version of dumplings with a crispy outside, whereas dumplings are soft.
There's a rumor about the origin of potstickers being the result of a Chinese chef who intended to boil jiaozi (dumplings) in a wok but got distracted only to return and find all the water had boiled away (thus creating a good dumpling steamer).
The dumpling is said to have been stuck to the pan and had become crispy, earning its name "potsticker," which translates in Chinese to "stuck to the wok."
You'll find many side dishes that taste good with traditional Chinese dumplings and also work well with potstickers.
Below we answer what to eat with Chinese dumplings with 25 mouthwatering recommendations.
What Are Some Sides To Eat With Chinese Dumplings?
Soups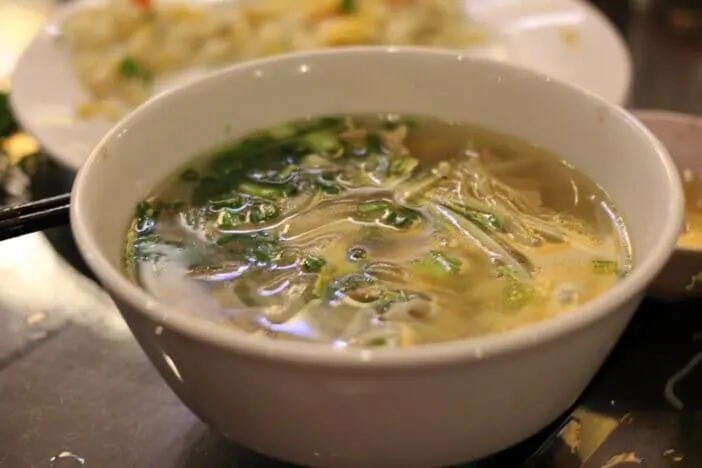 Traditional egg drop soup is one of the all-time best side dishes for Chinese dumplings, and this recipe allows you to make authentic egg drop soup in only 15 minutes.
Many, it's tradition to dunk your dumpling in the soup, which has sweet corn, diced carrots, egg, and just a hint of ginger and garlic.
This Chinese chicken noodle soup recipe has delicious lo mein noodles and chunks of chicken swimming in a savory seasoned broth with green onions and napa cabbage.
You can make this incredible Thai coconut soup recipe from scratch in minutes using just a few simple ingredients. Plus, you can make the broth as mild or spicy as you like. This dish is loaded with chewy noodles, shrimp, and an assortment of delicious toppings.
This hearty, tangy, spicy soup is simply a bowl-filled delicious comfort. And this incredible Indo-Chinese recipe can be ready in about 15 minutes. You just need a few Asian sauces, some veggies, and chicken.
Hong Kong-style borscht soup (also known as Lou song tang) is a favorite local soup sold in many Hong Kong cafes. This recipe is pretty simple. However, it does take over an hour to make this tasty dish.
Salads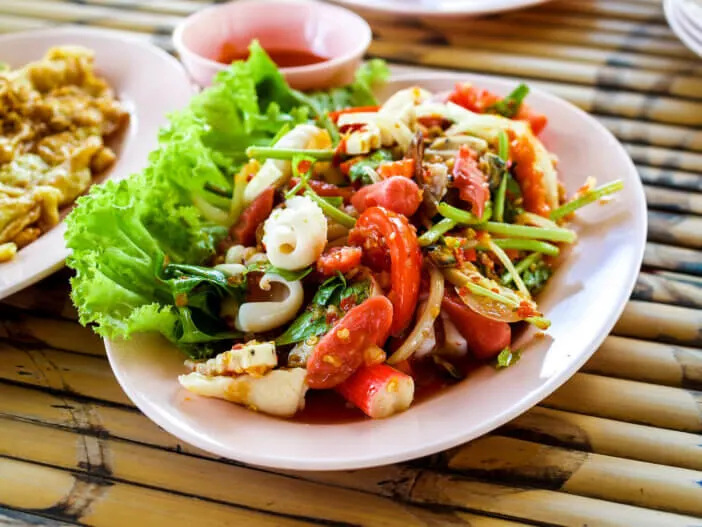 Here's a fun Chinese cole slaw recipe that mixes Napa cabbage, shredded carrots, green onions, water chestnuts, and toasted sesame seeds in a zesty, delicious slaw sauce.
This flavorful, fresh salad delivers a satisfying crunch. It's made using two kinds of cabbage, toasted ramen noodles, thin-cut almonds, and a tangy and sweet dressing. You can whip this up in minutes, and the crunch is terrific with your Chinese dumplings.
Here, we have a simple Asian cucumber salad that is refreshing and cool with crisp seasoned cucumbers that perfectly complement the flavor of many dishes, including Chinese dumplings.
Thai Quinoa Salad features a crunchy mix of healthy quinoa tossed with colorful mixed veggies in a creamy almond dressing that makes for a leisurely lunch or dinner alongside your Chinese dumplings.
Hot, juicy, plump fried shrimp topped on a deliciously creamy and sweet fruit salad is the stuff dreams are made of. Add a plate full of your favorite Chinese dumplings, and you've got yourself a seriously delicious situation on your hands.
Cooked Vegetable Sides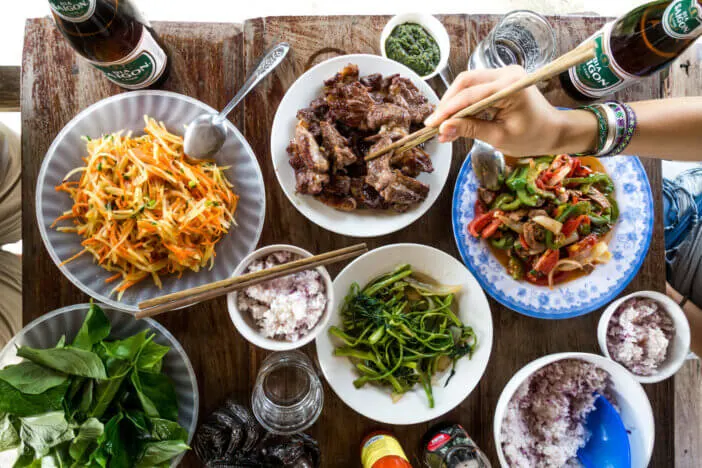 Here's a simple and fast recipe for roasted broccolini using fresh herbs, ready to eat within minutes.
This tasty cross between traditional and Chinese broccoli has long, flavorful stems with small florets at the end. The taste is a little sweeter and more mellow than conventional broccoli.
When cooking stir-fry snow peas, you can opt to boil them or cook them in your pan. Pre-boiling does cut down on the stir-frying time and makes them crisper while allowing them to keep their light green color.
Bok Choy is a type of Chinese cabbage that's very easy to cook. The leaves are crisp with a grassy, mildly bitter flavor. The texture gives a nice, crispy celery-like crunch, and it's a great co-star for your Chinese dumplings.
Asian green bean salad is another popular side dish you can pair with your Chinese dumplings.
This flavorful experience features fresh green beans seasoned with fresh ginger, sesame seeds, garlic, and many other ingredients to deliver an out-of-this-world flavor!
This unique Chinese veggie stir fry features hearty shiitake mushrooms, sweet bell peppers, crunchy broccoli, and a unique, garlicky, gingery, brown sauce that's lip-smacking good.
Noodles and Rice Dishes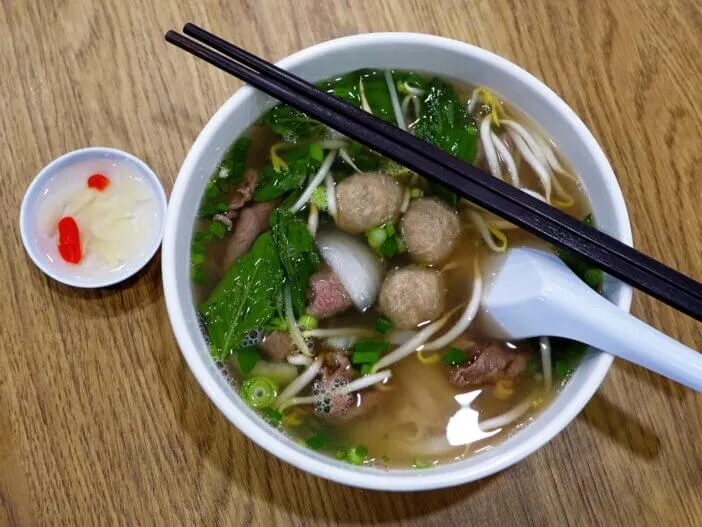 Look no further than this recipe for red sriracha quinoa for a hot and spicy Chinese dumpling side dish. This vegan and gluten-free dish isn't for the faint of heart as it features some taste-bud popping flavor that will have you reaching for water.
Check out this super-easy 15-minute recipe for sesame ginger noodles, loaded with bold ginger flavor and lots of tasty veggies like bok choy. You can also substitute the bok choy for any green veggie you have on hand.
Just about every Asian country has its own version of fried rice, and this one is a Japanese recipe called Yakimeshi that features Japanese short-grain rice, seasoned meat, and egg. The seasonings are simple: salt, pepper, soy sauce, toasted sesame oil, and scallions.
Coconut rice has a creamier texture than regular white rice with just a suggestion of coconut flavor. It's a fantastic side dish for Chinese dumplings as it enhances the taste of your favorite fillings without overpowering your main dish.
Another fantastic spicy side dish for Chinese dumplings is this recipe for sweet and spicy noodles. The creamy, sweet, and spicy sauce really blends together with the red bell peppers, fresh carrots, crushed red pepper, and cilantro.
Other Great Sides To Eat With Chinese Dumplings
Scrambled eggs aren't just a breakfast food. You can turn them into a great side dish for your Chinese dumplings by mixing in some zucchini and a few simple seasonings.
If you love fried rice but hate carbs, this recipe for cauliflower fried rice is just what you need. Of course, your Chinese dumplings also count as carbs, but let's just call that a "cheat meal." One forkful of this substitute will make you a believer!
For more veggie goodness, check out this vegetarian summer roll recipe featuring three different homemade dipping sauces.
These rolls are perfect whether you pair them with meat or Chinese veggie dumplings, and the dipping sauces are positively addictive.
These sweet and sour chicken balls work well with any type of dumpling. My favorite is pairing them with veggie dumplings to get a good mix of meat and vegetable flavors.
For those who say they don't love tofu, this recipe for tofu scramble can change a few minds. It's loaded with unique flavors, and you can add it on top of crackers, rice, bread, or whatever you want. This is a great healthy companion for your Chinese dumplings.
How do you serve dumplings for dinner?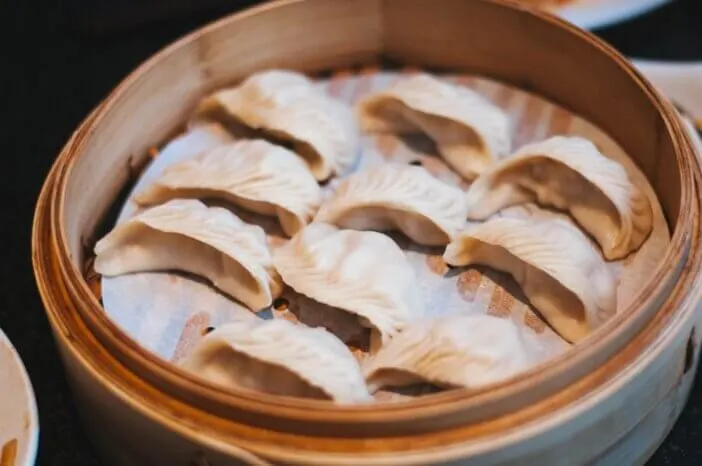 Some ideas for serving dumplings for dinner include:
Serve in broth with noodles
If you're using wontons or boiled potstickers, you can serve them as an alternative version of wonton soup. Plus, you can add veggies like bok choi to make the recipe even healthier.
Smother in chili oil
This is the classic way to enjoy Chinese dumplings. There's nothing like boiled dumplings smothered in spicy chili oil.
But, if you're not into spicy, you can also substitute the chili oil for sweet chili sauce, which tastes amazing on fried dumplings.
Pan fry and serve on top of udon noodles with stir-fry sauce
Just top with sesame seeds, Japanese mayo, onion, plus more chili sauce. This is how a London-based food cart called "The Gonza Guys" serves theirs.
Serve in a stir-fry
Much like pan-frying, but you're just adding more veggies / meat to the party with some good sauces.
Serve on top of jasmine rice along with sauteed veggies
This is a very simple and quick way to serve dumplings, nothing too fancy. Top with the sauce of your choosing and dig in.
Serve as a side dish for ramen
You can also serve dumplings as a stand-alone side dish for other dishes, like a hot bowl of steaming ramen.
FAQs about Dumplings
What is a good side dish with potstickers?
Good sides for potstickers include: Fried Rice, Chinese Broccoli, Mochi, Veggie Stir-fry, Egg Drop Soup, Fresh Spring Rolls, Fried Greenbeans, Kimchi, Ube, Char Siu Roasted Eggplant, Fried Sesame Balls, and Hot and Sour Soup.
What do you serve with Gyoza dumplings?
Here are a couple of great side dishes to serve with Gyonza dumplings: Japanese fried rice (Yakimeshi), Crispy seaweed kale, Japanese curry, Japanese potato salad, Teriyaki Chicken, Miso soup, Pan-fried sesame garlic tofu, Carrot kinpira, Ramen, and Sautéed green vegetables.