What Is Bologna Cake? How Do You Make a Bologna Cake?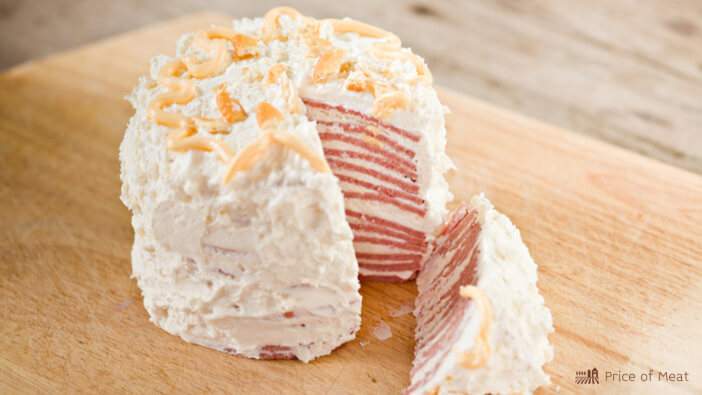 There are many foods that not everyone has heard of, and some of them might seem pretty strange. For some people, bologna cake might seem pretty unusual.
When many people hear "bologna cake" for the first time, they think of a sweet birthday cake with bologna on top.
While bologna cake is a cake, it's not the kind of cake that you might think of. Here is a complete overview of bologna cake. 
Disclosure: As an Amazon Associate, this site earns from qualifying purchases. Thank you!
Quick Sidenote – check out our shop for a curated selection of the best meats, cuts, sausages, and more. Open our shop in a new tab and explore!
What is Bologna Cake?
Bologna cake is a popular southern dish that is made as a savory appetizer and served at family gatherings and other get-togethers.
In order to make bologna cake, large amounts of bologna slices are piled on top of one  another, with cream cheese or other types of creamy cheese in-between each slice of bologna to hold them together and form it into the mold of a cake.
Bologna cakes are typically decorated with "frosting" made from various types of cream-based cheese. From afar, a bologna cake often resembles a regular birthday cake, but viewed up close, most people can tell it's savory instead of sweet. 
Where Did Bologna Cake Originate?
It is not 100% clear where bologna cake originated, because some say that the first bologna cake was made with the City of Bologna in mind, which is in Italy.
Some sources in Italian history even state that bologna cake is a sweet cake that doesn't contain actual bologna, but flour, sugar, and butter, instead.
Other sources state that bologna cake actually originated in Alabama, and what started out as a joke became a delectable favorite that provides enough appetizer servings to feed a large group. There's also evidence that it started in Indiana or even New Jersey.
Is Bologna Cake Good?
For people who enjoy eating bologna as well as cream cheese and ranch, bologna cake is probably delicious. On the other hand, for people who don't like salty processed foods, then they will probably not enjoy eating this "cake."
Most people who have eaten it, however, enjoy it immensely, as they state that the saltiness of the bologna and cheese go well together and that it's fun to eat. 
How Do You Make a Bologna Cake?
 It is quite easy to make a bologna cake, but it takes a while to stack the bologna slices and slather on the cheese. There are some variations in the recipe for this "cake," but most of them call for three simple ingredients: bologna, cream cheese, and ranch.
Cheese Whiz is often used to decorate the cake. To make bologna cake, simply mix the softened cream cheese with ranch and use it to spread it between slices of bologna as you stack the "cake" as high as possible.
Once you've added the last piece of bologna to the stack, use the ranch and cream cheese mixture to "ice the cake." Be sure that all the bologna is covered.
Use Cheese Whiz to decorate the top of the "cake" if you like, but this ingredient is optional. You could also decorate the top with olives or another vegetable, if you desire. 
A popular variation is to omit the ranch dressing and use onion powder to mix with the cream cheese instead.
However, you can be as creative with your bologna cake as you desire, so you can use any combination of different savory ingredients to create the perfect bologna cake.
Before you begin assembling the cake, be sure to completely dry each piece of bologna. You don't want excess moisture to ruin your "icing".
How Do You Eat Bologna Cake?
Since bologna cake is usually served as an appetizer at a gathering, it's going to be cut into many individual servings.
Simply thinly slice the "cake" and place it on each plate. People will likely come back for more because it's such a tasty and unique food. 
What is Bologna Made Of?
Many people no longer enjoy eating hotdogs or bologna after finding out what it's made of. Cheap brands of bologna are made from all parts of the pig (or chicken and beef) and ground together with seasoning before being shaped into round discs of meat.
The meat that is ground into cheap bologna includes parts of the animal that aren't very appealing to most people, like parts that would normally be thrown away. 
Of course, there are also premium variations of bologna that aren't made with meat that is usually discarded.
These premium bologna brands are made with only the best parts of the animal, which often tastes a lot better than ground up tendons and muscles.
When and Where Did Bologna Originate?
Bologna lunch meat evidently originated in Italy, after sausage became popular. This happened in the 1600s, and then somehow people in Canada and America found out about bologna, and it became a hit.
Not only was bologna new, tasty and versatile, but it has always been very affordable, which is one main reason why it became so popular. 
FAQs about Bologna Cake
Here are the answers to some common questions that people might have about bologna cake and bologna in general.
Do people make bologna cakes only in the south?
No. Bologna cakes only supposedly originated in the south, but people throughout the United States have a fondness for bologna cake as well as bologna in general, so people all over love this u0022cake.u0022
Isn't bologna really pronounced u0022baloney?u0022
Even after all these years, people are still confused about the spelling and pronunciation of bologna. For some reason, this popular lunch meat was named after the city of Bologna, but pronounced u0022Baloney.u0022 This is thought to have happened due to the dialect in Italy and people had difficulty pronouncing the city (and lunch meat) as it's spelled.
Is bologna cake bad for people with hypertension?
Since excessive salt elevates blood pressure levels, those with hypertension should refrain from eating lunch meat, period, and they should especially stay away from bologna cake. Not only does the meat itself contain high amounts of sodium, but the cheese and ranch dressing also contain high amounts of sodium, which can only worsen high blood pressure. It might be safe to take one tiny bite, but as for eating a regular portion, anyone with high blood pressure should say u0022no.u0022
Is the savory version of the bologna cake available in Italy?
Again, it is thought that Italy has a traditional sweetened cake called a bologna cake, while the savory deli meat and cheese cake is a hit in the United States. However, there may be a restaurant that makes savory bologna cakes in Italy, and you may simply have to go there and find out.
Can I eat bologna cake on a weight-loss plan?
Bologna cake has no nutritional value whatsoever, and the high sodium content is likely to make the average person retain water. This isn't conducive to weight loss, so aside from tasting a small slice, it's probably best to avoid eating bologna cake if you're trying to lose weight and attain a healthier body.
Is there a way to make a vegan bologna cake?
Sure. As long as you use vegan cheese and bologna, you can make a cake that looks and tastes just like an u0022authenticu0022 bologna cake.
More FAQs
What is bologna cake made of?
Bologna cake is made by layering slices of bologna with seasoned cream cheese, resulting in a structure resembling a cake. It is a unique Southern dish that is said to have originated as a joke but turned out to be surprisingly delicious. To enjoy, serve with crackers or toast.
What kind of meat is bologna?
Bologna is a type of meat that is commonly made from finely ground beef, pork, turkey, or chicken. Similar to hot dogs, it is stuffed into a casing for cooking, which is often removed afterwards. The bologna is either cooked or smoked and can be packaged whole or sliced.
Do meat cakes exist?
Meat cakes do exist. They are known as meatloaf cakes or meatcakes, which resemble cakes or desserts but are made with meat in a meatloaf style instead of pastry. Typically, layers of meatloaf are baked in cake pans and then "frosted" with mashed potatoes, following the traditional layer cake presentation.
What is a bologna cake from the icebox?
The bologna cake from the icebox is a unique Southern dish that initially began as a joke but surprisingly gained recognition for its delicious taste. It consists of layers of baloney and seasoned cream cheese, creating the appearance of a layer cake. Typically, this unconventional dish is served alongside crackers or toast.
What is the history of bologna cake?
The history of bologna cake is uncertain, but it can be traced back to the mid-20th century, with theories suggesting that it originated as a prank but later gained widespread popularity.
What country did bologna come from?
Bologna originated from Italy, specifically the city of Bologna, and like other culinary traditions that are now considered quintessentially American, it was brought to the United States through immigration. The beloved sausage meat known as mortadella has been a part of Italian cuisine for thousands of years.