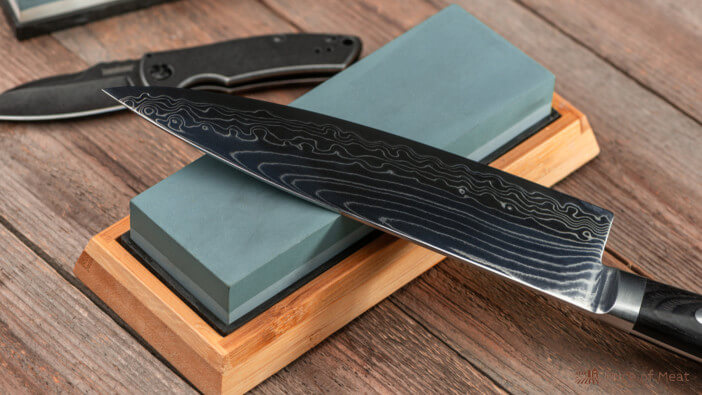 A Gyuto knife is a Western-style Japanese knife originally used for cutting beef. Gyuto translates to 'cow sword.' 
Today, gyuto knives fall into two different categories. One is wa-gyuto and the other is yo-gyuto. The only difference between the two is the handle.
The gyuto knife is used as a chef's knife for slicing meat or cutting vegetables. It has a thinner, but harder blade than other chef knives. This makes carving very precise and effortless.
One drawback is that the thinner blade doesn't tolerate rough handling.
Learn more about what gyuto knives are used for, and if you need one in your kitchen.
What Is a Gyuto Knife?
Western-style Japanese knives feature double bevels, while traditional Japanese knives have single bevels. 
The yo-gyuto knife was the first Japanese-style knife with a Western handle. It was made of a single steel, full tang blade with a riveted handle. Today's yo-gyuto knives have non-riveted handles with a three-quarter length tang.
Wa-gyuto knives feature a 'wa' handle that's usually wooden. It's lighter than a Japanese knife. It has a forward balanced blade, making it easier to use. This makes it a favorite of professional chefs.
What Is the Size of a Gyuto Knife?
Gyuto chef knives come in several different blade lengths. These run from 180mm to 300mm. If you want a versatile chef's knife for home use, the 240mm is a common choice.
This blade length is ideal for cutting large produce but is still light and easy to wield. 
What Is the Shape of a Gyuto Knife?
Gyuto blades are long and flat near the handle or heel. These knives have a slight midsection curve that continues to the tip.
The flat heel is convenient for chopping, while the curved tip makes it an option for rock-cutting. The tip also makes precision cuts.
What Type of Edge Does a Gyuto Knife Have?
Western gyuto knives have double-beveled edges. This makes them popular for multipurpose use. Compared to standard chef's knives, gyuto blades are much sharper because the two edges are razor sharp.  
What Kind of Handles Are Available on Gyuto Knives?
You can find gyuto knives with either traditional Japanese wooden handles or with Western-style handles. The Japanese or 'wa' handles are usually octagonal, oval, or D-shaped. 
The Western or yo-gyuto handles are usually made of metal or plastic.
What Is a Gyuto Knife Used for?
This Western-style Japanese knife is often used for cutting a wide range of meats, poultry, fish, fruits, and vegetables. The Japanese wa gyuto has excellent balance and lightness at the tip for mastering difficult cutting tasks. 
The flat heel of the blade near the handle is perfect for tapping and chopping vegetables or fruit that you need minced. Chefs use the curved part of the blade for rock chopping and the pointed tip for precision cuts.
What Is a Kiritsuke Gyuto Knife?
A Kiritsuke gyuto knife has a blade shaped differently from a gyuto. It has a curve from the center to the tip of the blade. It also has a flat edge. This knife is also called a K-tip gyuto.
The flattened edge makes it a good knife for slicing without tilting the knife. If you do a lot of rock chopping, which requires a rocking motion with the knife, you wouldn't want to use a Kiritsuke knife.
How Do I Choose Which Gyuto Knife I Need?
If you'd like to get a high-quality chef's knife, Gyuto is the one you need. There are four things to consider when selecting your first Gyuto knife. These include:
Handle style
Blade length
Types of steel
Price
1. Which Is the Best Gyuto Handle?
You should select a gyuto knife with a handle that fits comfortably in your hand. The handle style is what gives your knife the best balance for cutting.
Think about how you hold a knife. If you tend to hold it in the center of the handle, a shaped, Western style will fit nicely in your hand. The balance point of a Western handle is in the center.
If you grip a knife with a pinch grip, you should try a traditional wa-shaped handle. These are available in oval, octagonal, or D-shaped. These shapes have balance points further to the top of the handle.
2. Which Gyuto Blade Length Should I Choose?
The most versatile blade lengths for a gyuto are 210mm and 240mm. Keep in mind your cutting area. Do you have enough workspace for a long knife? 
Also, consider what ingredients you cut most often. If you want the knife for large fruits and vegetables like cabbage or winter squash, the larger 240mm blade would work well. If you mostly cut small vegetables or small cuts of meat, 210mm would be a good selection.
A longer blade also makes rock cutting and tap cutting easier because the blade doesn't rock as much.
3. What Type of Steel Should I Choose for a Gyuto Knife?
The life of your knife depends on the steel you select. Most quality gyuto knives are forged carbon steel or stainless steel.
The sharpness and durability of the cutting edge also depend on the steel. Carbon steel is easier to sharpen and keeps its edge longer. But, they also rust and the blade develops a dark patina over time.
Stainless steel is less expensive, more durable, and rust-resistant. Because of its hardness, this steel is harder to sharpen and gets dull quicker. 
Make your choice by the qualities that are more important to you. 
4. What Is a Good Price for a Gyuto Knife? 
Consider how often you use a knife for chopping, slicing, rock cutting, and carving. If you think you'll only use it occasionally, select a budget-friendly gyuto knife. There's a huge variety to choose from. 
Gyuto knives run from under $100 up to more than $500. Once you settle on a price that's affordable for you, check out the different brands available.
An entry-level, stainless steel gyuto is the Tojiro DP. It is a double-beveled style. It's a versatile, first Japanese style gyuto. 
If you can fit a better quality gyuto chef's knife, then Yoshiro and Suisin make handcrafted, rust-resistant knives with Western handles. 
FAQs about Gyuto Knives
Which is better, Gyuto or Santoku?
Both gyuto and santoku are sharp, versatile knives. It's a matter of personal preference which one you want to use. Both of them are superb chef's knives.
 Is Gyuto knife good?
A gyuto knife is an excellent all-around chef's knife for cutting, mincing, carving, and chopping vegetables, meat, poultry, and fish.
 Is a Gyuto a chef knife? 
Yes, a gyuto knife is a chef's knife. It's recommended by professional chefs as a versatile, heavy-duty kitchen knife.
How do you sharpen a Gyuto knife?
Since a double-beveled Gyuto knife is such an investment, you want to make sure you sharpen it correctly. Japanese chef knives have fine-grained steel with asymmetric edges. 
Sharpen the Gyuto knife only enough to expose a fresh edge. You do this by honing the blade on a grit stone or honing rod. If this is the first time you're sharpening your Gyuto, most likely you need a 1000 grit wet stone. This grit gives a polished edge. 
Start sharpening your knife at a 10 to 30-degree angle. Make sure you don't angle down too far on the wet stone, or you'll scratch the flat of the blade. Take your time, using long, consistent strokes. This grit gives a polished edge.
Do I need Santoku and Gyuto? 
If you have a gyuto knife, you don't really need the smaller Santoku knife. But, if you mostly cut small portions of vegetables and meat, the Santoku would be a good choice.
What's the difference between a Gyuto knife and a chef's knife?
Because of the shape of a gyuto blade, this knife is more functional than a traditional chef's knife. Originally, it was only for cutting meat, but it has become an indispensable kitchen knife for cutting just about everything from product to meat. 
A gyuto knife can slice, dice, chop, and carve with precision. The blade is usually longer than a chef's blade, so it works for larger foods.
Originally, a chef's knife was for cutting large meats. Now, it's used as an all-around kitchen knife. The blade ranges from 8 inches to 14 inches. Chef's knives also come with various edges, such as single or double grind, chisel, or convex.
It can do all the things a gyuto knife can do, but it's less precise and heavier.
Best Gyuto Knife Options
Here are the current bestselling & most popular Gyuto Knife options.
Sale
Bestseller No. 1
Sale
Bestseller No. 2
Japanese Chef Knife Gyuto Chef Knife - 8 Inch Chefs Knife Professional Hand Forged Kitchen Chef Knife High Carbon Japanese AUS-8 Stainless Steel Meat Sushi Knife with Rosewood Handle & Gift Box
【Classic Japanese Chef Knife】 - Professional Japanese chef's knife has a unique & beautiful hammered pattern and high carbon AUS-8 stainless steel blade. Through the knifemaker's manual fine knife shape and pounding out the gorgeous pounding texture, into the perfect forging art and craftsmanship
【Multi-functional Chef's Knife】- The Gyutou knife is made of high carbon AUS-8 stainless steel, classified as designed to be a multipurpose knife, and features a 15° ultra-sharp edge angle for a noticeably sharper cutting face. It cuts, dices, slices, chops, and also cuts meat off bones.
【Comfortable & Ergonomic handle】- RASSE Japanese chef knife designed uses Mkuruti rosewood coming from tropical. And features an ergonomically designed octagonal balanced wood handle, minimizing wrist tension and different aspects giving you great flexibility to adjust your cutting angle; while providing a secure, comfortable grip
【How to Care Knife】 - To maximize the performance and longevity of your chef knife, carefully wash with warm soapy water, No abrasive sponges, then rinse and dry completely with a soft towel. Never put the knife in the dishwasher or leave it soaking in water. And always keep your knife dry and clean!
【Ideal Cooking Cookware Gift Choice】 - Japanese chef knives have a lifetime warranty, perfect for home cooks and professional chefs alike. And with gift box packaging is the perfect gift for family and friends at Christmas, weddings, birthdays, Father's Day, and Mother's Day
Bestseller No. 3
FODCOKI Chef Knife 8 inch Japanese Gyuto Kitchen Knife- Razor Sharp Hand Forged Cooking Cutting Meat Knife- German High Carbon Steel- Wooden Handle
TRADITIONAL HAND FORGING: FODCOKI kitchen knives retain the traditional hand forging and combine it with modern high-quality materials. Each Japanese Gyuto knife is made by experienced craftmans. The 8" cutting knife is suitable for home cooks and professional chefs, also a great gift for knife collectors.
HIGH-QUALITY MATERIALS: Made of premium High Carbon Steel, through low-temperature cold pressing and quenching refining, the Rockwell hardness reaches 56±2 HRC, which means that the rust-resistance, sharpness, durability and hardness of the 8 inches cooking knife reach an excellent balance.
MATURE FORGING PROCESS: Each Japanese chef's knife is hammered for hundreds of times to form a unique texture, finally is polished and the angle of blade edge sharpened to 12-15 ° by craftsmen to make the knife have razor sharp performance. You can easily handle kitchen foods of chopping, slicing and dicing, like sushi, fruits, vegetables, meat, fish, chicken, and beef etc.
ENVIRONMENTRL FRIENDLY HANDLE: The combination of German high carbon steel and Brazilian carbonized wood creates this lightweight, luxurious and artistic kitchen forged knife. The ergonomically designed wooden handle is expensive, burr free, comfortable and durable. You don't have to worry about fading, cracking and falling off.
SHOPPING SERVICE: We are committed to providing you with the best shopping experience and ensuring that each knife is intact before delivery. If there are any problems, we will provide 30 days refund, replacement and one year warranty. Recommed try FODCOKI chef knife now!
Sale
Bestseller No. 4
MITSUMOTO SAKARI 8 inch Japanese Gyuto Chef Knife, Professional Hand Forged Kitchen Chef Knife, 3 Layers 9CR18MOV High Carbon Meat Sushi Knife (Rosewood Handle & Gift Box)
[Traditional Japanese Hand Forging] Professional Japanese chef's knife inherits the traditional Japanese hand forging method; combined with advanced technology and materials. Through the knifemaker's manual fine knife shape and pounding out the gorgeous pounding texture; into the perfect forging art and craftsmanship. Insist on completing a perfect kitchen chef's knife through 45 days of hand forging.
[High Quality Cooking Chef Knives] Gyuto chef knife is made of 3 layers of top grade 9CR18MOV high carbon steel with precision quenching and vacuum cold nitrogen treatment. It greatly enhances the characteristics of corrosion resistance, rust prevention and toughness; the hardness is up to 58±2HRC. 2.5mm ultra-thin sharp blade can keep the ideal ripeness of fruits, vegetables in the best condition and meat in the most delicious moment when cutting.
[Solid Rosewood Knife Handle] The Japanese high carbon knife is made of precious summer sourwood wood from Southeast Asia. And features an ergonomically designed octagonal balanced wood handle; minimizing wrist tension and different aspects giving you great flexibility to adjust your cutting angle; while providing a secure, comfortable grip.
[Perfect Cooking Cookware Gift Choice] Japanese knives combine high-end materials and first-class craftsmanship; perfect for home cooks and professional chefs alike. And with professional gift box packaging is the perfect gift for family and friends at Christmas, weddings, birthdays, Father's Day, Mother's Day.
[High Carbon Knives Important Notes] MITSUMOTO SAKARI products pass strict quality audits. If you find any quality problems with the chef knife, please contact us immediately by email. Our professional service team will give you a satisfactory answer.
Bestseller No. 5