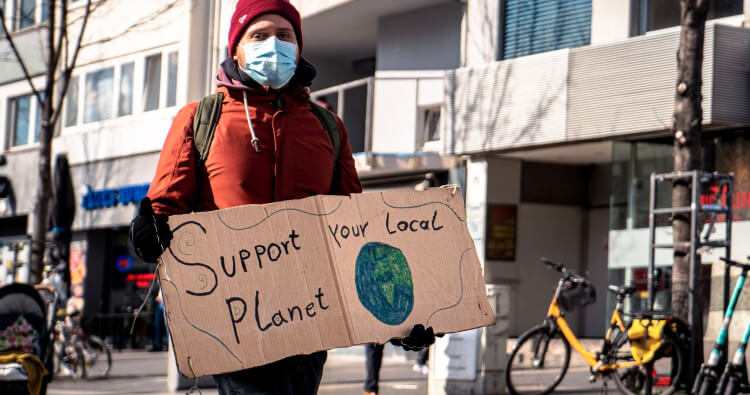 Introduced only in the last decade, the climatarian diet has already started to gain devoted followers. But what is this new way of eating, anyway? And if you want to become a climatarian, what would you have to change in your diet?
In this guide, we'll be exploring all of those questions and more. By the time you're finished reading, you'll know just what it means to be a climatarian — including what climatarians can and can't eat, illustrated with real-life examples of recipes and menus. Let's jump right in.
What Is the Climatarian Diet?
The goal of the climatarian diet is simple: Reducing greenhouse gas emissions, with the purpose of slowing or reversing global climate change. Based on scientific studies that identify which foods have the greatest carbon footprint, the climatarian diet seeks to encourage people to drop carbon-intensive foods from their diets, and go for local fruits and vegetables whenever possible.
This diet hasn't been around for very long, though. It wasn't until 2015, when the New York Times including "climatarian" in its list of new food words for the year, that it started to get mainstream attention. But while the term may be new, the core ideas of a climatarian diet are quite old — namely, they very much resemble the diets of people prior to the industrial globalization of the last century. As health-conscious consumers start to demand food that's not just good for them, but good for the environment too, expect to hear about more and more people taking up a climatarian diet.
Rules for the Climatarian Diet
Since it has the reduction of carbon emissions as its main goal, the climatarian diet looks very different from most other diets. Few foods are outright banned from a climatarian diet, and a greater focus is placed on where the foods were grown and under what conditions. Here are a few of the most important climatarian diet guidelines, from the folks over at climatarian.com:
Eat less meat. Meat is one of the most carbon-intensive food sources available, so cutting even one meal per week will drastically reduce your carbon footprint.
Avoid food waste. Shop carefully and plan ahead, and make sure to store your food properly so it doesn't go to waste.
Choose local, seasonal food whenever possible. The less a food has traveled to get to you, the lower its carbon footprint.
Grow your own food, if you can. A small planter box with veggies and herbs goes a long way towards reducing your total carbon load.
Compost your food waste. Returning composted food waste to the soil regenerates the Earth and prevents it going into a landfill.
Eat organically raised foods, especially meats. Check the sources of your food, making sure that they are grown ethically.
Additionally, most climatarian diets encourage you to drop beef and lamb from your diet altogether. These two meats are the most carbon-intensive of all proteins to grow, and contribute strongly to climate change. Some climatarians suggest replacing meat with vegetarian meals, as well, giving significant overlap between vegetarian and climatarian diets.
Examples of Climatarian Diet Meals
The climatarian diet is unique in that, instead of providing recipes for specific dishes, it gives guidelines for where and how you source the ingredients you use. Because of this, you're less likely to find a climatarian cookbook — and more likely to get advice on how to find foods closer to your home.
Let's explore this concept by taking a closer look at a classic American breakfast, through the lens of a climatarian diet: A breakfast meat, like bacon, eggs, and roasted potatoes, with a cup of coffee and a glass of orange juice.
Instead of buying a pack of bacon at the supermarket, a climatarian diet would encourage you to get your pork from a local farmer. Farmer's markets are a great place to go for fresh cuts of meat that has traveled many fewer miles to get to you.
The same goes for the eggs in this breakfast: The best option is to get them from a local grower, but failing that, choose free-range and organic eggs at the store. Definitely avoid brands that don't have any claims about how they treat their chickens, as factory farming of chickens certainly isn't good for the environment.
Potatoes are probably the easiest portion of a climatarian breakfast, as they can be reliably found locally almost year-round. If you're particularly climatarian, you may have even started growing potatoes in your own backyard!
Now, for the beverages. Unless you live in a coffee-growing country, chances are you'll have to buy imported beans. Look for organic, fair trade coffee beans, and drink in moderation. Consider squeezing your juice from fresh oranges, so you can then compost the waste material and return it to your own garden.
I hope that, after that explanation, you can see that eating climatarian is more about the source of the foods you're eating than the exact foods. You can still eat many of your favorite foods, as long as you put in the extra effort to find the best, most sustainable sources for every item. And if you're willing to go the extra mile, I think you'll find that eating climatarian is a fresher and tastier diet, too!
Ideas for Eating A Climatarian Diet
With all of that in mind, how can you start eating a climatarian diet today?
Here's my advice: Look up your nearest farmer's market and local food co-op. Both locations will bring together the best of local foods into one place, and you'll be able to support your local economy at the same time as you're combatting climate change.
Aside from that, it will really help for you to take a closer look at your next grocery list. Do you know where each of the items on it comes from? How far it's had to travel to get to you? How much carbon it took to produce? Once you start exploring the supply chains that stock the shelves at supermarkets, you may be shocked at how few of the foods you eat come from anywhere near you. For every one of these items that you can change out for a more local option, you'll reduce your carbon footprint.
In practice, eating a climatarian diet means taking responsibility for where your food is coming from. Then, it encourages you to reduce your meat consumption and incorporate more fresh fruits and vegetables into your diet. In this way, it's a diet that's good for you — and good the planet — without sacrificing taste and flavor. In my mind, that's a real win-win.