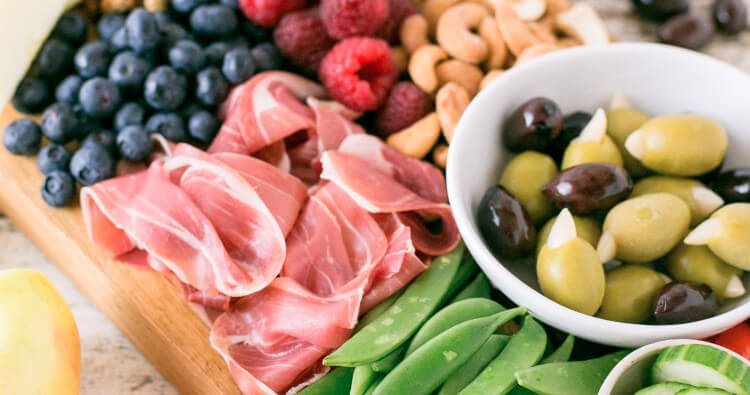 While I was working in professional kitchens, batch cooking was a necessity. But after I hung up my apron, I learned that the same principles of batch cooking could be used to make my home cooking time more efficient and more enjoyable. So today, I'd like to put my experience in commercial kitchens to use in teaching you how paleo batch cooking is the perfect way for beginners to save time and eat better!
Whether your inner caveman (or cavewoman) loves cooking or doesn't feel comfortable with it at all, this guide will teach you everything you need to know to set yourself up for weekly mealtime success. I'll be covering the basics of batch cooking, including what tools you should have before you start, and then giving you a foolproof step-by-step process for paleo batch cooking. Then, we'll round it all out with a handful of sample recipes to make your meal prep fun, interesting, and easy.
The Basics of Batch Cooking
Once you get the hang of it, batch cooking can be a huge time saver. With just a few hours of cooking on the weekend, you can make meals that will last you through the entire week.
To get the most out of batch cooking, though, you'll need to keep two things in mind:
First, batch cooking is best when you cook things that won't lose nutrition as they sit, and won't have an unpleasant texture after being refrigerated. This means that your paleo batch cooking will focus mainly on meat and non-starchy vegetables (like broccoli and cauliflower). For starchy vegetables, sweet potatoes keep their texture, taste, and nutrition better than russet potatoes.
Second, you'll need to do a fair bit of planning. Plan for complete, balanced meals for however many days ahead you want. Beginners will want to start with six days worth of each food, to have a meal ready to eat every day of the week before their next batch cooking day.
What is a balanced batch cooked meal for paleo, though? It has three main parts: A protein (meat or eggs), a fat (olive oil or the fat found naturally in meat), and non-starchy vegetables. With something as simple as cooked chicken, a drizzle of olive oil, and sautéed broccoli, you can have complete nutrition ready in a matter of minutes.
Whether you choose to cook these pieces individually and mix and match them for meals, or cook them all together for quick grab-and-go meals, is up to you.
Tools for Paleo Batch Cooking
Depending on how well stocked your kitchen is, you may need to pick up a few specialized tools to make paleo batch cooking accessible.
Having a large stock pot (examples) will let you cook big quantities of food without fear of spilling over the sides of your pan. In a similar vein, a slow cooker like a CrockPot (examples) makes it easy to prepare slow-simmered meals with minimal hands-on effort. Pair these with a few long-handled wooden spoons (examples), and you'll have everything you need to get started on paleo batch cooking.
You'll definitely need a good selection of storage containers (examples), too. Wherever possible, avoid plastic and go for wooden or glass containers instead. We like choosing a variety of sizes and shapes to accommodate meals and snacks. A few small containers will let you store oil, sauces, or salad dressings separately from your cooked foods, keeping everything as fresh as possible.
Steps for Paleo Batch Cooking
Set aside about two or three hours the first time you're batch cooking for the week ahead. Once you're familiar with the steps below, it may go by faster, but it's better to be safe than sorry!
Preheat your oven to 350 degrees.
Arrange your protein and root vegetables on a baking tray, drizzled with olive oil and seasoned with salt and pepper. Set a timer for 50 minutes.
Wash, chop, and store your fresh greens for salads. Prepare any dressings you'd like, and store them separately from your greens.
Take your proteins and vegetables out of the oven when they're finished, then increase the temperature to 450 degrees.
Chop sweet potatoes into 1-inch cubes, toss them in oil, salt, and pepper, and arrange them in one layer on a sheet pan. Put it in the oven for 30-40 minutes.
Once the proteins have cooled to around room temperature, store them with the roasted vegetables. Repeat with sweet potatoes, once they're finished cooking.
That's it! Follow those steps, and you'll have many meals worth of food ready to go.
This method works wonderfully for the mix-and-match style of paleo batch cooking. Alternatively, you can cook large batches of complete meals like chili, curries, and casseroles — which we'll cover in the next section.
Sample Paleo Batch Cooking Recipes
If you're looking to really cut down on your kitchen prep time, making large batches of a single dish to eat throughout the week is a good way to go. Try to make at least two different meals, though, or else you'll probably get pretty bored of what you're eating by the end of the week.
Here are a few paleo batch cooking ideas to get you started:
Paleo Chili leaves out the beans, focusing instead on hearty portions of beef and root vegetables. Start with a base of onions and garlic sautéed in olive oil, add beef and cook until browned, then add small-chopped vegetables like carrots, bell peppers, and parsnips. Finish with tomatoes, tomato juice, and chili powder, then add salt to taste. This one's especially easy to make in a slow cooker — just brown the onions, garlic, and beef in a separate pan, and then combine everything else in the slow cooker.
Sausage and Sweet Potato Hash can be made ahead of time in a large pot, then easily reheated as a savory and healthy breakfast option all week long. Peel your sweet potatoes first, then grate them on the coarse side of a box grater. Crumble sausage and cook in oil until golden brown. Then, add the grated sweet potatoes, salt, pepper, and dried herbs. Mix together with the sausage and oil, then spread flat to cook on one side for 10-12 minutes. Flip over and repeat on the other side, and then you're finished!
Chicken Broccoli Casserole, or really any casserole, is a super-easy make ahead meal for paleo diets. Combine cooked, shredded chicken, broccoli florets, and mushrooms with olive oil, chicken broth, cashew milk, salt, and pepper. Bake in an oven at 350 degrees for 30-40 minutes, and you're set with a nutritious meal. Try switching out the chicken for other proteins, or adding any sort of fresh vegetables you have around the house — casseroles are a versatile recipe that can be infinitely adapted.