Hungarian Sausages: Cooking, Serving, and Buying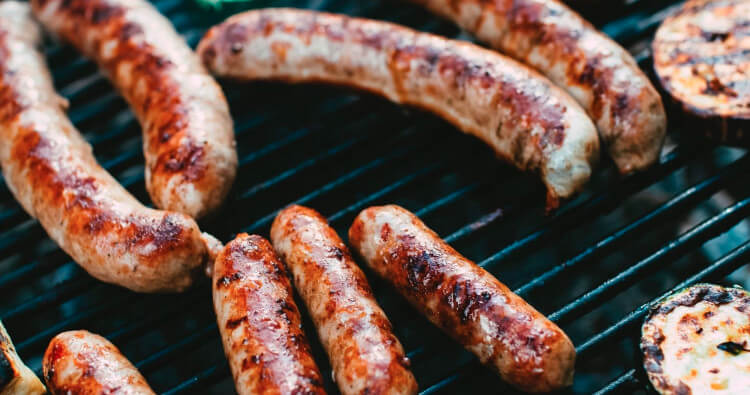 Sausages are a staple ingredient in Hungarian cuisine — but how much do you know about all the different types of Hungarian sausages, and how to use them in your own cooking?
That's what we're here to explore today, by taking a look at the history, production, and uses of Hungarian sausages in European cuisines.
By the time you're finished reading this guide, you'll know everything you need to decide which types of Hungarian sausages are best to add to your favorite dishes, and maybe even go away with a new meal to make this week!
Disclosure: As an Amazon Associate, this site earns from qualifying purchases. Thank you!
Quick Sidenote – check out our shop for a curated selection of the best meats, cuts, sausages, and more. Open our shop in a new tab and explore!
Types of Hungarian Sausages
No matter which country it's made in, sausage comes in many shapes and forms. In Hungary, there are three major Hungarian sausage types, each made with slightly different ingredients or processing methods.
Let's take a closer look at each one:
Kolbász
The most popular of all Hungarian sausages, kolbász is a smoked sausage seasoned with copious amounts of paprika. Most often a mildly spicy sausage that is intensely red (though different from Red Hot Sausage) in color, kolbász can be made from beef, pork, or both.
The towns of Gyula and Békéscsaba are especially famous for their kolbász sausages, and the sausages from those regions are protected trademarks of their respective towns.
The lecsókolbász is the spiciest sausage (sort of like French Andouille or alternatives) of the bunch, and features prominently in recipe called lecsó that we'll be sharing with you later in this article.
Szalámi
Made entirely from pork, szalámi lack the characteristic red coloring from paprika. The téliszalámi, or "winter salami", is the most famous example.
It's also known as "hungarian salami." It's spiced generously with white pepper and allspice, then cured in the cold winter air and smoked slowly to seal in the flavor.
Hurka
Similar to Cajun andouille or British blood sausage, hurka are made from blood or liver and cooked rice, combined with strong spices.
They aren't smoked, and need to be boiled or fried before eating. These turn out very dark inside – the opposite of the French Boudin Blanc or the German Weisswurst.
How to Cook Hungarian Sausages
From the descriptions of the Hungarian sausages listed above, it may be obvious that each type of sausage requires a different type of cooking method to get the best out of its flavors.
Whereas szalámi is often sliced thinly and served uncooked, similar to cold cuts of salami or soppressata on a deli sandwich, both hurka and kolbász feature prominently as both seasoning and protein in a variety of Hungarian dishes.
Lecsó, a stew of tomatoes and peppers with a special kolbász sausage, is remarkably similar to French ratatouille. Here's our sausage recipe on a nearly-authentic lecsó
Lecsó: Hungarian Sausage and Tomato Stew
Ingredients:
1 medium yellow onion, sliced
1 pound of mild peppers (bell and banana peppers are best), sliced into strips
3 large heirloom or beefsteak tomatoes, chopped
1/2 pound lecsókolbász or other smoked sausage, thinly sliced
1/4 cup oil or rendered pork fat
1 tablespoon Hungarian paprika
Salt, to taste
Preparation:
Heat the 1/4 cup of oil or fat in a heavy-bottomed saucepan over medium-high heat.
Add the onions and sweat for 10 to 15 minutes, until translucent.
Add the peppers and sauté until soft, about 10 minutes.
Add tomatoes, paprika, and salt, reduce heat to medium, and cook for 20 minutes.
In the last 5 minutes of cooking, add the thinly sliced Hungarian sausage.
Serve with rice or bread.
Serving Hungarian Sausages
Like most sausages, kolbász and hurka need to be cooked before eating. They're typically pan-fried or simmered in water before serving to kill any pathogens that might be present.
Because they're heavily spiced, kolbász and szalámi pair well with mustard or other types of dipping sauces.
Where to Buy Hungarian Sausages
Anyone interested in trying Hungarian sausages in the comfort of their own home has it made, because there are tons of online outlets that now sell traditional Hungarian sausages.
You can even buy them off Amazon. Here are a few of our favorite vendors, each of whom specializes in a certain style of Hungarian sausage:
Otto's Hungarian Deli is the most old school source of Hungarian sausages we've found. With a webpage that looks straight out of 1990, you might be wondering whether they're a quality source — but we can assure you that this Hungarian specialty deli is one of the best that the U.S. has to offer.
Based in Burbank, California, they've been importing authentic Hungarian delicacies for nearly 40 years. If you want to try one of the area-designated sausages we've mentioned above, Otto's is your best bet.
Paulina Market in Chicago is another one of our favorite old-school delis that ships around the U.S., and they've been in business since 1949.
They're one of the few sources for traditionally-made fresh Hungarian sausage, but their smoked Hungarian sausage is just as tasty. Paulina Market features some of the best prices we've seen on sausages and cuts of pork.
For a taste of a modern American rendition of Hungarian sausage, consider buying a few links from Raddell's Sausage Shop in Cleveland, Ohio.
They use an old family recipe to produce a strongly garlic- and paprika-flavored sausage that's much easier for the American palate than more traditional Hungarian sausages. Also be sure to read about all the types of German sausages!
Bestseller No. 1
Hungarian Brand Smoked Sausage, Gyulai Kolbasz", 2 Links per Pack
 Hot Hungarian Brand Smoked Sausage, "Csipos Gyulai Kolbasz", 2 Links per Pack
Traditional Hungarian Sausage, Old World Recipe
Ready to Eat, Vacuum Packed, 2 Links per Pack, Approximately 0.6 lb
High quality product
Ingredients: Pork, Salt, Paprika, Flavoring, Sugar, Dextrose, Sodium Lactate, Ascorbic Acid (Vitamine C), Lacic Acid Started Culture, Sodium Nitrite
Bestseller No. 3
Bestseller No. 5
FAQs about Hungarian Sausages
Here are a few common questions about hungarian sausages.
What is the difference between Hungarian and German sausages?
The main difference is that Hungarian kolbász is less spiced and more red in color than German varieties.
Are there any varieties of Hungarian sausage that I can make myself?
Yes you can make your own variety using ground pork, beef and turkey (or even other meats). It's best to mix it with salt, black pepper, paprika and garlic powder for flavoring then form it into patties or link sausages before cooking. Be sure to use a good sausage stuffer for consistent casing.