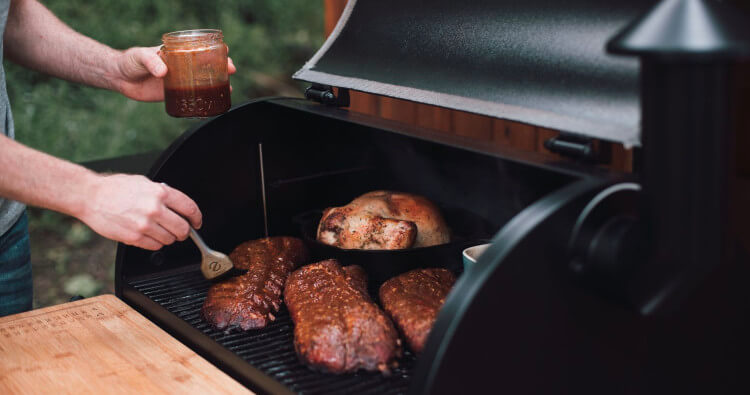 With their origins in the pellet stoves popularized during the 1973 oil crisis, pellet grills have come a long way towards their inclusion as a barbecuing staple. Also known as a pellet smoker, their continual design evolution has led to significant technological advancements that make professional-quality smoking and grilling available in the comfort of your own backyard.
In today's guide, we'll be exploring the pellet grill in depth — from the evolution of the types of pellet grills to their current forms, to considerations you should take into account before buying a pellet grill, and our suggestions for the best pellet grills for every budget. If you've been considering buying a smoker and grill for the upcoming summer season, you're in luck! Let's dive right in.
Types of Pellet Grills
Despite its humble origins, the pellet grill has experienced drastic changes to its design and functionality in the past 50 years. Beginning with a completely manual design, it soon developed into an automatically-fed machine before moving towards completely automated computer control. Let's take a closer look at each step of the pellet grill's development:
Traditional
Traeger is the original innovator in the field, producing the first pellet grills in the early 1980s. Utilizing the recently invented process of wood pellet production, Joe Traeger created an electrically powered grill and smoker that would automatically feed wood pellets into the firebox.
Traeger's pellet grills serve as the basis for all further developments in the product category, but were quickly eclipsed by competitors that could offer more convenience and hotter grilling temperatures. Even so, after a period of redesigning their original offerings, Traeger has cemented itself as a major player in the pellet grill market — and one that can keep up with other companies' relentless pace of innovation and development. Traeger grills are available on Amazon.
Computer Controlled
The next big advance in pellet grill technology came with the introduction of automatic, computer-controlled temperature systems. While the original Traeger pellet grill could deliver a steady supply of pellets to the hopper, other variables inevitably led to fluctuations in temperature. These would arrive on the scene in 2006, when Traeger's original 20-year patent expired. Computer controlled pellet grills are now considered the gold standard for pellet grill cooking.
Premium
A natural extension of the pellet grill design, premium pellet grills have been pioneered by Memphis Grills. Using double-walled steel construction, they're capable of reaching an intense 700 degrees Fahrenheit! Additionally, Memphis pellet grills come with the option to be built directly into your patio setup, cementing them as the most durable and long-lasting pellet grills available today. Though their price is noticeably higher than most Traeger grills, their increased performance is a big draw for serious barbecue enthusiasts. Memphis Grills are on Amazon here.
Before You Buy: Considerations for Choosing A Pellet Grill
Deciding on the best pellet grill for your needs will come down to a combination of your budget, and the features you're most excited about. These are the areas we pay special attention to while selecting a pellet grill:
Construction
What is the pellet grill made out of? The higher the grade of stainless steel used to make a grill, the higher the temperatures it can reach — and the better results you can expect for steaks and chops. For the best quality, look for grills that are made almost entirely of stainless steel, not just coated with it on the outside.
Grilling Space
Depending on how many people you're usually cooking for, you should be looking for different cooktop sizes in your pellet grills. Cooking for a family of 4 can easily be accomplished on a 700 to 900 square inch grill. But if you're looking to smoke large quantities of meat or grill out for an entire backyard party, you'll need 1000 square inches of grilling space or more.
Hopper Size
The hopper, where you'll load the pellets that fuel your grill, will determine how long you can cook at a consistent temperature. In every case, having more hopper space is better, as it allows you to cook longer between refills.
Additional Features
In an effort to differentiate their products, pellet grill manufacturers have begun to include a wide range of additional features. The most noticeable of these is computer-automated control, allowing you to maintain a consistent cooking temperature without having to manually adjust anything along the way. Combined with WiFi compatibility, this gives premium grills the ability to bake, braise, grill, and smoke with remarkable precision.
Where to Buy A Pellet Grill
The market for pellet grills isn't a particularly wide one, since the main players have done such a good job of satisfying every pellet grilling need. Between Traeger, Memphis Grills, and Camp Chef, you'll be totally covered for whatever price range of pellet grill you're looking for.
Traeger's online shop should be your first stop, since they're the benchmark against which other pellet grills are compared. The Pro Series is their introductory model, and the Ironwood or Timberline Series offer impressive upgrades for a small bump in price. You can also buy Traeger grills on Amazon.
Memphis Grills' online store is the place to go for top-of-the-line pellet grills, so long as you're willing to pay a premium price for them, too. They offer freestanding or built-in options made with high-end double walled stainless steel. They have some models available on Amazon.
Camp Chef is an excellent budget-priced alternative to Traeger and Memphis Grills, offering a wide range of smaller pellet grills that are ideal for a casual backyard barbecue. Browse Camp Chef on Amazon here.