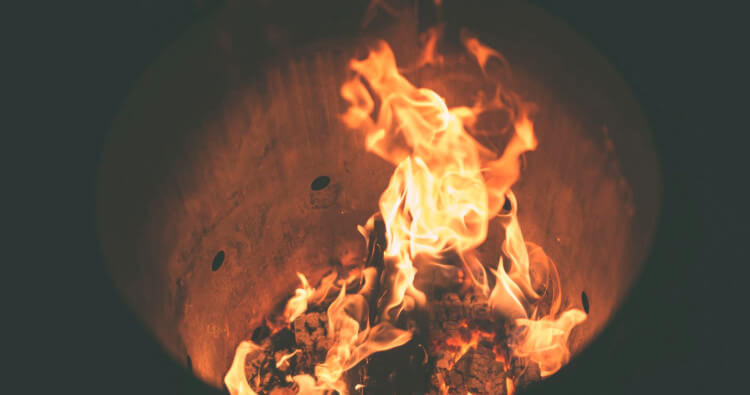 Everybody loves the feel of being around a campfire on a weekend evening — but if you're tired of washing the smell of smoke out of your clothes and hair, you should look into a smokeless fire pit. A relatively recent invention, the smokeless fire pit is a compact and convenient alternative to building a full fire, and a great way to get your time around a fire without any of the downsides.
In today's article, we'll be exploring the two major brands of smokeless fire pits available today — diving deep into the similarities and differences in their designs, as well as giving you a few considerations to make before choosing the best smokeless fire pit for you. Finally, we'll close out by directing you to the best places to buy each smokeless fire pit at a bargain, so let's get right into it.
Types of Smokeless Fire Pits
Both of the major players in the smokeless fire pit game — Breeo and Solo Stove — have been around for less than a decade, and sport quite similar designs. Even though they focus on many of the same design principles, though, each brand emphasizes different features to set their products apart. Let's take a closer look at both brands:
Breeo
Founded in 2011, Breeo holds claim to making the very first smokeless fire pit. Based out of Lancaster, Pennsylvania, they produce all of their firepits right from their workshop. Just how does a smokeless fire pit work, though? Take it from the designers at Breeo:
The Breeo Smokeless Fire Pits work through a double-wall, secondary combustion design… Hot air rises through the gap between the two walls, then exits the wall cavity through the line of holes around the rim. This pressurized, heated oxygen mixes with the smoke and causes it to reburn — [making] your fire smokeless."
Breeo produces two model lines of their smokeless fire pit: The flagship X series, and the upgraded Luxeve. Weighing in at over 60 pounds each and made of 304 grade stainless steel, they're incredibly sturdy and durable — and can even be matched with accessories for open flame grilling. As if that wasn't enough, every Breeo stove is covered by a lifetime warranty and shipped for free from their Lancaster workshop.
Solo Stove
Founded shortly after Breeo, Solo Stove seeks to utilize Breeo's pioneering smokeless fire pit design to create smaller and more portable fire pit systems as well as a direct competitor to Breeo's X series. Based out of Southlake, Texas, Solo Stove is able to offer their product at substantially reduced prices thanks to contracting much of their construction out through Chinese manufacturers. Solo Stove is also available on Amazon (unlike Breeo).
Their smokeless fire pits come in three models. From smallest to largest, these are the Ranger, Bonfire, and Yukon — with even the sizeable Yukon costing nearly $100 less than Breeo's X series. They're efficient and quick to heat, with a lighter grade of stainless steel that makes them much easier to position and more portable at the cost of reducing their durability.
Before You Buy: Considerations for Choosing A Smokeless Fire Pit
With those two brands in mind, you may not be clear on which one is best for your backyard. Here's what we would take into account before choosing one for our own home:
Size
How much space do you have for your smokeless fire pit? If ground cover is at a premium, Solo Stove's smaller Ranger and Bonfire models may let you make the best use of it. If you have plenty of space in your yard, though, Breeo's tough and durable construction make it a longer lasting choice.
Weight
Will you be installing this smokeless fire pit on your own, or will you have help? And will you be keeping it in one place, or do you plan on moving it around fairly regularly? If you plan on setting up your smokeless fire pit one time and leaving it, Breeo's heavier construction is a better choice; otherwise, Solo Stove's lighter weight makes it easier to move around as you please.
Price
How big is your fire pit budget? If you're short on cash, Solo Stove is the more frugal option — but if you're willing to invest more for greater durability and longevity, Breeo is the clear winner. And if you're looking for a luxury smokeless fire pit that will be the jewel of your backyard setup, Breeo's Luxeve series is the only way to go.
Accessories
Are you planning on using your fire pit to grill? If so, only Breeo offers accessory packages to convert your smokeless fire pit into a smokeless grill. Solo Stove offers stands, shelters, and roasting sticks in one affordable package for anyone looking to make s'mores on a summer night.
Where to Buy A Smokeless Fire Pit
Which of these two smokeless fire pits sounds like it would be a great fit for your backyard? Let's summarize each brand:
Breeo is the original in the field, and still the benchmark standard by which all other smokeless fire pits are measured. Their flagship X series smokeless fire pit is incredibly rugged and durable, and can be outfitted with specialized grilling accessories to turn it into a fully functional smokeless grill. While it's the pricier option of the two, Breeo's smokeless fire pits are our first choice — especially if you're looking for a long-term investment, like their Luxeve smokeless fire pit.
In contrast, Solo Stove has made a name for their products by offering lightweight, space-saving, and affordable smokeless fire pits. Their Ranger smokeless fire pit measures just 15 inches wide at its base and weighs only 15 pounds, making it the clear choice for anyone looking to take their smokeless fire pit on a camping trip. Their Bonfire smokeless fire pit is a step up in size and price that's still suitable for backyard use, while the Yukon fire pit rivals Breeo's X series in size and burning capacity.