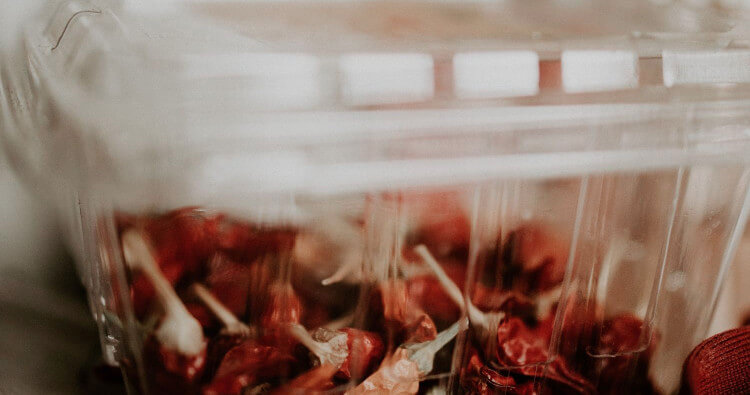 Buying meat in bulk is the best way to save money while eating well — but if you don't have a meat storage container solution, chances are those savings will go to waste.
Here's the catch, though: The same containers you might use for general kitchen storage aren't always the best meat storage containers. Whether you're freezing, refrigerating, or dehydrating your meat, choosing the right type of storage container will allow you to get the absolute most use out of it.
That's why we've put together this: Our complete guide to meat storage containers. In the following sections, we'll be covering the main types of meat storage containers, considerations that you should take into account before buying a storage solution for your kitchen, and examples of where to buy the right types of storage containers for meat. By the time you're finished reading, you'll know exactly what sort of food containers are right for your meat storage needs — so let's get started!
Types of Meat Storage Containers
There are three main varieties of meat storage containers that you'll want to familiarize yourself with: Hard plastic containers, plastic bags and vacuum sealed bags, and glass containers with locking lids. Let's take a closer look at each category:
Hard Plastic
Stiffened plastic storage containers are the restaurant industry standard for storing meats, marinades, sauces, and vegetables. They come in a huge range of sizes, from tiny 2-quart flat containers to massive 22-quart containers suitable for bulk storage.
You'll want to stick with name brand and reputable sources for hard plastic storage containers, as there are plenty of inferior quality products on the market that are prone to chipping and cracking. The Webstaurant store should be your first stop for buying hard plastic food storage containers — just be sure to keep the dimensions of your fridge and freezer in mind when ordering. You can also search Amazon for similar products here.
Plastic Bags
Popularized worldwide by the Zip-Loc brand, plastic bags are a quick and painless way to store small to medium quantities of any type of meat. They're great for marinades, too, since they will naturally take the shape of the meat and liquid used for marinating.
On the down side, plastic bags aren't infallible — and when leaks develop, your meat can quickly make a mess and be more prone to spoilage. A solution to this: Vacuum sealers. If you're looking to freeze and store meat for anything over a month, vacuum sealing will preserve the freshness and flavor of meat better than any other storage option.
We love vacuum sealing bags for meat storage, and have written a handy guide to the best vacuum sealers for meat that will answer any questions you might have about the process and products.
Glass
Brought into vogue by the meal prepping phenomenon, glass food storage containers are a small and attractive option for storing individual portions of meat, vegetables, grains — really, any food you can imagine. They're ideal for home chefs that are cooking meals for 4 or fewer people, and usually come in large sets that will give you plenty of storage capacity.
If you're looking to store cooked meats for use later in the week, there's no shortage of glass container sets available on Amazon right now. Look for something with a locking lid that forms an airtight seal and that's made of BPA-free plastic, like this 24-piece glass food storage container kit.
Before You Buy: Considerations for Choosing A Meat Storage Container
To narrow down your choices of meat storage containers, we find it helpful to ask three big questions:
Raw or Cooked Meat?
What sort of meat do you plan on storing? The right containers for raw meat and cooked meat (i.e., leftovers) can be quite different. For example: Ground beef is much easier to store in a small, hard-sided glass or plastic container than it is to store in a plastic bag. But if you're marinating a large cut of beef, a plastic bag is a more effective choice for evenly distributing the marinade liquid. For cooked meat, you can use any storage option to good effect.
How Much Meat Do You Need to Store?
What quantity or volume of meat are you trying to store? Small portions of lunch meat can easily be tossed into a multipurpose glass container, while larger cuts of meat will almost always need to be vacuum sealed in a plastic bag. If you're storing large amounts of meat in a marinade, though, a large hard plastic container is the only solution that will do the trick. Either way, be sure to measure the area where you plan to store your meat and purchase containers that fit accordingly.
Refrigerating or Freezing?
Are you planning on keeping your meat in the refrigerator, or wanting to freeze larger portions that you've bought or caught in bulk? Refrigerating meat can be done with any of the types of storage containers listed above, while freezing meat is always better left to vacuum sealing before using freezer storage. Eliminating the air in your meat storage container will prevent oxidation and freezer burn, extending the life of your largest cuts.
Where to Buy Meat Storage Containers
Now that you know which type of storage containers you'll need for your meat, here are our suggestions for the best places to buy each type of container:
The Webstaurant Store has the best selection of hard plastic storage containers for meat. Check out their page for matching lid and container combos to get the best price in any size you need.
Amazon has a great selection of vacuum sealers, complete with the bags you'll need to use to operate them. Our favorite for home use is the Mueller vacuum sealer machine.
Glass food storage containers are popular and widespread enough that you'll likely be able to find a good set at your local grocery store. Just make sure that they have airtight sealing lids to keep your meat as fresh as possible.