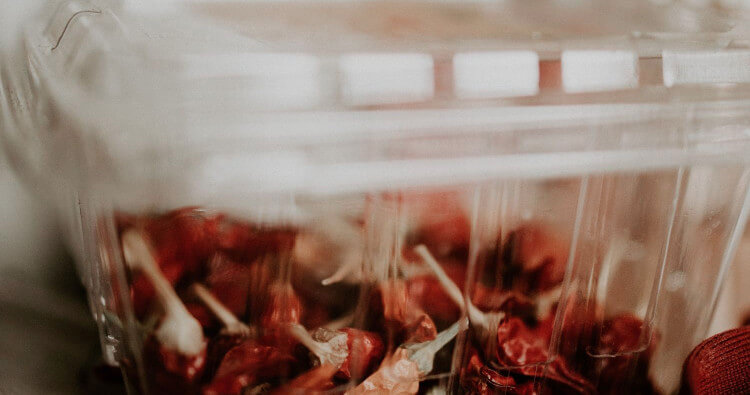 Buying meat in bulk is the best way to save money while eating well — but if you don't have a meat storage container solution, chances are those savings will go to waste.
Here's the catch, though: The same containers you might use for general kitchen storage aren't always the best meat storage containers.
Whether you're freezing, refrigerating, or dehydrating your meat, choosing the right type of storage container will allow you to get the absolute most use out of it.
That's why we've put together this: Our complete guide to meat storage containers. In the following sections, we'll be covering the main types of meat storage containers, considerations that you should take into account before buying a storage solution for your kitchen, and examples of where to buy the right types of storage containers for meat.
By the time you're finished reading, you'll know exactly what sort of food containers are right for your meat storage needs — so let's get started!
Types of Meat Storage Containers
There are three main varieties of meat storage containers that you'll want to familiarize yourself with: Hard plastic containers, plastic bags and vacuum sealed bags, and glass containers with locking lids. Let's take a closer look at each category:
Hard Plastic
Stiffened plastic storage containers are the restaurant industry standard for storing meats, marinades, sauces, and vegetables. They come in a huge range of sizes, from tiny 2-quart flat containers to massive 22-quart containers suitable for bulk storage.
You'll want to stick with name brand and reputable sources for hard plastic storage containers, as there are plenty of inferior quality products on the market that are prone to chipping and cracking.
The Webstaurant store should be your first stop for buying hard plastic food storage containers — just be sure to keep the dimensions of your fridge and freezer in mind when ordering. You can also search Amazon for similar products here.
Silicone or Plastic Bags
Popularized worldwide by the Zip-Loc brand, plastic bags are a quick and painless way to store small to medium quantities of any type of meat. They're great for marinades, too, since they will naturally take the shape of the meat and liquid used for marinating.
On the down side, plastic bags aren't infallible — and when leaks develop, your meat can quickly make a mess and be more prone to spoilage. Some folks check out new silicone bags, which are strong, reusable, but expensive.
However, there is a long-term solution to this: Vacuum sealers. If you're looking to freeze and store meat for anything over a month, vacuum sealing will preserve the freshness and flavor of meat better than any other storage option.
We love vacuum sealing bags for meat storage, and have written a handy guide to vacuum sealers for meat along with a roundup of the best vacuum sealer for every use that will answer any questions you might have about the process and products.
Glass
Brought into vogue by the meal prepping phenomenon, glass food storage containers are a small and attractive option for storing individual portions of meat, vegetables, grains — really, any food you can imagine.
They're ideal for home chefs that are cooking meals for 4 or fewer people, and usually come in large sets that will give you plenty of storage capacity.
If you're looking to store cooked meats for use later in the week, there's no shortage of glass container sets available on Amazon right now. Look for something with a locking lid that forms an airtight seal and that's made of BPA-free plastic, like this 24-piece glass food storage container kit.
FineDine 24-Piece Superior Glass Food Storage Containers Set - Newly Innovated Hinged Locking lids - 100% Leakproof Glass Meal-Prep Containers, Great On-the-Go & Freezer-to-Oven-Safe Food Containers
24-PIECE SET: 12 Containers with 12 lids with various sizes and shapes for meal prep, storage leftovers, and all food storage needs. Set includes: 2 (12 oz), 1 (21.5 oz) 1 (35oz ) 2 (11 oz) 1 (17.5 oz) 1 (27 oz) 2 (13.5 oz) 1 (21.5 oz) 1 (32 oz) lids included
PREMIUM GLASS: Crafted of borosilicate transparent glass, containers tolerate rapid temperature changes, never warping or cracking. Entirely safe to transfer from freezer to oven in instants. Glass containers won't absorb stains or smells, making it the perfect choice for acidic foods. Glossy surface maintains the tastiness of food for long periods of time
SAFE AND FRIENDLY: As opposed to plastic, glass is friendly to the environment and free of chemicals. Hot foods can be transferred directly to the containers, as no chemicals will leech into the food. Lids are crafted of BPA-free plastic, making them a safe choice
AIRTIGHT SEAL: A locking lid creates an airtight seal for food freshness. Newly innovated hinged-lids technology enables the lid to flip open and shut quickly and lasts longer than those crafted of one piece. Containers are leakproof and perfect for the gym, pool, or work
EASY TO CLEAN AND STORE: Containers are dishwasher safe, making cleaning them a breeze. (please note lids are not dishwasher safe.) Containers and lids are stackable and nest inside each other
Before You Buy: Considerations for Choosing A Meat Storage Container
To narrow down your choices of meat storage containers, we find it helpful to ask three big questions:
Raw or Cooked Meat?
What sort of meat do you plan on storing? The right containers for raw meat and cooked meat (i.e., leftovers) can be quite different.
For example: Ground beef is much easier to store in a small, hard-sided glass or plastic container than it is to store in a plastic bag.
But if you're marinating a large cut of beef, a plastic bag is a more effective choice for evenly distributing the marinade liquid. For cooked meat, you can use any storage option to good effect.
How Much Meat Do You Need to Store?
What quantity or volume of meat are you trying to store? Small portions of lunch meat can easily be tossed into a multipurpose glass container, while larger cuts of meat will almost always need to be vacuum sealed in a plastic bag.
If you're storing large amounts of meat in a marinade, though, a large hard plastic container is the only solution that will do the trick.
Either way, be sure to measure the area where you plan to store your meat and purchase containers that fit accordingly.
Refrigerating or Freezing?
Are you planning on keeping your meat in the refrigerator, or wanting to freeze larger portions that you've bought or caught in bulk?
Refrigerating meat can be done with any of the types of storage containers listed above, while freezing meat is always better left to vacuum sealing before using freezer storage.
Eliminating the air in your meat storage container will prevent oxidation and freezer burn, extending the life of your largest cuts.
Where to Buy Meat Storage Containers
Now that you know which type of storage containers you'll need for your meat, here are our suggestions for the best places to buy each type of container:
The Webstaurant Store has the best selection of hard plastic storage containers for meat. Check out their page for matching lid and container combos to get the best price in any size you need.
Amazon has a great selection of vacuum sealers, complete with the bags you'll need to use to operate them. Our favorite for home use is the Mueller vacuum sealer machine.
Glass food storage containers are popular and widespread enough that you'll likely be able to find a good set at your local grocery store. Just make sure that they have airtight sealing lids to keep your meat as fresh as possible.
Bestselling Meat Storage Containers on Amazon
Bestseller No. 1
Sale
Bestseller No. 2
Bestseller No. 3
2 Pack-Bacon Keeper, Deli Meat Saver Cheese Cold Cuts Plastic Food Storage Containers with lids for Refrigerators,Lunch Box Christmas Cookie Holder Meal Prep Container
✔ 2 Pack - Rectangular plastic food storage containers helps bacon fresh.
✔ It has good sealing, Just the right size is very suitable for storing meat, Cooked food, Cold dishes, Fresh vegetable slices, And keeping them fresh in the refrigerator..
✔ For carrying biscuits, Cold dishes, Cheese slices to schools, Offices, parties and picnics!
✔ BPA Free, Freezer, Dishwasher and Microwave safe.
✔ Please pay attention to the size before purchase. Measures approximately: 8.39-Inch x 5.3-Inch x 1.3-Inch / 21-cm x 13.5-cm x 3.3-cm.
Sale
Bestseller No. 4
LUXEAR Fresh Produce Vegetable Fruit Storage Containers 3Piece Set, BPA-free Fridge Storage Container, Partitioned Salad Container, Fridge Organizers, Used in Storing Fruits Vegetables Meat Fresh Fish
🥦KEEP VEGETABLE&FRUITS FRESH: The vegetable and fruit storage/saver container with lids have vents system that can regulate the flow of air, in and out, control the humidity inside of vegetable storage, help prevent spoilage, keep fruits and vegetables shelf life longer in the refrigerator or when not refrigerated.
🍇 CLASSIFIED STORAGE DESIGN - Keep Fridge Organized: These salad container come with adjustable foldable partitions for classified storage to prevent the food from squeezing, rotting or sogginess. There are three different capacity of containers that can be used to store many types of fruits or vegetables, such as lettuce, cabbage, strawberry, blueberry and different types of meat and fish. Reduce the messy refrigerator storage, save more space structure for the refrigerator.
🍋 MULTIFUNCTIONAL DESIGN: The bottom of the container has small opening that can be opened to drain out water and can also be used as colander to wash produce or strain food such as potatoes. The filter tray at the bottom is used to elevate food from the moisture hence can be used as storage after cleaning without changing containers. Filtering out the water on the surface of vegetables and fruits to reduces spoilage of the food.
🥦BPA-FREE FOOD GRADE MATERIAL: LUXEAR Vegetables and Fruits storage Container made of high-quality, 100% food-grade safety, environmental-friendly and recyclable, made from material which can effectively resist stains and odors and 100% BPA-free.
🍊IDEAL HOLIDAY GIFT: It can also be used to store food in the refrigerator without fear of spoiling, and also as serving bowls for events such as Thanksgiving dinner, Christ Mass or events like healthy picnic party. It is a great gift ideal for your friends and families.
Sale
Bestseller No. 5
Vtopmart Food Storage Containers for Fridge, 6Pack 1.5L Fridge Organizer with Removable Drain Plate, Produce Containers for Fridge to Keep Fruits, Vegetables, Meat, Fish Fresh and Dry
Perfect Size for Storage: Our Vtopmart food storage containers includes 6pack, each pack is 1.5L, suitable for refrigerator, pantry cabinets and kitchen. Stackable design makes them a good helper for saving space.
Keep Food Fresh: The produce containers for fridge come with a water filter tray which is an added advantage to keep the moisture away thus enabling longer life of the produce. No more water accumulation at the bottom of your containers!
Food Grade Material: Plastic construction is BPA-free for you and your family,making them become such a good produce saver containers for refrigerator.They are made from durable 100% food grade material.
Multiple Usage: The fruit storage containers with lid are great for creating a clean and organized fridge, idea for organizing vegetables, fruits, fish, meats inside your fridge.
Convenient to Use: The transparent color allows you to see what is present inside the containers easily. Please notice that you need to hand wash the fruit storage containers for fridge, dishwasher and microwave is not supported.
Bestseller No. 6
Bestseller No. 7
PIKANTY Bacon Refrigerator Keeper Storage Container for Cold Meat Deli | Designed for American Package of 1 Pound | L 11" W 6 1/2" H 2" | Crystal Clear | Made in USA
KEEPS BACON FRESH - Bacon saver keeps out moisture and seals in freshness to extend the life of your meat without wasteful foil or plastic wrap.
MADE WITH EASY-CARE PLASTIC - Easy to Clean and Store in your Fridge. The materials bacon strips keeper is made of guarantee durability and strength - break-resistant even if it falls. The dishwasher and Freezer are safe.
STRONG, HANDY & STYLISH - The attached lid works on a hinged mechanism that allows the box to be opened and closed with ease and to make access quick and convenient.
SERVING TONGS INCLUDED - Enjoy excellent quality serving that you can wash and reuse time and time again at any time!
MADE IN USA - At Pikanty, we provide 100 percent guaranteed quality in our products!
Bestseller No. 8
2 Pack-Plastic Bacon keeper with Lids Airtight, Deli Meat Cold Cuts Cheese Saver Food Storage Containers for Refrigerators, Freezer,Shallow Low Profile Christmas Cookie Holder
✔2 Pack - Rectangular plastic food storage containers helps meat fresh.
✔Leakproof Closure - Tight-fitting hinged lid closes snug and wont leak so its ideal for the camping cooler.
✔Good airtight, suitable for storing Sliced meat, Bacon, fish, seafood, cheese, Cooked food, Cold dishes, Fresh vegetable slices, And keeping them fresh in the refrigerator.
✔For carrying biscuits, food, Cold dishes, Cheese slices to schools, Offices, parties and picnics!
✔BPA Free, Food grade material, Freezer, Dishwasher and Microwave safe.Measures approximately: 9.6-Inch x 7.3-Inch x 1.2-Inch.
Bestseller No. 9
Yiautao Food Storage Container, Plastic Food Containers with Removable Drain Plate and Lid, Stackable Portable Freezer Storage Containers - Tray to Keep Fruits, Vegetables, Meat and More (4,Large)
Space Saving: 11x 8.2x 2inches, 4-Packs, easy to store; can be used in most refrigerators, freezers, cabinets, drawers; stackable design can effectively use every inch of the home kitchen, easy and fast access to the food or items you want, save your space.
Eco-friendly Material: made of PP plastic, transparent design makes it easy for you to identify content or food. With the protective lid.
Multiple Uses:Fridge Organizer Case with Removable Drain Plate, Tray to Keep Fruits, Vegetables, Meat, Fish etc. Out of The Drippings
Keep Your Fridge Organized:Our refrigerator plastic bins with lids are made to provide you with a convenient, hygienic and cost-friendly way to add more structure to the way you store your meats and groceries while helping reduce the clutter to organize all your fridge essentials the easy way
Attention: Please do not use food storage containers in the microwave or oven.
Bestseller No. 10
Fruit Vegetable Storage Containers for Fridge, Draining Fresh Containers 3 in 1 Saver Storage Containers Large Organizer Bins with Lid & Colander for Salad Meat Storage (Round (850ml))
【Fruit Vegetable Storage Containers for Fridge】The grocery storage containers feature a leak-proof locking lid to seal fruit, meat, even dry fgrocery. Keep grocery fresher longer and prevents fridge odor.
【Versatile grocery Containers】Three sizes of capacity are perfect for a variety of Fruit, vegetables, meats. It can easily solve the problems of cleaning, soaking, pre-cutting and freshing of Fruit, vegetables and meat.
【Space Saving grocery Container Set】Space-efficient design for easy kitchen / refrigerator / fridge / freezer / countertop / pantry organization. Bases inside each other, a complete set of grocery container can all fit in the largest size container.
【3-in-1 BPA-frees Plastic grocery Storage】Each Drain box consists of a airtight seal lid + draining colander + thick & durable box. The colander is removable and can be used individually. Remove the colander and the SAVE box can be used alone.
【Easy-care Freezer Storage Containers】BPA-frees containers are microwave safes and dishwasher-safes. You don't need to worry about cleaning anymore.
FAQs About Meat Storage Containers
Here are a few FAQs about Meat Storage Containers.
Can you store meat in plastic containers?
Yes, you can store meat in plastic containers as long as they are food grade and BPA free. Make sure to tightly seal the container to avoid bacteria growth.
Can you put plastic containers in the fridge?
Using plastic containers in the fridge is a matter of preference. Some people think that they can handle cold temperatures better, while others think they retain more bacteria from meat juices and give food a different flavor.
If you go with plastic, try to avoid putting them on the door since the temperature fluctuates a lot there out of necessity for food safety.
Can you store cooked food in plastic containers?
Cooked food can be stored in plastic containers, but the containers must be microwave-safe. Plastic containers not labeled as microwave-safe may melt when microwaved.
How do you keep meat fresh for a long time?
To keep meat fresh for a long time, you should store it in a meat storage container. These containers are designed to keep meat at the correct temperature and humidity to keep it fresh. They come in a variety of sizes, so you can choose the one that is best for your needs.
Does meat need to be vacuum sealed to freeze?
No, meat does not need to be vacuum sealed in order to freeze. However, it is important to note that freezing meat in an unsealed container can cause bacteria to grow and affect the quality of the meat. It is best to freeze meat in a sealed container or bag in order to prevent this from happening.
Is the plastic under meat toxic?
The plastic under meat really has no effect, as the line of defense starts with your refrigerator and ends at your stove.
The FDA recommends that the only ways to hinder bacteria growth in food is through methods involving cooking, proper chilling and storage or destroying it first (such as using a bleach solution).
Plastic wrap will not protect you against harmful bacteria. The plastic does its job by preventing moisture loss – but make sure your fridge temperature is set right around 40 degrees, 65 if possible for optimal safety.