Best Meat Storage Containers: Guide to Buying and Preserving Meat Safely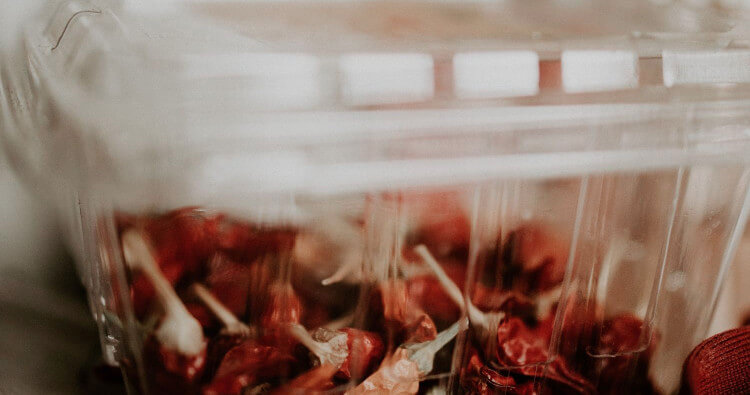 Buying meat in bulk is the best way to save money while eating well — but if you don't have a meat storage container solution, chances are those savings will go to waste.
Choosing the appropriate meat storage containers is crucial for freezing, refrigerating, or dehydrating meat. This guide will help you identify the best options, consider important factors before purchase, and suggest places to buy suitable containers. By the end, you'll know the perfect food containers for your meat preservation. Let's dive in!
Disclosure: As an Amazon Associate, this site earns from qualifying purchases. Thank you!
Types of Meat Storage Containers
There are three main varieties of meat storage containers that you'll want to familiarize yourself with: Hard plastic containers, plastic bags and vacuum sealed bags, and glass containers with locking lids. Let's take a closer look at each category:
Quick Sidenote – check out our shop for a curated selection of the best meats, cuts, sausages, and more. Open our shop in a new tab and explore!
Hard Plastic
Stiffened plastic storage containers are the restaurant industry standard for storing meats, marinades, sauces, and vegetables. They come in a huge range of sizes, from tiny 2-quart flat containers to massive 22-quart containers suitable for bulk storage.
You'll want to stick with name brand and reputable sources for hard plastic storage containers, as there are plenty of inferior quality products on the market that are prone to chipping and cracking.
The Webstaurant store should be your first stop for buying hard plastic food storage containers — just be sure to keep the dimensions of your fridge and freezer in mind when ordering. You can also search Amazon for similar products here.
Silicone or Plastic Bags
Popularized worldwide by the Zip-Loc brand, plastic bags are a quick and painless way to store small to medium quantities of any type of meat. They're great for marinades, too, since they will naturally take the shape of the meat and liquid used for marinating.
On the down side, plastic bags aren't infallible — and when leaks develop, your meat can quickly make a mess and be more prone to spoilage. Some folks check out new silicone bags, which are strong, reusable, but expensive.
However, there is a long-term solution to this: Vacuum sealers. If you're looking to freeze and store meat for anything over a month, vacuum sealing will preserve the freshness and flavor of meat better than any other storage option.
We love vacuum sealing bags for meat storage, and have written a handy guide to vacuum sealers for meat along with a roundup of the best vacuum sealer for every use that will answer any questions you might have about the process and products.
Glass
Brought into vogue by the meal prepping phenomenon, glass food storage containers are a small and attractive option for storing individual portions of meat, vegetables, grains — really, any food you can imagine.
They're ideal for home chefs that are cooking meals for 4 or fewer people, and usually come in large sets that will give you plenty of storage capacity.
If you're looking to store cooked meats for use later in the week, there's no shortage of glass container sets available on Amazon right now. Look for something with a locking lid that forms an airtight seal and that's made of BPA-free plastic, like this 24-piece glass food storage container kit.
Glass Food Storage Containers Set with Leakproof Lids, Freezer Oven Safe Food Containers, 24-Piece Set, Gray
24-PIECE SET: 12 Containers with 12 lids with various sizes and shapes for meal prep, storage leftovers, and all food storage needs. Set includes: 2 (12 oz), 1 (21.5 oz) 1 (35oz ) 2 (11 oz) 1 (17.5 oz) 1 (27 oz) 2 (13.5 oz) 1 (21.5 oz) 1 (32 oz) lids included
PREMIUM GLASS: Crafted of borosilicate transparent glass, containers tolerate rapid temperature changes, never warping or cracking. Entirely safe to transfer from freezer to oven in instants. Glass containers won't absorb stains or smells, making it the perfect choice for acidic foods. Glossy surface maintains the tastiness of food for long periods of time
SAFE AND FRIENDLY: As opposed to plastic, glass is friendly to the environment and free of chemicals. Hot foods can be transferred directly to the containers, as no chemicals will leech into the food. Lids are crafted of BPA-free plastic, making them a safe choice
AIRTIGHT SEAL: A locking lid creates an airtight seal for food freshness. Newly innovated hinged-lids technology enables the lid to flip open and shut quickly and lasts longer than those crafted of one piece. Containers are leakproof and perfect for the gym, pool, or work
EASY TO CLEAN AND STORE: Containers are dishwasher safe, making cleaning them a breeze. (please note lids are not dishwasher safe.) Containers and lids are stackable and nest inside each other
Before You Buy: Considerations for Choosing A Meat Storage Container
To narrow down your choices of meat storage containers, we find it helpful to ask three big questions:
Raw or Cooked Meat?
What sort of meat do you plan on storing? The right containers for raw meat and cooked meat (i.e., leftovers) can be quite different.
For example: Ground beef is much easier to store in a small, hard-sided glass or plastic container than it is to store in a plastic bag.
But if you're marinating a large cut of beef, a plastic bag is a more effective choice for evenly distributing the marinade liquid. For cooked meat, you can use any storage option to good effect.
How Much Meat Do You Need to Store?
What quantity or volume of meat are you trying to store? Small portions of lunch meat can easily be tossed into a multipurpose glass container, while larger cuts of meat will almost always need to be vacuum sealed in a plastic bag.
If you're storing large amounts of meat in a marinade, though, a large hard plastic container is the only solution that will do the trick.
Either way, be sure to measure the area where you plan to store your meat and purchase containers that fit accordingly.
Refrigerating or Freezing?
Are you planning on keeping your meat in the refrigerator, or wanting to freeze larger portions that you've bought or caught in bulk?
Refrigerating meat can be done with any of the types of storage containers listed above, while freezing meat is always better left to vacuum sealing before using freezer storage.
Eliminating the air in your meat storage container will prevent oxidation and freezer burn, extending the life of your largest cuts.
Where to Buy Meat Storage Containers
Now that you know which type of storage containers you'll need for your meat, here are our suggestions for the best places to buy each type of container:
The Webstaurant Store has the best selection of hard plastic storage containers for meat. Check out their page for matching lid and container combos to get the best price in any size you need.
Amazon has a great selection of vacuum sealers, complete with the bags you'll need to use to operate them. Our favorite for home use is the Mueller vacuum sealer machine.
Glass food storage containers are popular and widespread enough that you'll likely be able to find a good set at your local grocery store. Just make sure that they have airtight sealing lids to keep your meat as fresh as possible.
Bestselling Meat Storage Containers on Amazon
Bestseller No. 1
Bestseller No. 2
Freshmage Bacon Container for Refrigerator, 304 Stainless Steel Airtight Deli Meat Storage Containers for Fridge Dishwasher Safe Long Kitchen Food Storage Containers with Lids with Elevated Base…
????Keep fresh longer: The deli meat containers is designed with an improved sealing environment, featuring a raised pattern at the bottom to minimize contact between the food and the container's base. Additionally, it separates food from water, creating an optimal storage environment. As a result, the freshness of the food is extended.
????Airtight: A sealed environment can prevent gas exchange between the sealed deli containers with lids and the refrigerator, preventing the environmental influence inside the refrigerator from affecting the preservation of bacon, and also preventing the spread of the smell of deli meat to the entire refrigerator.
????1 pound capacity: A fridge organizers and storage designed specifically for the capacity of one pound of bacon that is more suitable for the shape of the bacon. Help us better and more conveniently store bacon that has been opened in packaging bags, making it easy to retrieve multiple times without wasting refrigerator space due to unsuitable boxes
????304 Stainless steel material: The kitchen organization is made of stainless steel material that is safe in contact with food, more safer and more durable than plastic. Dishwasher safe.
????More uses: Not only can it store bacon, but it can also store more elongated foods, such as pasta, asparagus, celery, and so on.
Bestseller No. 3
Tioncy 2 Pcs Deli Meat Container for Fridge Bacon Container for Refrigerator Stackable Food Storage Boxes with Lid Cheese Keeper Box for Fridge Airtight Deli Holder Organizer for Turkey Pantry Lunch
Package Content: you will receive 2 sets of meat containers for refrigerator, each set includes 3 boxes, sufficient quantity to meet your decorative needs in your kitchen, to sort your meat in order
Suitable Size: our deli meat storage containers for fridge is approximately 8.86 x 6.3 x 3.35 inches/ 22.5 x 16 x 8.5 cm, suitable and compact, proper and lightweight, you can use it to store and hold a lot of meat as you like, to give you a cozy and neat touch
Thick and Reusable: these cheese organizers for fridge are made of pet material, strong and safe, which can come into direct contact with food, reliable and thick, reusable and easy to clean, giving you a long term use and less cleaning labor
Handy and Functional: you can use this bacon keeper for refrigerator to hold bread slices, sandwiches, leftovers, pies, fruits, salad, snacks and more, providing convenient and useful options for storing foods
Stackable and Clean: there are 3 layers of boxes of our cookie storage containers, stackable and clean, not taking up much space on your counter, neat and tidy, easy to distinguish and apply
Bestseller No. 4
yarlung 6 Pack Bacon Keeper for Refrigerator, Deli Meat Saver Container with Airtight Lid, Cold Cuts Cheese Holder for Fridge Food Storage, Christmas Cookie, 2 Pcs Serving Tongs
Yarlung value set of 6 bacon keeper container for refrigerator fresh storage, measure 9.5"L x 7"W x 1.5"H, come with 2pcs 6.3 inch long acrylic serving tongs for easy access to food.
Right size meat saver for storing bacon, deli meat, lunch meat, cold cuts, cheese slices, vegetables, spices, cookies and more, take your favorite snacks to offices, parties, and picnics with ease.
Open the airtight lid with a good flexibility, good sealing performance to ensure that your food will be protected well from absorbing other food odors or flavors in the refrigerator.
Made of high quality PP material, our bacon container is BPA Free and food safe, freezer and dishwasher safe, durable and reusable, soft to the touch, not easy to deform or crack.
The bacon containers set can be used in most refrigerators, freezers, cabinets, they are stackable to save you storage space, value qty set to share with your friends and neighbors.
Bestseller No. 5
Youngever 3 Pack 1.3 Gallon Food Storage Containers, Plastic Bacon Containers, Meat Containers
Plastic Bacon Containers GOOD VALUE - 3 Pack 1.3 Gallon Meat Container with vibrant color lids.
TIGHT LIDS - The Lids are designed very tight. Ideal for storing meat, fridge use or solid food. Note: This is not entirely leakage-proof.
PORTABLE & STURDY & KIDS SAFE - Made of DURABLE plastic material. Microwavable, stackable, freezer & dishwasher safe(Top rack). NO BPA, NO LEAD.
USAGE - Bacon saver keeps out moisture and seals in freshness to extend the life of your meat without wasteful foil or plastic wrap.
SIZE - Capacity: 1.3 gallon. 13.5 x 10.5 x 3 inches.
Bestseller No. 6
Mepal, MODULA Food Storage Boxes with Lid for Salami, Cold Cuts, Turkey, Bologna, Deli and Luncheon Meat, BPA Free, Color, 3 X 550ml | 18.6oz, 1 Set
MEPAL's MODULA 3-piece meat box set allows for fresh storage of all your favorite cold cuts, ranging from the most decadent salami and beef to organic turkey and chicken
Airtight and leakproof, lightweight, dishwasher safe, BPA free
Thanks to the stylish design and stackability, the box is not only extremely practical, but also looks smart on your kitchen counter
Pairs perfectly with the MEPAL brand's Modula cheese and storage boxes.
For over 70 years the renowned European Dutch brand MEPAL has been dedicated to creating products like this meat storage box set that you can enjoy using every day
Bestseller No. 7
Suclain 4 Pieces Bacon Keeper Plastic Deli Meat Saver with Lids Airtight Cold Cuts Cheese Container for Fridge Food Refrigerator Storage Box Shallow Low Christmas Cookie Holder
What's Included in the Package: you will receive 4 pieces of deli meat containers overall, enough quantities to allow you to place different food, or you can share them with your neighbors
Considerate Material Adopted: the bacon storage container for fridge is mainly made of plastic, solid and hard, with a smooth surface, no bad smell, which can be safely applied to refrigerators and dishwashers, serving you for a long time
Applicable Occasions: the bacon keeper can be applied to store bacon, meat, cold cuts, cheese, vegetables, spices, etc., keep food well organized in the refrigerator or freezer, not occupying much space
Keep Food Fresh: each bacon saver is equipped with a sealed lid, which can keep your meat inside without being exposed to the external environment, avoiding the loss of the original taste to some extent
Detailed Size Information: the bacon holder for refrigerator measures approx. 24.5 x 18.5 x 3.5 cm/ 9.65 x 7.28 x 1.38 inches, the proper size is easy for you to hold, store and carry
Sale
Bestseller No. 8
ANMOFLY Bacon Container for Refrigerator,Bacon Keeper 304 Stainless Steel Airtight Deli Meat Storage Containers for Fridge,Long Kitchen Food Storage Container with Lid and 2PCS Forks
Durable 304 stainless steel construction - Our bacon container is made from high-quality stainless steel, ensuring long-lasting durability and resistance to rust and corrosion.Size : 10*4*2inch
Airtight and leak-proof design - The airtight lid of our deli meat storage container effectively seals in freshness and prevents odor leakage, keeping your bacon and other food items fresh for longer periods.
Dishwasher safe for easy cleaning - Our refrigerator container is dishwasher safe, making cleanup a breeze. Simply place it in the dishwasher after use and enjoy hassle-free maintenance.
Elevated base for improved airflow - The elevated base of our food storage container allows for proper airflow, preventing condensation and keeping your bacon crispy and delicious.
Versatile and spacious - With its generous capacity, our kitchen storage container is not only perfect for storing bacon, but also for keeping deli meats, cheese, and other perishables fresh and organized in your fridge.
Bestseller No. 9
Barydat 4 Pcs Food Storage Container with Lids Set 2qt and 4qt Square Clear Commercial Containers with Scales Handles for Home Restaurant Kitchen Food Storage, Proof Dough, Marinating Meat (Green)
Package Information: you will get 4 pieces of food storage containers, there are 2 kinds of capacity, approx. 2qt and 4qt, the lid is green; Sufficient quantity will meet your using needs, and you can share them with your family
Reliable Material: these baking containers storage sets are mainly made of PC material, strong and durable, with smooth surface and fine workmanship, not easy to break or fade, which will serve you for a long time; They are square and can be easily stacked for storage
Clear and Practical: the appearance of the restaurant food storage containers is clear, so you don't have to open the container, you can just see what's inside from the outside; And they are designed with the scale, will bring you convenience
Keep the Food Fresh: our square food storage containers are designed with the lids, can prevent the liquid from spilling out; They are airtight, which can protect your food and reduces its exposure to air, to make your food last longer
Widely Applicable: you can use our commercial food storage containers on various occasions, to store all kinds of food, liquid or solid; They can be cleaned and then reused, you can choose the size you need to use
Bestseller No. 10
Bacon Storage Container with Air-sealed Tight Lid for Fridge Bacon Holder Deli Meat Cheese Keeper with Food Serving Tongs and Drain Plate for Refrigerator
PREMIUM MATERIAL: The Bacon container is made of premium food-grade PET plastic material. Strong and wear resistant. The bacon container can be in direct contact with the food. High transparency. You can clearly see the food inside. With a lid with a date setting, you can easily know how long the bacon has been stored.
ESSENTIAL STORAGE CONTAINER FOR BACON: The bacon container keeps the bacon hydrated and sealed fresh. Not only is it easy to use, and aesthetically pleasing but you don't have to worry about cross-contamination with other food, and keeps your bacon fresher for longer. The lining of the storage container is smooth and easy to clean.
SAY GOODBYE TO PLASTIC ZIPPER BAG STORAGE: Versatile storage containers can be used for a long time without the need to use plastic zipper bags to preserve bacon. Suitable for storing in refrigerators, freezers, cabinets. Stackable to save your storage space.
EASY TO USE: You can easily store large quantities of bacon. There is a removable drain plate inside the storage container. You can use the included food tongs to place the bacon on a drain tray, cover and store in the refrigerator. The drain plate allows excess water or liquid to drip to the bottom of the food container, preventing the meat from sticking to the bottom.
VERSATILE: Suitable for storing meat slices, bread slices, bacon, fish, seafood, cooked food, cold cuts, and fresh veggies slices, good seal keeps your ingredients fresh in the refrigerator.
FAQs About Meat Storage Containers
Here are a few FAQs about Meat Storage Containers.
What is the best container to store raw meat in?
The best container to store raw meat in is a sealable glass container in the refrigerator, as it prevents bacteria from entering if there is air in the package.
Is it safe to store raw meat in plastic containers?
It is safer to store raw meat in plastic containers by keeping them securely stored in containers or sealed plastic bags to prevent the juices from contaminating other foods.
Which is the safest way to store raw meat in the refrigerator?
The safest way to store raw meat in the refrigerator is by placing it below other items to prevent cross-contamination caused by accidental drippings. It is recommended to keep the raw meat on a plate and cover it with either plastic wrap or an airtight covering. Generally, raw meat remains fresh in the fridge for a duration of 1-2 days.
What type of storage is best for meat products?
The best type of storage for meat products is freezing. If you want to keep uncured, raw meat for longer than three days, it is recommended to seal it in an airtight package and freeze it. Freezing can extend the shelf life of meat for several months.
How do you store meat without a cooler?
There are several methods to store meat without a cooler. These include pressure-canning, dry salt-curing, brine-curing, dehydrating, cold-smoking, making confit, making a Zeer, and burying meat.
Can you keep raw meat in Tupperware?
Raw meat can be kept in Tupperware or plastic food storage containers with sealable lids. It is important to store it properly by placing it on shelves below other food products.
Which two types of raw meat should be stored in the same container?
The two types of raw meat that should be stored in the same container are beef and pork. It is important to ensure that they are properly wrapped in their original packaging or stored separately in a sealed container that is no more than three inches deep. This will help prevent contamination and the growth of bacteria in other foods. Additionally, placing a piece of raw beef in a pouch or appropriate container will reduce the likelihood of contaminating other items.
Why is it best to store meat in a drawer or on the lowest shelf of your fridge?
It is best to store meat in a drawer or on the lowest shelf of your fridge because the temperature on the bottom shelves is consistently cold, making it ideal for keeping raw meats, poultry, and fish fresh.
Can you store meat in airtight container?
You can store meat in an airtight container to ensure its freshness and prevent cross-contamination. Raw meats should be tightly wrapped in plastic wrap or foil to prevent any juices from dripping onto other foods. Cooked meats, on the other hand, can be safely stored in an airtight container or a zip-top bag.
How long can ground beef stay in the fridge in Tupperware?
Ground beef can stay in the fridge in Tupperware for only one to two days, as stated by FoodSafety.gov.
What plastic is best for long term storage?
The best plastic for long term storage is HDPE, LDPE, and PP plastics, which are considered the safest options for food storage containers. These types of plastics include juice and milk jugs, grocery bags, bread bags, produce bags, and food storage boxes. They allow for storing food without the risk of any harmful substances seeping into it.
What can I use for long term food storage?
For long term food storage, you can utilize Mylar Bags along with oxygen packets. It is possible to seal the bags using a regular clothes iron, although certain types of bags may require a sealer. It is important to consider this when selecting the appropriate bags. Mylar bags effectively create a protective barrier between the food and its surroundings, ensuring the safety of the food during long term storage.
What is the best moisture absorber for long term food storage?
The best moisture absorber for long term food storage is the 100 Pack Mylar Bags for Food Storage with 100x300cc Oxygen Absorbers. These mylar bags are constructed from top-notch material, ensuring excellent protection against moisture and maintaining the freshness of the food. Additionally, they are reusable and sealable, providing convenience for users.
Sale
100 Pack Mylar Bags for Food Storage with 100x300cc Oxygen Absorbers - 9 Mil 10"x14", 9Mil 6"x9", 9Mil 4.3"x6.3" - Resealable Bags for Packaging Products & Ziplock Food Grade Bags for Storage
【YOU CAN GET】100 mylar food storage bags in 3 different sizes - 25 pcs of 1 Gallon mylar bags 9 Mil 10"x14", 35 pcs of mylar bags 9 Mil 6"x9", 40 pcs of mylar bags 9 Mil 4.3"x6.3", come with 100 PCS 300cc oxygen absorbers and 150 Sticker Labels for food storage, easily meet your food storage needs. The additional 10 bag sealing clips can assist you to seal the bag opening of the mylar bag, simple and convenient.
【STURDY MATERIAL】Our mylar bags is made of food grade & premium quality aluminum foil, EASILY SEALABLE, can withstand temperatures from -50°C (-58°F) to 120°C (248°F). Keep your food long term fresh.
【REUSABLE & SEALABLE 】Simply place storage in resealable mylar bags with oxygen absorbers, expel air from the bag and seal with a household iron / hair straightener. Heat sealing preserves mylar bags for longer time,can be sealed and opened multiple times.
【MULTI-PURPOSE USE】These mylar bags for food storage with excellent save, suitable for store candy, freeze dried products, coffee, spices, baking powders, cookies, tea, rice, pasta,make-up & lip gloss etc.
【CUSTOMER SATISFACTION GUARANTEE】We are committed to providing you with premium and durable mylar bags, it will be an excellent choice for your food storage needs.If you're not satisfied order, please contact our customer assistance team and we will solve the problem for you right away.
What are the different types of containers in storing meat?
The different types of containers used for storing meat include hard plastic containers, plastic bags and vacuum sealed bags, and glass containers with locking lids.
What is the best storage for meat?
The best storage for meat is to ensure that your refrigerator is maintained at a temperature between 34° and 40°F. It is recommended to store raw meat on the lowest shelf or in a designated drawer. To collect any juices that may run off, it is advisable to place a plate underneath the meat, particularly when thawing. Regularly cleaning your fridge is also important.
What are the six ways of meat storing?
The six ways of meat storing include cold storage, freezing, vacuum packaging, canning, drying, fermentation, and irradiation. Cold storage is crucial as temperature plays a significant role in controlling bacterial growth. Freezing meat at an appropriate rate helps maintain its quality. Vacuum packaging is effective as it deprives bacteria of oxygen, which they need to grow. Canning, drying, and fermentation are also methods used for meat preservation. Lastly, irradiation can be employed to extend the shelf life of meat.
Is it better to freeze food in glass or plastic?
It is recommended to freeze food in glass containers rather than plastic. Glass containers are a safer option for storing leftovers as plastic containers can release chemicals when frozen, just like when they are heated. Opting for freezer and refrigerator safe glass containers ensures better food safety, as they do not release any harsh chemicals or break when frozen.
What are the three types of containers What are they used for?
The three types of containers and their uses are as follows:- One Trip: This type of container is the newest and has only carried cargo once.- Used: These containers have been in service for up to 15 years before being retired.- Purpose-built: These are custom steel boxes that are fabricated to exact specifications.
What is the best freezer container for raw meat?
The best freezer container for raw meat is stainless steel. If you're looking for a plastic-free option to store meat in the freezer, stainless steel containers with airtight lids are an excellent choice. They work well for both leftovers and raw meat.
What is the safest container to freeze food in?
The safest container to freeze food in is either a rigid container or a flexible bag or wrapping. Rigid containers, which can be made of plastic or glass, are suitable for all types of food and are particularly beneficial for liquid packs. The straight sides of these containers make it much easier to remove the frozen food.
What are three ways of storing meat?
Three ways of storing meat include keeping it in the coldest section of the refrigerator, opting for vacuum packaging for longer preservation, and placing it 'aired' under a cloth for shorter durations.
What are three types of storing preserved meat?
Three types of storing preserved meat include canning, drying, and freezing. These preservation techniques allow for the safe consumption of meat and poultry long after they have been harvested.
Can you store meat in plastic containers?
Yes, you can store meat in plastic containers as long as they are food grade and BPA free. Make sure to tightly seal the container to avoid bacteria growth.
Can you put plastic containers in the fridge?
Using plastic containers in the fridge is a matter of preference. Some people think that they can handle cold temperatures better, while others think they retain more bacteria from meat juices and give food a different flavor.

If you go with plastic, try to avoid putting them on the door since the temperature fluctuates a lot there out of necessity for food safety.
Can you store cooked food in plastic containers?
Cooked food can be stored in plastic containers, but the containers must be microwave-safe. Plastic containers not labeled as microwave-safe may melt when microwaved.
How do you keep meat fresh for a long time?
To keep meat fresh for a long time, you should store it in a meat storage container. These containers are designed to keep meat at the correct temperature and humidity to keep it fresh. They come in a variety of sizes, so you can choose the one that is best for your needs.
Does meat need to be vacuum sealed to freeze?
No, meat does not need to be vacuum sealed in order to freeze. However, it is important to note that freezing meat in an unsealed container can cause bacteria to grow and affect the quality of the meat. It is best to freeze meat in a sealed container or bag in order to prevent this from happening.
Is the plastic under meat toxic?
The plastic under meat really has no effect, as the line of defense starts with your refrigerator and ends at your stove.

The FDA recommends that the only ways to hinder bacteria growth in food is through methods involving cooking, proper chilling and storage or destroying it first (such as using a bleach solution).

Plastic wrap will not protect you against harmful bacteria. The plastic does its job by preventing moisture loss – but make sure your fridge temperature is set right around 40 degrees, 65 if possible for optimal safety.