Top 10 Andouille Sausage Substitutes for Delicious Recipes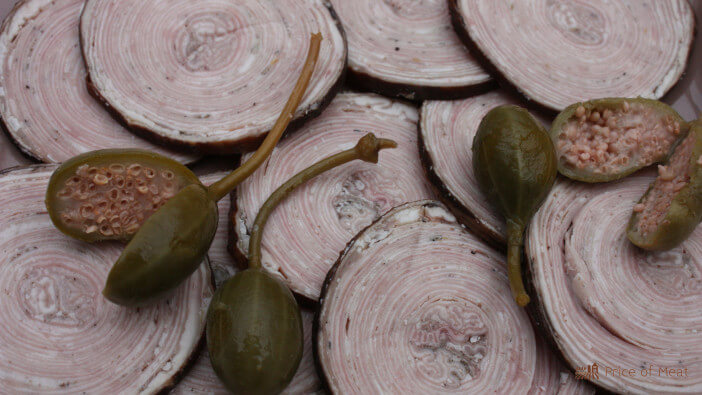 When it comes to sausages, there are nearly as many different varieties as there are personalities on the planet. One of the spicer and more flavorful sausages on the market is the andouille sausage, a meat confection that today is associated with Cajun cuisine.
And while andouille sausage is an amazing ingredient, there may be times when it's not on hand or just hard to come by.
Thankfully, quite a few delicious alternatives can still deliver the spice and smoked sausage flavor you seek in those situations.
Disclosure: As an Amazon Associate, this site earns from qualifying purchases. Thank you!
Quick Sidenote – check out our shop for a curated selection of the best meats, cuts, sausages, and more. Open our shop in a new tab and explore!
Here are 10 of the best Andouille Sausage Alternatives
Below are 10 of the very best andouille sausage alternatives that can still deliver a bold flavor.
#1. Mexican Chorizo
Mexican Chorizo is the best substitute for Andouille sausage due mainly to its spiciness and smoky flavor derived from smoked red peppers.
However, since it is a minced sausage, the texture does differ from andouille. That said, there are very few other contenders that can match Mexican chorizo when it comes to spicy flavor.
#2. Italian Sausage
Italian sausage is made using pork but has seasonings like red pepper flakes and garlic, giving it a spicier flavor than most sausages. Plus, you can often find "spicy" versions of this sausage that offer a higher "heat level."
#3. Bratwurst
Bratwurst has a texture similar to andouille sausage and contains ingredients like garlic, ginger, nutmeg, salt, and caraway, that make it very flavorful.
Another factor is that you can heavily smoke bratwurst before cooking it to give it more of a bold flavor. It's the go to popular German sausage substitute.
#4. Kielbasa Mysliwska
Kielbasa is the term Polish people use to describe sausages. It really means any Polish sausage, but one in particular called the "Kielbasa Mysliwska, or the "Hunter's sausage," is popular because of its bold, smokey flavor.
It's made with pork and ingredients such as pepper and garlic. However, kielbasa sausages tend to contain a little cardamom, which can influence the flavor of some dishes.
#5. Ground Beef
While ground beef isn't a sausage, it's often used as a substitute in many Creole and Cajun recipes. Ground beef can be independently spiced to add spicy flavor to a dish, but it does mean sacrificing certain smokey flavors and, of course, Andouille sausage's unique texture.
#6. Sai Ua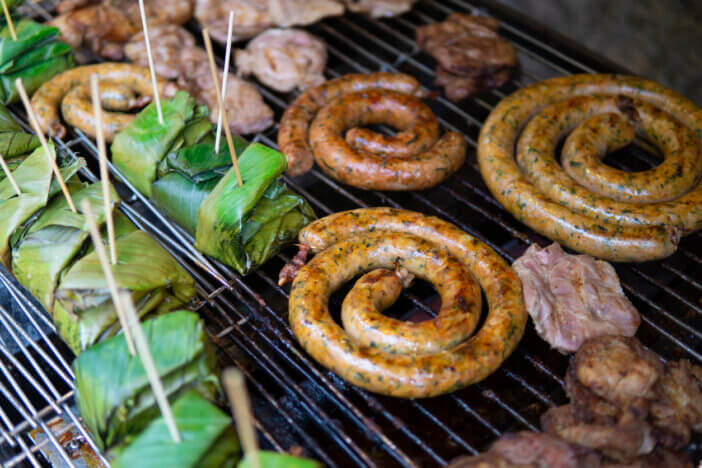 Sai Ua is a sausage from Thailand made using minced pork. It has a vibrant flavor that is great in many meals. These sausages are typically grilled instead of smoked and are far less spicy than andouille sausages.
#7. Butifarra pork sausages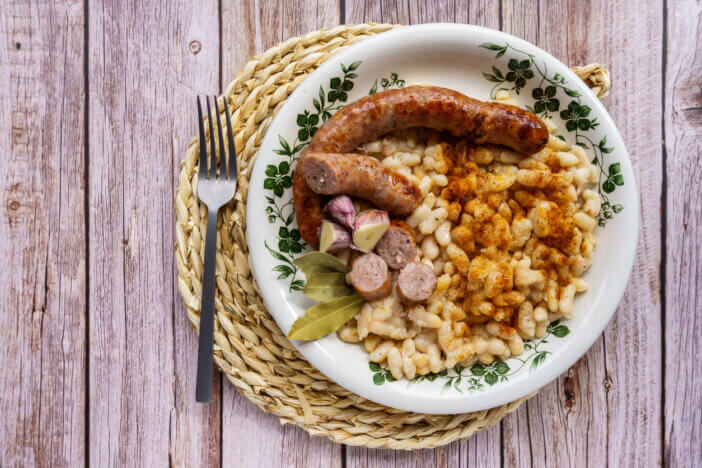 Hailing from Catalonia, Spain, Butifarra pork sausages is widely available. The texture is similar to andouille in that they are chopped, not ground.
These sausages include spices such as pepper and garlic and are usually grilled but sometimes smoked. Butifarra may not pack the same heat level, but they are incredibly flavorful.
#8. Choris (Chouricos De Goa)
Choris, also known as "Choris de Goa," is a sausage from the Portugal and Spain region that are Chorizo-inspired. While they differ slightly in flavor, they can serve as a fantastic Andouille substitute. They are made with pork meat, spices, and vinegar.
#9. Longgansia (longaniza)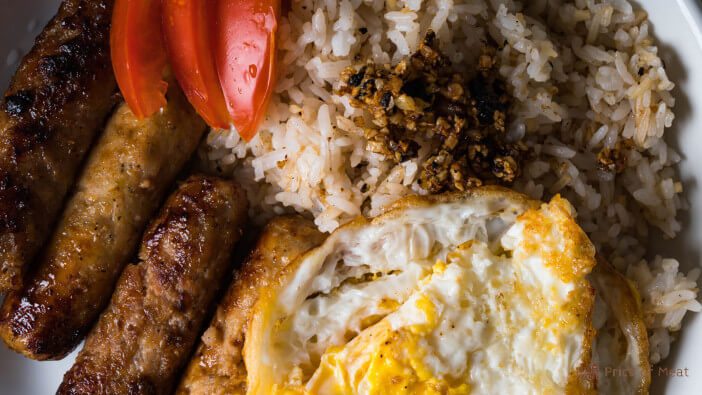 Longaniza, also called "Longgansia," sausages have a flavor much like chorizos.
The spiciness level varies from region to region. For instance, Spain uses black pepper, but Mexican Longaniza is even spicer than chorizo! If you're seeking a super spicy sausage, try the Mexican version. For saltier option, try the Filipino variation.
#10. Chourico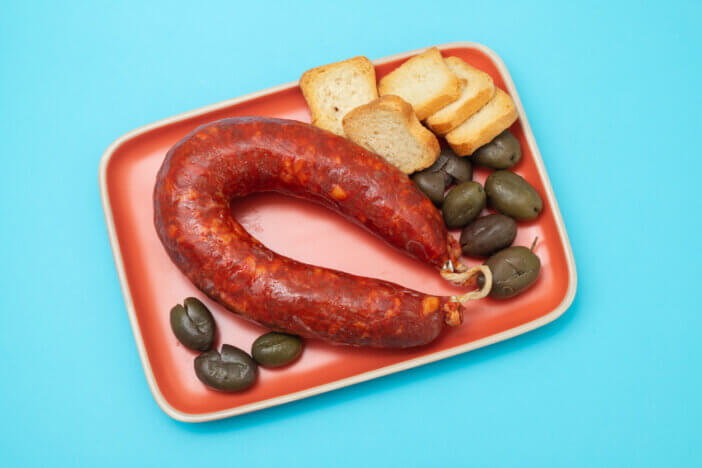 Chourico is Portugal's most famous sausage and has a flavor very close to Spanish Chorizo. It's made using pork meat and has a very spicy flavor thanks to its paprika and occasionally the inclusion of red vine.
What is different about andouille sausage?
It is no surprise that the Andouille sausage was invented in France, although some believe its origins can be traced back to Germany. As for its ingredients, the sausage has a pork base with various ingredients introduced from different regions in France.
Andouille is typically dried, then smoked, and finally steamed or boiled to create the final result. This sausage is very popular in Cajun and Creole cuisine, where you'll find that it's spiced much heavier than other andouille variations. Andouille is a key ingredient in dishes such as gumbo and jambalaya.
Andouille is different from regular sausage in both texture and flavor. While regular sausages are made using minced meat stuffing, andouille uses sliced or chopped stuffing, which gives it a much chunkier texture.
Also, andouille has a smokier and sharper flavor than most other sausage varieties, giving it a distinct aroma and flavor.
French Andouille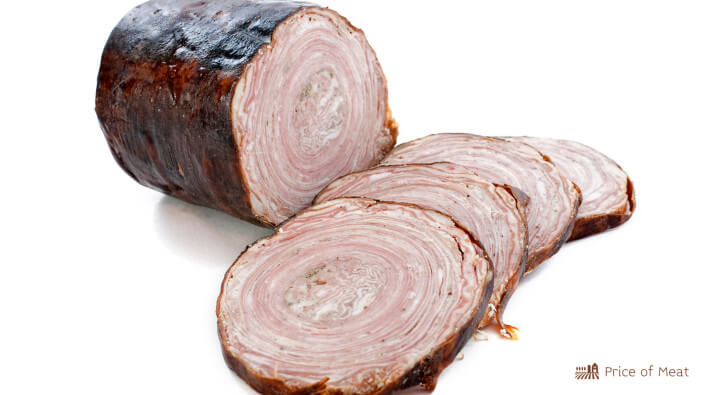 When it comes to traditional French Andouille, it's made using the entire digestive tract of a swine, which also includes the stomach along with the small intestines.
They would thinly slice or dice the chitterlings before combining them with seasonings and onion. As an option, wine might be introduced into the meat stuffing.
The mixture is then stuffed inside a sausage casing created from a pig's large intestine. As a result, the sausage has a very large size.
In traditional French cuisine, the andouille isn't smoked but rather poached. It's then left to cool and is served in thin slices. A smaller version of andouille is called "Andouillettes, " which uses a pig's small intestine for casing instead of its large intestine.
American Cajun and Creole Andouille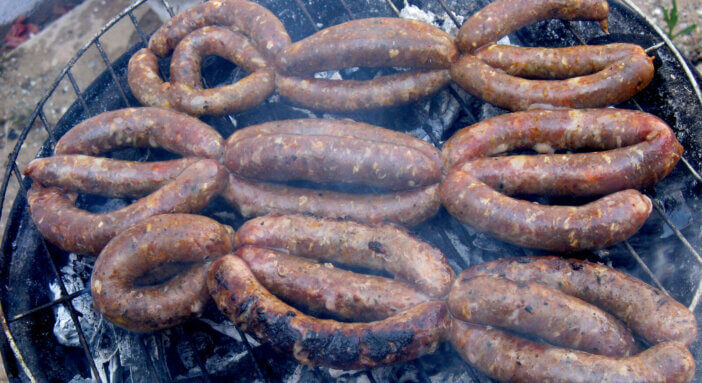 Andouille sausage in America is typically created using a pork butt, which consists of a pig's upper shoulder. American andouille has a heavy Creole and Cajun influence and is deeply spiced prior to being smoked two times.
The first smoking involves only the meat filling. Then the final smoking takes place when the meat is put inside its casing.
The city of LaPlace, Louisiana, a city that sits on the Mississippi River, is considered the "Andouille Capital of the World." Traditional Cajun and Creole cuisine usually uses pepper, garlic, potato, rice, and wine in their meat stuffing.
Just west of Lafayette, Louisiana, you'll find that Cajun andouille is often seasoned using cayenne pepper, then soaked in a bath of vinegar and water overnight. Finally, the meat stuffing is stuffed into its casing and hung in a smokehouse.
What is the difference between Cajun and Creole cuisine?
The terms "Cajun" and "Creole" are usually used interchangeably, but they are very distinct in many ways. Of course, there are always variations and hybrids of both cultures.
But, to put it plainly, creole is more associated with New Orleans or city food, whereas Cajun food is usually created in more rural areas.
Sometimes the differences can be racial, as creoles are bi-racial, and Cajuns identify more as white Acadians.
The Acadians were people who were relocated from France to Canada to Louisiana back in the 1700s. Roughly 3,000 Acadians ended up in Louisiana from 1765 to 1785 after first living in Canada.
As far as flavor, it's said that Cajun sausage dishes tend to trend spicer than creole cuisine. The different styles and cultures found in Louisiana can create some pretty dramatic differences in how the cook interprets the same dish.
FAQs about Andouille Sausage
Is andouille sausage similar to kielbasa?
Andouille sausage tends to be spicy. In contrast, kielbasa sausage isn't spicy. Andouille sausage's spiciness has much to do with the double smoking process and its paprika seasoning. The double smoking process enhances the flavor and thus makes it spicier.
Can you substitute bratwurst for andouille sausage?
Bratwurst will not be the best andouille sausage substitute if you want to replicate andouille sausage's spiciness.
However, if you just want a more flavorful than average sausage substitute with a similar texture, then bratwurst is similar since the meat is chopped or diced instead of minced.
Is andouille sausage similar to chorizo?
Mexican chorizo sausage and andouille are both very spicy sausages, and sometimes they are used interchangeably in certain recipes that call for a spicy sausage. While chorizo shares andouille's sharp, smoky flavor, chorizo tends to be a bit spicier.