15+ Best Smoke Flavors for Pulled Pork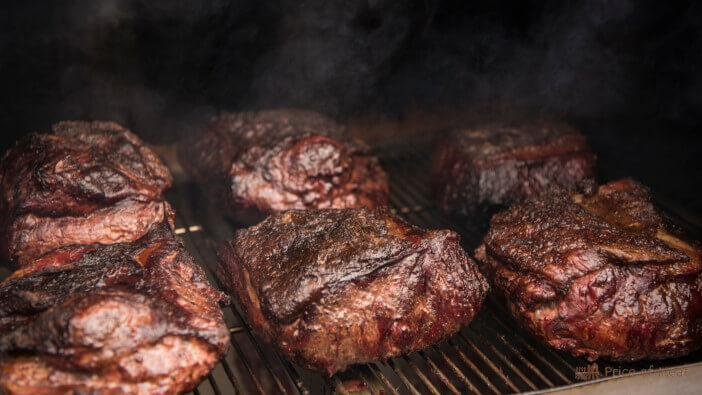 When it comes to cooking, the results you get from smoking pork are well worth the extra effort and time it takes. In today's fast-paced society, not everyone has the patience to smoke meat for hours at a time.
That's probably why the taste of smoked pulled pork is so rewarding, as all of that savory wood flavor gets infused into every bite (and why the contrast works well with a good rub, liquid or topping or bun). However, the best smoke flavors for pulled pork really depends on a lot of factors (similar to choosing for brisket or bacon).
Disclosure: As an Amazon Associate, this site earns from qualifying purchases. Thank you!
Understanding the different wood types
Hardwoods
Hardwoods tend to burn hotter, longer, and slower than softwoods. They are used for long cooks since they infuse better flavor into pork.
Quick Sidenote – check out our shop for a curated selection of the best meats, cuts, sausages, and more. Open our shop in a new tab and explore!
Hardwoods include hickory, maple, oak, alder, and pecan. Hickory and maple are very popular flavors for pork.
Fruitwoods
Wood from fruit-bearing trees delivers the lightest flavors. Cherry and apple are among the most popular fruit woods used for smoking.
Softwoods
Softwoods are not suitable for smoking pork or any other food because they are too resinous and may cause lots of flare-ups while infusing foods with strange and unappealing flavors.
They have a higher sap content that doesn't just ruin food but can damage your smoker. These woods also burn way too fast for smoking.
The different forms of wood used for smoking pork
Wood for smoking pork can come in many different forms and is used in a variety of different cooking platforms and situations.
Wood Pellets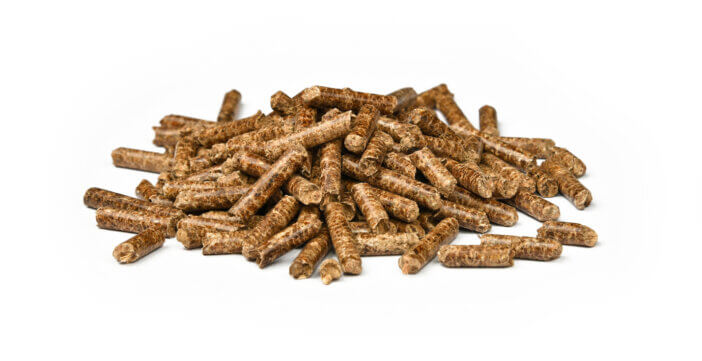 Wood pellets consist of very small bits of compressed wood formed out of sawdust and hardwood.
They are mostly used in specially designed pellet grills but may also be used in smaller-sized smokers.
Wood Chips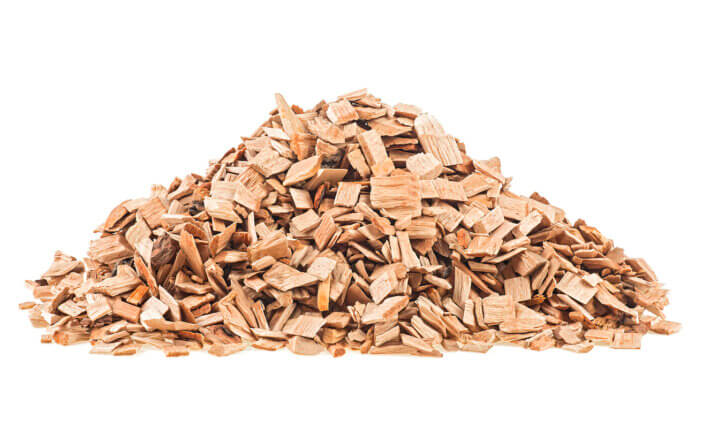 Wood Chips measure about 1-2 inches in size and are commonly used in smaller smokers and grills as well for smaller meat cuts.
Wood Chunks
Wood chunks will burn longer than wood chips because they have a larger size. They are ideal for smoking bigger cuts of meat and for use on larger grills and smokers. Wood chunks are usually about fist-sized.
Wood Logs
Wood logs are commonly used for smoking and as a heat source in very large grills and smokers.
Since they can produce the most heat, they can be used to cook at higher temperatures and smoke food.
What is the best smoke for pork?
For pork ribs, the best types of smoke are going to be from the following wood:
Hardwoods
Mesquite – Strong smoke. Delivers an earthy finish.
Oak – Strong smoke. Delivers a traditional smoky finish.
Hickory – Strong smoke, but milder finish than mesquite and stronger finish than fruitwoods and alder.
Pecan – Mild smoke with a sweet finish.
Maple – Mild smoke with a subtle, sweet finish.
Fruitwoods
Apple – Mild smoke with a sweet and fruity finish.
Cherry – Mild smoke with a subtly sweet finish.
Peach – Medium smoke with a woody and sweet finish.
What's the best wood for smoking pork shoulder?
For pork shoulder or any other pork cut, except for pork ribs, the following types of wood are recommended:
Hardwoods
Beech Wood – Mild smoke that has a nutty finish.
Alder – Mild smoke that has a delicate and sweet finish.
Pecan – Mild smoke with a sweet finish.
Maple – Mild smoke with a sweet and subtle finish.
Fruitwoods
Orange – Medium smoke with a tangy finish.
Apple – Mild smoke with a fruity, sweet finish.
Peach – Medium smoke with a woody and sweet finish.
Alternative Smoking Woods for Smoking Pork
These are lesser used hard and fruitwoods for smoking pork but can deliver very unique flavor notes.
Lemon – mild smoke with a citrusy finish.
Nectarine – mild smoke with a sweet finish.
Pear – Medium smoke with a subtly sweet finish.
Mulberry – medium smoke with a fruity and sweet finish.
Walnut – medium smoke with a nutty finish.
Plum – medium smoke with a fruity finish.
Can I use wood from my yard, or should I purchase smoke wood?
This is an excellent question a lot of beginners have when smoking meat. The answer is that you can not just use wood lying around your yard, even if you happen to have one of the trees mentioned above.
Wood has to be dried with a certain low percentage of moisture to be suitable for smoking; otherwise, with too much moisture, the wood will not burn correctly, leaving your food with a nasty flavor. You can dry your own smoking wood at home. Otherwise, it's probably best to buy it. Here are some examples of bestselling wood from Amazon.
Sale
Bestseller No. 1
Bestseller No. 2
Sale
Bestseller No. 3
Bestseller No. 4
Oklahoma Joe's Wood Smoker Chunks, 8 lb, Hickory
CUSTOMIZATION: Combine with other flavors for your own custom blends
FLAVOR: Hickory wood chips have an intense, smoky flavor making them ideal for pork and beef
COOK TIME: Wood chunks have a long burn life, which makes them great for long cooks and pair them with darker proteins for optimum results
NATURAL: 100% all-natural hickory with a clean burn and low ash for easy clean-up
RECOMMENDED: Keep wood chunks fresh, dry and ready to use in the Oklahoma Joe's Pellet Bucket
Bestseller No. 5
Western Wood Smoking Chip Variety Pack of 6, 180 cu in per Bag
Variety 6 Pack of Smoking Chips
Try Western Premium BBQ Products Post Oak BBQ Smoking Chips with these American favorites: Hamburgers, Whole Chicken, BBQ Smoked Wings, or Baby Back or Spare Ribs.
Use with gas grills, electric smokers, griddles, kettle grills and ceramic grills
A closer look at the different types of smoke flavors for pork
Fruitwoods
#1. Maple
Maple has always been an excellent choice for pork. Maple smoke infuses a unique flavor that infuses the meat with a sweet and subtle finish while also helping to render the fat.
You get a sweet, lightly smoky flavor that harmonizes well with pork's natural flavor. Smoking with maple wood can also give your pork a beautiful golden crust.
Maple wood is a solid option for cuts such as pork butt and baby back ribs. In fact, seasoned smokers say it's the best for smoking pork butt, bar none.
#2. Pecan
Pecan wood offers a very unique and savory flavor similar to bacon, making it one of the best woods for smoking pork.
It can also enhance the natural flavor while infusing the meat with subtle smoke. Plus, pecan is pretty easy to use, making it an excellent choice for beginners.
#3. Orange
Orange wood is a bold and interesting option for smoking pork that can deliver a very unique taste and aroma to your meat.
Like the fruit itself, orange wood produces a natural citrus flavor that infuses it deep into your meat. The light and smokey flavors have a distinct smokey kick.
#4. Peach
Another wood that brings a slightly different citrus influence to your meat is peach wood.
Unlike other fruitwoods, like orange, peach leaves less of an acidic flavor while imparting more floral notes to your meat. It's a fantastic choice for more delicate cuts of pork.
#5. Apple
Apple wood is a great way to infuse your pork with some very complimentary flavors. Apple is perhaps one of the best fruitwoods for a pulled pork sandwich, since it gives the meat a mild, sweet, smoky aroma that works very well with cuts of port that have a more intense natural flavor.
#6. Cherry
Among one of the most popular fruitwoods, Cherry delivers mild smoke and sweetness and lends pork a beautiful red color.
Many smokers enjoy serving pulled pork smoked with cherry wood naked without any sauce, better to appreciate the subtle notes and lovely red aesthetics.
#7. Plum
Plum is a mild wood that's great for smoking pork as well as chicken and seafood. It delivers a smokey, sweet flavor and can be paired with other woods like oak. Plus, it leaves a very nice color on your meat.
#8. Walnut
Walnut is an intensely flavored wood that brings a naturally bitter flavor that can overpower meats like chicken and seafood but works very well with pork.
Since pork has a natural sweetness, the bitter and sweet notes balance perfectly to deliver a complex and incredible flavor like nothing else.
#9. Mulberry
Mulberry wood delivers a mild smoke with a tangy and sweet flavor that has notes of blackberry.
It's very similar to apple and really brings something interesting to the table when paired with pork's natural sweetness.
#10. Pear
Pear wood offers a subtle flavor similar to apple but sweeter and fruitier. The smoke won't overpower the naturally sweet taste of your pork but rather enhance it while imparting the lightest touch of pear flavor.
#11. Nectarine
Nectarine is a wood that's very similar to hickory but has a milder and sweeter flavor with strong citrus notes.
#12. Lemon
Lemon wood produces a mild smoke that works with any meat, and for pork, it imparts a light citrus flavor with more robust tangy notes.
Hardwoods
#13. Oak
Oak wood delivers a strong flavor that's not overpowering. It's considered one of the more versatile hardwoods for smoking and complements the sweetness of pork with notes of oak, much like you would taste in wine. Many prefer white oak for pulled pork recipes.
#14. Mesquite
Mesquite wood has a very intense flavor that can easily overpower the pork. However, if done right, it can balance well with pork's natural sweetness.
However, smoking using mesquite is a very delicate game with very little room for error. Too much smoke can make pork taste almost inedible. This is probably not the best wood for beginners.
#15. Hickory
Hickory is a solid choice for pork as it's very versatile and can be used for larger cuts such as pork shoulders. Plus, you can combine it with sweet woods like cherry or apple for a delicious blend of smoky-sweet flavors.
However, this wood stands perfectly well enough on its own.
That said, like mesquite, one has to be careful when using hickory to smoke pork, as too much smoke can make your meat a bit bitter. This is yet another reason why some prefer to partner hickory with sweeter fruitwoods. It also contrasts well with pulled pork sides.