Top 17 Buns for Perfect Pulled Pork Sandwiches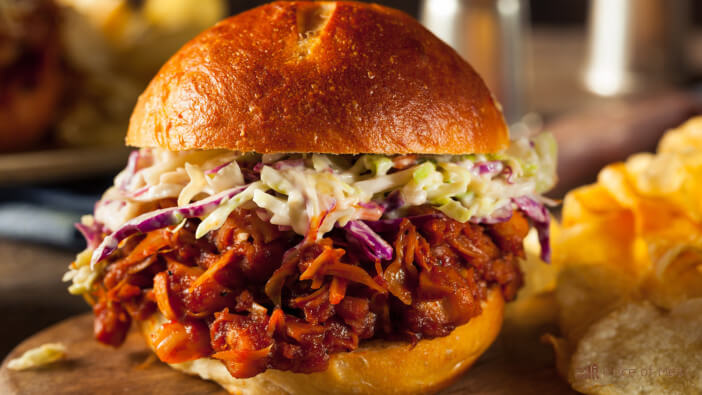 Finding the best buns for pulled pork sandwiches is not something most people even give much of a second thought. They usually pick up their favorite hamburger buns and call it a day.
And for the most part, this strategy works just fine. However, if you're willing to venture outside of your comfort zone a bit, there are so many incredible pulled pork bun options out there that can be real game changers. There's nothing like moist pulled pork with a smoky flavor, a good rub or liquid, and contrasting toppings and sides for sandwiches.
Disclosure: As an Amazon Associate, this site earns from qualifying purchases. Thank you!
What are the best buns for pulled pork sandwiches?
The best bun for pulled pork depends largely on your personal preferences. Some people like a super soft bun, while others prefer one that's harder and a bit chewy.
Quick Sidenote – check out our shop for a curated selection of the best meats, cuts, sausages, and more. Open our shop in a new tab and explore!
Here are a couple of buns that are amazing with pulled pork.
There are cases when you don't want your bread to take away from or add too much to the flavor of your sandwich. Potato buns are sweet and light and pair very well with pulled pork.
This soft roll is similar to a hamburger bun, except a bit sweeter. While the softness might make for a messier sandwich experience, you won't mind one bit.
As you've probably guessed, Kaiser rolls are from Germany, also called "Emperor rolls." These bigger round rolls have a hard crust on the outside while the inside is fluffy and soft.
You'll also notice the fun pinwheel design on the top of the rolls, which are supposed to make them look like crowns.
One of the things that makes this roll such a good choice for pulled pork sandwiches is that they are sturdy enough to handle your BBQ sauce and toppings while being soft enough to eat with little effort. They make for great pulled pork sliders.
They also have a neutral flavor, allowing the taste of your pulled pork and other ingredients to shine.
If you really want to try a wholly different bread experience, next time, try your pulled pork on some naan bread. It's like flatbread but has a crisp, chewy bottom with large inner air bubbles.
When you're eating pulled pork with naan bread, you have to eat it more like you would a pita wrap or taco.
You can also tear off bite-sized pieces of your naan bread and spoon a bit of pulled pork on for a tasty snack.
Ciabatta is another Italian bread with a chewy exterior and a soft yet airy middle that makes it very good for pulled pork sandwiches.
Ciabatta bread is similar to baguettes, but it is a very recent invention, created in Rovigo, Veneto, Italy, in 1982 by a baker due to the popularity of baguettes.
You can use ciabatta slices like hamburger buns. However, the chewiness could make it through to bite through.
Some folks even use whole ciabatta loaves to create huge pulled pork sandwiches for parties.
Brioche is an enriched bread that is made in many shapes, although they are typically created to resemble hamburger buns.
This bread has a semi-sweet buttery profile that's ideal for pulled pork's salty, sweet, meaty flavor.
These buns absorb a lot of the sauces and juices while the inside remains soft but sturdy. Many would argue that brioche buns are the best bread for pulled pork sandwiches because of their superior usability and neutral flavor.
If you're looking for bread that's very flavorful, sourdough might be the sandwich bun for you! It has a bit of a sour taste due it's how the flour batter is naturally fermented.
This type of bread makes for amazing open-faced sandwiches with its chewy, crispy texture and unique flavor.
However, the strong flavor of sourdough might overpower milder pulled pork recipes, and it's only recommended if your pulled pork has a strong flavor that can hold its own.
French bread is very similar to ciabatta but isn't as moist. If you've ever had the pleasure of visiting New Orleans, then you've likely enjoyed a local sandwich called a "Po-Boy."
These sandwiches traditionally use French bread which has a crispy hard outside and a soft and chewy inside with an unmistakable flavor that enhances any filling.
This bread is by far my personal favorite sandwich bread by a mile.
Another great option is Texas toast. Now, with this bread, you definitely want your bread toasted. You can also season your toast with butter plus whatever seasoning you like.
Most folks enjoy making garlic toast with a bit of garlic powder and melted butter. You just brush on the butter before toasting.
The satisfying toasted flavor and thickness of Texas Toast make it a fantastic bread for any sandwich.
Hawaiian rolls are a great option for those who are really into sweet bread. This bread is very sweet and makes one of the best bread for pulled pork.
After all, the Hawaiians also know a thing or two about BBQ pork. Add your favorite toppings and sauces, and you've got yourself a real feast.
Pretzel bread has become very popular over the years and makes amazing buns. The somewhat tougher and chewy texture might not be everyone's cup of tea, but they are sturdy enough to handle all the pulled pork and toppings you can throw between them.
Biscuits might seem like an unusual choice for pulled pork. However, they are a lot sturdier than you think.
They are designed to handle hot foods and can soak up the sauce with no problem. Plus, the buttery, crumbly taste and texture of biscuits taste like heaven with pulled pork.
Using crescent rolls as buns might seem a bit "iffy," after all, this bread is loved for its lightness and delicate buttery flavor. It would seem like it couldn't handle something as hot and saucy as pulled pork.
However, after making my own buns from the crescent dough, I can tell you that it definitely holds up under pressure.
Best of all, you get all that light and fluffy texture and flavor plus the flavors of your saucy pulled pork and toppings to create something truly magical.
Cheese-topped rolls are another amazing bread you can use with pulled pork. If you love cheese, you can create buns with your favorite cheese and cheese topping to create a super-cheese pulled pork experience.
And keep in mind, cheese isn't the only topping. You can also add some bits of crumbled bacon for a super-deluxe pulled pork experience.
Another bread that's tried and true when it comes to handling hot sandwiches is a hoagie roll. These rolls deal with hot and saucy sandwiches like a champ, such as Philly cheesesteaks.
A hoagie roll is soft yet durable and has a plain bread flavor that will allow you to enjoy the full taste of your pulled pork and toppings.
A lot of folks have enjoyed using toasted bagel buns for many years for dishes such as hamburgers. While the hole can make things a bit messy, they also work well for pulled pork.
You can even find bagel hamburger buns in many stores and bakeries these days. Bagels' hard and chewy nature can give pulled pork sandwiches the support they need while adding that delicious bagel flavor.
My favorite is the everything bagels that really take pulled pork sandwiches to the next level.
McDonald's has proven to millions that English muffins can hold their own as sandwich bread. And when you toast them, they are as sturdy as any bun when it comes to holding pulled pork and toppings.
In fact, English muffins do a marvelous job capturing the sauce because of its texture. Plus, the flavor is pretty natural, allowing your pulled pork to do its thing.
Onion is an ingredient used in many pulled pork recipes, and for those onion lovers out there, there's even a bun that's covered and filled with caramelized onions.
It's a very sturdy bun with tons of onion flavor that will have your taste buds doing the happy dance.
Are brioche buns good for pulled pork?
Brioche buns are fantastic with pulled pork. In fact, many who prefer soft buns go with brioche for their subtly sweet flavor and durable texture.
Durability is very important when dealing with pulled pork. You need a bun capable of holding lots of hot, saucy meat and toppings.
Do you toast the buns for pulled pork sandwiches?
Toasting, in general, is a good idea when you are eating a sandwich with a hot filling such as pulled pork, but especially when it's saucy.
The juices are less likely to turn your bread to mush, and you gain a nice toasted flavor in the bargain.
Of course, not all bread needs to be toasted, such as French and Ciabatta bread, since they are already sturdy enough to handle hot and saucy contents.
And for any one going without a bun, be sure to check out some good sides for pulled pork!
More FAQs
What kind of bun is good for pulled pork?
The best bun for pulled pork, in my opinion, is a potato bun. If you cannot find potato buns, brioche buns or sourdough bread are also good options. If none of those are accessible, cheap hamburger buns will work just fine.
How much pulled pork fits on a bun?
The amount of pulled pork that fits on a bun depends on the type of bun being used. Hamburger buns typically hold around 5 ounces of meat, which is considered one serving. However, if you prefer smaller portions, pork sliders are a great option as they hold about 2.5 ounces per bun. Additionally, these sliders can create an illusion of a larger meal, making guests feel fuller faster.
What are the different types of sandwich buns?
There are various types of sandwich buns available, such as everything bagel buns, French hamburger rolls, sesame seed buns, potato rolls, pretzel rolls, Kaiser buns, Brioche buns, Ciabatta sandwich rolls, English muffins, bagel thins, Texas toast, Kings Hawaiian Sweet Rolls, Onion Rolls, Pita pockets, and more.
What are the buns of pork buns made of?
The buns of pork buns are made of bao flour (or all-purpose flour), warm water, granulated sugar, vegetable oil (or canola oil), baking powder, and instant yeast.
What is the best to use for pulled pork sandwiches?
The best toppings to use for pulled pork sandwiches include dill pickles, jalapeno slices, pepperoncini, coleslaw, red onion slices, onion rings, grilled bell peppers, and avocado slices.
Can you use hamburger buns for pulled pork?
Hamburger buns can be used for pulled pork, as they make a perfect sandwich when paired with favorite toppings. The homemade BBQ sauce adds a delightful sweet, tangy, and smoky flavor to the dish, making it even more enjoyable.
Are brioche buns good for sandwiches?
Brioche buns are excellent for sandwiches because they are made with an enriched dough, resulting in a soft texture and incredible taste. Enjoyed globally as a superior alternative to regular bread, brioche is commonly used for sandwiches, toasties, burgers, and other dishes.
How many buns per pound of pulled pork?
The number of buns needed for a pound of pulled pork varies, but on average, you can make approximately 4 to 5 sandwiches. However, this estimation can be influenced by the size of the buns and the amount of pulled pork used in each sandwich.
What do Americans eat with pulled pork?
Americans typically enjoy pulled pork with a variety of delicious side dishes. Some popular options include classic coleslaw, cheesy baked pasta, confit tomatoes, Granny Smith apple slaw, southern cornbread, quick cucumber salad, onion rings, and Kansas City baked beans.