Delicious Sausage & Pepper Side Dishes: Top 11+ Recipes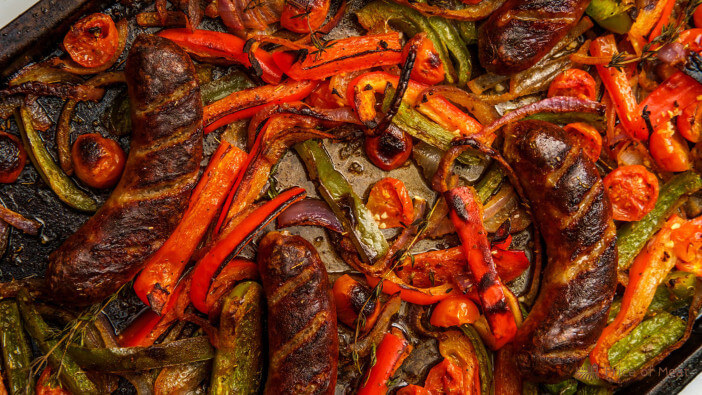 Sausage and peppers are always a fantastic main dish with plenty of flavors to savor. It's a quick and easy meal that can be ready to serve in minutes, and you can really brighten up your presentation by using an assortment of red, yellow, orange, or green bell peppers.
You can also add flavor to your dish with the inclusion of onions as well. And if you're looking to round out your meal, we've got 20 incredible side dishes that perfectly complement the smokey, sweet, earthy taste of cooked sausage and peppers (also check out our sides for summer sausage here).
Disclosure: As an Amazon Associate, this site earns from qualifying purchases. Thank you!
What is the best sausage & pepper side dishes?
Sausage and peppers represent a delicious combination of bell peppers and sausage.
Quick Sidenote – check out our shop for a curated selection of the best meats, cuts, sausages, and more. Open our shop in a new tab and explore!
And with so many sausages and peppers to choose from, you can enjoy many different culinary experiences. Below are five of the best sausage pepper side dishes.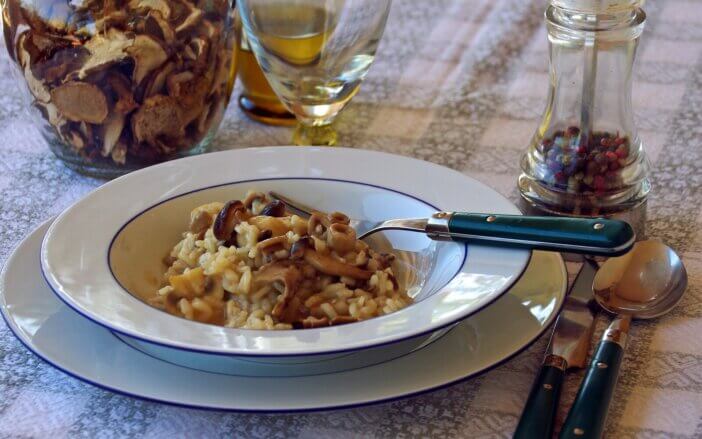 Combining sausage and peppers with this recipe for creamy mushroom risotto creates a magical duet of flavors that strikes all the right notes and will leave your tastebuds calling for an encore.
You'll need these ingredients: dried shiitake mushrooms, vegetable broth, butter, garlic, yellow onion, sea salt, carnaroli rice, black pepper, fresh thyme leaves, mushrooms, parmesan cheese, and flat-leaf parsley.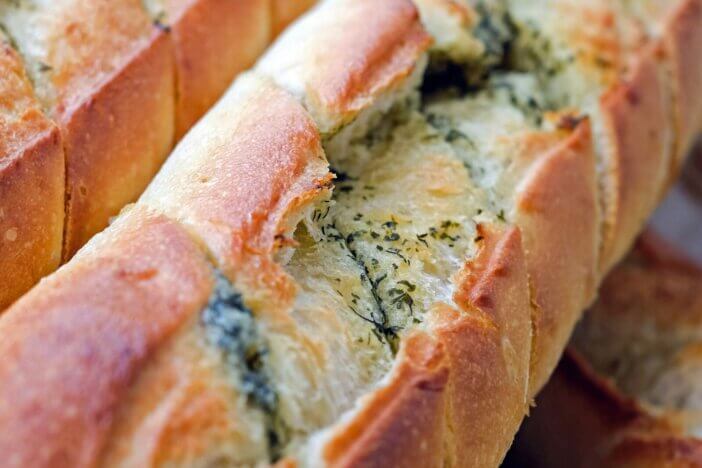 Try adding your sausage and peppers to cheesy garlic bread for a quick and delicious pizza-like meal. The taste is beyond amazing as you cheesy, meaty, garlicky goodness.
The ingredients needed for this recipe include a loaf of Italian or French bread, salted butter, olive oil, garlic clove, freshly ground black pepper, salt, mozzarella cheese, parmesan cheese, and fresh parsley.
If you loved the traditional polenta recipe with your sausage, this recipe for polenta fries would undoubtedly take your sausage and peppers to the next level. And the homemade garlic aioli sauce will knock your socks off.
This recipe includes the following ingredients: vegetable broth or low-sodium chicken, whole milk, cornmeal, butter, parmesan, fresh thyme, pepper, salt, roasted garlic cloves, egg, lemon juice, olive oil, pepper, and salt.
If you're looking for a savory veggie side dish worthy of sharing a plate with your sausage and peppers, then look no further than these sensationally seasoned roasted cauliflower steaks.
Ingredients for this recipe are as follows: a head of cauliflower, garlic cloves, olive oil, Italian herb mix, freshly cracked black pepper, salt, and fresh thyme.
We all know that sauerkraut rocks the house as a sausage side dish, but this extreme cabbage side dish kicks things up with delicious bacon, garlic, and onion.
To make this recipe, you'll need a large onion, bacon, cabbage, garlic clove, pepper, and salt.
What's the best sausage & pepper and onions side dishes?
Adding onions with sausage and peppers introduces a potent ingredient, adding complexity to the overall flavor profile of this dish.
To complement the sweet and savory flavors onions bring to the game, here are five side dishes that pair well with sausage, peppers, and onions.
An easy side dish you can make that's perfect with sausage, peppers, and onions is Instant Pot salt potatoes with ranch. These yummy, fluffy, flavorful little potatoes will really liven things up.
Here is a list of the ingredients: bite-sized potatoes, water, sea or kosher table salt, salted butter, ranch seasoning mix, and fresh chives.
Green beans are a great veggie with sausage, peppers, and onions. And when you add the seasoned brown butter and everything spice, you've got an irresistible side dish worth saluting.
You'll need the following ingredients: green beans, olive oil, everything bagel spice, and butter.
Antipasto is a great Mediterranean side dish that really adds some excitement to your already amazing sausage, peppers, and onions. The zesty Italian dressing and delicious ingredients really take your meal to the next level.
You'll need cooked basmati rice, salami, mozzarella, olives, tomatoes, pepperoncini peppers, olive oil, garlic cloves, red wine vinegar, dried basil, salt, dry mustard powder, pepper, and fresh parsley.
We switch things up a bit with these savory recipes for hot cream of mushroom soup. You can easily mix in your sausage, peppers, and onions to create a fantastic soup combo that's the stuff of legends.
To create this delicious dish, you'll need butter, mushrooms, onion, dry white wine, nutmeg, onion powder, salt, vegetable or chicken stock, cornstarch, heavy cream, pepper, garlic powder, fresh them, and garlic cloves.
Pasta is always an excellent choice for a side dish with sausage, peppers, and onions, but this recipe goes above and beyond with cheesy baked noodles, Italian sausage, and savory marinara sauce.
The ingredient list includes olive oil, mild Italian sausage, onion, garlic, marinara sauce, tomato sauce, rigatoni, mozzarella cheese, fresh parsley, and cooking spray.
What sides go with sausage?
There are plenty of great choices if you're just looking for a good side to go with sausage by itself. Here are five favorites.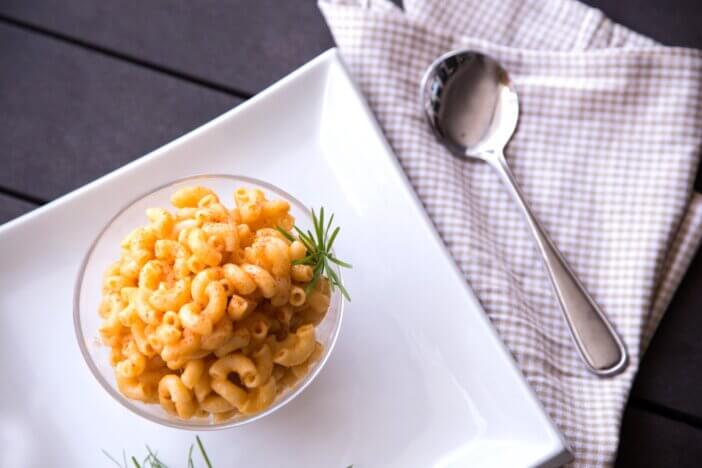 We start off our side dish adventure with the classic mac and cheese. However, this recipe is far from the stuff they sell in boxes. It's the real deal with real cheesy greatness.
Here are the ingredients dried elbow pasta, unsalted butter, all-purpose flour, whole milk, half and half, sharp cheddar cheese, Gruyere cheese, salt, paprika, and pepper.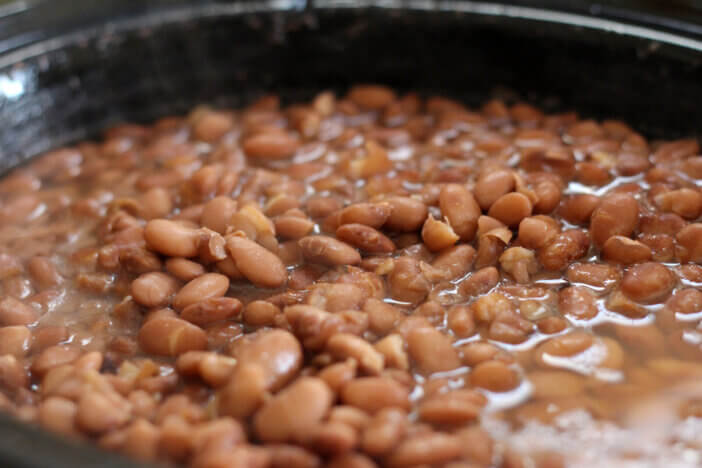 Next, we have bacon bbq baked beans. If there was ever a side dish that could make you salivate just by hearing its name, it's this one, folks.
The ingredients for this recipe are canned pinto beans, yellow onion, red bell pepper, garlic cloves, thick-cut bacon, olive oil, bbq sauce, ketchup, apple cider vinegar, packed light brown sugar, molasses, yellow mustard, Worcestershire sauce, and smoked paprika.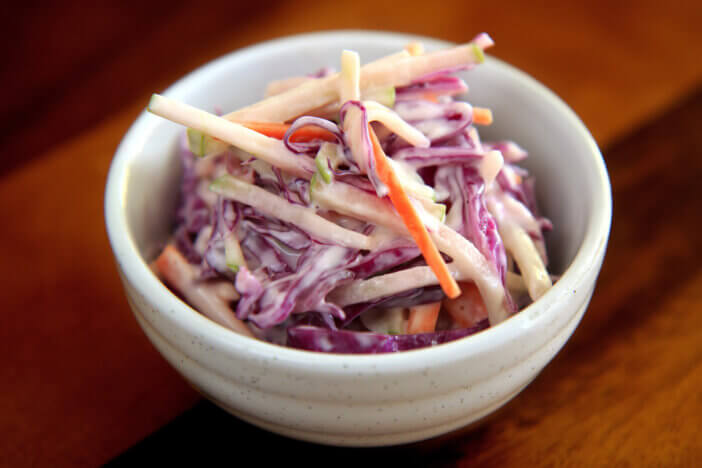 Coleslaw is another great BBQ classic that pairs well with the sausage. The cool, crispy, creamy, delicious flavor mixes well with hot and juicy sausages to create a fantastically delicious combo.
Here is a list of the ingredients: green cabbage, purple cabbage, carrots, mayonnaise, apple cider vinegar, white granulated sugar, salt, freshly ground black pepper, and celery seeds.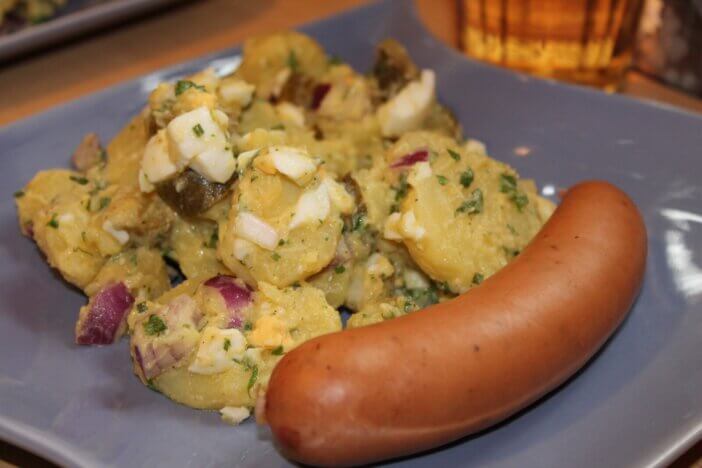 Here we have some classic potato salad that's filled with chucks of fluffy potatoes in a deliciously creamy dressing. Nothing fancy here, just good, plain, tasty potato goodness that tastes amazing with sausages.
Use the following ingredients: firm yellow potatoes, dill pickles, celery stalks, yellow onion, eggs, mayonnaise, brown mustard, white vinegar, salt, freshly ground black pepper, sugar, and fresh parsley.
Many folks wouldn't think a porridge would be a good side dish for sausage, that is, until they've had a spoon full of this cheesy, herbal masterpiece called polenta.
This recipe uses the following ingredients: stone-ground polenta, water, extra-virgin olive oil, and sea salt.
What is a good side for Polish sausage?
Made with ingredients such as lean pork, pepper, coriander, allspice, and garlic, Polish sausage (also known as kielbasa and different than Polish Ham) is something special that demands equally outstanding side dishes. Here are five of the best.
If we're talking about dishes that pair well with Polish sausage, no list would be legitimate without mentioning sauerkraut. This fermented cabbage dish simply brings out the best in Polish sausage.
The ingredient list includes a small head of green cabbage, kosher salt, and juniper berries or care seeds.
This 12-minute recipe involves zero cooking and produces a delicious couscous salad with tangy sun-dried tomatoes, creamy feta cheese, and herby arugula topped off with the nutty taste of chickpeas.
For this recipe, you need dried couscous, water, vegetable stock powder or cube, garlic clove, coriander or cumin powder, canned chickpeas, coriander, parsley, red onion, oiled sundried tomato strips in a jar, arugula lettuce, lemon, fresh lemon juice, coarsely ground black pepper, feta, pepper, and salt.
If there's one thing you can make that will truly compliment your Polish sausage, it's Polish noodles. This super-easy dish is creamy, cheesy, and the perfect dish to take your tastebuds to the moon and back.
You'll need a few ingredients: butter, onion, egg noodles, sour cream, sea salt, and ground black pepper.
Staying with our traditional Polish side dish theme, we've got this recipe for Polish potato pancakes that blends incredible herbs and spices with crispy potatoes to create a fantastic co-star for your Polish sausage.
The ingredients for this dish include potatoes, water, onion, egg, salt, and lard.
This popular Polish dish, pierogi, is basically mini mashed potato fried pies seasoned with herbs and served with caramelized onions. It's a fantastic compliment to Polish sausage and super easy to make.
To create this delicious dish, you'll need eggs, sour cream, all-purpose flour, salt, baking powder, chopping onion, butter, mashed potatoes, salt, and white pepper.