Cowboy Ribeye: Definition and Applications in Cooking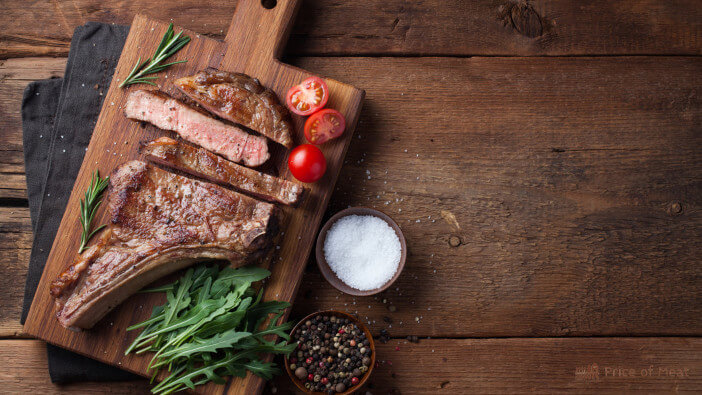 Cowboy ribeye steaks, also known as cowboy steaks or bone-in steaks, are the kind of steaks one might see in a Flintstones cartoon.
These very flashy cuts of beef are often confused with tomahawk steaks, and while they are the same cut of meat from the ribeye, tomahawk steaks have a longer bone (over five inches) than cowboy steaks.
Below you'll find the answers to common questions about cowboy ribeye steaks to give you a better understanding of this unique cut of beef.
Disclosure: As an Amazon Associate, this site earns from qualifying purchases. Thank you!
Quick Sidenote – check out our shop for a curated selection of the best meats, cuts, sausages, and more. Open our shop in a new tab and explore!
What is cowboy ribeye?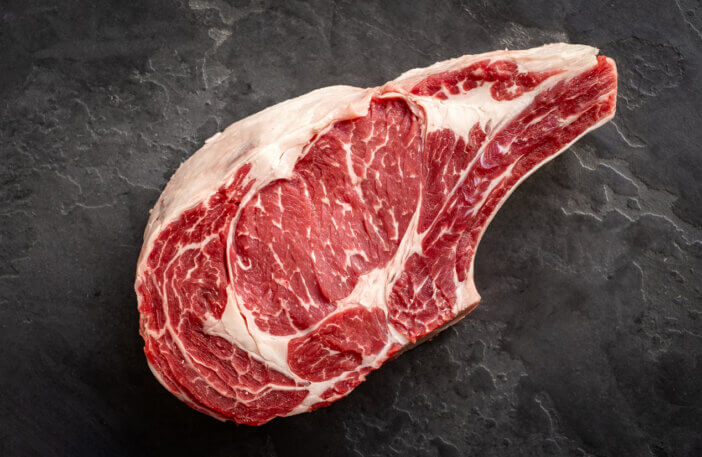 A cowboy ribeye is a thick bone-in ribeye taken from between a cow's primal rib section (also known as the prime rib section). The average cowboy ribeye is about 1½-2½ inches thick and weighs between 18-36 ounces.
Where did the cowboy name come from?
It's unclear as to the exact origin of the name. However, many believe they are called cowboy steaks due to how cowboys would hold on to them while eating, almost like a handle.
And others say it's because these cuts of meat are hearty and rugged enough to satisfy the appetite of any hard-working cowboy.
What is the difference between a ribeye and a cowboy ribeye?
Compared to your average ribeye steak, cowboy ribeye steaks have more meat outside of the eye and a portion of bone cleaned of fat and meat (frenched) sticking out from one end.
Is Cowboy ribeye better than regular ribeye?
A Cowboy ribeye is not better or worse than a regular ribeye. While some are of the opinion that the bone adds "more flavor," the truth is that both are essentially the same cuts of meat with the same flavor and marbling profile.
How to pick the perfect Cowboy ribeye steak?
When you are at the counter of your favorite local deli, you may notice that each cut of beef has multiple grades and drastically different price tags. The main factor determining the quality of a certain grade and its dollar value is marbling.
Marbling consists of the veins of white fat that run through a cut of meat. The more fat, the more flavor.
If you want the best, then look for prime beef, which will have more marbling. And I can't stress enough, especially when it comes to ribeyes, marbling is the most important factor.
The fat doesn't just add flavor but also keeps the meat tender and juicy while cooking.
And, of course, you should always look for ribeye steaks with the bone-in. Otherwise, they would not be cowboy rib steaks. Also, tell your butcher to french your steak if you're getting a fresh cut.
Is a cowboy ribeye good?
A cowboy ribeye steak is delicious. It tastes just like your average ribeye steak but offers the aesthetic appeal of a bone.
Here are a few delicious cowboy rib eye steak recipes you can really sink your teeth into.
Coffee is probably one of the last ingredients you'd ever think of putting on a steak. However, it delivers an unforgettable flavor when combined with other seasonings such as chili and garlic.
But you don't want to use finely ground coffee. Instead, you need to use freshly ground coffee from coffee beans. It's a bit more work but well worth it in the end.
Another important tip when cooking cowboy ribeyes or any stake for that matter is allowing them proper time to rest. For these steaks, it's 15 minutes. This way, the juices are allowed to settle while the meat finishes cooking.
You'll need the following ingredients: cowboy ribeye steak, coarse ground black pepper, garlic powder, and kosher salt.
In this recipe, your cowboy ribeye steak is seared to a delicious golden brown , and the meat comes out so tender it will melt in your mouth.
Pan searing also gives it a savory dark and crispy crust that takes this big juicy steak over the top!
This beautiful bone-in steak is sure to be the star of the show at the dinner table. Serve it up with some garlic-herb mashed potatoes and grilled asparagus, and you've got yourself a dinner to remember.
The ingredients for this dish include extra virgin olive oil, cowboy ribeye steak, steak seasoning, butter, garlic cloves (optional), and fresh herbs such as thyme or rosemary.
One thing people dislike when it comes to cooking meat on the stovetop is dealing with all the smoke and mess. However, this recipe shows you how to cook your cowboy ribeye steak while sealing in the flavor using a cast iron skillet.
Plus, the pan offers a better sear than most grill grates. Within minutes you'll have a thick, juicy, well-seasoned steak that would have cost a small fortune at a steakhouse. Now, sit back and enjoy your favorite red wine with a glass.
You'll need these ingredients: freshly ground black pepper, vegetable oil, kosher salt, cowboy ribeye steak, butter, fresh herbs such as rosemary oregano or thyme, and three garlic cloves.
Pan roasting your cowboy ribeye steak is guaranteed to give you a super-tender and juicy outcome. However, this recipe also throws in an extra twist, the creamed Swiss chard topping.
The topping combined with the tender, flavorful steak makes for a fantastic combination. Within an hour, you'll have yourself a meal you'll be more than proud to share on social media.
The ingredients needed for this recipe include a cowboy ribeye steak, fresh rosemary, fresh thyme, extra-virgin olive oil, butter, garlic cloves, fresh thyme, fresh rosemary, panko bread crumbs, freshly cracked black pepper, salt, swiss chard, heavy cream, bay leaves, freshly grated parmesan, and lemon.
There's nothing quite like a thick, juicy, perfectly charred cowboy ribeye steak sizzling right off the grill (after 15 minutes of resting).
Browned butter is one of the seasonings that really bring out the best flavor. In this recipe, you shouldn't be afraid to allow the garlic to be brown to create that perfect golden hue.
The complex toasty aroma and flavors make this steak dish our go-to favorite. And for this recipe, set two zones up on your grill. Charcoal is highly recommended.
You'll need a cowboy ribeye steak, salted butter, garlic, fresh thyme or parsley, and salt (or favorite steak seasoning).
Chimichurri is another great seasoning that can make your steak shine. The key to the best chimichurri is using fresh herbs, and the most commonly used is cilantro which gives the sauce its zesty flavor.
You can mince it with a sharp knife or use a food processor. Also, recommend using olive oil, but you can substitute that for canola or avocado oil if needed.
Also, when it comes to vinegar, you can substitute the red wine vinegar for rice wine or plain vinegar. However, Balsamic and Sherry vinegar does not work with this recipe.
Here are the ingredients: a cowboy ribeye steak, salt, pepper, butter, garlic cloves, fresh cilantro, red wine vinegar, olive oil, lime juice, smoked paprika, and red pepper flakes.
For one of the ultimate steak experiences, you want to cook a dry-aged steak at least once in your lifetime. These steaks have spectacular marbling, an unbelievably nutty and earthy flavor, and a tender texture that's hard to beat.
And this recipe's special rub brings out the best qualities of the meat, providing a tremendous salty crust along with toasty notes.
But the arbol peppers take things to the next level with a mouthwatering array of exquisite complex flavors that will stay with you long after you've put down your fork.
The ingredient list includes 45-day dry-aged cowboy ribeye steaks, dried arbol chilis, mustard seed, black peppercorn, coriander seed, dill seed, granulated garlic, coarse sea or kosher salt, granulated onion, olive oil, tomato paste, and water.
Another sensationally spicy number is this recipe that uses ingredients you probably already have in your pantry. This recipe is pretty quick, using pan searing for cooking your steak within 12 minutes.
And it's relatively healthy as it's gluten-free, keto, paleo, and sugar-free. You can also omit the butter and use olive oil to make it dairy free.
The outstanding spice of these very common ingredients is something you'll have to taste to believe. And, since the entire recipe only takes 25 minutes, you won't have long to wait.
This recipe calls for the following ingredients: chili powder, ground cumin, cayenne pepper, coriander, kosher salt, ground black pepper, cowboy ribeye steaks, butter, and olive oil.