With so many different cuts of beef out there, among the most popular is ribeye roast.
Ribeye or rib steak consists of a cut from standing rib roast or boneless prime rib, which is located atop the beef cattle's rib primal that sits between the loin and the chuck.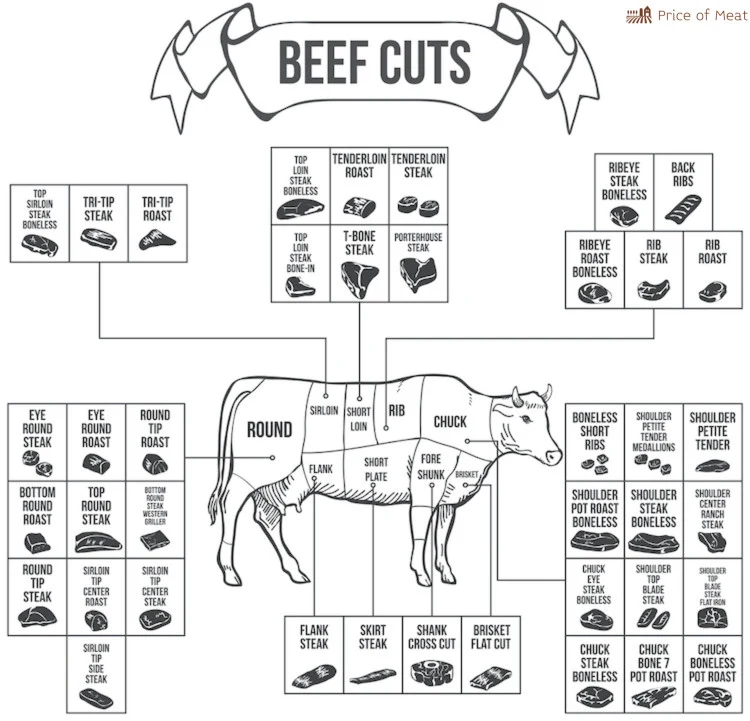 Rib roast consists of the tender meat between each rib, making it a boneless cut. There's a few basic reasons & plenty of recipes that explain why ribeye roast is a good cut of meat.
Why is ribeye the best cut?
Ribeye is an incredibly tender cut of meat that is the most marbling of all the cuts. Because of its high-fat content, ribeye is the juiciest and arguably most flavorful cut of beef on the market. It has a buttery taste and a relatively soft texture.
This is why when it comes to big and juicy steaks, many believe ribeye is the, if not among, the very best cuts of beef.
What is the difference between ribeye and ribeye roast?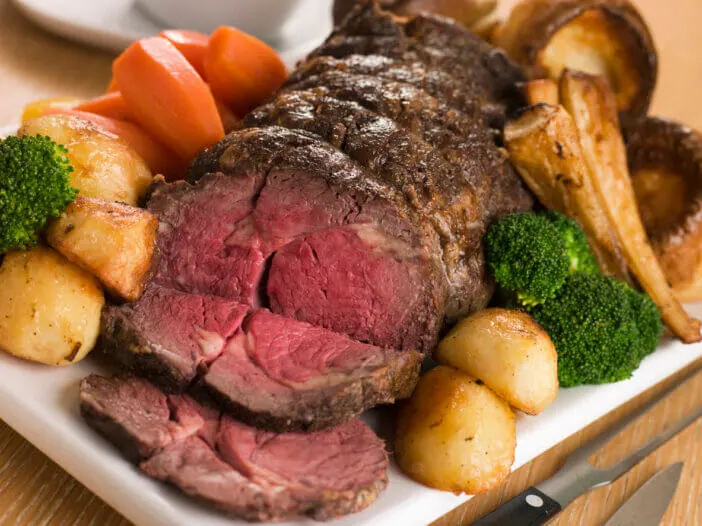 A ribeye, or ribeye steak, is a cut from a ribeye roast before it's cooked. A ribeye can either be boneless or bone-in (or Frenched or extended Frenched).
Why Ribeye Roast Is a Good Cut of Meat
A ribeye roast is an excellent cut of meat that makes up two or more ribeye steaks. Ribeye roasts are usually cooked in an oven or as a pot roast.
And some prefer to buy the whole boneless ribeye roast and cut it into individual ribeye steaks to broil, pan-fry, or grill.
Which is better, rib roast or ribeye roast?
The rib roast also called the prime rib, tends to have a stronger flavor because of the fat, bones, and connective tissue. And it's a larger cut.
Meanwhile, the ribeye steak will have a milder flavor, but its better marbling gives it a smoother, more buttery taste and softer texture that just melts in your mouth.
10 More Delicious Reasons to Love Ribeye Roast
Here are 10 more delicious reasons to fall in love with ribeye roast.
Tender, juicy, and bursting with flavor, this recipe for ribeye roast with herb and garlic is Keto, Whole30, and Paleo compliant.
Plus, you can either roast it in an oven or smoke it. The tender red meat barely needs cutting as your knife glides through it like butter, which also partly describes its flavor.
Just remember, as tempting as it might be to cut right into your roast after cooking, give it at least 2o minutes to rest while covered in aluminum foil. It makes a huge difference you can taste!
The ingredients for this recipe are ribeye roast, olive oil, garlic cloves, yellow mustard, red wine vinegar, parsley, oregano, basil, onion powder, pepper, salt, and red pepper flakes.
Bacon is one of those ingredients that's a friend to every food on the planet. In fact, you might be hard pressed to think of a dish in which bacon doesn't taste good!
If one does exist, it certainly won't be this ribeye roast recipe with crispy strips of bacon developing a big, juicy rib roast. I can tell you that!
Best of all, this dish is super easy to put together, and it comes looking positively gorgeous.
Here is a list of the ingredients: ribeye roast, kosher salt, butter, black pepper, paprika, garlic cloves, fresh rosemary, chives, brown sugar, bacon, flour, and beef broth.
Rosemary is an ingredient that gives any dish a wonderfully herbal flavor. Its woody fragrance and slightly bitter, nearly eucalyptus taste pair wonderfully with the often heavier flavors of beef dishes.
The combination is a beautiful complexity that delights your tastebuds with a harmonious storm of flavors, from the profoundly herbal taste of rosemary to the robust and animal flavor of the ribeye. You might not know which to love more – here's a hint, love them both!
Use the following ingredients: certified Angus beef ribeye roast, balsamic vinegar, garlic cloves, kosher salt, fresh cracked pepper, fresh thyme (or dried thyme), fresh rosemary (or dried rosemary), and olive oil.
If you're looking for a ribroast that brings the heat, try this recipe for Cajun ribeye roast featuring the flavors of cayenne, garlic, and cayenne pepper.
This spicy dish is sure to bring some fun and excitement to your dinner table. But, if you desire a bit more heat, I recommend adding about a half teaspoon of paprika.
Just make sure you're getting hot and not mild paprika. And for those with a nearly fireproof tongue, you can also add a 1/2 teaspoon of red chili pepper flakes.
This recipe calls for boneless ribeye roast, olive oil, kosher salt, garlic, freshly cracked black pepper, dried rosemary, and cayenne pepper (to taste).
While cooking ribeye roast with wine might taste magical, it's all very scientific. You see, the alcohol binds to the water and fat molecules in the beef while cooking.
Since seasonings and herbs are fat or water-soluble, the wine will dissolve all the flavor compounds much more effectively than any water-based sauce.
Also, like high salt or heat, the alcohol in the wine will break down the meat's proteins in a process known as "denaturing." This means the wine marinade will assist in tenderizing the beef as it cooks while adding some extra flavor.
For this recipe, you need ribeye roast, Cabernet Sauvignon, lemon juice, extra virgin olive oil, coarsely ground black pepper, fresh rosemary (dried rosemary), bay leaves (dried bay leaf), garlic, Worcestershire sauce, Dijon mustard, and salt.
This recipe for sous vide boneless ribeye roast is guaranteed to produce some of the juiciest, most tender meat you've ever had in your lifetime.
Sous vide, which translates from French to "under vacuum," is a cooking process involving vacuum sealing food inside a bag before boiling it in a water bath at a precise temperature.
This cooking method can be a bit intimidating, but once you get the hang of it, you can produce some genuinely extraordinary meals!
To create this dish, you'll need boneless ribeye roast, kosher salt, mixed peppercorns, minced shallots, dry red wine, and juices left over from the sous vide bag.
When it comes to cooking techniques that can deliver both flavor and juicy meat, it's hard to top smoking. And this recipe produces a perfectly seasoned smoked ribeye roast that's tender, juicy, and has a caramelized crust beyond delicious.
Smoking a ribeye roast does take quite a bit of patience since it has to cook for at least six hours. However, as a reward, you'll be treated to some of the best-tasting beef you could ever dream of.
To make this recipe, you'll need ribeye roast, sea salt, avocado oil, dried rosemary, mustard seed, garlic powder, onion powder, celery salt, and sea salt.
This recipe for ribeye roast with horseradish sauce is a real eye-opener! Best of all, you can always add a bit to the basic recipe to make it even more flavorful such as rubbing in some of your favorite dried fresh herbs, onion, and garlic powder.
This dish is terrific with leafy greens, mashed potatoes, baked potatoes, and your favorite roasted veggies.
You'll need a few ingredients, such as ribeye roast, olive oil, coarsely ground pepper, sour cream, horseradish, coarsely ground black pepper, and Worchestershire sauce.
For a zesty, garlicky beef experience, try this recipe for ribeye roast with amazing dijon mustard crust. Plus, the recipe includes savory roasted green beans. Sign me up!
The dijon mustard certainly adds a very different kind of complexity to the meat's overall flavor profile, balancing the beef's naturally sweet and hearty flavors with the tangy, herbal, and sour flavors of dijon mustard.
The ingredients for this dish include ribeye roast, dijon mustard, garlic croutons, cheese, green beans, and olive oil.
Here's a recipe for a new ribeye experience featuring delicious Asian flavors slow-cooked to produce a deliciously tender and flavorful roast.
The total cook time for this dish is just over eight hours, but you certainly won't mind once you've taken your first bite!
You'll need the following ingredients: boneless beef rib eye roast, soy sauce, oyster sauce, hoisin sauce, rice vinegar, brown sugar, sesame oil, rice wine, ginger, green onions, sesame seeds, corn starch, water, and sriracha sauce.