Ground beef is a delicious ingredient with so many possibilities (and low cost). However, most of us never explore its culinary potential beyond a handful of meals.
That's why it can become easy to feel "burned out" on ground beef since you're eating the same cuisine over and over. However, today that all changes! Here's a few recipes & ideas to add to ground beef to make it fun again.
What to add to ground beef to make it taste better?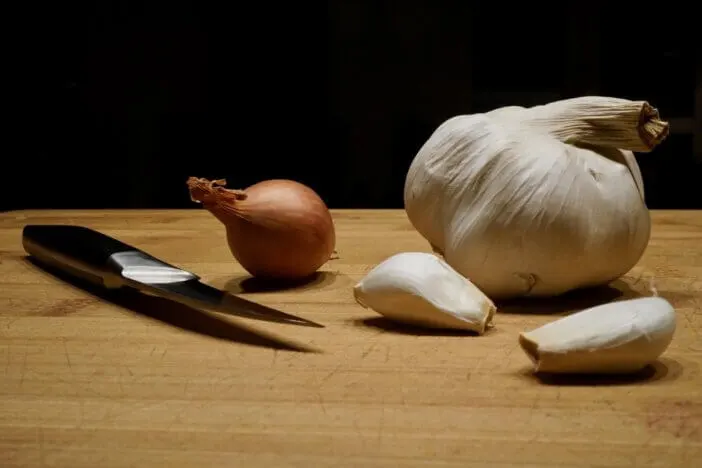 The four simple seasonings you should always have on hand to make ground beef (or bison) taste better are salt, pepper, garlic, and onion.
You can use fresh onions, garlic, or even dried onion, garlic flakes, or powder if you're in a pinch.
What should I add to ground beef when cooking?
This will largely depend on what you're cooking. You can add a wide variety of sauces and spices, and ingredients such as garlic, onion, salt, and pepper are the most common.
But the sky is the limit when it comes to ingredients you can add while your ground beef is cooking (ditto for veggie ground beef).
What can I mix ground beef with?
When it comes to ingredients, you can mix in raw ground beef; you have a few options. For instance, if you're making burgers, you can mix in ingredients such as raw bacon, jalapenos, cheddar cheese, cooked pulled pork, cooked brisket, as well as your favorite seasonings and spices.
What can I add to ground beef to make it moist?
Baking soda is a great go-to ingredient that can help keep your ground beef nice and moist. The baking soda locks in moisture, preventing the beef from getting soggy. To add moisture, you can also add olive oil, onion, and garlic.
Recipe Ideas To Add To Ground Beef When Cooking
Ground beef brings an unmistakable hearty flavor and texture to any meal, but you might be surprised by how many different ingredients you can use to create a brand new ground beef experience.
Below I show you 15 mouthwatering ground beef recipes that are certain to become game changers in your dinner lineup.
This recipe features not once but twice baked potatoes with creamy mashed potatoes, savory veggies, and hearty crumbles of ground beef topped with melty cheese.
For this recipe, you need russet potatoes, olive oil, ground beef, onion, green pepper, sweet red pepper, garlic cloves, Worcestershire sauce, frozen mixed vegetables, tomato paste, steak seasoning, salt, cayenne pepper, paprika, butter, pepper, heavy whipping cream, sour cream, shredded Monterey Jack cheese, shredded cheddar cheese, shredded Parmesan cheese, minced chives, and paprika.
There's nothing quite like the taste of Nacho Cheese Doritos, and now you can turn your favorite snack chip into a taste bud-rockin' meal for the entire family!
You only need a couple of ingredients and about 50 minutes to create Dorito magic.
The ingredients for this dish include white onion, ground beef, taco seasoning, canned corn, pinto beans, nacho cheese Doritos (or preferred flavor), shredded sharp cheddar cheese, sliced olives, green onions, lettuce, tomatoes, and sour cream.
Pies are not just for dessert, and cheeseburgers are not just for buns. You can create a delicious cheeseburger pie that will knock everyone's socks off using just a few simple ingredients.
This recipe calls for refrigerated pie crusts, lean ground beef, yellow onion, garlic cloves, mayonnaise, Worcestershire sauce, dill pickle relish, yellow mustard, kosher salt, black pepper, all-purpose flour, water, shredded iceberg lettuce, American cheese slices, heavy cream, white sesame seeds, and ketchup (optional).
If you're getting bored with the same old spaghetti and meat sauce pasta dish, you're in for a real treat! This slow-cooker recipe for pappardelle pasta with Bolognese sauce is a fantastic way to shake up your pasta dinners.
Here is a list of the ingredients: yellow onion, celery ribs, carrot, olive oil, garlic cloves, tomato paste, lean ground beef (or substitute ground bison!), kosher salt, sugar, dried Italian seasoning, ground black pepper, ground nutmeg, bay leaf, red wine, canned whole peeled tomatoes, heavy cream, wide fettuccine or pappardelle pasta, and freshly shaved or grated Parmigiano-Reggiano cheese.
Even though stuffed cabbage is a classic meal, many have yet to have the pleasure of trying it. In that case, you are in for a real treat! There's a good reason this dish is a true classic! It's a solid ground beef casserole without too many ingredients.
You'll need crushed tomatoes, salt, red chili flakes (totally optional), brown sugar, garlic, red wine vinegar, green cabbage, ground beef, ground pork, onions, egg, cream or milk, breadcrumbs, cooked rice, parsley, salt, freshly ground black pepper and mashed potatoes.
Eggplant parmesan is one of our favorite meals you can make with eggplant. This recipe's loaded with delicious Italian flavors such as zesty marinara sauce and melty mozzarella cheese (also pairs well with Italian beef).
This recipe calls for the following ingredients: eggplant, kosher salt, four eggs, cream or whole milk, regular or panko breadcrumbs, olive oil, ground beef, diced or chopped onion, chopped garlic, fresh black pepper, oregano, tomato sauce, crushed tomatoes, water, ricotta cheese, fresh parsley, grated parmesan cheese, and mozzarella cheese.
If you love lasagna, you'll love this unique twist on a classic baked recipe. Lasagna soup has everything we all love in the baked version, plus a savory broth that'll send you to the moon and back!
To create this dish, you'll need Italian sausage, onion, lean ground beef, crushed tomatoes, garlic cloves, tomato sauce, tomato paste, fennel seeds, chicken broth, salt, Italian seasoning, Lasagna noodles (cooked), black pepper, Parmesan cheese, mozzarella, and fresh parsley.
For a quick and delicious meal with tons of beefy flavor, it's hard to beat this incredible 30-minute beef empanada recipe filled with lots of saucy, spicy beef and cheese inside a golden brown crust.
You'll need a few ingredients, such as ground beef, onion, ground cumin, chili or chipotle chili powder, salt, green chilies, pimento peppers, tomato paste, shredded sharp cheddar cheese (or use a Mexican blend), refrigerated pie crusts, egg, and guacamole (for serving).
Another outrageously tasty soup you can make with ground beef is this veggie and ground beef soup with Gnocchi. It's best to use refrigerated Gnocchi such as Giovanni Rana since it cooks up puffier and lighter.
The ingredients needed for this recipe include olive oil, ground chuck, yellow onion, celery stalks, garlic cloves, canned whole peeled plum tomatoes, dried oregano, low-sodium chicken broth, refrigerated Gnocchi, fresh spinach, kosher salt, black pepper, and grated Parmesan cheese.
For a dish that perfectly blends dinner and breakfast into one savory meal, try Loco Moco. This recipe features roasted garlic gravy, sticky rice, and a seasoned hamburger patty, with a fried egg on top.
The ingredient list includes Japanese sticky rice, roasted garlic gravy, fresh ground beef burger patties, eggs, and chopped scallions.
If you're looking for a new burger recipe to rock your world, try Spinach Tomato Burgers. You can make this delicious meal more interesting by skipping the buns and serving them over grilled cabbage.
Use the following ingredients: egg, lean ground beef, fat-free milk, whole wheat hamburger buns, soft bread crumbs, spinach dip, dried basil, soft sun-dried tomatoes (julienned not in oil), salt, lettuce leaves, and pepper.
What I love about this Taco Stuffed Avocados recipe is how it uses the entire avocado as both a bowl and key ingredient for a tidy, savory, self-contained little meal with no dirty dishes to worry about.
To make this recipe, you'll need extra virgin olive oil, ground beef, yellow onion, poblano pepper, chili powder, smoked paprika, ground cumin, smoked paprika, ground cumin, garlic powder, dried oregano, red pepper flakes, kosher salt, fresh cilantro, avocados, shredded cotija or Mexican cheese, tortilla chips or strips, and sour cream or ranch.
Shake up your ground beef stir-fry game with this delicious recipe featuring the delicious flavors of the Mediterranean. It's loaded with lots of yummy veggies and many classic coastal flavors, even without sauce.
You'll need these ingredients: olive oil, red bell pepper, cherry tomatoes, baby spinach, garlic cloves, green onion, ground beef, dried oregano, freshly ground black pepper, kosher salt, and crumbled feta.
Try this exciting spin on classic meatballs with this traditional recipe from North Africa called Shakshuka, featuring delicious ground beef with spice and herbs simmered in a smoky tomato sauce for one fantastic one-pan meal!
Here are the ingredients: olive oil, onion, bell peppers, smoked paprika, cumin, whole stewed tomatoes, salt, feta, ground beef, garlic cloves, cilantro, bread crumbs, and eggs.
When you take two classics like tater tots and sloppy joes, the only thing that can possibly happen is culinary magic.
The ingredients for this recipe are ground beef, onion, bell pepper, fresh green beans, carrot, pinto beans, Manwich Bold Sloppy Joe Sauce, frozen tater tots, fresh parsley, and shredded sharp cheddar cheese. You can also do a Midwestern take and turn it into a loose meat sandwich!