14+ Best Liquids for Pulled Pork That's Flavorful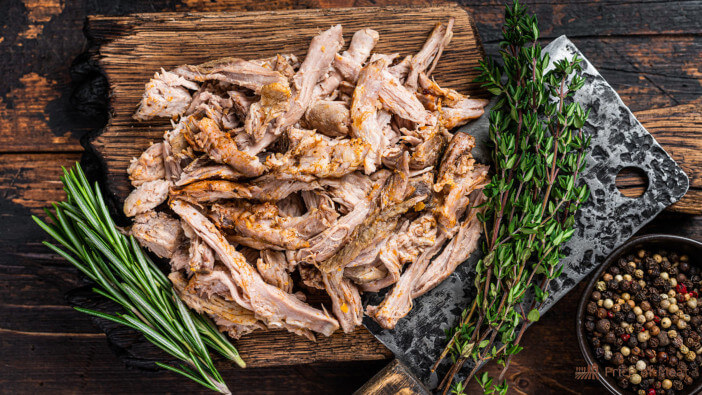 When most people think of pulled pork, the flavor of barbecue sauce may come to mind. Some people may think of other flavors inspired by different regions, such as Asia and Hawaii.
Many people would be surprised by just how versatile a pulled pork dish can be. In fact, there are a lot of different liquid ingredients one can use to greatly influence the flavor of pulled pork, some of which you would never have imagined (just like the smoke or rub).
Disclosure: As an Amazon Associate, this site earns from qualifying purchases. Thank you!
The Best Liquids for Pulled Pork That's Flavorful
You may have heard of certain pulled pork recipes that use unusual liquids for seasonings, such as beer, Coca-Cola, and Dr. Pepper.
Quick Sidenote – check out our shop for a curated selection of the best meats, cuts, sausages, and more. Open our shop in a new tab and explore!
However, those are just the tip of the iceberg when it comes to liquids that can transform the flavor of pulled pork into something magical.
Below we'll take a look at 14 different liquids you can use to flavor your pulled pork.
#1. Sprite or Citrus Soda: Paula Deen's Favorite Pulled Pork Sandwich
This recipe is Paula Deen's Favorite Pulled Pork Sandwich featuring zesty citrus notes that add lots of delicious, light flavor to your pulled pork. It's a great recipe that captures summertime's spirit without compromising that classic BBQ flavor.
The ingredients for this recipe are bottom butt pork roast, brown sugar, paprika, garlic powder, salt, pepper, Sprite, apple cider vinegar, BBQ sauce, hamburger buns, slaw, and Worchestershire sauce.
#2. Cola: Slow Cooker Pulled Pork with Coca-Cola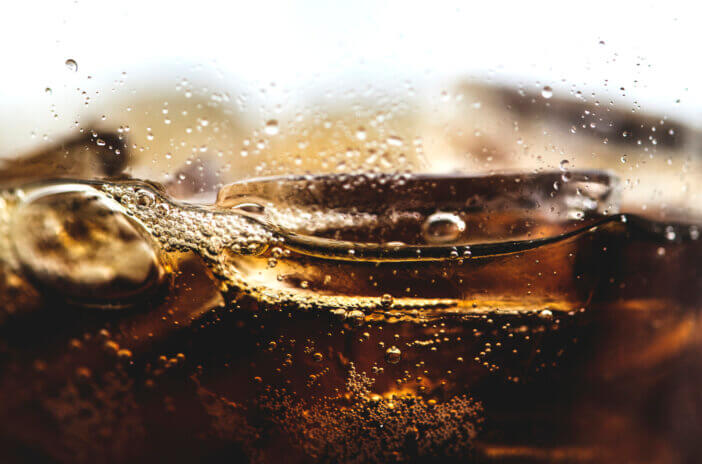 Coca-Cola is one of the best liquids for pulled pork since it delivers lots of savory caramel notes, and the high acidity helps tenderize the pork. The Coca-Cola-flavored barbecue sauce is definitely one you'll want to use for other recipes.
You'll need the following ingredients: boneless pork shoulder, Coca-Cola, vinegar, Worchestershire sauce, dried minced onion flakes, chili powder, ketchup, and salt.
#3. Dr. Pepper: Dr. Pepper Pulled Pork
Dr. Pepper is another favorite used with pulled pork that delivers a sweeter flavor than cola. This recipe is a must for Dr. Pepper fans as you can immediately taste the soda in every juicy, saucy, savory bit of this masterpiece.
This recipe uses these ingredients: pork shoulder, Dr. Pepper, onion, paprika, salt, garlic powder, black pepper, ketchup, dark brown sugar, apple cider vinegar, Worcestershire sauce, tomato paste, smoked paprika, mustard powder, onion powder, and hot sauce.
#4. Apple Juice: Crock Pot Pulled Pork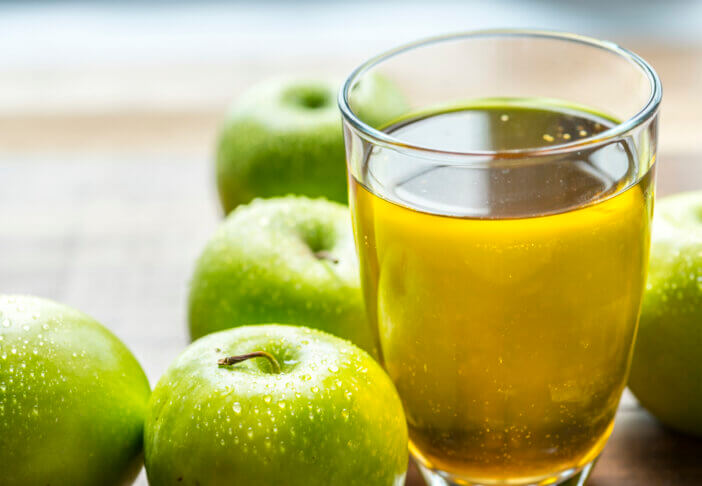 Another excellent liquid for pulled pork is apple juice, which gives your pork a delightful and flavorful taste and is mixed with the special garlic herb rub. This pork falls apart by the time it's cooked.
Here are the ingredients boneless pork loin, apple juice, season salt, garlic powder, Italian seasoning, dried mustard, onion powder, black pepper, and barbecue sauce.
#5. Apple Cider Vinegar: Slow Cooker Apple Cider Pulled Pork Recipe
Apple cider vinegar is usually a side ingredient for many pulled pork recipes, but really it's flavorful enough to stand as the main liquid as it tenderizes and flavors your pork with a unique off-sweet and sour flavor that's like nothing else.
The ingredients for this dish include boneless pork shoulder (or pork butt), salt, pepper, smoked paprika, ground cinnamon, yellow onions, dijon mustard, garlic cloves, fresh thyme, apple cider, apple cider vinegar, whole grain mustard, and sugar.
#6. Beer: Brown Ale Pulled Pork
Beer is another popular liquid you can use with pulled pork and many other types of meats. The best beer to use will be a darker brew (none of that light stuff) since it usually has a deeper, richer, more complex flavor profile.
Here is a list of the ingredients: boneless pork shoulder (or pork butt), a large onion (red, white, or yellow), coarse salt, dark brown sugar, garlic powder, paprika, ground pepper, dried oregano, beer (darker such as bock, Dunkel, porter, brown ale, or stout).
#7. Broth: Slow-Cooker Pulled Pork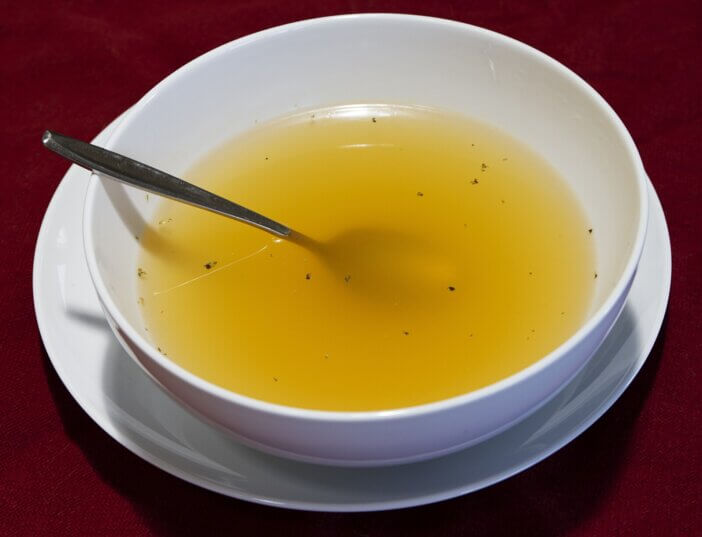 Chicken broth is another standard liquid many uses for their pulled pork recipes that help tenderize the pork but don't add a great deal of flavor. Instead, the broth really allows other spices and ingredients to seep into the pork while cooking.
This recipe calls for the following ingredients. Onion, chicken broth, barbecue sauce, mustard, honey, soy sauce, salt, and pepper.
#8. Grapefruit Juice: Slow Cooker Pulled Pork = Carnitas
Grapefruit juice is another citrus option that's great for tenderizing pulled pork and brings a unique tart and sweet flavor that's unmistakable for any other fruit. And while this is a recipe for carnitas, this recipe's also great on toasted buns.
You'll need these ingredients: lean pork sirloin, sea salt, pepper, garlic clove, cumin, ground or fresh thyme, red grapefruit, red onion, olive oil, fresh lime, and fresh cilantro.
#9. Blackberry Vodka: Blackberry Vodka Pulled Pork
Oh goodness, this recipe is a lot of fun. Vodka is a great spirit to cook with, and this recipe delivers an insanely delicious blackberry vodka sauce that you can use in many other dishes. The pork comes out nice and tender with a flavor that will have you licking your fingers.
Use the following ingredients: pork butt, blackberry vodka, ketchup, apple cider vinegar, cumin, garlic powder, cayenne pepper, Worchestershire sauce, brown sugar, salt, and fresh orange juice.
#10. Bloody Mary: Bloody Pulled Pork
This bloody pulled pork recipe captures the rich tomato-ey flavors of Bloody Mary cocktails but doesn't use alcohol, although you can probably throw in some vodka if you'd like. The ingredients list is pretty simple, and the results are excellent!
To make this recipe, you'll need boneless pork shoulder, brown sugar, fine salt, smoked paprika, bloody mary mix, fennel, and coriander.
#11. Bourbon: Beer and Bourbon Pulled Pork
Bourbon is another fantastic spirit that can really add some delicious, new dimensions to meat. It has a strong, woody, complex flavor that compliments spices and helps tenderize meat.
The ingredients needed for this recipe include paprika, onion powder, garlic powder, dried oregano, dried thyme leaves, ground black pepper, salt, boneless pork shoulder, canola oil, butter, onions, garlic cloves, wheat beer, bourbon, BBQ sauce, tabasco, and kaiser rolls.
#12. Pineapple Juice: Slow Cooker Pineapple BBQ Pulled Pork
Pineapple is a flavor many associates with Hawaiian foods, and the good folks of the islands know a thing or two about cooking some delicious pork. In this recipe, the pineapple juice brings tropical sweetness to the pulled pork that tastes like a luau in every bite.
The ingredient list includes oil, boneless pork roast (neck or shoulder), large onion, pineapple juice, light brown sugar, BBQ sauce, garlic cloves, salt, ground paprika, and black pepper.
#13. Whiskey: Boozy Pulled Pork
Now, to be fair, bourbon is a type of whiskey. However, this recipe uses Jack Daniel's whiskey, which has a sharper flavor (and impact) than most bourbons. The result is a bit more of a bold, boozy flavor.
To create this dish, you'll need butt roast or pork loin, ketchup, BBQ sauce, apple cider vinegar, Jack Daniel's whiskey, brown sugar, dijon mustard, Worchestershire sauce, garlic, onion, smoked paprika, hot sauce or cayenne, freshly ground pepper, and salt.
#14. Brandy: Sweet & Spicy Brandy Pulled Pork
The sweet flavor of brandy infused with herbs and spices make this pulled pork recipe something to remember! The brandy gives the tender pulled pork a smokey, sweet taste that, along with the spices, makes this recipe one of my all-time favorites.
This dish calls for boneless pork shoulder, garlic powder, onion powder, salt, paprika, pepper, cumin, honey or palm sugar, BBQ sauce, apple cider vinegar, brandy, capers, and pickled red chilies.
FAQs about Pulled Pork Liquids
Should I add liquid to pulled pork?
Yes, you should always cook your pulled pork in some liquid, whether using barbecue sauce, ketchup, or another fluid. This will give your pork extra flavor.
What should I spritz my pulled pork with?
A good spritz mixture is filling a spray bottle with apple juice and apple cider vinegar in equal parts. You can also use water and apple cider vinegar if the previous combination is too sweet for your taste. However, some folks really get creative with their spritz recipes using different flavored juice like cranberry, pineapple, and orange.
Do you need to add liquid to slow cooker pulled pork?
In truth, pulled pork doesn't absolutely need liquid since there is more than enough water and fat in the pork shoulder roast, to begin with; you don't need additional liquid to keep it moist.
How do you moisten pulled pork?
Can you put Coca-Cola in pulled pork?
Yes, you can add any kind of soda to provide additional flavor, and the acid helps tenderize the meat.
Can you put Dr Pepper in pulled pork?
Dr. Pepper works very well with pulled pork giving it an amazing flavor while tenderizing the meat as it cooks.