6+ Healthiest Turkey Sausage Brands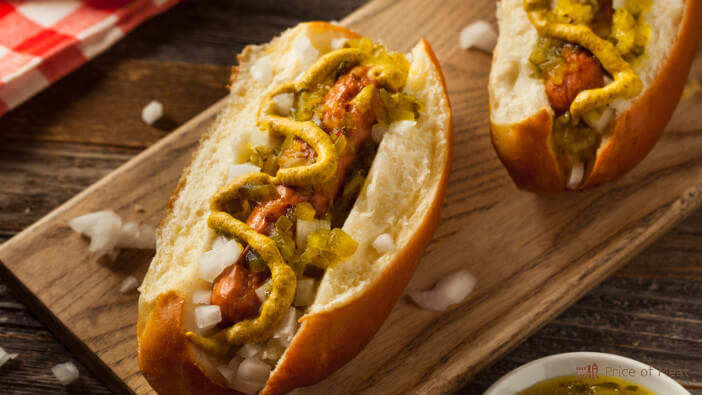 Many nutritionists believe that breakfast is the most important meal of the day. Sure, many successful people skip breakfast, but most of us function better if we have something on our stomachs before tackling the day.
One thing most nutritionists agree on is that starting the day with protein ensures you've got the best start and brain fuel.
Eating a high-protein breakfast can also contribute to weight loss. For many people, that means eggs and bacon or breakfast meat, but turkey sausage has become increasingly popular as a healthier alternative.
Is turkey sausage healthy? Let's learn more about turkey sausage and take a look at some of the healthiest turkey sausage brands (many share overlap with the lower sodium, vegan, and best breakfast sausage brands).
Quick Sidenote – check out our shop for a curated selection of the best meats, cuts, sausages, and more. Open our shop in a new tab and explore!
Disclosure: As an Amazon Associate, this site earns from qualifying purchases. Thank you!
The 6 Healthiest Turkey Sausage Brands
We have scoured the web for reviews of turkey sausage brands and pulled from our own experiences to compile this list of the best turkey sausage.
These brands aren't listed in any specific order because everyone's needs differ.
1. Applegate Naturals Turkey Breakfast Sausage Patties
The Applegate company boasts that they use "no antibiotics ever" and no added hormones for their products. Equally important, Applegate birds are humanely raised.
To ensure that the animals they use for their products are antibiotic-free and raised humanely, Applegate tracks the birds from birth until they're sold to market. While the animals are being raised, they are fed feed that does not have animal by-products.
Applegate's breakfast sausage is made without nitrites or nitrates and is casein-free and gluten-free.
2. Shelton's Turkey Breakfast Sausage
If you're following a keto diet, check out Shelton's turkey breakfast sausage. This sausage has zero net carbs and packs 9 grams of fat.
In addition to being carb-free, Shelton's turkey sausage doesn't have harmful ingredients that you may find in other turkey sausage brands. For example, Shelton's sausage is made without food additives, non-keto sweeteners, and highly refined oils.
The ingredients list is short for this sausage, and that's always a good thing: turkey meat, olive oil, water, spices, and sea salt. Note that the collagen casings are made from beef.
3. Butterball All Natural Turkey Sausage
It could be argued that Butterball is the most well-known turkey company in the world. They provide the U.S. with delicious Thanksgiving turkeys, but they also make other great turkey products.
The company's all-natural turkey sausage is made without nitrates, phosphates, or MSG. Moreover, Butterball's all-natural turkey sausage has zero net cards and offers a whopping 12 grams of protein per serving.
Butterball all-natural turkey sausage is available in breakfast links or patties.
4. Jones Dairy Farm All Natural Turkey Sausage
We wanted to be sure to include Jones Dairy Farm's turkey sausage on this list because this sausage is Whole30 compliant.
One thing we love about this sausage (besides the exceptional taste) is that the ingredient list is super short. All you'll find in this sausage is turkey, potato starch, water, dextrose, sea salt, spices, and sugar.
Although this turkey sausage has sugar, the amount is so negligible that it doesn't even register on the nutrition table. Also, this sausage doesn't have MSG or other preservatives, so it needs to be kept frozen before cooking and eaten within 30 days.
5. Eckrich Turkey Smoked Sausage
The Eckrich company is one of the most popular brands of sausage. Their beef and pork smoked sausage have been used in recipes for decades, and the turkey is just as delicious. In terms of flavor, you won't find a lot of complaints about Eckrich turkey sausage.
This sausage is made from mechanically separated turkey. This turkey smoked sausage does contain corn syrup and modified food starch.
Because of this, if you're looking for a sausage that will accommodate the needs of a keto, low-carb, or paleo diet, some of the other sausages on this list may be a better fit.
However, this sausage has only one gram of sugar, and a two-ounce serving has 5 carbs and 8 grams of protein.
6. Aidells Roasted Garlic and Gruyere Cheese Smoked Turkey Sausage
This turkey sausage by Aidells is decadent with smokey gruyere cheese and roasted garlic flavors. Even better, this sausage is great for a keto diet because it's high in fat and low in net carbs.
This sausage is sugar-free and has zero trans fat. Moreover, a serving of Aidell's sausage has 14 grams of fat and 14 grams of protein. This sausage has 2 carbs per serving.
The Difference Between Turkey Sausage and Pork Sausage
When it comes to ingredients such as seasoning, pork sausage and turkey sausage are similar. Of course, turkey sausage is made with ground turkey, and pork sausage is made with ground pork.
Turkey sausage can taste slightly different from pork sausage, but their nutritional content is the main way they differ from each other. In short, switching to turkey sausage can give you a significant nutritional upgrade.
Turkey Sausage Nutrition Information
Because turkey sausage has a higher percentage of protein than either pork or b
ef sausage, it's an excellent choice for breakfast food. Besides protein, turkey sausage also has more of many vitamins than other types of sausage.
Calories
In terms of calories, turkey sausage has about 196 calories per 3.5-ounce serving (similar to turkey bacon). This is nearly half of the number of calories in the same serving size of pork sausage.
Protein
Most importantly, approximately half of the calories in 3.5 ounces of turkey sausage are from protein sources. One serving of turkey sausage provides 23.9 grams of protein.
Fat
While half of turkey sausage's calories come from protein, the other half comes from fat. A serving of turkey sausage has about 10.4 grams of fat. However, pork sausage has almost three times the fat of turkey sausage.
Moreover, turkey sausage is much lower when it comes to saturated fat. While a serving of pork sausage has approximately 9.2 grams of saturated fat, the same serving of turkey sausage has just 2.3 grams of saturated fat.
Saturated fat contributes to plaque on our body's artery walls, so turkey is a better choice nutritionally, especially if you are at risk for cardiovascular disease.
Sodium
Most sausage has a lot of sodium, but turkey sausage has slightly less sodium than pork sausage. Pork sausage has about 749 milligrams of sodium per serving, while turkey sausage has about 665 milligrams.
Keep in mind that the maximum recommended daily sodium intake is 2,300 milligrams. A serving of turkey sausage will make up 28% of that allowance.
Other Vitamins and Minerals
Although turkey sausage doesn't have a lot of vitamin C or fat-soluble vitamins, it does contain higher amounts of B vitamins.
One serving of turkey sausage gives you the following vitamins and nutrients:
Over 50% of the daily recommended intake of vitamin B12
Over 30% of niacin
More than 20% of vitamin B6, riboflavin, and pantothenic acid
29% of the daily recommended intake of phosphorus
15% of the DRI for potassium
30% of the DRI for zinc
FAQs: Healthiest Turkey Sausage Brands
Below, we address some of the most frequently asked questions about healthy turkey sausages.
What is the healthiest brand of turkey sausage?
The healthiest turkey sausage for you will depend on your needs. However, if you're looking for a sausage that is all natural without preservatives and harmful additives, we recommend Applegate's sausage patties. 
For keto diets, try Shelton's turkey sausage. 
Is there a healthy turkey sausage?
Several brands offer a healthy turkey sausage, including Shelton's, Applegate, Eckrich, Jones Dairy Farm, and Butterball.
What's the best brand of turkey sausage?
Applegate's turkey sausage receives consistently high reviews from customers because of the exceptional taste and their commitment to serving clean food.
What is the most healthiest sausage?
Applegate makes their turkey sausage with birds that are hormone-free and antibiotic-free. Also, the animals are never fed feed that has animal by-products. Finally, Applegate's products are made without nitrates or nitrites.
Is turkey sausage good for high blood pressure?
Turkey sausage has less sodium than pork sausage, so it's a better choice if you're concerned about high blood pressure. However, a serving of turkey sausage will account for about 28% of the recommended maximum daily sodium intake.