19+ Best Sausage Brands for Hot Dogs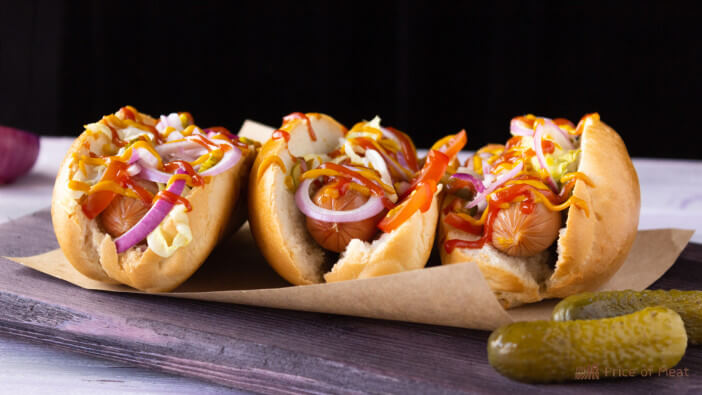 Hot dogs are perfect for outdoor grilling and summertime eating, and there is no shortage of hot dog brands to satisfy your craving.
Whether you're feeding a crowd or just your family, hot dogs are inexpensive, easy to cook, and most people love them.
What is the difference between hot dogs and sausages? And what are the best sausage brands for hot dogs? Let's dive in and learn more about how you can prepare the best hot dogs ever.
Disclosure: As an Amazon Associate, this site earns from qualifying purchases. Thank you!
Quick Sidenote – check out our shop for a curated selection of the best meats, cuts, sausages, and more. Open our shop in a new tab and explore!
The Best Sausage Brands for Hot Dogs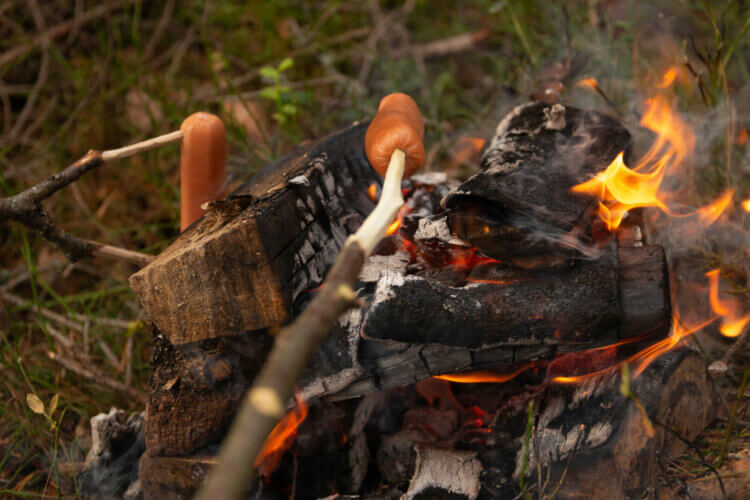 Below, we list the most popular sausage brands for hot dogs. These aren't in any specific order or ranking because it's all a matter of personal preference and taste.
1. 365 Everyday Value Organic Uncured Grass-Fed Beef Hot Dogs
The Whole Foods 365 brand makes an excellent hot dog from grass-fed beef. These organic hot dogs are made without growth hormones or antibiotics, and they actually taste like real meat.
The seasonings include minced garlic, onion, nutmeg, white pepper, paprika, and ginger.
2. Hillshire Farm Beef Hot Links
Many people prefer the meatiness of a beef hot dog, and Hillshire Farm's hot links won't disappoint you, especially if you're looking for a little something extra in your wiener.
These deep-red smoked sausages are made without fillers, and they have a spicy red pepper flavor.
3. Nathan's Famous Skinless Beef Franks
A hot dog brand that has become increasingly popular is Nathan's Franks. These hot dogs are made in a boardwalk style that is sure to please.
Nathan's Franks are juicy and tender without being greasy.
4. KC Cattle Company Wagyu Gourmet Hot Dogs
Wagyu is the best beef you can buy, and these gourmet hot dogs will please even the most discriminating palates.
This beef has a next-level flavor and superior tenderness, and the meat comes from Japanese beef cattle. The cattle used for KC Cattle's hot dogs are corn-fed (though not a…corn dog).
5. Upton's Natural Updogs
Even vegans can enjoy hot dogs thanks to products such as Upton's Natural Updogs. These dogs can hold their own when grilling, and they've got a savory flavor that everyone loves in a hot dog.
Upton's non-GMO hot dogs are made with wheat gluten, water, and wheat flour.
6. Oscar Mayer Uncured Cheese Dogs
Because of their viral hot dog commercial from a long time ago, Oscar Mayer hot dogs are one of the most popular and well-known hot dog brands in the U.S.
These hot dogs are fun and delicious because they're filled with cheese. Kids love them.
7. Hoffman Sausage Company German Franks
For a rich German flavor in your hot dogs, try Hoffmann Sausage Company's German Franks. These hot dogs are made with beef and pork, and they're hugely popular in New York City.
You'll love the texture that's not too heavy, along with the great snap.
8. Harry & David Beef Frankfurters
Harry & David's Beef Frankfurters are offered in the company's Artisan Frank Collection, which has excellent sausage alternatives.
These franks have a mild garlic flavor, and the smokiness sets them apart. The company is family-owned and they've been making hot dogs since the late 1800s.
9. Hebrew National Beef Franks
Kosher hot dogs are popular with all types of consumers because they are made with beef, which many people prefer over pork.
When you cook these smoky-flavored hot dogs, they turn a deep red color and cook up plump and tender.
10. Best's Beef Frankfurters
The retro packaging on Best's Beef Frankfurters is a draw, but it's the flavor that will transport you to your childhood block party.
The outer crust of these dogs is nice and snappy, and the inside is tender and juicy. They're delicious, either boiled or grilled.
11. Lightlife Smart Dogs Veggie Hot Dogs
If you're eating a plant-based diet, one hot dog to try is Lightlife Smart Dogs. These hot dogs have just 50 calories per link, and you get a whopping 7 grams of protein.
The coloring of these hot dogs is similar to beef franks, and they're tastier when they're grilled.
12. Trader Joe's Organic Grass-Fed Uncured Beef Hot Dogs
Fans of Trader Joe's already know about these delicious hot dogs. These franks made with uncured grass-fed beef, and they're 100% organic.
The meaty texture of these dogs is perfect for grilling, and you can also boil them. Seasonings include ginger, mace, and nutmeg.
13. Sabrett Skinless Beef Frankfurters
Are you fancying a New York City hot dog? Then buy some Sabrett Skinless Beef Frankfurters. These hot dogs have a hickory smoke flavor that tastes like it's straight out of a Manhattan hot dog cart.
At the end of the dogs, the natural casing is tied off, so they look homemade.
14. Rastelli's Round Dogs
How does a hamburger-shaped hot dog sound? We're here for it!
Rastelli's Round Dogs are innovative, and they're great for grilling because more of the meat comes into contact with the heat. These hot dogs are made with premium pork and Angus beef.
15. Ball Park Angus Beef Franks
Ball Park franks are the best-selling hot dogs in America, and they don't disappoint. If you love a beef frank, try their Angus beef hot dogs.
When you cook these franks, you'll have a perfectly juicy hot dog with amazing char.
16. Diestel Uncured Turkey Franks
Turkey hot dogs have less fat and calories, and Diestel's Uncured Turkey Franks is an excellent turkey dog option.
Best of all, these hot dogs have very few ingredients: turkey, seasoning, and water. These hot dogs are made with antibiotic-free turkey.
17. Stock Yard's Chicago Beef Franks
A lot of folks have fond memories of eating hot dogs at the ballpark while watching a game, and Stock Yard's Chicago Beef Franks will take you for a trip down memory lane.
These dogs are super meaty and juicy and great for boiling.
18. Beyond Meat Beyond Sausage Plant-Based Brat
If you're vegan, you can still enjoy hot dogs. Several companies offer a plant-based hot dog, but Beyond Meat is one of the more well-known.
You'll get a nice char mark when you grill these hot dogs, and the insides are juicy and savory.
19. Applegate The Great Organic Uncured Chicken Hot Dog
Applegate is well-known for creating products that are organic. Moreover, Applegate animals are humanely raised without antibiotics.
If you're trying to eat less red meat, these chicken hot dogs are an excellent alternative. They're better grilled. Boiling these hot dogs leaves them looking dull.
What's the Difference Between Hot Dogs and Sausages?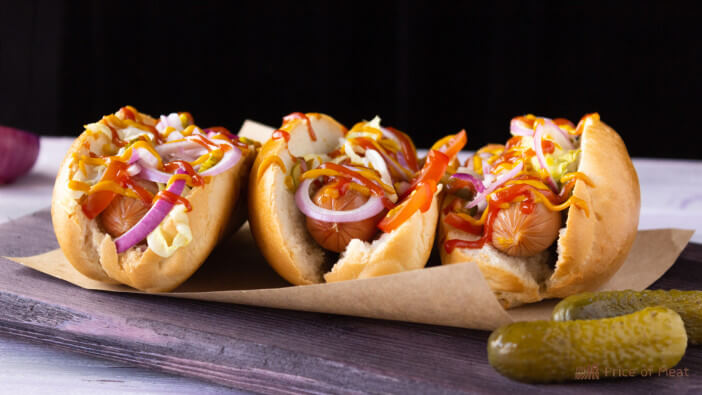 Technically, you can take any sausage link and put it in a bun to call it a hot dog. However, hot dogs and sausages aren't the same things, even though the two terms are sometimes used interchangeably.
In grocery stores, hot dogs and sausages are frequently placed beside each other, and they are similar in terms of packaging, appearance, and even serving.
"Hot dog" is the American term for the German wiener or frankfurter. You can use the term "hot dog" to refer to the meat itself or the food that includes a hot dog in a sliced bun.
What is a sausage? The word sausage refers to any food item made with ground meat, various spices, herbs, and fat stuffed into casings. This includes both German frankfurters and American hot dogs, as well as dozens of other sausages around the world.
While sausage has a long history that dates far into the ancient world, hot dogs don't date back as far.
Another difference between hot dogs and sausages is the texture of the meat. Hot dogs are usually smooth in texture, while sausages contain pieces and bits of meat that you can still distinguish.
FAQs about the Best Sausage Brands for Hot Dogs
Below, we address some of the most frequently asked questions about the best sausage brands for hot dogs.
What's the best sausage for hot dogs?
When you're making hot dogs, you can use traditional frankfurters or wieners. Alternatively, you can also use kielbasa, brats, or other types of sausages.
What sausages are used for hot dogs?
You can use nearly any type of sausage to make hot dogs, but traditionally, hot dogs are made with frankfurters or wieners.
What is the most popular hotdog brand?
According to Cheatsheet, Ball Park franks are the best-selling hot dogs in the U.S, with about 94 million Americans loading them into their shopping carts.
These brands follow closely behind Ball Park franks in terms of sales and popularity (ranked in order).
Ball Park
Oscar Mayer
Hebrew National
Bar S
Nathan's Famous
Armour
Hillshire Farms
Eckrich
Farmer John
What is the best meat for hot dogs?
Most popular hot dog brands are made with a mixture of beef, chicken, and pork. However, your preferences determine the best meat for hot dogs. In addition to traditional hot dogs, you can find beef hot dogs, turkey hot dogs, chicken hot dogs, and plant-based hot dogs.