Every world cuisine has a version of sausage, and throughout recorded history, this tasty meat has been a bit part of the day's first meal, breakfast (especially at fast food restaurants).
In the U.S., traditional breakfast sausage links are made with meat (usually pork), thyme, sage, salt, and black pepper.
In recent years, turkey and chicken sausage have grown in popularity because they're healthier. The good news is that when made correctly, turkey sausage and chicken sausage can be just as delicious as pork or beef sausage (and usually lower sodium).
Even better, turkey or chicken sausage is much lower in fat, calories, and sodium.
Best Brands of Breakfast Sausage
What are the best brands of breakfast sausage? Putting health concerns (mostly) aside and focusing on taste and popularity, here are the best breakfast sausage brands.
These brands are in no specific order or ranking because everyone has their own preferences and dietary needs.
1. Swaggerty's Farm Premium Sausage
You can buy Swaggerty's Farm breakfast sausages in all-natural, mild, or hot. What's the difference between the regular Swaggerty's sausage and the all-natural version? The all-natural sausage lists only just five ingredients on its label: pork, salt, water, spices, and sugar.
Besides the excellent flavor, these sausages have a great consistency. If you're looking for a simple sausage that doesn't overpower the rest of your breakfast, these are the ones to go with.
2. Bob Evans Original Pork Sausage Links
The Bob Evans breakfast sausage is classic breakfast meat. These sausages cook up to a gorgeous brown on the exterior, while the inside is tender and savory. Moreover, the spices in this sausage are perfect, making Bob Evans sausage links hit all the necessary marks that make a breakfast sausage delicious.
Bob Evans sausage links have excellent pork flavor and are seasoned with sage, rosemary, black pepper, and salt. While these sausages are slightly smaller than some of our listed sausages, they pack a big punch in terms of flavor.
3. Simple Truth Traditional Sausage
This breakfast sausage from Simple Truth is unique because it's made from pork that was raised eating nothing but vegetarian foods. With this Simple Truth sausage, you get the perfect balance of fat and lean.
These sausages will have minimal shrinkage in your frying pan, and the casing has less drag than many other sausage brands. In short, these links are satisfying and firm to the tooth. You may find these sausages to be saltier than other brands, but it's not too bad.
4. Beyond Meat Breakfast Sausage
Plant-based sausages aren't for everyone, but if you're looking for a meatless alternative, Beyond Meat's breakfast sausages are an excellent choice. These sausages are gluten-free and soy-free, and also 100% vegetarian certified.
While these sausages are perfect as a meat alternative, they are also quite delicious. One negative is that they're pretty small if you're making a breakfast sandwich.
5. Jones Dairy Farm All Natural Little Pork Sausages
One of the things to look for when cutting into a breakfast sausage is the snap that happens when you cut into the casing. A crispy casing adds the texture we all look for in a breakfast sausage link.
Jones Dairy Farm's Little Pork Sausages have an excellent snap, and they also deliver exceptional flavor. The outside cooks up perfectly crisp, and the inside has the perfect amount of salt and spices.
In terms of nutrition needs, these sausages are sugar-free and gluten-free.
6. Banquet Brown 'N Serve Original Sausage
Banquet products are famous for offering cheap food that's surprisingly delicious, and this breakfast sausage checks off all the boxes. These sausages are pretty highly processed, but folks who love some nostalgia with their breakfast will enjoy Banquet's product.
While these sausages are fatty and spongey, they have a familiar, peppery, and bold flavor that will satisfy even the pickiest eaters.
7. Applegate Organic Chicken and Apple Breakfast Sausage
If you're wanting something special and unique for breakfast sausage, check out Applegate's offering of apple and chicken breakfast sausage.
Applegate's sausage is also probably the healthiest sausage on our list because the company guarantees that their birds are humanely raised and free of antibiotics.
Also, this breakfast sausage doesn't have cancer-causing nitrites or nitrates, and they're gluten-free. The chicken and sage flavor is as delicious as the chicken and apple flavor.
8. Johnsonville Original Recipe Breakfast Sausage
If you crave a salty and sweet combination with breakfast, you'll love the Johnsonville Original Recipe Breakfast Sausage.
These sausages are flavored with a touch of sage, but the sweet maple flavoring is what makes them stand out.
When you're serving anything for breakfast that has a maple flavor, this breakfast sausage is the perfect accompaniment. You'll love these sausage links with waffles, pancakes, or French toast.
9. Boar's Head Honeycrisp Chicken Apple Sausage
Boar's Head Honeycrisp Apple Chicken Sausage is an excellent choice if you're cooking a full English breakfast. Many sausage brands offer small sausages, but these sausage links are delightfully meaty and serve as a hearty breakfast meat.
These sausages tend to run dry, but frying them with a little bit of water helps with that. Most importantly, the flavor is exceptional, and they are a fatty and sweet sausage link.
10. Jimmy Dean Heat 'N Serve Original Sausage
One survey noted that Jimmy Dean is the most popular breakfast sausage, and certainly, the brand recognition with this sausage is off the charts.
If you're a fan of Waffle House's sausages, you'll be delighted to know that you can have the same flavor at home because Jimmy Dean is the restaurant's preferred brand.
While Jimmy Dean's sausages look dry in the skillet, they are actually bursting with flavor that's delicious and comforting at that same time.
11. Smithfield Hometown Original Breakfast Sausage
Do you like to grill your sausage? Maybe you're cooking breakfast for your family when you're on a camping trip, or maybe you just like cooking outside whenever possible. Either way, Smithfield Hometown Orignal Breakfast Sausage is perfect for grilling.
With these sausages, you get a nice smoky flavor that gives you something different in a breakfast sausage. Some people don't like sweetness with their breakfast, and Smithfield's original is the perfect meat for that.
12. Butterball All Natural Turkey Breakfast Sausage Patties
If you're looking for a breakfast sausage that is lower in fat, calories, and sodium, you can't go wrong with Butterball All Natural Turkey Breakfast Sausage patties.
These patties are small, so they're not ideal for a breakfast sandwich. However, they're perfect for serving as side meat with pancake or eggs (or both).
While many turkey sausages have less fat and are therefore drier, Butterball's turkey sausage is nice and juicy.
What Makes a Breakfast Sausage Good?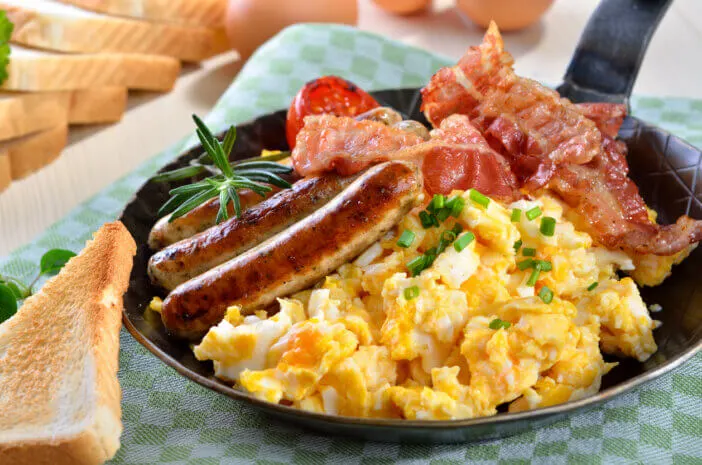 When evaluating breakfast sausage to find the best brands, food experts take into consideration flavor, texture, and appearance.
Flavor
The most important thing to consider when choosing sausage is the flavor. Here are some questions to ask when evaluating breakfast sausage.
What does the sausage taste like?
What herbs and spices are present?
Does the sausage seem like meat you would enjoy with eggs and pancakes?
Texture
Texture plays a huge role in how much we enjoy food, and this is even more important when it comes to breakfast sausage. Ask yourself these questions about your favorite breakfast sausage.
What is the sausage's texture?
Is the meat ground perfectly?
Does the casing enhance the experience of eating the sausage?
Is the meat too smooth or coarse?
Appearance
No matter how delicious a portion of food tastes, if it doesn't look appetizing, we usually aren't going to enjoy it (or even try it). These questions will help you determine whether or not a sausage brand is something you want to serve to your family or guests.
When the sausages are cooked, how do they look?
Do the sausages brown evenly?
Are they tasty looking?
FAQs about the Best Brands of Breakfast Sausage
Below, we address some of the most frequently asked questions about the best brands of breakfast sausages.
What is the best selling breakfast sausage?
According to a study by Statista, Jimmy Dean sausage is the most popular breakfast sausage in the U.S., with Hillshire Farm coming in at a close second.
However, Nutitionix noted that Johnsonville Turkey Breakfast Sausage is the most canned breakfast sausage, which indicates that it is the best-selling breakfast sausage. Banquet breakfast sausage is in second place.
What are the best sausages for English breakfast?
For a full English breakfast, Brits prefer Lincolnshire sausage or Cumberland sausage. Lincolnshire sausage is made with coarsely ground meat, and Cumberland sausage is made with seasonings and chopped pork.
Are Johnsonville breakfast sausages good?
Since Johnsonville is the most scanned breakfast sausage in the U.S., it stands to reason that this sausage is quite tasty.
Are Jimmy Dean sausages good?
The Statista study survey respondents said that Jimmy Dean is consumers' favorite breakfast sausage.