Longanisa Sausage: A Special Delight with Unique Ingredients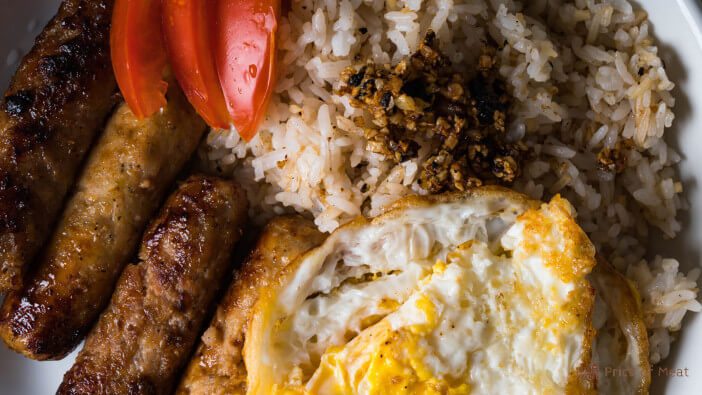 If you love sausage, we encourage you to check out one of the world's most delicious sausages: longanisa sausage, which is often spelled as longaniza sausage (or longganisa in the Philippines).
Longanisa sausage is usually made from ground pork (but sometimes beef), and this unique sausage has a signature thin and long shape. However, the story behind this sausage is complex, so let's dive in and learn all about longanisa sausage.
Disclosure: As an Amazon Associate, this site earns from qualifying purchases. Thank you!
What Is Longanisa Sausage?
Longanisa sausage is similar to another sausage that you may be more familiar with: Spanish chorizo sausage. Chorizo sausage is popular in Spanish and Mexican cooking.
Quick Sidenote – check out our shop for a curated selection of the best meats, cuts, sausages, and more. Open our shop in a new tab and explore!
Longanisa is also a close cousin of the popular Portuguese linguica sausage. In recent decades, longanisa has become strongly associated with the Philippines.
Although longanisa originated in Spain, it has made its way around the globe, and every cuisine has its own version of this delicious sausage. Some longanisa is sweet, while other versions can be garlic-flavored, spicy, and even citrusy.
Here are some of the regions that have their own version of longanisa.
Spain
El Salvador
Mexico
Uruguay
Argentina
Puerto Rico
Chile
Dominican Republic
Philippines
What Is Longaniza Made Of?
Most sausage is made from ground meat (pork, chicken, beef, or turkey). However, longaniza is made from pork that has been chopped instead of ground. Since longanisa is made out of chopped meat, the texture is very different from that of sausage made from ground meat.
Usually, longanisa is made of pork that is stuffed into intestinal casings. However, some variations of longanisa are made from beef, turkey, and chickens. In the Philippines, longanisa variations are even made with tuna.
What part of the hog does longanisa come from? This varies depending on which region of the world made the sausage. In most cases, pork longanisa is made from lean pork shoulder.
Because fat is needed to make sausage, pork fat is usually used with lean pork meat to make longanisa.
Longanisa Sausage Varieties by Various Regions
Below are some of the regions around the world where you can find longanisa.
Spain
Because longaniza originated in Spain, this delicious sausage is still an integral part of Spanish cuisine. In Spain, longanisa is usually seasoned with any of these ingredients.
Vinegar
Nutmeg
Aniseed
Garlic
Cinnamon
Paprika
Black pepper
Spanish longaniza is a thin and long salchichon. Salchichon is a summer sausage that's made by smoking or drying. To cook Spanish longaniza, you can pan-fry it or grill it, then serve it sliced or with bread.
Philippines
Even though longaniza originated in Spain, the sausage recipe really found its footing in the Philippines, and you can find hundreds of varieties in Filipino food. Here are just a few of the most well-known Filipino longganisa varieties and the regions where they are popular.
Vigan longganisa: Ilocos Region (pork)
Alaminos longganisa: Pangasinan (pork)
Cabanatuan longganisa (sometimes called Batutay): Nueva Ecija (beef)
Longaniza de Guinobatan: Guinobatan, Albay (pork)
Chorizo de Bilbao: made with paprika (dry pork)
Chorizo de Cebu (also called longganisa de Cebu): Cebu (pork)
Chorizo de Macao: made with anise liqueur (dry pork)
Chorizo Negrense (or Bacolod Longganisa) – pork longganisa from Negros Island
Pinuneg: Cordillera Administrative Region (pork blood sausage)
Lucban longganisa with oregano: Quezon (pork)
Pampanga longganisa: Pampanga (pork)
Tuguegarao longganisa (also called Longganisang Ybanag): Cagayan Valley (pork)
Filipinos consider longganisa to be an "altanghap" food," which means that it can be served with any meal of the day – not just at breakfast.
Uruguay and Argentina
Uruguayan and Argentinian cuisine includes longaniza made of cured pork sausage and dried. Much of the flavor of the sausage comes from anise seeds, a regional flavor that is strongly associated with the cuisine in Argentina and Uruguay.
In these countries, longaniza usually isn't cooked. Rather, it is served as an appetizer or in a sandwich. The flavor of longaniza in Argentina and Uruguay is mildly sweet and salty.
Puerto Rico
The island territory of Puerto Rico makes its longaniza like the original version with pork. However, you'll sometimes find Puerto Rican longaniza made with chicken or turkey.
In Puerto Rico, longaniza is made with annatto seeds, so the sausage has an orange-red color. Other seasonings can include oregano, garlic, and nutmeg. Puerto Rican longaniza is served with white rice and/or beans.
Dominican Republic
In the Dominican Republic, you can enjoy longaniza as popular street food. Since colonial times, longaniza has been one of the DR's iconic dishes.
In the Dominican Republic, longaniza is made with salt, garlic, oregano, and bitter orange juice (or lime juice).
To prepare their longaniza, people in the DR sun-cure the sausage for a few days. Then they fry it or boil it. Longaniza in the DR is typically served with fries, rice, tostones, or batata.
Chile
In Chile, longaniza is a beloved staple that is prepared on September 18 for the Fiesta Patrias de Chile. This celebration commemorates the start of Chile's independence and lasts for two days.
Chilean longaniza is usually made with jalapeno peppers, paprika, cumin, and chicha, a popular beer in Latin America. Once it's seasoned, the sausage is grilled.
Chileans like their longaniza served as a choripan, a sandwich made with crusty bread and garnished with chimichurri sauce.
Mexico
The Spanish brought longaniza to Mexico during the 1500s. In the beginning, Spanish longaniza was made with pork, but in the modern era, the sausage is made in a traditional Mexican way.
Mexican longaniza is sometimes called Tropical Mexican longaniza. This delicious sausage is seasoned with vinegar, salt, dry red pepper, and paprika.
Tropical Mexican longaniza is great for making sopa (soup), tortas, and tacos. You can also serve it with eggs, tomatoes, and chilis or wrapped in flour or corn tortillas.
What Is the Difference Between Chorizo vs. Longaniza?
In many Latin American countries, you'll find chorizo to be the most popular sausage. While longaniza is a distant cousin of chorizo, there are some key differences between the two.
For one thing, longaniza is usually much thinner than chorizo. Also, longaniza is a bit drier than the juicy, fatty chorizo. Because it is leaner, longaniza is great for grilling.
Chorizo is nearly always prepared with pork, but longaniza can actually be made with several different types of meat (similar to bologna).
In terms of seasoning, chorizo is flavored mostly with chili powder and paprika. Alternatively, longaniza's flavor comes from garlic, salt, and black pepper.
How to Cook Longanisa Sausage
There are several different ways to cook longanisa. You can smoke this delicious sausage or fry it. Alternatively, you can also eat longanisa fresh, freeze it, or cure it for future use.
Before you cook your longaniza, thaw it overnight in the fridge if it's frozen. Most experts recommend boiling longaniza before you grill it or fry it.
How to Boil Longaniza
Boil longaniza for about 20 minutes in a pot until the water is nearly evaporated.
Once it's boiled, cut the longaniza up into small pieces for grilling or frying.
Longanisa Sausage FAQs
Below, we address some of the most frequently asked questions about longanisa.
What is longaniza sausage?
Longaniza is a sausage that is usually made with chopped pork. In some cases, other meats are used to make longaniza, including beef, chicken, turkey, and tuna (in the Philippines).u003cbru003eu003cbru003eLonganisa originated in Spain, but it has become popular in regions all over the world.
What does Filipino longanisa taste like?
Filipino longganisa is an integral part of the diet in the Philippines, and it's considered to be an all-day food. Most Filipino longganisa is made with garlic and is salty and savory. It's very unusual to find a Filipino longganisa that isn't loaded with garlic.u003cbru003eu003cbru003eThe salty and savory type of Filipino longganisa is called u0022de recado.u0022 However, some varieties of Filipino longganisa (hamonado) have a sweeter flavor.
Where can I buy longanisa sausage?
To buy longaniza, check specialty Latin or Asian stores if you live near a big city. When you buy longaniza in a store, you can find it frozen, pre-made, and uncooked.u003cbru003eu003cbru003eBecause longaniza is cured, you can also find it u003ca href=u0022https://www.amazon.com/dp/B099G3C7X6?tag=priceofmeat-20u0022u003eonlineu003c/au003e. 
How long does longanisa last in the fridge?
Fresh longaniza can be u003ca href=u0022https://ask.usda.gov/s/article/What-are-storage-times-for-sausages#:~:text=Uncooked%20fresh%20sausage%20can%20be,six%20weeks%20in%20the%20pantry.u0022u003estoredu003c/au003e for up to two days in the refrigerator. Once it's cooked, you can keep it in the fridge for up to four days. 
How long is sausage good for in the freezer?
For best quality, u003ca href=u0022https://ask.usda.gov/s/article/Can-I-freeze-sausage#:~:text=Freezing%20keeps%20food%20safe%20indefinitely,two%20months%20for%20best%20quality.u0022u003efreeze sausageu003c/au003e for up to two months. Although the freezer will keep sausage safe indefinitely, the flavor will slowly deteriorate over time. 
More FAQs
What is longanisa sausage made of?
Longanisa sausage is made of pork, and it can also be made with chicken or turkey. The addition of annatto seeds gives it a red orange color. A popular dish that includes longanisa is rice with longanisa.
Is Longanisa the same as Portuguese sausage?
Longanisa is not the same as Portuguese sausage, but it is a traditional Spanish sausage similar to chorizo and the Portuguese linguiça. However, it is important to note that various Latin American countries have their own unique versions of longanisa.
What animal is longaniza?
The animal that longaniza comes from is pork. Longaniza is made by seasoning pork meat with generous amounts of oregano and black pepper. In the Dominican Republic, longaniza sausage also includes garlic and bitter orange juice. While it used to be traditionally stuffed into pork tripe, nowadays it is commonly made using an artificial casing.
Is Chinese sausage longanisa?
Chinese sausage is not the same as longanisa. These cured pork sausages, known as lap xuong, are made in a similar style to longaniza, a popular Filipino pork sausage that is highly regarded among pork products.
What does longanisa taste like?
Longanisa has a distinct taste, especially the Lucban longganisa in Quezon province. It is flavored with oregano and sometimes paprika, giving it a deeper flavor that slightly resembles European flavors. Alongside the strong flavors of garlic and vinegar, the Lucban longganisa stands out with its unique taste.
Is longanisa similar to chorizo?
Longanisa is not similar to chorizo in terms of texture. Chorizo is made with ground meat, while longaniza is made with minced meat, giving it a coarser grind. Although both chorizo and longaniza recipes in Mexico use dry red peppers, longanizas often include either paprika or annatto (achiote), resulting in a beautiful bright red color.
What part of the pig is longaniza?
The part of the pig that longaniza comes from is the lower intestines, which were traditionally used as a casing for this spiced pork sausage after being washed and cleaned. However, nowadays, commercially made longaniza is typically stuffed into an artificial casing.
How do you eat longanisa?
To eat longanisa, you can enhance its bold flavor by rendering the fat in the pan and using it as a "sauce" for pasta. This method not only adds richness but also binds the flavors together. For an extra kick, you can sprinkle chili flakes on top. Another delicious option is to incorporate Vigan longanisa into pasta dishes with a creamy sauce.
What are the benefits of eating longanisa?
The benefits of eating longanisa include its high protein content, which can help you feel full without consuming excessive carbohydrates. Additionally, longanisa provides selenium, an essential nutrient that aids in combating free radicals by promoting antioxidant production in the body.
Is longaniza a blood sausage?
Longaniza is not a blood sausage, but in the Philippines, blood sausage is commonly referred to as longganisang dugo (literally "blood longaniza").
Is longanisa sausage spicy?
Longanisa sausage can be spicy, but it varies depending on the recipe. Similar to chorizo, longaniza is a lesser known cousin that is often red in color and may contain chiles, paprika, or annatto (achiote). Some variations of longanisa are spicy, while others are not. Additionally, some recipes include vinegar, while others use citrus juice.
Is longanisa a processed meat?
Longanisa is considered a processed meat, along with other foods like hotdog, ham, sausage, and tocino. These processed meats are high in fat content, which can be detrimental to our health.
Can you eat longanisa raw?
Longanisa cannot be eaten raw as it is a type of meat that requires cooking before it can be consumed. It is important to note that longanisa is a highly favored food in the Philippines, particularly during breakfast hours.
How do you know longanisa is cooked?
Longanisa is cooked when the sausages have absorbed all the water, the skillet is hot, the heat is turned down to medium, vegetable oil is added, and the sausages sizzle in the hot oil. Continue cooking for 12 to 15 minutes until the longanisas have a shiny coating, are brown, and the pork is fully cooked.
What's the difference between sausage and longanisa?
The difference between sausage and longanisa lies in the type of meat used. Sausage and longanisa are both made from pork meat, but longanisa is specifically prepared from ground pork shoulders, whereas sausage is made from freshly minced meat. This distinction in the type of meat used results in variations in the chewiness and texture of the sausages.
What's healthier chorizo or longganisa?
Longganisa is similar to chorizo but contains significantly less fat compared to the typical chorizo available in the market.
Can you just fry longanisa?
To fry longanisa, heat the oil in a large skillet or frying pan over medium-high heat (around 375 ºF [190 ºC]). Fry the longanisa until it turns golden brown, which takes approximately 4 minutes for cured longanisa and 8-10 minutes for raw longanisa. Make sure to rotate the longanisa to ensure both sides cook evenly. It is recommended to fry one or two at a time to prevent overcrowding in the skillet.
Is longanisa fully cooked?
Longanisa is not fully cooked when it is initially prepared. It requires being submerged in an inch of water and cooked for approximately half an hour until all the water has evaporated. However, even after this process, it is still not considered fully cooked.
Do you boil or fry longanisa?
The longanisa is boiled by filling a skillet with 1/2 to 3/4 inches of water and adding thawed sausages. It is then simmered over medium-high heat until the water evaporates, which takes approximately 20 minutes.
Is longanisa Filipino or Mexican?
Longanisa is a type of sausage that originated in Spain and is made from chopped pork and various spices. It has gained popularity in several countries, including Mexico, Puerto Rico, Argentina, Chile, the Philippines, and the Dominican Republic. Each country has its own unique variety of longanisa, resulting in distinct flavor profiles.
What is Mexican longaniza?
Mexican longaniza is a sausage that closely resembles chorizo. It is prepared in the traditional Mexican style, using pork and seasoned with salt, vinegar, and paprika. This type of sausage is known as Tropical Mexican Longaniza.
What is the Spanish version of longaniza?
The Spanish version of longaniza is a homemade sausage made using a traditional recipe that combines lean pork and beef. It is carefully crafted with a minimum amount of jaw (bacon) to ensure its exceptional quality. Through a gentle smoking process, this sausage develops a delightful flavor and aroma.
How do you eat Filipino longanisa?
The Filipino longanisa is typically enjoyed by pairing it with fried rice and sunny side up eggs, making it a staple in Filipino breakfast. This Spanish-influenced pork sausage with a Filipino twist is known for its delicious flavor. If you have had the opportunity to try the golden trio of Longanisa, fried rice, and eggs for breakfast in the Philippines, you would know just how tasty it is.
What do you eat with Longanisa?
Longanisa is typically eaten with cooked white rice or garlic fried rice, along with a fried egg, green onions, fried garlic, crispy shallots, and hot sauce (optional).
What does Filipino sausage taste like?
Filipino sausage has a variety of flavors. Some sausages are sweetened with sugar or honey, resulting in a delightful combination of sweetness and savory taste. Additionally, there are sausages that offer a spicy kick due to the inclusion of chilies. Moreover, garlic is a popular ingredient in Filipino sausages, with many varieties containing a generous amount of garlic for a bold and flavorful experience.