13+ Mouth-Watering Pulled Pork Sandwich Side Dishes & Food Matches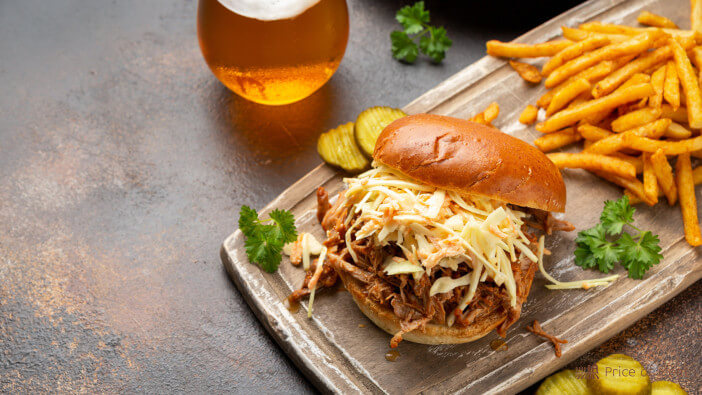 Are you wondering what the best pulled pork sandwich side dishes are? We've got you covered with this excellent list of side dishes for pulled pork sandwiches and any type of BBQ sandwiches.
Pork loin is perfect for the slow cooker because the meat gets so tender. However, you can also cook your pork in the smoker, grill, oven, or Instant Pot.
No matter how you cook your pulled pork, you know that it's going to be delicious whether you wrap it up in warm tortillas or serve it on buns with great toppings.
We also know that you definitely want to have some great side dishes to serve your friends and family. Often, it's the side dishes that make a meal extra special.
Quick Sidenote – check out our shop for a curated selection of the best meats, cuts, sausages, and more. Open our shop in a new tab and explore!
Are you ready to get some ideas about the best pulled pork sandwich side dishes? Let's dive in.
Disclosure: As an Amazon Associate, this site earns from qualifying purchases. Thank you!
1. Creamy Cucumber Salad
Few side dishes say summer and BBQ like creamy cucumber salad. For this recipe, you need cucumbers, and we love the English cucumbers best. For extra flavor, you can add in onion slices.
The dressing for this cucumber salad is made with mayonnaise, sour cream, chopped fresh dill, sugar, white vinegar, sea salt, and black pepper.
Cucumber salad is best when it's fresh. However, cucumber salad will last in the fridge for several days as long as you keep it covered and cold.
2. Hawaiian Macaroni Salad
Any type of macaroni salad is the perfect side dish for pulled pork sandwiches, but we've fallen in love with this macaroni salad with sweet Hawaiian flavors.
This macaroni salad is a staple of BBQ dinners in Hawaii, and you can make it right in your own kitchen.
What makes this macaroni salad so special is the sugar, apple cider vinegar, and shredded carrots. Milk gives it a wonderful creamy texture. If you want a shortcut, you can buy macaroni salad already made up and then add some carrots and sugar.
3. Grilled Corn on the Cob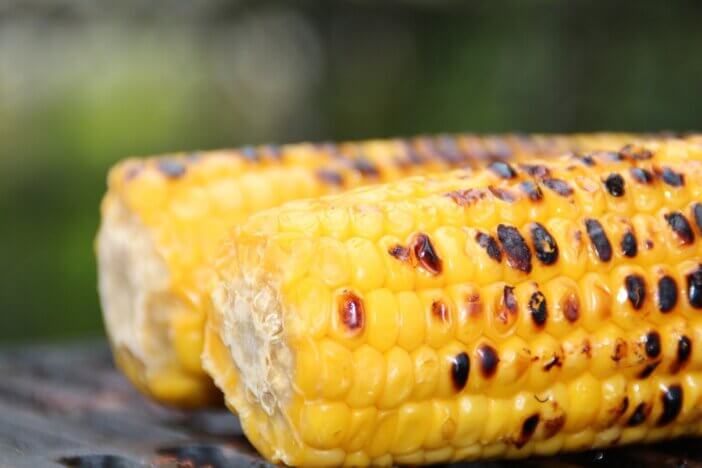 Grilled corn on the cob is perfect for serving with any type of grilled meat, BBQ sandwich, or pork. The best thing is that this recipe shows you how to grill corn on the cob in three different ways: in the husk, straight on the grill, and wrapped in foil.
Which way is better? It's all up to you. However you grill your corn, it's going to be delicious. If you want to take your grilled corn on the cob to the next level, serve it up Mexican style and make elotes.
4. Homemade Kettle Potato Chips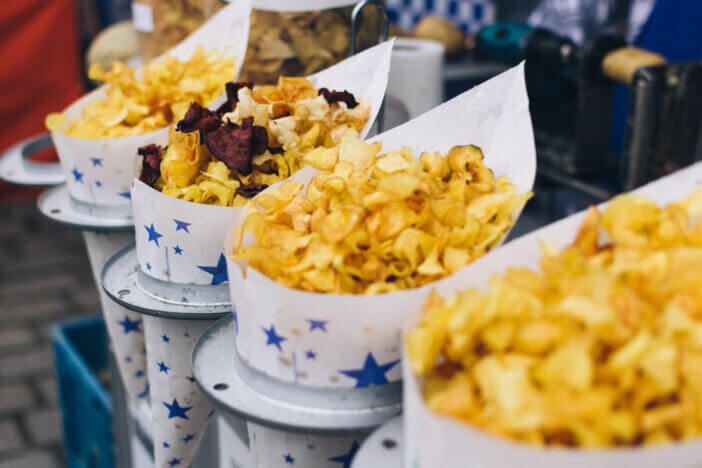 If you serve potato chips with your pulled pork sandwiches, consider kettle-style chips. They're sturdier and have a delightful crunch.
There are several different brands of kettle chips available, or you can make your own homemade kettle chips.
This kettle chips recipe calls for Yukon gold potatoes, sea salt, black pepper, and oil for frying. You can also make homemade kettle chips in the air fryer or bake them in the oven. Once they're cooked, season them however you like.
5. Jiffy Mix Jalapeno Cornbread
Cornbread is an awesome side dish for BBQ pulled pork sandwiches, but why not whip up a cast iron skillet full of jalapeno cornbread instead? Jiffy Corn Muffin Mix makes it incredibly easy to make Mexican cornbread.
Here's a pro tip. Mix up all of your ingredients without the oil, then add the cheese on top. Heat the oil in the oven (or on the stovetop), and then pour the hot oil over the cheese. Stir everything together while the cheese is still hot.
6. German Potato Salad
Any type of potato salad is delicious, but we love the complexity of German potato salad. When you make this hearty potato salad, it's almost a full meal right by itself.
What makes German potato salad so different? American potato salad is usually made with either mustard or mayonnaise (and that is something that's hotly debated).
However, German potato salad is usually served warm and is loaded with delicious ingredients like bacon.
Use red potatoes for this potato salad because they hold their shape much better.
7. Air Fryer Seasoned French Fries
Sandwiches and French fries were born to be together, whether you're having a burger or a pulled pork sandwich.
You can buy frozen French fries and cook them in the oven or air fryer, but it's surprisingly easy to make homemade French fries from scratch.
The French fries you make at home in your air fryer are just as tasty (or better!) than the ones you can buy at any fast-food restaurant. And they're better for you, too. Season your fries with seasoning salt to send them over the top.
8. Slow Cooker Macaroni and Cheese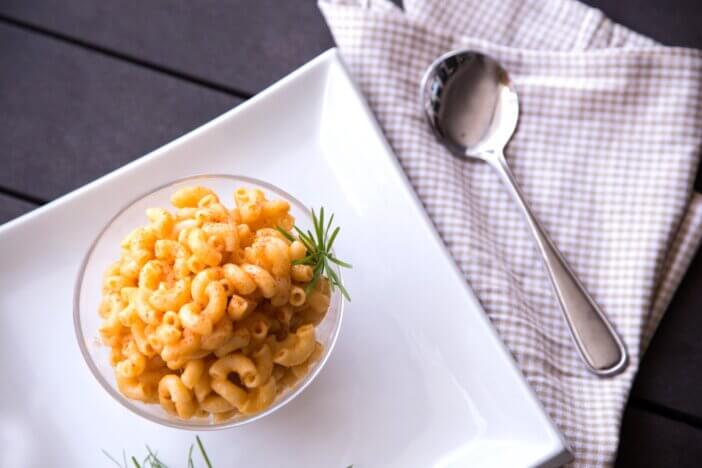 One of the great things about serving pulled pork sandwiches for dinner is that you don't have to spend a lot of time over a hot stove. You also don't have to over-heat your kitchen in the hot summer months.
When it comes to side dishes, you can follow that trend of not slaving over a hot stove. Simply pull out your Instant Pot or slow cooker and put it to work, making creamy homemade macaroni and cheese. This recipe is made with sour cream, mayonnaise, gruyere cheese, and cheddar cheese.
9. Okra and Tomatoes
If you've ever had a garden, you know that once okra starts coming in, things start to snowball very quickly. Having some good okra recipes on hand helps a lot, and there's nothing better than okra and tomatoes.
We love fried okra and even boiled okra, but there's something special about okra and tomatoes.
The tanginess of ripe tomatoes and the texture of the okra are the perfect combination. This recipe also calls for garlic, chopped onion, sea salt, and black pepper.
10. BBQ Baked Beans
Can you imagine a BBQ without baked beans? Sure, it can happen, but we all know that beans make every meal better. The beans may be the only hot side dish for some BBQ dinners.
Baked beans are made with navy beans, and you can make your baked beans from scratch using those. However, this recipe is super easy because it starts with canned pork and beans.
The other ingredients are bacon, bell pepper, onion, BBQ sauce, mustard, and brown sugar. You can also cook these beans in your slow cooker or Instant Pot.
11. Southern Style Hush Puppies
When we think of hush puppies, we usually think of them as being served with seafood dinners such as fish and chips or fried shrimp.
However, southern-style hush puppies are served with all types of dinners, and they are a side dish for BBQ dinners and sandwiches.
Hush puppies are made with a mixture of cornmeal and flour. What makes them stand out is the sugar and spices, which include onion powder, paprika, and garlic powder. This recipe calls for buttermilk, and that's the secret ingredient.
12. Collard Greens
Side dishes for pulled pork sandwiches don't have to be starchy like many breads and cold salads. You can serve up some nutritious greens with your BBQ sandwiches and make everyone happy.
For these collard greens, you need a smoked ham hock or smoked turkey leg. It's also good to use some bacon grease, apple cider vinegar, red pepper flakes, and a tiny bit of sugar.
This recipe is for collard greens, but you can use the same recipe for cooking turnip greens, too. Also, feel free to make your collard greens in the Instant Pot or slow cooker if you want to keep the heat out of your kitchen.
13. Classic Creamy Coleslaw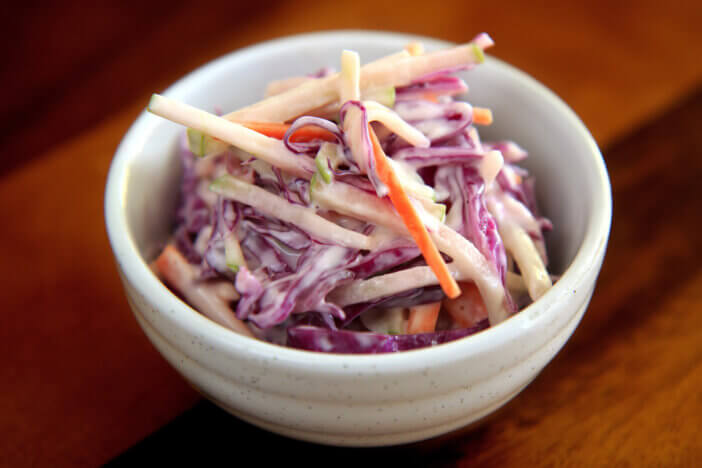 We can't have a list of the best sides for pulled pork sandwiches without including a recipe for a classic creamy coleslaw. We love this recipe because it includes two different options for dressing. Of course, there is also a third option: buying pre-made coleslaw dressing.
You can use red or green cabbage (or both!) to make this coleslaw. Be sure to include a few cups of shredded carrots for texture, color, flavor, and nutrition.
FAQs about the Best Pulled Pork Sandwich Side Dishes
Below, we address some of the most frequently asked questions about pulled pork sandwich side dishes.
What is a good side dish with pulled pork sandwiches?
For pulled pork sandwich side dishes, you can go with something simple such as French fries or potato chips. If you want something heartier, consider cold salads such as coleslaw, potato salad, or macaroni salads.
What vegetable goes with pulled pork sandwiches?
Some of the best vegetables for pulled pork sandwiches are those grown in a summer garden. Fresh tomato slices or a creamy cucumber salad are quick and easy vegetable side dishes.
You can also serve your pulled pork sandwiches with grilled Mexican street corn or steamed squash.
What sides go good with BBQ sandwiches?
In addition to cold salads and potato chips, you can also serve your BBQ sandwiches with vegetable casseroles. Consider squash casserole or corn casserole.