Are you in search of the best beef short rib side dishes for a great meal? It seems like everywhere we look these days, we see beef short ribs. This delicious cut of beef is showing up on the menus of trendy restaurants as well as on nearly every cooking show.
The good news is that you can easily make your own beef short ribs at home, and we've got the perfect side dishes for you to serve with them. Let's dive in.
1. Mashed Potatoes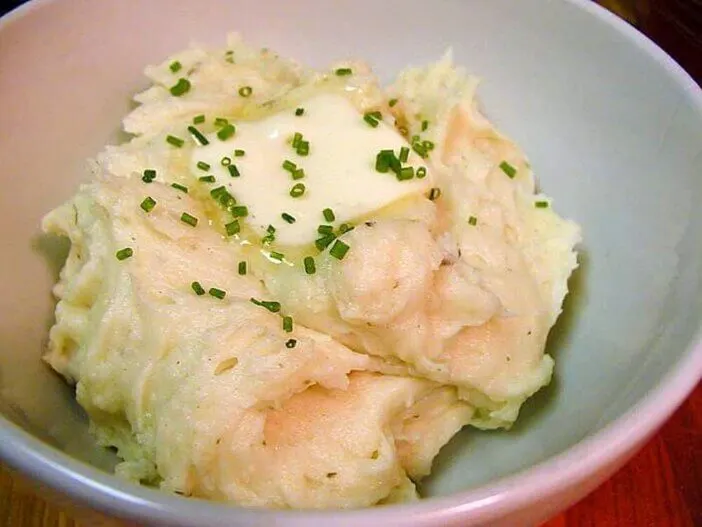 Mashed potatoes are a favorite side dish for most cuts of meat, and that includes beef short ribs. There's no need to buy instant mashed potatoes because homemade mashed potatoes are so easy to make.
For this recipe, you need two pounds of potatoes, milk, butter, black pepper, and some heavy cream (or sour cream). You can cook your potatoes on the stovetop, in the Instant Pot, or in the slow cooker.
2. Sauteed Broccolini
Broccolini has all of the flavor and nutrients of broccoli, but it cooks up much more quickly. The best way to prepare this delicious vegetable is by sauteeing in unsalted butter.
The only seasonings you need for this short ribs sid dish are salt, black pepper, and garlic powder.
3. Roasted Root Vegetables
Traditionally, root vegetables such as carrots and potatoes find their way into fall and winter recipes because they store well for long periods of time. In the old days, people had access to root vegetables long into the colder months.
However, in the modern era, when we can have any vegetable at any time of the year, why not enjoy root veggies anytime you cook beef short ribs? This recipe is made with carrots, parsnips, yams, beets, and potatoes.
4. Green Papaya Salad
When you want an utterly elegant side dish, give Thai green papaya salad a try. According to CNN's Travel, this delicious salad is one of the world's top 50 foods.
To make this salad, you need to shred the inside of green papaya, also called unripened papaya. Other ingredients include roasted peanuts, snake beans, Thai basil, and grape tomatoes.
To make the dressing, use dried shrimp, chillies, palm sugar, fresh lime juice, garlic, and fish sauce.
5. Roasted Baby Carrots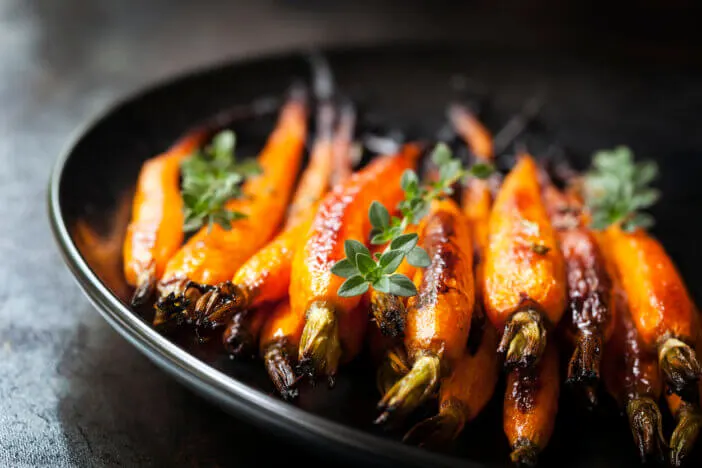 A winning side dish that will please any crowd you're cooking for is roasted baby carrots. This side dish is also super easy to make because you cook them on a sheet pan or cookie sheet.
To cook these roasted baby carrots, you need two bags of baby carrots, olive oil, sea salt, and black pepper. Roast them for about 40 minutes in a 450°F oven, and you're good to go.
6. Buttered Green Beans
Green beans go with so many meals, and these buttered green beans are a unique side dish. To cook these green beans, melt butter in a heavy skillet. Then, saute the green beans until they're tender and coated with the butter.
Seasonings include minced garlic, sea salt, and black pepper. Fresh lemon juice adds a nice tangy zing. You can use canned green beans to make this recipe.
7. Caprese Salad
Some occasions call for an elegant side dish, and that's when you can count on a traditional Caprese salad to save the day. We have written about various types of Caprese salads, including ones where the ingredients are chopped.
For this Caprese salad, you need thick slices of ripe tomatoes, fresh mozzarella cheese, honey, fresh basil leaves, olive oil, and a little bit of honey.
8. Italian Parmesan Potatoes
It seems like roasted potatoes will go with nearly anything, and a classic meat and potatoes meal is always a hit. To make these Italian parmesan roasted potatoes, you don't even have to peel the potatoes. That makes this side dish incredibly easy to prepare.
The only ingredients you need to make this dish are red potatoes, parmesan cheese, Italian seasoning, olive oil, and panko breadcrumbs.
9. Air Fryer Brussels Sprouts
Brussels sprouts got a bad rap for a long time, and it's been nice to see them make a comeback in recent years. Thanks to the air fryer, more and more people are enjoying Brussels sprouts at home.
In just 15 minutes, you can have a delicious crispy side dish (they work well with Italian beef too). The only ingredients you need are Brussels sprouts, olive oil, sea salt, and black pepper.
10. Burgundy Mushrooms
Mushrooms add all sorts of nutrition to the diet, and these burgundy mushrooms also bring in loads of flavor. For burgundy mushrooms, the mushrooms are cooked slowly in red wine, and you can even make them in advance because the wine serves as a preservative.
Other ingredients in this dish include butter, dry burgundy wine, beef broth, bouquet garni, soy sauce, garlic, and Worcestershire sauce.
11. Quinoa and Roasted Beet Salad
There is much more to beets than the undesirable canned beets that many of us saw in our grandmother's pantry. Beets are a hugely nutritious root vegetable, and they're delicious in all sorts of recipes.
For this dense, high-protein salad, you need roasted beets and carrots, along with quinoa, maple syrup, toasted sunflower seeds, and maple syrup.
The recipe contains instructions for an orange-based homemade salad dressing that's made with cumin and turmeric. Top the salad with crumbled goat cheese.
12. Buttered Noodles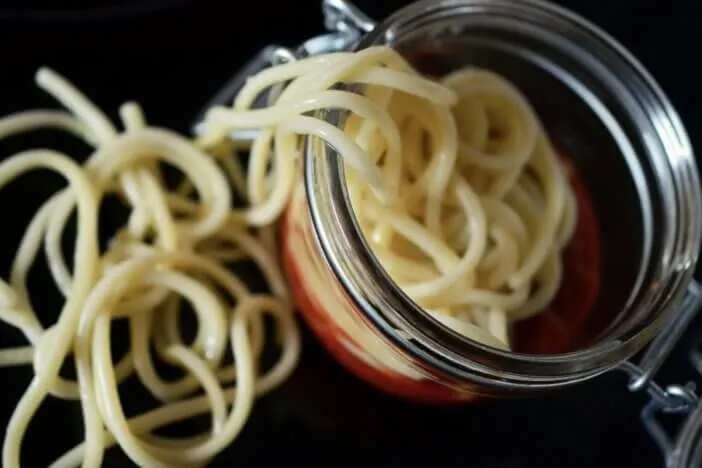 It doesn't get much easier than buttered noodles, but don't be fooled into thinking this dish is simple on flavor. Buttered noodles are delicious, and you can use them as a foundation for several other recipes.
To make buttered noodles, you need just two basic ingredients: egg noodles and salted butter. You can season with black pepper and sea salt to taste. Garnishing with some parmesan cheese is also a nice touch.
13. Lobster Macaroni and Cheese
Sometimes you want a super fancy side dish to go with steak or beef short ribs, and lobster mac and cheese can be your new go-to recipe when you want something elegant.
Lobster macaroni and cheese is rich and creamy, and it's not cheap to make, but you can stretch it so that two lobster tails can feed a lot of people. The secret to the best lobster mac and cheese is Old Bay Seasoning. This recipe calls for three kinds of cheese: sharp cheddar, Gruyere, and parmesan.
14. Mashed Parsnips
You need only five pantry ingredients to make these savory mashed parsnips, and they're totally worth it. Add a sixth ingredient that makes this side dish extra interesting: chopped pistachios.
Mashed parsnips are cooked similarly to any other mashed vegetable. Peel the parsnips and then cut them into chunks. Cook until they're falling apart tender, then add melted butter, heavy cream, sea salt, fresh minced chives, and black pepper.
15. Glazed Carrots
One thing we love about having carrots in the fridge is that they last a long time. So keep your fridge stocked with carrots, and you can always make an elegant and nutritious side dish for beef short ribs.
To prepare glazed carrots, you need peeled carrots cut into slices. The ingredients are butter, brown sugar, salt, and chopped parsley flakes. You can boil or steam your carrots until they're tender, then coat the carrots with the ingredient mixture.
16. Garlic Herb Potato Salad
Potato salad is always a welcome side dish, and when you have potato salad with complex flavors, it's perfect for hearty beef dinners like short ribs.
To make this potato salad, you can use either Yukon gold or red potatoes. Much of the flavor comes from ingredients such as chives, fresh dill, minced garlic, crushed red pepper, and dijon mustard. Lemon zest and fresh lemon juice add a refreshing tang, and vegan mayonnaise makes this potato salad extra creamy.
FAQs about the Best Beef Short Rib Side Dishes
Below, we answer some of the most frequently asked questions about what to serve with beef short ribs.
What goes well with beef short ribs?
Anything you would serve as a side dish for steak also goes well with short ribs. Side dishes such as mashed potatoes, baked potatoes, and roasted carrots are all excellent options to serve with short ribs.
For a heartier side dish for short ribs, consider homemade macaroni and cheese or squash casserole.
What are good veggies for beef short ribs?
All types of veggies are excellent side dishes for short ribs. You can serve a simple green salad, starchy roasted root vegetables, or garden vegetables such as squash that go great with short ribs.
Are beef ribs and beef short ribs the same?
Beef short ribs are located at the lower part of a cow's rib cage, just behind the brisket. Short ribs have more fat content than back ribs, so they're perfect for cooking slowly (and have good substitutes).
In the back ribs, the meat is leaner and is located between the bones. The meat on short ribs is located on top of the bones.