Salami offers a wonderful combination of spicy, salty, sweet, and savory flavors, and you can do nearly as much with salami as you can with bacon. Even better, salami comes fully cooked, so it's ready to eat right out of the package.
We all know we can pair salami with cheese and crackers, but what about if you want to enjoy salami as a meal or sandwich? What are the best salami side dishes?
Let's dive in and explore some of the best side dishes to prepare when salami is your main dish meat.
1. Cheese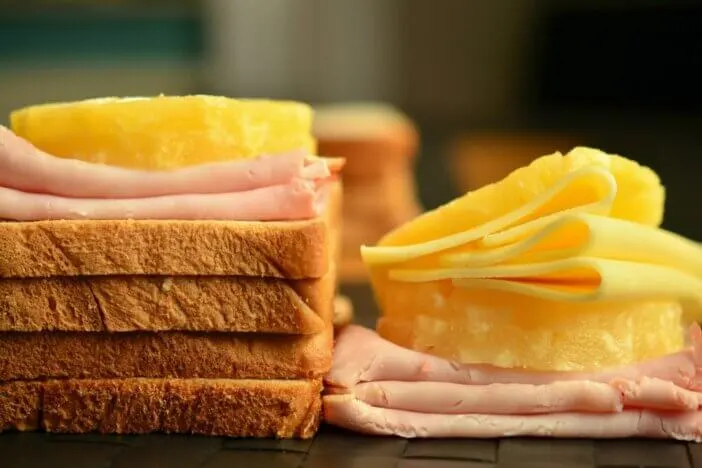 We had to put cheese on this list (and first on this list) because the most popular way to serve salami is with cheese and crackers.
Cheese and salami have become a nearly ubiquitous treat for parties, small gatherings, and light but filling lunches. But what kind of cheese is best with salami?
One thing we like to do is spread a piece of salami with cream cheese or a Laughing Cow cheese triangle. Besides those two, salami is excellent with any of these cheeses:
Gouda
Feta
Asiago
Parmesan
Manchego
Blue
Burrata
Any other hard cheese
2. Italian Potato Salad
Any potato salad is perfect for serving with salami, but we are intrigued by this recipe for Italian potato salad because it has salami stirred right into the salad.
This potato salad is tangy and light because it's made with olive oil, not with mayonnaise. The tanginess comes from mustard and apple cider vinegar.
Other ingredients include black pepper, sea salt, sliced green onions, minced parsley flakes, and the secret ingredient: honey.
3. Chopped Caprese Salad
Caprese salad is made with fresh mozzarella cheese, fresh basil leaves, balsamic vinegar, olive oil, and tomatoes. Usually, the tomatoes are sliced. However, we love this idea for a chopped Caprese salad.
To make this salad, you can use cherry tomatoes or grape tomatoes. Just cut them into halves or quarters. Cube the fresh mozzarella cheese, and leave the fresh basil leaves whole or chop them up, too.
The dressing is what makes Caprese salad, so don't forget balsamic vinegar and olive oil. Serve with sea salt and black pepper.
4. Homemade Pickled Pepperoncini Peppers
Pepperoncini peppers are great to serve with salami, and if you're feeling like spending a little time in the kitchen, you can make your own.
For these pickled peppers, you need small banana peppers, fresh dill, sea salt, white vinegar, fresh garlic, whole peppercorns, celery seed, and horseradish.
Be sure to use filtered water to make these pickled peppers. Also, make sure your jars are sterile before packing up your peppers if you're not going to can them with a boiling water bath. Of course, you can also buy a jar of pepperoncini peppers (or pickled salami sausage) at the grocery store.
5. Antipasto Salad
An antipasto platter is the forerunner of the now beloved charcuterie board. On an antipasto platter, you would normally have pickles, meats such as salami, soft and hard cheeses, black olives, artichoke hearts, green olives, sliced red onion, cherry tomatoes, and more.
How do you like the idea of tossing all of these delicious ingredients into a bowl and making a huge salad with them?
This recipe includes a homemade olive oil and lemon dressing that sounds so tangy and delicious. Serve your salad with crackers or crispy croutons.
6. Classic French Omelette
If you serve an omelette with your salami, is the omelette the side dish or the main dish? You decide! We just know that they go great together.
What's the difference between an American omelet and a French omelette? Mostly, the main difference is in the cooking method.
A French omelette has no browning and is perfectly smooth, while an American omelet can be slightly browned.
Also, a French omelette is made with nothing but eggs, butter, salt, and pepper. American omelets can have lots of different fillings.
7. Homemade Everything Bagel Seasoning Crackers
We love the idea of making homemade crackers because anything we can make at home is always going to be more delicious and better for you. And when you can find a recipe that calls for Everything Bagel Seasoning, you know it's going to be a good day.
Everything Bagel Seasoning is made with sesame seeds, poppy seeds, garlic flakes, salt, and dried onions.
You can buy the seasoning at stores or on Amazon, or you can make your own homemade version. These crackers are baked for about 14 minutes and they're done.
8. Homemade Breadsticks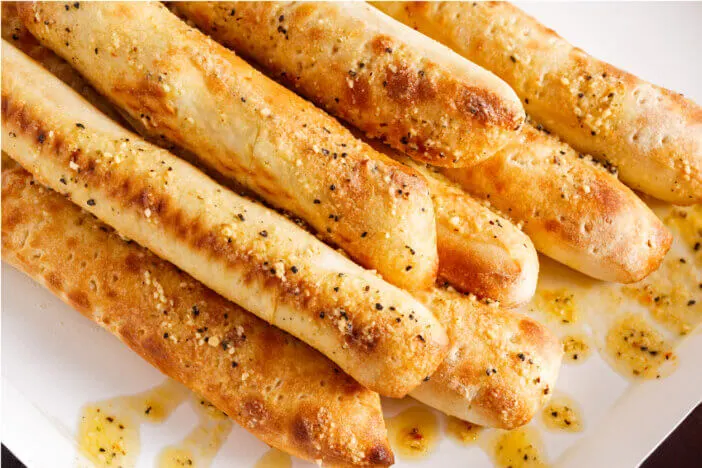 Do you love the breadsticks at restaurants such as Olive Garden? You can make a meal out of soup, salad, and breadsticks, and we're here for it. The good news is that it's actually quite easy to make homemade breadsticks.
These are yeast breadsticks, so you'll need active dry yeast. It takes the dough just 1 1/2 hours to rise.
To make variations on this recipe, consider a garlic butter topping, cheese breadsticks, or even cinnamon sugar flavored breadsticks. And, of course, you can make buttery dipping sauce or marinara sauce for your homemade breadsticks.
9. Italian Stuffed Artichokes
You often see artichoke hearts served with salami on a charcuterie board, so it stands to reason that stuffed artichokes make an excellent side dish for salami. This recipe is made with fresh artichokes, so they require a little preparation.
Ingredients include Italian breadcrumbs, parmesan cheese, minced garlic, parsley flakes, olive oil, sea salt, and black pepper. You also need freshly squeezed lemon juice, and that's what gives the dish a delicious zing.
10. Crusty Italian White Bread
Traditionally, Italian bread has a crispy thin crust and moist center. This delicious bread works perfectly for any meal and is particularly well suited for Italian food.
To serve your homemade bread with salami, you can serve it soft, or you can toast it so that it's even crispier.
To make this bread, you need active dry yeast, sugar, butter, bread flour (you need flour that's high in gluten), an egg white, olive oil, kosher salt, and warm water.
Sprinkle your baking sheet with cornmeal to keep the dough from sticking.
11. Pickled Giardiniera
While giardiniera is considered a condiment, it's also the perfect side dish for cold meals with salami as the main meat dish.
You can buy jars of giardiniera at the grocery store, but it's also easy to make homemade giardiniera. When you make it homemade, your giardiniera can be customized to your family's taste.
Giardiniera is made with carrots, celery, cauliflower, olives, serrano peppers, and spices. If you make it fresh, you don't have to can it if you eat it within a few days.
However, if you want to make a big batch of giardiniera, you'll need to process it in a boiling water bath.
12. Italian Farro Salad
If you've never used farro, we suggest trying this Italian farro salad for your first time trying it. You can prepare this salad in advance, and it tastes great when served at room temperature. Even better, it's an excellent side dish for any meal and will keep in the fridge for several days.
For this salad, you need thawed frozen pes, feta cheese crumbles, farro, sundried tomatoes, roasted red peppers, diced cucumber, and cherry tomatoes.
Serve this farro salad with an Italian vinaigrette dressing, either homemade or a storebought version.
FAQs about Best Salami Side Dishes
Below, we answer some of the most frequently asked questions about side dishes for salami.
What should I serve with salami?
Salami is an excellent meat to serve with an antipasto salad or on a charcuterie board (or plate). Create your charcuterie board with salami and any of these items: Cheese cubes or slices, Nuts, Olives, Dried fruit, Fresh fruit, Small bread slices, Crackers, Jam and jelly, or Mustard.
What vegetable goes good with salami?
Any type of grilled vegetable is excellent with salami. Cook any of these vegetables on the grill or roasted in the oven: Carrots, Zucchini, Eggplant, Asparagus, Bell peppers, or Squash.
Alternatively, any of these vegetables are also delicious when served raw with salami.
What goes good with salami and cheese?
Salami and cheese are delicious when eaten alone, but you can also pair your salami and cheese with crackers or bread. Also, serving salami and cheese with some fresh fruit rounds out a hearty snack or meal.
Can you cook with salami?
Salami is fully cooked, so it does not require cooking. With that said, you can certainly cook with salami if you have a recipe you want to try. Be careful not to overcook it or your salami will end up being tough.
How long does salami last?
The USDA reports that salami can last for up to six weeks unrefrigerated if it hasn't been cut. Once you have cut your salami, it will be good for approximately three weeks when refrigerated.