17+ Meals That Short Ribs Are Good For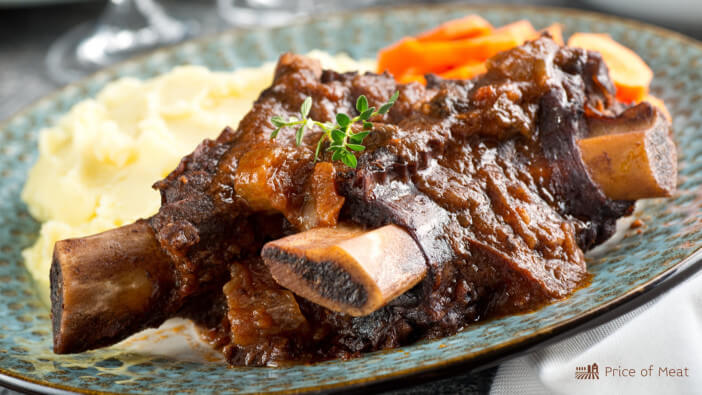 Beef short ribs have become more popular than ever with many restaurants and cooking shows featuring them.
If you're accustomed to the leaner back ribs, you're in for a treat with short ribs.
Short ribs have more fat, and for this reason, they're even tastier than back ribs.
Essentially, short ribs are the first five ribs found in the chuck section of the cow.
Quick Sidenote – check out our shop for a curated selection of the best meats, cuts, sausages, and more. Open our shop in a new tab and explore!
With short ribs, you get the rich marbling you see in ribeye steaks, along with the delicious beefy flavor from a chuck roast.
Now that we know more about short ribs, let's explore some of the meals that short ribs are good for along with side dish pairings.
Disclosure: As an Amazon Associate, this site earns from qualifying purchases. Thank you!
1. Slow Cooker Short Rib Ragu Served with Horseradish Gremolata
We love cooking beef in a slow cooker because it makes the meat so tender.
This short ribs recipe is loaded with delicious seasonings, including dry red wine, minced shallot, garlic, a bay leaf, rosemary, crushed red pepper, and thyme.
You can serve this main dish over pasta or rice.
Sprinkle it with fresh parsley before serving for color and added flavor.
2. Tagliatelle Short Rib Bolognese
Bolognese sauce is usually made with ground beef, but making this rich sauce with short rib meat is extra special.
Start by cooking some bacon or pancetta and using the grease to sear the beef until it's caramelized.
This recipe gets loads of flavor from dry white wine, balsamic vinegar, fish sauce, and grated parmesan cheese and serve over pasta.
You can also cook this Bolognese sauce in a slow cooker.
3. Slow Cooker Barbacoa Short Rib Tacos
You can make tacos with any meat, but these tacos that are made with beef short ribs are decadent.
The ribs are browned in a skillet and then slow cooked to perfection.
This taco meat is seasoned with garlic, chipotle chiles in adobo sauce, fresh lime juice, apple cider vinegar, bay leaves, and cumin.
Serve with soft corn or flour tortillas and a side of rice and beans.
4. Braised Short Rib Shepherd's Pie Served with Guinness Gravy
Traditionally, shepherd's pie is made with lamb, but why not make this shepherd's pie recipe with braised short ribs?
We recommend going extra mile to make creamy homemade mashed potatoes, but you can also use instant potatoes that you dress up with herbs and garlic.
5. Slow Cooker Short Ribs with Sage and Creamy Gorgonzola Sauce
A slow cooker is an excellent way to cook short ribs because the meat comes out so tender.
All of the ingredients for this recipe are things you probably already have in your pantry: dried sage, minced garlic, salt, black pepper, and beef broth. Some butter adds flavor.
For the sauce, you need heavy cream and crumbled gorgonzola cheese.
6. Puerto Rican Short Ribs
Latin flavors are always welcome, and this recipe for Puerto Rican short ribs is a winner.
The secret to these short ribs is the bitter orange and fresh lime juice.
The flavors in this recipe are complex, and ingredients such as capers, prunes, potatoes, yellow raisins, and Spanish olives add so much interest.
Spices include cumin, oregano, and a bay leaf.
7. Moroccan Short Ribs
When we can make a main dish meal with exotic flavors, it's a treat for our friends and family.
These short ribs have Moroccan flavors that come from all of the delicious spices: turmeric, cumin, coriander, cinnamon, nutmeg, and cayenne pepper.
Honey and red wine add just a touch of sweetness, and you can use both chicken broth and beef broth.
8. Argentinian Grilled Short Ribs with Chimichurri Sauce
When it comes to beef, few countries offer more expertise than Argentina.
Argentinian beef is known worldwide for its tenderness, and the cooking methods have a lot to do with that.
The best way to cook short ribs for this recipe is over a charcoal fire so that you'll get all of the smokiness in the flavor.
Serve with tangy chimichurri sauce and some rice on the side.
9. Braised Short Rib Chili with Horseradish Sour Cream
Who doesn't love chili? There's nothing better on a cold evening than a steaming bowl of chili, and even the biggest chili fans will agree that this short rib chili is something out of this world.
This recipe calls for a lot of ingredients, but you'll already have most of them in your fridge and pantry.
This chili is bursting with flavor with spices like paprika, basil, oregano, chili powder, and rosemary.
Veggies in this chili include leeks, carrots, celery, mushrooms, tomatoes, and kidney beans.
Serve with horseradish sour cream.
10. Hungarian Short Ribs
This Hungarian recipe sounds exotic, but the fact is, you probably already have all of the ingredients in your kitchen.
In addition to your short ribs, you need onion, tomato sauce, brown sugar, ground mustard, paprika, and Worcestershire sauce.
Serve the finished dish over egg noodles.
11. BBQ Bourbon Short Ribs
Maple-flavored bourbon adds a lot of flavor to recipes, and these short ribs are no different.
This recipe is loaded with delicious ingredients, including Worcestershire sauce, liquid smoke, balsamic vinegar, and chipotle chilies in adobo sauce.
Veggies include garlic, green bell pepper, jalapeno peppers, red bell pepper, leeks, onion, diced tomatoes, and celery.
Even more flavor comes from the dried mustard and dark brown sugar.
12. Honey Chipotle Braised Short Ribs
Making these honey BBQ short ribs is super easy because you can use store-bought BBQ sauce with chipotle pepper and honey flavoring.
Besides the BBQ sauce, the only ingredients you need for these short ribs are onion, celery, carrots, potatoes, and beef stock.
13. Cider Braised Short Ribs Served with Caramelized Onions
Apple cider serves as a tenderizer in this short ribs recipe, and the completed dish is perfect for serving over mashed potatoes.
You can make this recipe in the oven, or you can cook it in your slow cooker or Instant Pot.
For liquid, feel free to use either dry white wine or chicken broth.
The carrots and apple add interest, color, and tons of flavor.
14. Taiwanese Sweet and Sour Short Ribs with Garlic
Anytime we can cook a Taiwanese dish, you know it's going to be a special meal.
These short ribs are coated with a decadent sticky glaze and all of the ingredients are easy to find, including soy sauce, rice vinegar, and Chinese cooking wine.
If you have any leftover glaze, you can use it to sauté veggies such as broccoli or bok choy.
Serve these short ribs with rice.
15. Italian Braised Short Ribs
No comprehensive list of recipes would be complete without Italian food, and these Italian braised short ribs are to die for.
For this recipe, the short ribs are oven-cooked in a Dutch oven, so they're perfectly slow-cooked with carrots, leeks, onions, and celery.
Seasonings used include oregano, thyme, rosemary, bay leaves, and garlic.
16. Red Wine Braised Short Ribs with Creamy Mushroom Risotto
When you want to serve a comforting dish that's super special, you can't go wrong with this one.
These short ribs are braised with red wine and seasoned with rosemary and garlic.
You can serve these with the recipe for mushroom risotto, but you can also serve these delicious short ribs with rice or mashed potatoes.
17. Pomegranate Short Ribs
Pomegranate is a superfood, so anytime we can cook a main dish using it, we're delighted.
You need pomegranate juice, pomegranate seeds, and pomegranate molasses to make this short ribs recipe.
Spices include black pepper, cinnamon, red pepper flakes, and coriander.
When you serve your short ribs, you can drizzle the delicious sauce over easy roasted vegetables to bring that wonderful molasses and pomegranate flavor to the rest of your meal.
FAQs about Short Rib Meals
Here are some of the most frequently asked questions about meals that short ribs are good for.
Are beef short ribs and beef ribs the same?
The difference between beef ribs and beef short ribs has a lot to do with where they're located on a cow.
Short ribs are found behind the brisket at the lower part of the animal's rib cage.
Beef ribs are also called back ribs, and they're located between the bones of the rib cage. In beef short ribs, there is more fat content, whereas back rib meat is leaner.
What is a good side dish with short ribs?
Any side dish you would serve with steak or prime rib is also an excellent side dish for short ribs.
In addition to mashed potatoes, French fries, or baked potatoes, you can also serve any of these side dishes – Roasted carrots, Buttered noodles, Glazed carrots, Macaroni salad, French bread, Creamy polenta, Broccoli or broccolini, Sauteed mushrooms, Potato salad, Brussels sprouts.