16+ Sauces That Go On A Charcuterie Board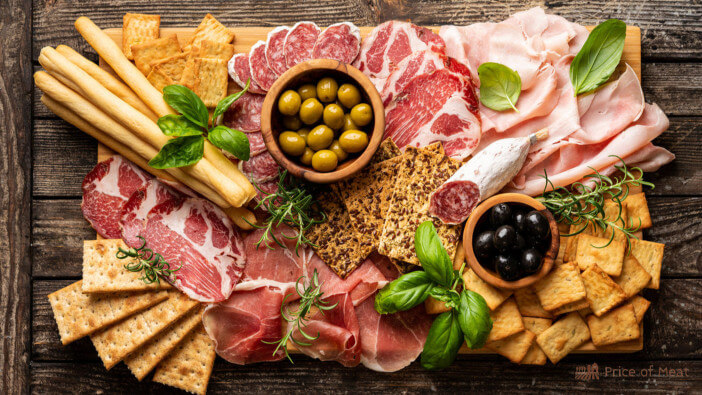 A stunning charcuterie board is made up of individual ingredients that balance each other into a beautiful plate. These ingredients include cheese, meat, veggies, garnish, and last but not least, dips and sauces.
To make a charcuterie board memorable for your friends and family, assemble a board that's festive and creative. You can reinvent your pantry staples or leftovers, creating a boarded meal in an exciting way.
The best way to build an exciting board is with sauces and dips that complement the cheese, charcuterie meats, fruit, and other ingredients on your charcuterie board.
So, what sauces go on a charcuterie board? Here are 16 sauces that will turn any charcuterie board into a bountiful, impressive, edible work of art.
Quick Sidenote – check out our shop for a curated selection of the best meats, cuts, sausages, and more. Open our shop in a new tab and explore!
Disclosure: As an Amazon Associate, this site earns from qualifying purchases. Thank you!
16 Sauces That Go on a Charcuterie Board
Few things can transform the flavor of the food on your charcuterie board (and within a budget) as easily as a spectacular sauce. Here are 16 sauces that turn your board into something special.
1. Horseradish Sour Cream Sauce
Usually, this classic sauce pairs with roast beef, but it's also good with the other meats on your board and raw veggies. All you need to do to make this sauce is to mix equal parts of horseradish and sour cream.
2. Arugula Pesto
This fresh, green pesto is a savory dip for any cheese, meats, crackers, and bread on your charcuterie board. You can add any kind of green herb to your pesto to give it a bright, green color to punch up your board.
3. Vinaigrette
A basic vinaigrette only uses two ingredients, vinegar and oil, but feel free to spice it up with other ingredients. Some recommendations are grated cheese, salt, pepper, and herbs. Before serving, make sure you blend the mixture thoroughly to emulsify the ingredients into a thick, creamy consistency.
4. Yogurt Sauce
A cool, creamy yogurt sauce helps balance spicier items on your board. If you want a savory flavored yogurt dip, mix plain yogurt with your favorite herbs. Blend the yogurt with honey, fruit preserves, or flavored syrups for a sweet yogurt sauce.
5. Spicy Avocado and Sour Cream Sauce
This blend of sour cream, fresh avocado, jalapeño, and lime juice adds a Southwestern zest to the hearty meats and cheeses on your charcuterie board.
6. Chimichurri
Usually, this sauce is the perfect mate to grilled steak, but it also tastes great with cold roast beef, deli chicken, and shrimp. The ingredients in chimichurri are oregano, parsley, cilantro, garlic, red pepper flakes, vinegar, and olive oil. This sauce also spices up fresh veggies.
7. Salsa Verde
This dip is wonderful for dipping rustic slices of bread, crackers, and veggies. To save time, purchase ready-made salsa verde, or you can make your own recipe. The basic recipe incorporates fresh parsley, capers, anchovies, garlic, olive oil, and lemon juice.
8. Crème Fraîche
This is simple and quick to make. The heavy cream and sour cream in this dip have the texture of custard with a buttery, tart flavor. It's perfect for crusty bread, crackers, and all the savory or sweet items on your charcuterie board. Crème fraîche makes everything taste better.
9. Fruit and Jam Sauce
You can use any type of jam, preserves, or fruit to prepare a sweet sauce for your charcuterie board. If you're using fresh fruit, poach them with just enough liquid to cover the fruit. It takes about 20 minutes to make a fruit sauce.
If you're pressed for time, make a sauce out of your favorite jam or preserves. For additional flavor to your sauce, add spices, rum or wine to the mix.
Fruit sauce complements everything you're serving on your board.
10. BBQ Sauce
If you're serving pulled pork or BBQ beef brisket, BBQ ribs or chicken on your charcuterie board, a robust BBQ sauce is a must.
Unless you enjoy making your own BBQ sauce, keep it simple and buy ready-made BBQ sauce (Kansas City for sweet; Korean for spicy). That leaves you more time to build an amazing board.
11. Chocolate Hazelnut Dip
Chocolate sauce is the perfect complement to the tangy sweetness of strawberries and melons on your board. This makes a perfect centerpiece when surrounded by berries.
All you have to do is melt chocolate hazelnut candy bars with some butter, so they become a thin sauce. You can also experiment with white chocolate for a different flavor.
This sauce is often served with dessert charcuterie boards that display cookies, candy, and other colorful treats.
12. Sweet and Sour Dipping Sauce
This versatile condiment sauce partners perfectly with the finger foods on your cheese board. It's traditionally made with apple jelly, but you can substitute your favorite jelly flavor to make several flavored sauces for your board.
Just combine about one cup of jelly with one tablespoon of white vinegar, a dab of soy sauce, a sprinkle of garlic powder, and a pinch of ginger.
Whisk it all together, and it's ready to serve. For a flavor boost, blend in hot sauce.
13. Black Olive Tapenade
Tapenade is a pungent blend of black olives, anchovies, and garlic is simple to make and a staple for charcuterie boards. It's perfect to spread on the bread, crackers, veggies, meats, and cheese on your board for a savory, rich flavor.
14. Fondue
Classic swiss cheese fondue sauce is a delicious accompaniment for Genoa salami, crusty bread, cornichons, Calabrese salami, pepperoni, and soppressata (a variation of salami).
This isn't the only type of fondue sauce you can serve with your board. Consider making a fruit sauce in your fondue made with maple syrup, cream cheese, and cinnamon. This sweet fondue is perfectly paired with fruit and nuts.
15. Tahini Sauce
This sauce pairs perfectly with the raw veggies and meats on your charcuterie board. Mixing pre-made tahini with an equal amount of water, lemon juice and garlic creates a flavorful, savory sauce that livens up all the choices on your board.
16. Cocktail Sauce
If you're serving shrimp or oysters on the half shell on your charcuterie board, a lively cocktail sauce is a great accompaniment. This traditional zippy seafood sauce also pairs with sausage, kielbasa, and deli meats.
FAQs about Charcuterie Boards
Here are some common questions.
What should be included on a charcuterie board?
Depending on how many people you plan to serve, you should load up your board with 3 to 5 types of meat, 3 to 5 types of cheese, crackers, nuts, veggies, fruit, and sauces.
What exactly is sauce?
A sauce is anything that you dip, dollop, drizzle, or spoon over food, and it intensifies the flavor. The sauces can be sweet, savory, spicy, or hot. It's an add-on that brings versatility and deliciousness to your charcuterie board.
Can you make the charcuterie board sauces ahead of time? 
Always prepare your sauces ahead of time before building your charcuterie board. Check your recipe, but most sauces keep in the refrigerator for several days. Some sauces can be frozen and then thawed the day before you're planning to serve the board. This saves a lot of time on the day you're preparing the food.
What type of board and utensils do I need to make a charcuterie board?
There are several types of boards and serving utensils you can use for your cheese board. Boards are available in a variety of materials, such as stone, slate, marble, and wood. The most common boards are made from hardwood like oak, walnut, maple, acacia, and cherry.
If you're only preparing one board, a 20-inch round or a rectangular board is a good size to get you started. This will serve about eight people.
Other accessories you need to make a charcuterie board are small bowls or ramekins for serving sauces and dips. Also, you need knives and spreaders for slicing hard cheese and spreading soft cheese.
How do you arrange a charcuterie board?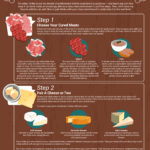 There are really no rules when it comes to arranging your charcuterie board, but it's a good idea to plan the layout of the meat and cheese first. This ensures that you have enough room on the board for the rest of your ingredients.
Place the largest items on your board first. These are usually the meats and cheese blocks. Then add the bread and crackers. Fill in any gaps on your board with fruit and nuts.
Also, place your bowls of sauce beside the foods they pair with.
What types of meat should go on a charcuterie board?
Charcuterie means "cooked meats" in French. These include cured meats like salami, prosciutto, pepperoni, bresaola, saucisson, mortadella, cecina, culatello, and soppressata, to name a few.
But, don't limit yourself to these. Build your board with cooked meats, such as  BBQ pulled pork and sausages served with smoked Gouda and a spicy mustard sauce.  Be creative and use your favorite dishes for the board.
How do you display the meat on a charcuterie board?
For thinly sliced deli meats, folding them into a ribbon shape makes an appealing presentation. Just fold the meat slices back and forth into a ribbon shape, similar to the shape of ribbon candy.
When serving firmer meats like salami, just roll them up and line them on your board.
What types of cheese go on a charcuterie board?
Tried and true cheeses for building your charcuterie board include flavored cheddar, white cheddar, creamy Brie, semi-soft and semi-hard cheeses, string cheese, and goat cheese.
What are some simple dips that go on a cheese board?
If you don't have time to mix sauces for your cheese board, use ready-made dips. There are many delicious brands at the supermarket that you just have to take home and open. A few suggestions are different flavored hummus, fruit preserves, salsa, garlic and onion dips, honey mustard dip, caramelized onion dip, ranch dip, and nacho cheese.