25+ Foods Typically On a Charcuterie Plate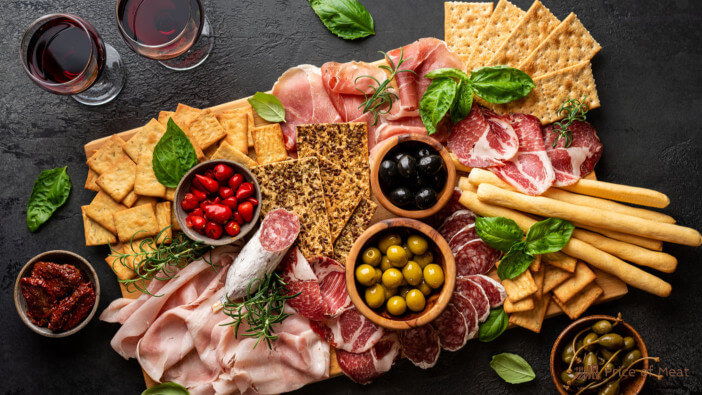 A charcuterie plate is a wooden or ceramic board that is used to display many different foods at once as an appetizer. They come in all shapes and sizes.
A charcuterie board could be offered in a restaurant, at an office party, at home, at a dinner party, or any place else.
If you're going to be making a charcuterie plate, then you're likely aware that even though there is are traditional charcuterie meats and sauces, you can be as creative as you want (within your budget).
The one rule of a true charcuterie board is to use what you have on hand. In the past, there was no shopping for exotic cured meats and special cheeses.
Quick Sidenote – check out our shop for a curated selection of the best meats, cuts, sausages, and more. Open our shop in a new tab and explore!
Making one doesn't have to be challenging or overwhelming, as there are ways to make creating the perfect charcuterie board fun, as it should be.
Your goal is contrasts. Have sweet / sour contrast. Have a crunchy / smooth contrast. So on and so forth.
Here's an infographic of a typical way to create contrasts on a simple board.

But you are only limited by your imagination and contrasts. To inspire ideas, here's an overview of 25+ foods typically on a charcuterie plate, to help bring you inspiration before creating your own.
Disclosure: As an Amazon Associate, this site earns from qualifying purchases. Thank you!
1. Slices or chunks of cheese
You can never go wrong by adding cheese in any form to your charcuterie plate, as it is very versatile, low carb and absolutely scrumptious.
Cheese is one of the foods that you will notice leaves your plate the quickest, because it pairs so well with many of the other foods that you might also have on the board.
You might also notice guests chomping away at cheese by itself. A separate cheese board or cheese platter works well too, with a variety of soft cheese, hard cheese, and sliced cheese. Adding something different like a goat cheese is fun as well.
2. Crackers
You can't have cheese without crackers on your charcuterie plate. Like cheese, crackers are a very versatile food that can either be eaten alone, with cheese, or with one or more of the many other items that your plate will contain.
If you're not sure which kind of crackers would suit everyone's tastes, then, perhaps you should include a variety.
You could include Ritz, Keebler, and even Saltine, all very popular types of crackers that go well with many different foods.
3. Apple slices
Not only are apple slices sweet (or sour) and delicious, but they're fat-free, low-calorie and gluten and dairy free.
Many people these days are on gluten and dairy-free diets, so apples are one of the best foods for you to include for this reason, should you have guests at your get-together who are on a special diet.
4. Pepperoni slices
This is another popular food on charcuterie plates because many people love it. You don't necessarily need a pizza in order to offer pepperoni, as it pairs well with cheese and crackers, so your guests might opt to make bite-size sandwiches.
Pepperoni goes well with other foods that you will likely offer, also. It's a classic cured meat that guests will be familiar with. You can also try vegan pepperoni if that's your thing.
5. Pineapple chunks
No fruit is sweeter, juicier, and more perfect to be added to your charcuterie plate. Pineapple chunks pair well with many other foods commonly offered on a charcuterie plate, and some guests might prefer eating pineapple chunks alone.
Pineapple chunks are another great food for your gluten and dairy-free guests to enjoy, but just about everyone loves pineapple, so it can be a big hit for everyone in attendance.
6. Avocado dip
More and more people are realizing the amazing health benefits of avocados, so if you add avocado dip (guacamole) to your plate, then your guests will not only obtain many health benefits, but they will also enjoy the taste.
Avocado dip can be made in a number of ways, and if you opt to purchase your dip pre-made, be sure to choose a good combination of flavors so your guests will love dipping their cracker in it.
7. Grapes
There aren't many people who don't absolutely love eating grapes, because this sweet fruit is both delicious and quick and easy to consume.
Like many other foods on charcuterie plates, grapes pair well with cheese, yogurt, and more.
8. Strawberries
Strawberries are another food that not many people dislike that would go well on your plate.
Their rich red color will make your plate appear more appealing and vibrant as well, especially when combined with the other contrasting colors that will also be displayed.
9. Yogurt dip
Vanilla yogurt dip would make a wonderful addition to the foods on your plate, because some people prefer combining their fruits with some type of dip, and yogurt is perfect.
If some of the fruit happens to be not as sweet as you'd desire, dipping it in the yogurt dip can really enhance the flavor of the fruit.
10. Cashews
For your nut lovers, cashews are a popular choice of nuts that many of your guests will likely enjoy.
If you want to add cashews alone, that's a good idea, but you might opt to add a mixture of nuts for more variety, because cashews can become pretty costly.
11. Broccoli
Again, your guests who are on restrictive diets will appreciate the availability of food that they can actually eat on their plans.
Not only is broccoli low-calorie and low-carb, but it's a very flavorful food, especially when paired with others. Your guests will have many different choices of foods to pair with their broccoli, including ranch dressing.
12. Carrot slices
Whether you opt for sliced carrots or whole baby carrots, this is another excellent vegetable that your guests will appreciate having available.
Carrots can be dipped in avocado dip or ranch dressing, eaten with cheese or many of the other foods on your plate.
13. Cucumber slices
Having another choice of a delicious but low-calorie and low-carb vegetable available on our charcuterie plate will likely make your guests happy.
Cucumber slices are so light and crisp that many people enjoy crunching on them by themselves, while others might use them as a gluten-free replacement for bread or crackers.
14. Cookies
Your guests may have a sweet tooth that fruit and yogurt simply isn't satisfying. While cookies are typically more of a dessert, there are some types of cookies that would go well with the other foods on your plate. Choose some small, plain cookies that your guests are sure to love.
15. Pretzels
Whether you opt to offer plain pretzels or something fancy, your guests are bound to love them. Many people love the saltiness of pretzels, which will pair well with cheese and more.
16. Potato chips
Everyone loves the crisp, salty taste of potato chips, and adding some plain chips to your board can enable them to enjoy eating them with the many other foods that you plan on offering.
Like many other charcuterie plate foods, potato chips can be enjoyed alone or with the many other foods on the plate.
17. Ranch dressing
For all the vegetables that you'll include on your board, you will definitely want to include some ranch dressing for your guests to use as a dip.
Other people have strange taste buds and some of your guests might even dip their fruit, nuts, crackers or other appetizers in their ranch dressing, as well.
18. Bean dip
You want to ensure that you offer many different dips for your guests to dip their foods in, and bean dip is another great choice.
It's easy to make homemade bean dip at home, but if you lack the time or the patience, then it's something that can be purchased pre-made in the store.
Bean dip will go well with numerous of the foods on your plate, although it might not be as popular as the ranch dressing.
19. Ham
For your guests who want some meat besides pepperoni, ham is a great choice. Ham pairs well with crackers, dip, cheese, and so much more.
Your guests will appreciate your having some ham on your board, so don't be afraid to offer two different types, such as smoked and honey ham.
20. Turkey
Not everyone eats or is in the mood for pork, which is why turkey is such a wonderful addition.
Turkey is lite, low-carb, low sodium and the white meat is low fat. Turkey also pairs well with many of the other items that you will offer on your board, making it a perfect third meat choice.
21. Popcorn
Popcorn is perfect for all occasions, and not just for watching movies. Your guests will likely gobble up any popcorn that you add to your plate, as popcorn is light, easy-to-eat and goes well with cheese and more.
You can try adding regular buttered and salted popcorn as well as cheesy or even caramel corn for variety.
22. Dried fruit
Dried fruit is a very wonderful alternative to fresh fruit, and it's often sweeter than fresh. Some popular dried fruits to include are: raisins, cranberries, cherries, bananas, and more.
Dried fruit, like many of the other foods, can be enjoyed alone or with other foods on the plate.
23. Candy
If your guests will include small children or adults with massive sweet tooth's, then a bit of candy on your plate can really be a hit.
Candy like Skittles, M & Ms and Jellies, are perfect choices. They will also make your board quite colorful. You could choose other candy, as well, such as chocolate squares, and more.
Mints would probably be a good idea, too, because some guests might want to freshen their breath after indulging in some of the more "pungent" items on your plate.
24. Pickles
The sourness of pickles can go well on a charcuterie board, as pickles pair well with meat, cheese, and more.
The taste of pickles can also help off-set the sweetness of the cookies and candy that many of your guests might eat from your plate.
25. Meatballs
If you believe your guest would enjoy something a bit hardier on the charcuterie plate, then you might want to include miniature meatballs.
Tiny meatballs are hardy enough to tide guests over until dinner if it will be a while before dinner is ready, and they're so tasty and versatile that they will go well with everything else on the board.
They don't even have to be homemade if you lack the time or skill, as there are many delicious frozen selections that can be popped right into the oven.
26. Trail mix
Trail mix makes a wonderful sweet and salty snack, and it's also the perfect addition to any charcuterie plate.
There are many different combinations of trail mix that you can purchase already prepared, or you can make your own. It's easy to make your own because all you have to do is open packages and mix them together in bowls.
27. Chex mix
You may have heard that Chex mix goes well at parties, but if you've never offered it on a charcuterie plate, then you don't know what you're missing.
Your guests, adults and children alike, will absolutely love any type of Chex mix that you opt for, so don't stress out too much deciding which flavors might work best together.
28. Olives
Some people can eat olives by the handful, and not only are these salty, little things delicious, they are easy to eat, making them the perfect finger food.
Olives will go well with everything else that you decide to offer, and like other foods, some guests will enjoy eating olives by themselves.
29. Candied bacon
If you want to surprise your guests with a real treat, then candied bacon, otherwise known as pig candy, will have them all coming back for more.
It's easy to make candied bacon, as all you do is take regular slices of uncooked bacon and add brown sugar, cinnamon, maple syrup and other ingredients that you desire before baking it in the oven.
The candied bacon will come out yummy, caramelized and absolutely scrumptious!
30. Peanut butter
Many people love peanut butter enough that they would eat it straight out of the jar if they had the opportunity. This is why it's a great food to add to your plate, as it can be spread on the various crackers that you will offer, and eaten with many of the other foods, as well.
You can offer variations of peanut butter, such as honey or chocolate, or you could offer plain, old-fashioned peanut butter.