5+ Reasons Why BBQ Grill Mats are a Must-Have for Perfect Grilling Results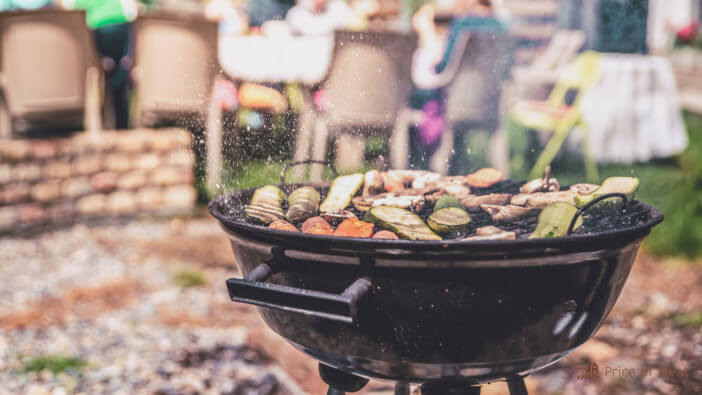 A BBQ grill mat is an excellent accessory for your barbecue grill, and it provides several benefits despite its simplicity. A barbecue grill mat is a fiberglass, copper, or silicone mat that manufacturers cover with a heat-resistant coating.
Using the mat requires nothing more than draping it over the cooking surface. They're appropriate for use with gas, charcoal, or electric grills, and they're also easy to use.
Let's explore some of the reasons BBQ grill mats are necessary for the best grilling experience.
Quick Sidenote – check out our shop for a curated selection of the best meats, cuts, sausages, and more. Open our shop in a new tab and explore!
Disclosure: As an Amazon Associate, this site earns from qualifying purchases. Thank you!
1. BBQ Grill Mats Help You Avoid Flare-Ups from Fallen Food
Using a barbecue grill isn't complicated, but dangers exist with anything that reaches 400 to 600 degrees Fahrenheit.
Veteran cooks know the hazards of grease flare-ups, but it's tough to keep grease from falling into the grill under normal circumstances.
A flare-up on a barbecue grill is just like a grease fire that you might see in a kitchen when oil or grease reaches the flame during cooking.
One way to reduce flare-ups is to trim the fat from meat before cooking it, but doing so can eliminate some of the flavors from the finished meal. A grill mat can help you keep the fat intact.
A grill mat that prevents grease and food from falling helps create a safer environment, too. A grill that's safe from flare-ups is easier to use in the backyard with the kids nearby, and it makes it easier for young grillers to learn the ropes and help.
2. Spend Less Time Cleaning Your BBQ Grill with a Grill Mat
Part of the process of barbecuing is cleaning the BBQ after you use it, but who wants to scrub down the barbecue when there's food waiting on the table?
Even if you take pride in your grill and clean it regularly, the process can become cumbersome.
If you grill every weekend or every few days, your grill can experience a significant buildup of grease and fallen food particles. A BBQ grill mat is an excellent way to reduce the time you spend cleaning your grill.
Also, one of the bonuses of using a BBQ grill mat is that they're dishwasher safe. Not only do they help you reduce the time you spend scrubbing the grill, but you can toss them in the dishwasher for easy cleanup after you finish grilling.
They're also quick to clean using the sink because they're covered in non-stick material.
3. BBQ Grill Mats Allow You to Grill Small & Delicate Foods
Everything tastes better when it's cooked on a grill, and that includes foods that you might not even realize can cook on a grill.
However, some foods aren't conducive to cooking on the thin bars of a grill. Cooking an egg on a grill, for example, is impossible unless you use a griddle-top barbeque.
Rather than investing in a griddle, you can stick with your current barbecue set up and add a BBQ grill mat to the experience.
A mat will help you grill virtually anything you want, whether it's a solid piece of sausage or an egg sunny side up. If you can cook it, you can grill it with a BBQ grill mat.
You can also add spices and flavors when cooking, which would otherwise fall through the bars without a BBQ mat.
As any experienced chef knows, seasoning food during the cooking process helps to bring out more vibrant flavors and an excellent finished product.
4. Sear Marks Still Come Through on a BBQ Grill Mat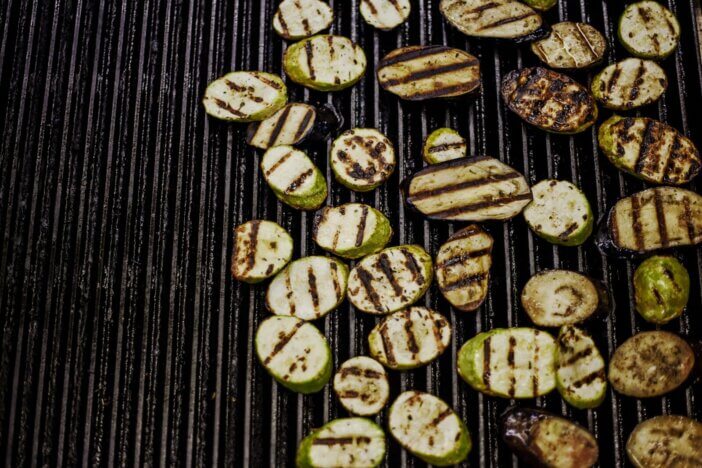 If you're a fan of barbecued food, you know how delicious a piece of meat or vegetables looks when they have those classic grill lines.
When you cook food on a flat surface like a pan or a griddle, you don't get those grill lines and the classic look of barbecued food. Do grill mats leave grill marks?
A barbecue grill mat does allow the grill lines to come through, so the hamburgers you make your family can retain all the juices while also getting those mouth-watering grill marks.
Even though the food might taste the same, those grill marks do make an impact on the visual appeal of your food.
A BBQ grill mat allows your food to get the grill marks you know your guests and family want to see without getting the bars on the grill coated in food that you must clean after grilling.
It's a win-win situation for improving food appearance and making it easier to care for your barbecue grill.
5. Keep Meat Juicy with a BBQ Grill Mat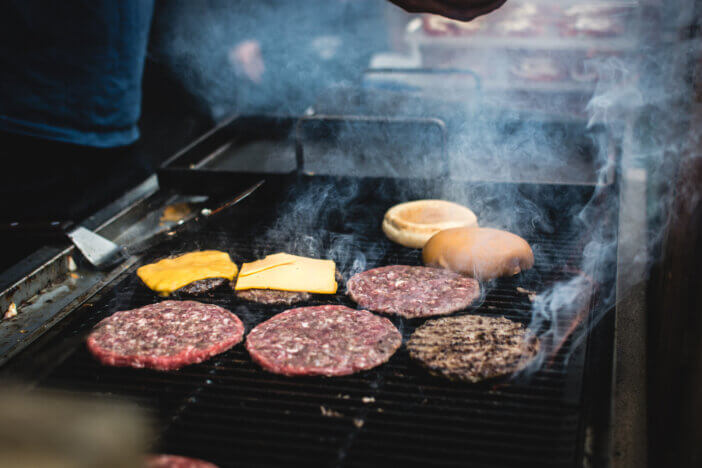 The best way to avoid flare-ups is to reduce the amount of oil and grease that reaches the coals or flames of your grill.
Unfortunately, cutting out all the fat and eliminating the oil isn't the best way to create a juicy, delicious meal from your barbecue.
Just remember that grilling your meat at extraordinarily high temperatures means that you should cut at least some of the fat off the exterior of your pieces.
Even if you're using a grill mat, trimming at least some of the fat off can actually help you retain the juicy flavor.
The wisdom here is that fat cooks faster than meat, so removing some of the fat means it won't get overcooked and lead to flavor loss as you grill the meat all the way through.
You might need to experiment with your BBQ grill mat to determine how much fat to leave on your meat to create tenderness without losing the flavor.
FAQs about BBQ Grill Mats
Do BBQ Grill mats work? 
BBQ grill mats work well in keeping your grill clean and safe. Barbecue purists might balk at using anything that separates their food from the flame.
Still, the mats certainly do their job as advertised. They're safe and effective for keeping your grill clean and allowing you to cook nontraditional foods on your grill.
Do you need a mat under your BBQ? 
A BBQ grill mat is a helpful ally in pursuing a clean and efficient grilling experience. However, they're not 100 percent necessary.
A grilling mat is simply a convenient tool you can use during the grilling process. If you're unconvinced whether you need a BBQ grill mat, there's no harm in trying one out!
Can you use silicone mats on BBQ? 
BBQ mats are made of different materials like copper, Teflon, or silicone, and they're coated with a chemical compound called polytetrafluoroethylene (PTFE), which is the coating commonly used on non-stick cookware. Silicone is a safe and standard material for BBQ grill mats, but you'll find them manufactured with a variety of materials.
Bestselling BBQ Grill Mats
Here are some of the most popular BBQ grill mats on Amazon.
Bestseller No. 1
RENOOK Grill Mat Set of 6 - 100% Non-Stick BBQ Grill Mats, Heavy Duty, Reusable, and Easy to Clean - Works on Electric Grill Gas Charcoal BBQ - 15.75 x 13-Inch, Black
1.NO BETTER CHOICE - Thicker does not mean better. Our grill mat is thin enough to leave grill marks and flavor intact,and thick enough to provide ultimate heat resistance and durability.6 pack of grill mats can meet the needs of the dinner from time to time; when they are spare, you can cut them to any size or shape to fit any need. Also doubles as a bake mat
2.100% NON-STICK - 100% Non-Stick means you can grill without grease and mats are reusable for years! Non-stick BBQ grill mat prevent even the smallest morsels from falling through the grates. Keep your grill looking brand-new and no more clean-up of your dirty grill
3.APPROVED MATERIALS - Our BBQ grill mats are made from 100% PFOA-Free materials and premium PTFE-Fiberglass coating, no PFOA, silicone or other dangerous chemicals! When the use time exceeds 30 minutes, the maximum temperature cannot exceed 260 F; when used for a short time, the maximum temperature cannot exceed 400 F.
4.REUSABLE AND DISHWASHER SAFE - Versatile and highly economical, they can be cut to perfectly fit your pans. Both sides can be used over 100 times, for grilling, roasting, and even baking! They are super-easy to clean; just pop them in the top shelf of your dishwasher and forget about laborious scrubbing.
5.QUALITY GREAT- Unhappy with your new grill mats? No problem! If you have any question about it, just tell us and we will provide you a satisfied solution.
Bestseller No. 2
YRYM HT Copper Grill Mats for Outdoor Grill -Set of 5 Nonstick BBQ Grill Mat 15.75 x 13", Reusable & Heavy Duty Under Grill Mat, Easy to Clean, Works for Gas, Charcoal, Electric Grill
HEALTHIER & QUALITY—Our grill mats for outdoor grill are SGS approved, and made of premium PTFE Teflon with no PFOAs or other dangerous chemicals. You can cook healthier meals. The set also includes 2 bonus silicon brushes!
PERFECT FOR ALL YOUR NEEDS—Our grill mat can be cut to any sizes and shapes to fit all your cookware and bakeware. Food will no longer stick to your grill, oven, stove, pan, cake tin, etc. by using YRYM HT under grill mat. Cooking become easy and fun again!
DURABLE, EASY TO CLEAN – The YRYM HT bbq grill mat prevents any small food from falling off the grill, ensuring a smoke-free grill and no more cleaning up your dirty grill. Non-stick material makes cleaning quick and easy, and the grill pad can be reused for years!
MULTI-PURPOSE PTFE (TEFLON) SHEET – The grilling mat can be not only used as barbecue grill mat but nonstick oven liners for bottom of oven, baking mat, and cooking mat, Perfect for Char-Broil, Weber, Porcelain, Charcoal Grills and Infrared Grills.
WARNING – Please clean the grill mat regularly and do not allow grease to build up as there is a risk of grease fires. Please feel free to contact us if you meet any questions!
Sale
Bestseller No. 3
UBeesize Large 65 x 48 inches Under Grill Mat for Outdoor Grill,Double-Sided Fireproof Grill Pad,Indoor Fireplace/Fire Pit Mat,Oil-Proof Waterproof BBQ Protector for Decks and Patios
UBeesize Grill Mat: The mat's size is 48*65 inches, which can protect the area below the fireplace from bursting embers or fire. It keeps the environment hygienic and tidy after an outdoor barbecue, reducing the cleaning burden and allowing you to fully enjoy the outdoors.
Double-Sided Silicone Coating: We use more advanced fire-resistant materials for this grill mat. It is made of fiberglass and can provide heat resistance up to 2000 degrees Fahrenheit. The mat also has a double-sided high-temperature resistant silicone coating, making it fireproof, waterproof, and resistant to oil. Compared to traditional rugs, our heat resistant mats have finely stitched edges and will not stick, tear, curl or crack from heat.
Easy to Clean and Store: The grill mats under the outdoor grill are designed to be waterproof. You can easily rinse them with soap and water or a garden hose, and you can quickly wipe them with a damp towel to make them look new and reusable. Additionally, the grill mats can be folded up for easy storage. A storage bag is delivered with the trim and patio protector.
Reliable Quality: The UBeesize Fire Pit Pad Deck Protector is durable, and we have conducted many lab tests and quality checks before the products leave the factory. We are committed to providing customers with high-quality products and services.
With its versatility: The UBeesize Grill Mat is perfect for gardens, decks, patios, grass areas, and other outdoor barbecue spots. Keep these areas free from grease, waste residues, sewage, and protect your natural environment. Upgrade your outdoor cooking game with the UBeesize Grill Mat today!
Bestseller No. 4
Kona Best BBQ Grill Mat - Heavy Duty 600 Degree Non-Stick Grill Mats for Outdoor Grilling | Premier BBQ Grill Accessories Nonstick Grill Matt (Set of 2) Engineered in The USA | 7-Year Warranty
NEW OFFER! Stock up now and save with our Kona outdoor grill and baking mat sale. These grill accessories are unique bbq gifts men & barbecue lovers truly enjoy. ▶️▶️ Also Try The Kona XL Grill Mat, Covers An Entire 4 Burner Grill.
FAR MORE SUPERIOR than other grill mats. The one and only 600 DEGREE Peak Temperature PFOA free BBQ grill and smoke mat.
KONA IS THE THICKEST at 0.39mm. That is 4X Thicker Than Yoshi grill mat and 2X Thicker Than Miracle grill mat. Kona non stick grill mats can be used over 1,000 uses per side, that's 50 times more uses than ordinary grilling mats, and why they are used by top amateur grillmasters and professional chefs worldwide.
CLEANLY & EASILY GRILL the juiciest steaks, smoke the tenderest chicken and sautee the thinnest cut vegetables with ease. Forget grill baskets and other accessories! These mats also keep your Weber, Traeger, Char Broil, Kamado, steak grilling pan, etc. looking shiny new.
DESIGNED AND TESTED IN THE USA - The Kona BBQ Grill Mat was created by our team of experienced product designers, and engineers. Through meticulous iteration, we improved the ability to have a pure grilled taste, durability, cleanability, and safety. The Best BBQ Grill Mat launched in 2014 and has been featured on the NBC Today Show and many other television and media publications. Every batch is 3rd party tested by thermal analysis and real-world stress tested. Buy now with 100% confidence!
Bestseller No. 5
XL Under Grill Mat (60x40) Fireproof Waterproof Oilproof BBQ Grilling Mat for Outdoor/Indoor Smoker Cooking, Fire Pit, Pizza Oven Table, Fireplace, Camping, Barbeque | Protects Grass, Patio, Floors
Heavy-Duty Fireproof Mat: Your steak marinade may be a trade secret, but our mat construction isn't. With a fire-resistant fiberglass core and dual-sided silicone, you'll ward off blistering temps up to 2,000 degrees. Now this thing's packing some heat!
Combats Oil & Grease: When the neighborhood raccoon gang is hungry for a midnight snack, it won't be in your backyard. Thanks to hydrophobic silicone, our BBQ grill mat is oil- and grease-proof, so no extra morsels will soak in and attract pesky critters.
Large 60X40 Grill Mats: Extra large grills need extra large grilling accessories. With an impressive 60x40 surface area, there's room for your favorite 36" grill, and then some. No more grease stains ruining your beautiful hardwood deck or picture-perfect lawn!
Conveniently Multi-Use: It's not just a great BBQ mat for under BBQ – it also makes the perfect fire pit mat, indoor fireplace mat, pizza oven table mat and more! Plus, the portable tote bag means camping trips and tailgating parties are mess-free too.
No-Fuss Cleanup: When you've spent the afternoon slaving over succulent ribs, perfecting smoky sausages or butterflying juicy lobster, difficult cleanup isn't on the menu. With easy-to-clean silicone, everything hoses down in seconds.
Sale
Bestseller No. 6
Cvtayn Under Grill Mat 48 ×30 Inch for Outdoor Charcoal, Flat Top, Smokers, Gas Grills.Oil-Proof and Water-Proof BBQ Fireproof Mat Protects Deck Grass, Indoor Fireplace Mat
High temperature resistance: barbecue grill mat is made of glass fiber, and the two sides are evenly coated with a silicone coating that can withstand high temperature of 2000°F, which can resist various high temperature damage to the deck and patio.
Extra large size: 48''×30'' grill mat. The larger size can protect your floor from oil, sauce, charcoal, and high temperature hurt.
Easy to clean: Both sides of the fireproof pad are coated with silicone anti-skid, fireproof and waterproof coating. When cleaning, you only need to prepare soap and rinse with water pipes.
Easy storage: BBQ grill mat, foldable, waterproof design, can be rinsed with water when not in use, folded into the storage .
Suitable for a variety of scenarios: excellent fire resistance, waterproof performance, fire pit pads can be used in a variety of scenarios, outdoor camping fire prevention, home fire prevention, various grills, fireplaces, fire pits.