An electric roaster for meat is a versatile item that can provide us with a number of advantages. Of course, there are also drawbacks that need to be considered as well.
This is especially true for anyone who is thinking about using an electric roaster for cooking meat.
While the prospect of using an electric roaster for meat is simple enough, there are a few different considerations that need to be made.
Let's take a closer look at some of the most frequently asked questions and how they are going to affect the process of preparing meat in an electric oven roaster:
Can you use an electric roaster as an oven?
There is a common misconception that the electric oven roaster can only be used as a means of cooking a Thanksgiving turkey.
On the contrary, there is no shortage of meals that can be prepared by using the electric roaster in the same manner as an oven.
The electric oven roaster can remain in the kitchen all year round and does not have to be relegated to the back of a closet until Turkey Day arrives.
Their versatility is top of the line and second to none. Pound cake, spare ribs, baked potatoes, apple pie, the options are endless here.
Best of all, the electric roaster is simple to use, providing at-home chefs with access to easy meals without all of the typical hassles.
Even rice cooking is simplified immensely, giving you the chance to make delicious, fluffy rice without owning a rice cooker.
Does an electric roaster cook faster than an oven?
To build on the previous point, the electric roaster cooks much faster than an oven. Even the professionals rave about the energy and space that are saved with the usage of an electric roaster.
For starters, it significantly reduces the amount of time that will be needed for food preparation in general.
Instead of having to use the main oven for a wide range of small dishes, the at-home chef can utilize their electric roaster to prepare these dishes.
This frees up the main oven for larger dishes and reduces the amount of overall cooking time that is needed.
Since the electric roaster is smaller than a conventional oven, it cooks food far more efficiently than most would expect.
In fact, the electric roaster oven prepares food 30 percent more quickly than a conventional oven. The energy usage is also decreased significantly, by a rate of at least 36 percent.
These are figures that the average conventional oven cannot possibly hope to match. The compact efficiency that the electric roaster has to offer makes it the perfect choice for anyone who is looking to save time and energy, as well as space.
Even when recipes call for lengthier cooking times, the electric roaster can shave quite a bit of time away.
Is a roaster oven worth it?
The roaster oven offers so many different advantages that the conventional oven could never hope to match.
The energy efficiency is obviously a major plus but what are some of the other benefits that need to be discussed? In many instances, these ovens come with a removable roaster pan.
These types of roaster ovens will cut down significantly on the amount of cleaning time that is necessary.
The roaster oven is also a great choice from a cooking standpoint, as the at-home chef is able to retain a far more sizable amount of moisture in the meat.
That's because the electric roaster oven is completely sealed off, which is something that the conventional oven cannot match.
All of the juices in the meat are maintained and given the chance to circulate freely through the roaster pan.
Bestseller No. 1
Oster Roaster Oven with Self-Basting Lid | 22 Qt, Stainless Steel
Electric roaster oven accommodates turkeys up to 26 pounds
Self basting lid continually recirculates moisture
Versatile electric roaster bakes, slow cooks, roasts, and serves
Dimensions: 23.3 L x 15.6 W x 11.8 H inches
Roasting pan and rack are removable for easy cleanup
Sale
Bestseller No. 2
Roaster Oven, 24Qt Electric Roaster Oven, Turkey Roaster Oven Buffet with Self-Basting Lid, Removable Pan, Cool-Touch Handles, 1450W Stainless Steel Roaster Oven, Silver
【Electric Roaster Oven】Multi-Function Electric Roaster Oven, bake, slow cooks, roasts, adding more joy to your life. It is ideal for office parties, family functions, and other social events. Each Roaster Oven will come with one removable steel rack
【Easy to Clean & Large Capacity】With cool-touch handle, it is safer when using. Removable insert pot, make it easier for you to clean it. The size of the roaster oven is 24 quart, it is big enough to have fun with families and friends. Electric Roaster Oven is ready to design more ways to cook healthful and delicious meals
【Warming Setting】Warming setting keeps dinner at ideal serving temperature and cooking condition. Your families, friends, and guests will enjoy the food. Before using for the first time, remove all tags and labels, wash the lid and ceramic pot in hot soapy water, rinse and dry. PLEASE READ THE INSTRUCTIONS CLEARLY
【Powerful Functions】1450W with red light, full-range temperature control, make your food taste better at different temperatures. Self-basting lid continually recirculates moisture, make the food more delicious. Non-skid rubber feet keep roaster oven in place safely and convenient cord storage
【Warm Tips】With multiple temperature settings, you can choose the appropriate temperature for your needs. If you have any questions please do not hesitate to contact us. We will do our best to solve your problem quickly and efficiently
Bestseller No. 3
18Qt. Electric Roaster Oven With Metal Inner Rack, Red
Slow roast your meats and meals to perfection using this Red 18Qt Electric Roaster Oven. Our large 18Qt size fits anything from a small serving of veggies to a 24-lb holiday turkey - and it even includes a stainless steel inner rack to easily lift out heavy items.
After the meal is complete, simply remove the enameled steel baking pan for easy cleanup.
Our roaster oven can provide that much-needed oven space for family events and even help you avoid the difficult task of cleaning your built-in oven.
And due to the condensed cooking space, our roaster oven cooks faster than a conventional oven, using less energy.
This is clearly a staple appliance in your home for cooking and baking - and can keep your favorite foods warm as you wait for the meal to begin.
Sale
Bestseller No. 4
24lb 20-Quart Roaster Oven with Self-Basting Lid, Sunvivi electric roaster with Removable Pan & Rack, 150-450°F Full-Range Temperature Control with Defrost/Warm Function, Stainless Steel, Silver
【Made for Delicious Roast Turkey】- If you want to make a BROWN, JUICY,CRISPY roasted turkey, please choose Sunvivi. 18qt roaster oven fits a turkey up to 22 pounds. 1450W-120V high energy circulating water, places the sauce inside the turkey. Allow the surface to be fully baked. Even a novice in the kitchen can make the perfect turkey!
【Warm / Defrost / Multifunction】: With this unique and innovative Defrost setting, you can take your turkey from frozen to roasted in hours - not days ! Don't worry about preparing food too early to make the food cold---Warming setting keeps dinner at ideal serving temperature. 150-450°F Full-Range Temperature Control, providing versatile cooking options for roasting, baking and slow cooking.
【Self-Basting Lid & Anti-Scald Handle】This roaster oven is equipped with Self-Basting Lid, which can continuously circulate the water, help the sauce better and evenly adhere to the top turkey, reduce the number of times to turn the turkey, and make the Turkey is more flavorful. Since the pan gets hot while cooking, Cool-Touch handles on the lid and body were designed. But be careful not to keep children near while cooking.
【Easy to Clean & Easy to Take Out】This electric roaster oven is equipped with a liftable rack, you can put the turkey on the rack then put it in the oven.Not only is it convenient to put the turkey in and out of the oven, but it also ensures that the crispy skin of the turkey will not be damaged after cooking. removable enamel-on-steel roasting pan for fast, even heat distribution and easy clean-up. Enjoy easy kitchen life while getting good food .
【SATISFACTION GUARANTEED】 We enjoy bringing the best experience to our customers, and we maintain full confidence in the quality of our electric roaster oven. In order to show that we are willing to help you at any time, no matter what causes our products fail to meet your expectations,welcome to contact us at any time to submit a great solution for you.
Are There Any Drawbacks?
Of course, there is at least one drawback that needs to be discussed before a final decision is made. While there are many who appreciate the compact size of the electric roaster oven, there is one major disadvantage.
They do not offer the same amount of cooking space as the conventional oven, which can pose a problem for bigger meals.
The 16-quart capacity roaster oven is the top choice for those who are looking to maximize their amount of space, though.
On the other hand, others may decide that they are better off purchasing an electric range instead, as these will provide more surface area for cooking.
What else can you cook in an electric roaster?
As discussed above, the number of items that can be cooked in an electric roaster is numerous. The most common myth when it comes to the roaster oven is that there are only certain foods that can be made.
In reality, the exact opposite is true. The amount of food that can be made in one of these ovens would surprise just about anyone, even those who already own an electric roaster.
Let's take a closer look at some of the delicious meals that can be prepared with these devices: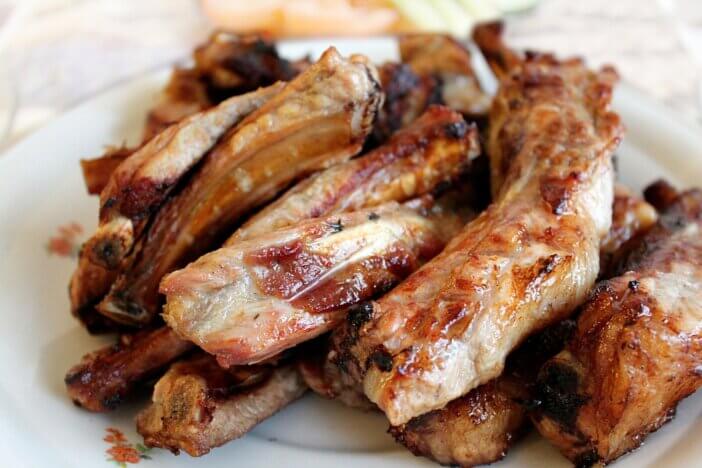 Anyone who would like to prepare an authentic North Carolina-style barbecue at home is able to utilize their electric oven roaster and the process is much easier than you might think.
This pulled pork dish is vinegar-based and will work very well in sandwich form. You can also place it on a platter and serve it alongside some coleslaw.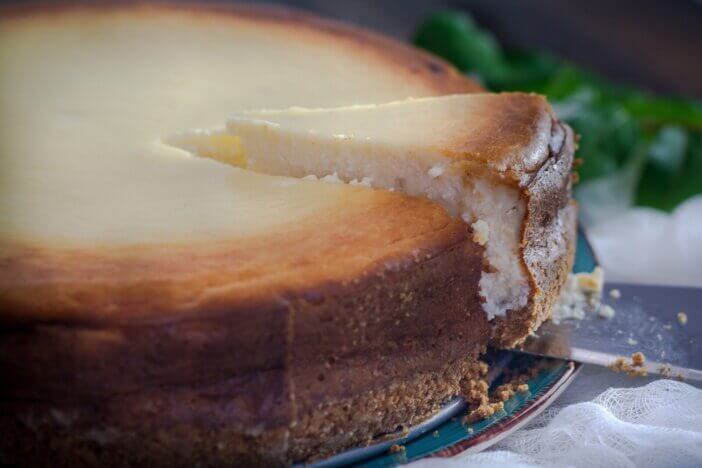 Pound cakes might not seem like an obvious choice in these instances but they can be easily prepared in the electric roaster oven. Those who prepare cakes in these ovens will notice that they tend to come out light and fluffy. The crunchy crust is also a plus.
Anyone who would like to add some flourishes can also tack on whipped cream and seasonal fruits as they see fit. Dress up these cakes any way you want to!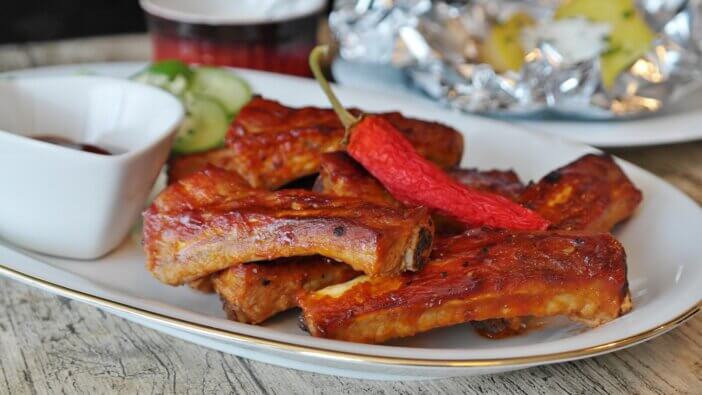 Honey roasted spareribs are another great dish that can be prepared in the electric oven roaster with ease.
Those who enjoy preparing their own tasty marinades are sure to love this one. For a truly delicious dinner, be sure to serve your spareribs with a side of fries.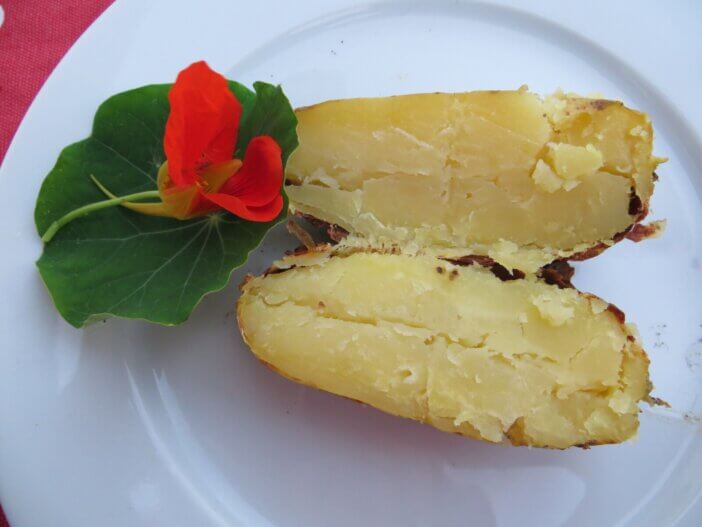 The roaster is well known for providing at-home chefs with an additional cooking space and baked potatoes are easily made with these devices.
If you are not looking to take up too much oven space, the electric oven roaster is the way to go. All it takes is an hour and you will have your own supply of baked potatoes waiting for you.
Some may decide to serve them with veggies on the side, as part of a truly balanced meal.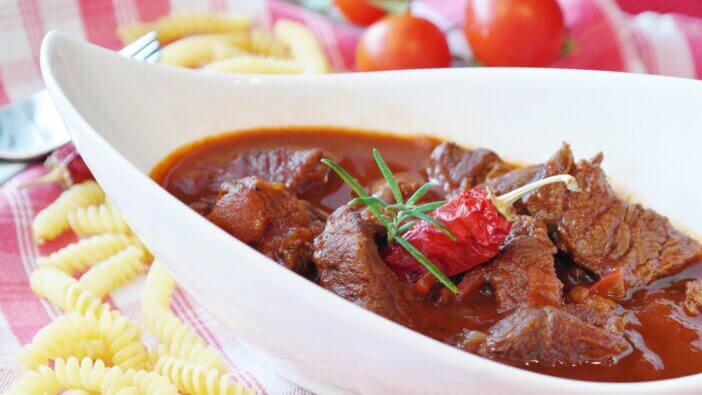 It can be tough to come up with healthy, hearty meals on the fly but the beef stews that can be made with an electric oven roaster are hard to top.
Place the ingredients in the pan, let them roast and the rest essentially takes care of itself. Dinner's on the table before you know it, without any of the usual hassles that take place.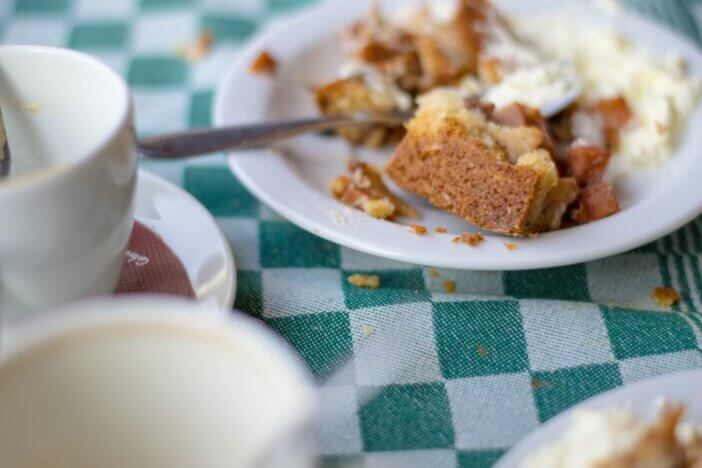 Most at-home chefs will already have all of the ingredients that they need to make bread pudding already on hand. It's simple to make and even easier to enjoy!