Spice Up Your Steak: 17+ Perfect Seasonings to Try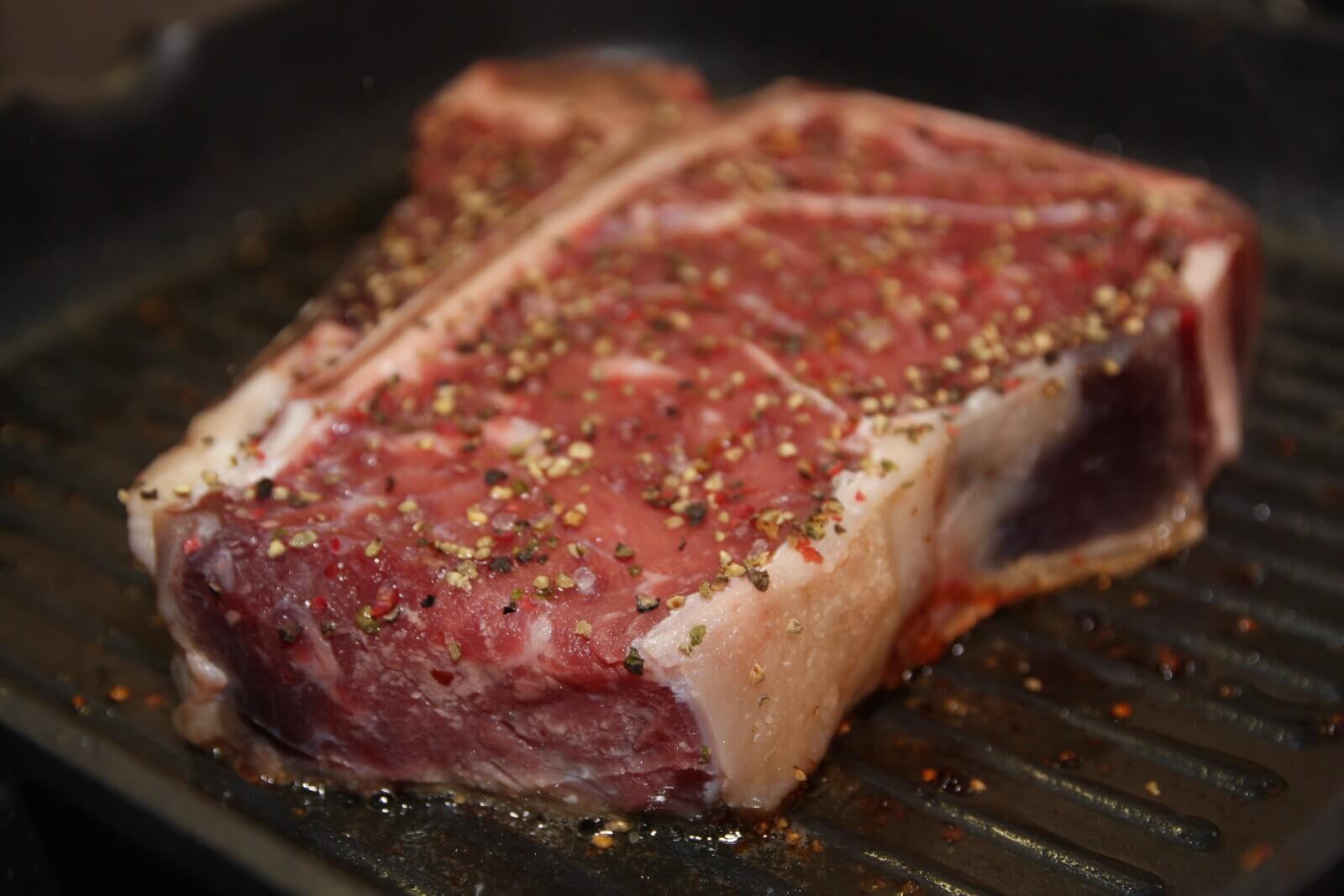 Whether you like to pan-sear your steak or put it on the grill, it is often the dry rub that takes it up to the next level. Most cooks select a number of spices, mix them, and rub them on both sides of the steak.
You should rub your steak, wrap it, and leave it in the refrigerator for 24 hours before cooking. Letting the steak absorb the dry rub will give it an aged taste.
The beauty of making your own spice rub is that you can constantly experiment as to what you put in it and in what proportions.
Do you want more savory or sweeter? Here are some spices that go well with steak.
Quick Sidenote – check out our shop for a curated selection of the best meats, cuts, sausages, and more. Open our shop in a new tab and explore!
Disclosure: As an Amazon Associate, this site earns from qualifying purchases. Thank you!
Garlic Powder
Garlic powder is made by dehydrating garlic and then crushing it in a machine. It is a good source of protein and dietary fiber and has little to no fat content. Garlic powder contains traces of several vitamins.
It also contains minerals such as calcium, phosphorus, and potassium. Garlic powder is also used in a variety of foods, including soup, pasta sauce, and pesto.
Like raw garlic, garlic powder is characterized by a pungent scent. It should be stored in a cool, dry place to prevent it from clumping,
Onion Powder
Similar to garlic powder, onion powder is made by dehydrating onions and then crushing them in a machine. Onion powder can be made from white onions, yellow onions, or even red onions.
Onion powder has a number of nutritional and health benefits, including being a source of potassium, calcium, thiamin, vitamin B6, phosphorus, riboflavin, magnesium, iron, zinc, copper, and niacin, depending on which brand you use.
Onion powder can be used in many foods, like garlic powder, including soup, pasta sauce, pesto, and dipping sauces. It tends to have a shorter shelf life than garlic powder, so it certainly needs to be stored in a cool, dry place to keep from clumping.
Paprika
Paprika is a spice made from ground and dried red peppers. It was first discovered in the Americas by European explorers and rapidly spread across the world.
Spanish and Hungarian paprika are the two main kinds of the spice, though it is produced in a number of other countries.
Paprika is used in soups, sauces, and Hungarian goulash. It is used to flavor rice and deviled eggs to enhance the flavor. It works well as part of a steak rub.
Cayenne
Cayenne pepper is made by grinding the fruit of the cayenne plant into a dry powder. The plant was discovered by European explorers in what is now French Guiana in the 17th century.
It is used in a wide variety of dishes, especially Cajun cuisine. Cayenne pepper is a great addition to any spice rub when extra heat is desired.
Italian Seasonings
Italian seasons can include basil, rosemary, oregano, thyme, marjoram, parsley, and sage.
Some supermarkets will sell jars marked as Italian seasoning that may contain all or some of these herbs and spices. Some people prefer to buy their Italian seasonings separately.
Italian seasonings are most likely to be used in pasta sauces, but they can be used in many dishes, including chicken, seafood, and pork.
As part of a spice rub, Italian seasonings add a subtle flavor to the meat that many find very pleasing. It's handy on hamburger steak.
Dried Mustard Powder
Dried mustard powder is created by grinding mustard seeds. It can be used to create a mustard vinaigrette salad dressing or a mustard-based barbecue sauce. It can also be a great addition to any dry rub for a steak.
Chili Powder
Chili powder is made with the dried and ground fruit of one or more of the numerous varieties of chili pepper.
It is most used in Tex-Mex and Latin American cooking, especially chili con carne or ranchera steak for fajitas. It is also used in many Asian dishes.
The first commercially available chili powder was invented in New Braunfels, Texas in the late 19th century. It is a great component of a dry spice rub when one desires to bring extra heat to the meat being seasoned.
Cumin
Cumin is the powdered version of a plant that originated in Central Asia. It soon spread throughout Europe and Egypt and eventually to the Americas. Most of the cumin plant that becomes the powdered spice is cultivated in India.
Cumin is an integral part of Tex-Mex and South Asian cooking, often found in soup, stews, and flavored gravies. Cumin is a part of tandoori cooking, a wonderful form of Indian barbecue that involves putting meat on skewers and cooking them in clay pots heated with coals.
Cumin adds an earthy, warm, and aromatic flavor to any spice rub, which makes it a favorite.
Brown Sugar
Brown sugar is made by combining molasses derived from sugar cane with white sugar in a carefully controlled amount.
Brown sugar is used in baking as it is considered healthier than refined white sugar due to its iron and calcium content. Its inclusion in a spice rub will provide a great deal of sweetness to the steak (as well as other meats such as chicken and fish.
How much brown sugar you use will help to determine the balance between sweet and savory derived from other spices included in the rub.
Cinnamon
If you want a different kind of sweetness on your steak, you cannot go far wrong with a pinch or two of cinnamon in your spice rub.
It is derived from the bark of several tree species. It is used in a variety of dishes, including pastries, breakfast cereals, chicken, soups, and toast.
Cinnamon is often used as a substitute for sugar as it is considered healthier. It is said to lower blood pressure and to help lower blood sugar. It pairs well with more savory spices in a rub.
Red Pepper Flakes
Red pepper flakes are made by drying and crushing various chili peppers. While red pepper flakes were likely invented in the Balkans, the Italians popularized their use in various dishes in the 19th century.
Few pizzerias lack a jar of red pepper flakes, right next to the jar of grated cheese, to flavor the pizza. Red pepper flakes can certainly be used as part of a spice rub to do the same service to a steak.
Seasoned Salt
Seasoned salt is made with salt and a variety of other herbs and spices. Lawry's is the oldest brand of seasoned salt in the United States, having first come to market in the 1930s.
It is commonly used on fish, chicken, fries, and baked potatoes. However, seasoned salt works perfectly well as part of a steak spice rub, either by itself or in combination with other herbs and spices.
The one drawback of seasoned salt is that it contains a great deal of sodium and has little nutritional value. However, the taste cannot be beaten.
Coffee
Of course, most people believe that coffee is for drinking and cannot get through the day without several cups of joe.
However, coffee grounds can also make a great part of a spice rub. Coffee grounds not only impart a unique, earthy flavor but can also tenderize tough cuts of steak.
Oddly enough, adding coffee grounds to a steak spice rub does not make your steak taste like coffee. If you want a coffee taste, you need to have it in liquid form, in a cup, along with your steak.
Premade Steak Rubs
Some people don't want to be bothered creating their own spice rubs. No worries, because many premixed spice rubs are available at the supermarket.
Some purveyors of steak, such as Omaha Steaks and the LongHorn Steakhouse, have their own in-house brands.
Amazon, where you can buy just about anything, is also a good place to shop for premade steak rubs.
Bestseller No. 1
Portland Salt Co. Steak Salt & Spice Blend – Artisan, All-Purpose Seasoning & Rub - Non-GMO, 4 Oz (Pack of 1)
Premium Quality Steak Salt: Sourced from the pristine waters of the Pacific, ensuring a pure and natural seasoning for your meats.
Balanced Flavor Fusion: Enjoy the perfect blend of garlic, onion, black pepper, and a touch of cayenne for steak perfection. A symphony of flavors crafted for the ultimate palate.
Rich in Minerals: Packed with essential minerals and trace elements, providing not just taste but added health benefits. Enhance your dishes with both flavor and wellness.
Versatile Kitchen Essential: Elevate not only your steaks but also burgers, chicken, vegetables, and other gourmet dishes with this all-purpose seasoning.
Perfectly Granulated: Crafted for easy application and even distribution, ensuring a consistent and flavorful steak experience every time. Elevate your cooking with artisan salt blends that bring exquisite flavors to your fingertips.
Bestseller No. 2
Killer Hogs Steak Rub | Championship BBQ and Grill Seasoning for Beef, Steak, Burgers, and Chops | Salt, Pepper, Herbs, and Spices | 11 Ounces
CHAMPIONSHIP STEAK RUB - This steak rub is the perfect combination of seasonsings and spices to put on steaks, chops, and even chicken. Developed by our award winning Killer Hogs Championship BBQ team, this rub has everything you want for the perfect steak.
HIGHEST RATED RUB - We've been making this rub for over 10 years, shipping tens of thousands across the United States, and satisfying professional pit masters, amateurs, backyard BBQ enthusiasts, chefs, and everyone in between
DESIGNED FOR CONSISTENT RESULTS - We developed this steak rub so you don't have to worry about seasoning your steaks, chops, or even chicken. The Steak Rub provides a consistent and delicious flavor you can count on time and time again.
NO RISK AND NO HASSLE - For almost a decade, we have been delighting customers. If you are not satisfied with your purchase of any Killer Hogs product, please contact us and we'll gladly refund your money. That's it - no questions, no hassle, no risk.
MADE IN THE USA - We pride ourselves in manufacturing all our products in the USA using the highest quality ingredients
Bestseller No. 3
Kinder's Organic Buttery Steakhouse Rub, Premium Quality Seasoning, MSG Free and USDA Certified Organic, 3oz
Experience premium steakhouse flavor straight from your own grill, smoker, or oven. Our Buttery Steakhouse blend takes the classic blend of onion, garlic, and spices and adds real butter (yes…real dairy butter) for that smooth finish.
Great flavor starts with the perfect selection of ingredients. Kinder's Buttery Steakhouse Rub is USDA Organic Certified, Non-GMO, and MSG-free.
Amplify the flavors in your next meal. Shake our spices generously on meat before cooking and sprinkle liberally again when you're ready to serve for even more buttery goodness.
Use alone as a rub or combine with your favorite sauce or overnight marinade. Our spices add a boost of flavor to beef, fish, pork or chicken, seafood, veggies, and more!
We've been Obsessed with Quality Since 1946, following John Kinder's desire to share excellent barbecue with the world. Bring home the award-winning flavor derived from three generations of Kinders who love making good food taste better.
Bestseller No. 4
Yellowstone Cattleman Steak Seasoning and Rub, 5.4oz
A balanced blend of sea salt, garlic, onion and spices to enhance your meat's natrual flavor.
Premium seasonings and rubs to compliment your meats, poultry and fish
Gluten Free, No Artificial Flavors and No MSG
Packed in the USA
A Montreal steak seasoning especially imparts a great combination of peppercorns, garlic, coriander, rosemary, thyme, and dill.
McCormick Grill Mates 25% Less Sodium Montreal Steak Seasoning, 10 oz
Iconic blend of coarsely ground pepper, salt and garlic
Americas #1 grilling seasoning, made with McCormick spices
No MSG added, no artificial flavors
25% less sodium than Original Montreal Steak Seasoning
GRILLING TIP: Cooking skin-on chicken or thicker steaks? Start on indirect heat then move to direct heat to prevent sticking and help foods cook evenly
One marked Chicago brand, on the other hand, mix garlic, onion, and peppercorns.
Salt and Pepper
While some people swear by their favorite blend of spice rub, a counter-belief exists that spice rubs do is conceal the natural flavor of the steak.
If you're inclined that way, and there is nothing wrong with it, be sure to use kosher salt (not iodized) and fresh ground black pepper. Pat the steak dry after adding the salt and pepper and press the two spices on each side with your hands before putting it on the grill.