9+ Meals That Beef Shoulder Roast Is Good For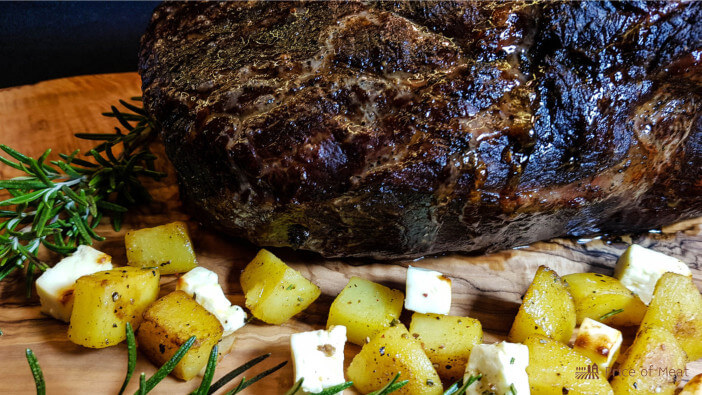 A beef shoulder roast is a lean and inexpensive chuck cut of meat that can be used in a variety of ways. There are many preparations for a beef shoulder roast, making it a popular cut that isn't as tough as other roasts.
Understanding the various meals that a beef shoulder roast can be used in will help you to get creative in the kitchen.
Disclosure: As an Amazon Associate, this site earns from qualifying purchases. Thank you!
What is a Beef Shoulder Roast Good For?
The beef shoulder roast is lean enough that it can be used in a lot of different dishes. It can be roasted with a variety of flavor profiles, ensuring that it can be used in global cuisines.
Quick Sidenote – check out our shop for a curated selection of the best meats, cuts, sausages, and more. Open our shop in a new tab and explore!
One of the reasons why the beef shoulder roast is so popular is because it is inexpensive. It is considerably cheaper than the rump roast.
The leanness of the shoulder roast means that there's muscle that needs to be broken down. As such, it's best if you use the roast in a cooking method that is low and slow. You can braise it in a variety of liquids, cut it up for stews, and even barbecue the meat.
Meals that a Beef Shoulder Roast Can Be Used In
The versatility of the beef shoulder roast lends it to a number of recipes. Regardless of the ethnic cuisine that you want to create, there's a meal that you can prepare using the shoulder roast.
It's all a matter of learning what ingredients to pair with the roast and how it should be cooked.
1. Pot Roast
A pot roast (like for Sunday dinner) is one of the heartiest meals that you can cook using the beef shoulder roast. It also doesn't require a lot of fancy kitchen equipment.
Many people enjoy this dish because it is one-pot. All of the ingredients go into the pot, and it can simmer away for hours.
While there are a lot of different recipes out there, the beef shoulder roast should be seasoned with salt and pepper before being placed into a large pot on the stove. It should be browned on all sides before adding in any of the other ingredients.
You'll add several ingredients into the pot for flavor as well as to balance off the meal, including yellow onions, garlic cloves, carrots, red wine, and a bay leaf.
Everything should simmer away for three to four hours. You'll know that it's complete when the meat is falling apart.
2. Beef Ragu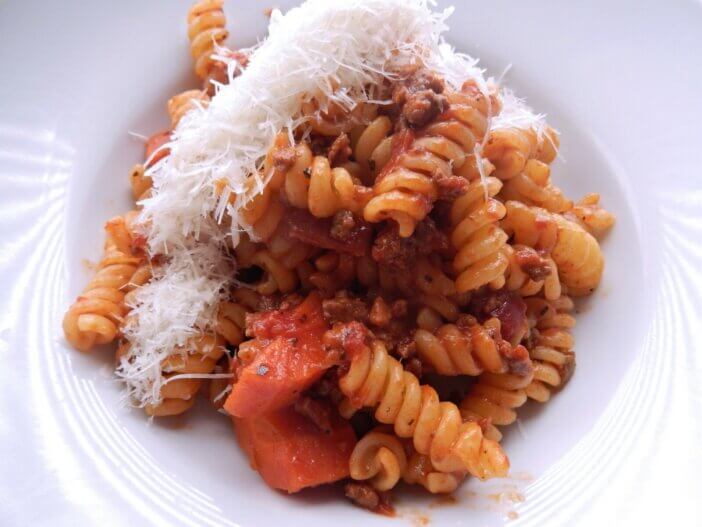 Many people make ragu (meat sauce) with ground beef. By utilizing beef shoulder roast, it adds a richer and beefier dimension to the meal.
Trim the beef and brown each side of the roast. Then, place it into a slow cooker along with beef broth, onion, garlic, rosemary, salt, pepper, crushed tomatoes, and tomato paste.
You can let it cook on high for about six to eight hours. Once cooked, use tongs to remove the meat from the sauce. Shred it with a fork or cut it up using a knife. Transfer the meat back into the sauce and blend thoroughly.
From there, you can serve the ragu on top of your favorite pasta.
3. Shredded Beef
You can use a beef shoulder roast as a way to create shredded beef as opposed to ground beef. The process is simple, and you can flavor the beef in a variety of ways.
The shredded nature of the beef lends itself to a number of Mexican and Spanish dishes. Consider using a chipotle or jalapeno marinade on the beef.
This way, the flavor of the meat will pair well with other ingredients that you may want to use afterward, such as salsas, avocado, and more.
The best way to make sure that the beef is fully cooked and easy to shred is to place the roast with all of the seasonings into a slow cooker. It can be cooked for about 10 hours on low or five hours on high.
Once the roast is removed from the slow cooker, you can shred it with ease using only two forks.
The shredded beef can be used in a variety of ways – tacos, burritos, chimichangas, nachos, and even flatbread.
4. Italian Braised Roast
You can braise a beef shoulder roast while infusing a lot of Italian flavors into it. This can be easier than having to cook a comprehensive Italian dish where there's a lot of butchery involved.
What makes this recipe so successful is the use of olive oil and balsamic vinegar to flavor the meat.
The roast is lightly coated with flour and browned on all sides before being placed into a Dutch oven. You will add water and vinegar into the oven along with onions, shallots, and dates.
It is, then, cooked for about three hours until it is fork-tender. If you don't want to heat the whole house by having the oven on for that long, it can also be put into a slow cooker.
5. Beef Burgundy
Beef Burgundy is also known as Beef Bourguignon. It's a French dish that is known to be the mother of all stews.
You can simplify the recipe and make it a lot more affordable by using the beef shoulder roast.
The key to making this dish a success is making sure that you buy a full-bodied red wine, cut a sweet onion into chunks, and get your hands on some baby bella mushrooms.
All of the ingredients can be prepared and loaded into a slow cooker so that you don't have to fuss with it for hours.
A trick with this is to start by browning the roast with olive oil and whole wheat flour before it goes into the slow cooker.
After the roast cooks in the liquid on low for eight hours, you'll want to remove the beef and onions. Strain the liquid to get rid of the fattiness. Then, slice the beef and return it to the liquid.
Only then will you use the mushrooms – and sauté them liberally in butter so that they can be served on top of the sliced meat.
6. Beef Curry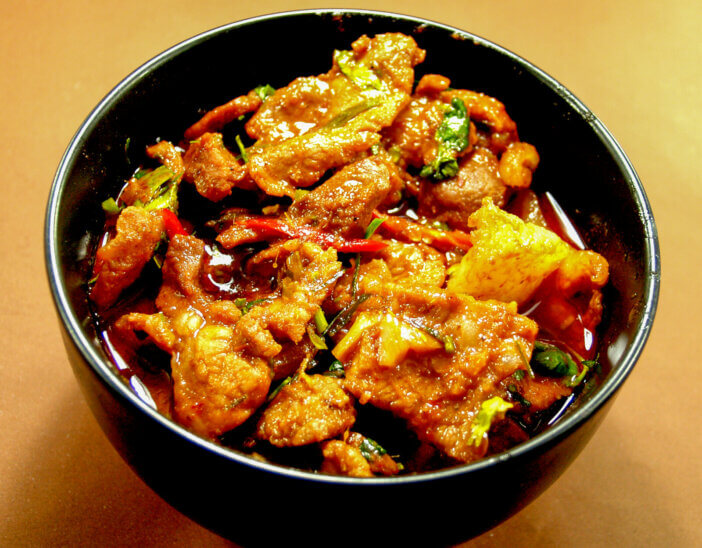 Beef Curry is a dish that is infused with a lot of Eastern flavors, including curry powder, coriander, turmeric, cumin, and ginger powder.
The beef shoulder roast is treated like many of the other roasts – seasoned and browned before going into a slow cooker or a Dutch oven.
The beef will pull apart when it's done, allowing you to have a spicy, shredded beef that can be served over rice, placed inside of a samosa, or dished onto naan for a flatbread.
7. French Dip
French Dip is a popular sandwich that is commonly characterized by the au jus that is on the side so that the sandwich can be dipped.
You can prepare the shoulder roast in a slow cooker using any flavors you wish. Once it's done, be sure that you slice the roast instead of shredding it. And, don't forget to reserve the liquid as that is now your dipping sauce.
The meat gets layered onto a hoagie roll. Then, place a slice or two of provolone cheese and set it under the broiler until the cheese is melted. You can serve it up with a bit of horseradish if you like.
The benefit of using shoulder roast is that the sandwich becomes cheaper than the traditional ribeye steaks that are used to make the French Dip.
8. Socca
Socca is an Italian casserole that uses beef, cabbage, and potato. The smell is intoxicating, and people will assume you spent a lot more time and money preparing it than you really did.
You will need red potatoes, savoy cabbage, white wine, fontina cheese, sage, and rosemary to make this meal a success.
The beef gets quartered along with quartered potatoes. Then, it all gets mixed together with a pest)ata (a mixture of sage, rosemary, garlic, olive oil, and salt.
Everything gets layered into a baking dish with shredded cabbage. The pestata gets mixed into the white wine and poured over top.
After it bakes for two hours, you finish it off with fontina cheese until the whole thing is a melted, gooey masterpiece.
9. Moroccan-Style Roast
A Moroccan-style roast delivers flavors of curry and fruit while producing a tender and delicious meal that will make you feel as though you're in Morocco.
The beef shoulder roast is a popular choice for this dish because it is large (over three pounds), and it is boneless.
The dish is flavored with dried fruit such as plums, apricots, and raisins. The meat will also simmer for hours in a mixture of coconut milk, orange juice, and soy sauce.
Several other things are added for flavor including sweet potatoes, sweet bell peppers, and curry powder.
All of the ingredients can be placed into a Dutch oven and cooked inside a 350-degree oven for about two hours.
The meat can be shredded or sliced and served solely with sweet potatoes or on a bed of couscous.
Frequently Asked Questions About Beef Shoulder Roast
A variety of frequently asked questions can help you to get better acquainted with the cut that is known as the beef shoulder roast.
Is Beef Shoulder Roast a Good Cut?
The beef shoulder roast is a budget cut of beef that can produce premium results when it's cooked carefully. Due to the cut being from the shoulder, it can be filled with sinewy muscle that will be chewy if undercooked.
What Does a Beef Shoulder Roast Taste Like?
The beef shoulder roast, located above the brisket and next to the rib, is known for being tender. It produces a rich, beefy flavor that doesn't need to be marinated in over-powering sauces or brines.
How Should Beef Shoulder Be Cooked?
The most common ways for a beef shoulder roast to be cooked is oven-roasted, braised, or placed inside of a slow-cooker.
Is a Beef Shoulder Roast the Same as a Chuck Roast?
The beef shoulder roast and the chuck roast both come from the shoulder, but they are two individual cuts. The shoulder roast is leaner than the chuck. The chuck roast is most commonly ground, producing what is known as ground chuck for hamburgers.