13+ Meals To Make With Tough Roast Beef Leftovers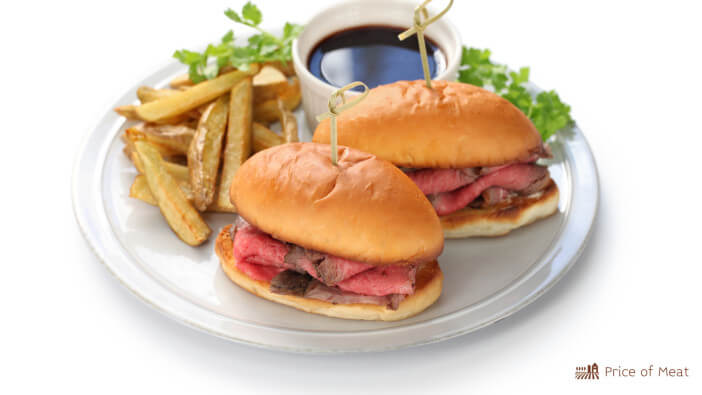 Most home chefs have experienced the problem of tough roast beef. Sometimes, this excellent cut of beef still ends up tough regardless of how carefully you cook it.
But here's the tough roast beef silver lining: If you have some leftover roast beef, you have a good problem. Why? Because you can use these tough roast beef leftovers to make delicious recipes.
Disclosure: As an Amazon Associate, this site earns from qualifying purchases. Thank you!
1. Moschari Lemonato (Greek Beef Stew with Lemon)
One of the most unique recipes you can make with tough roast beef leftovers is a traditional Moschari lemonato, or beef stew with lemon. A classic Greek recipe, this stew is as easy to make as it is delicious.
Quick Sidenote – check out our shop for a curated selection of the best meats, cuts, sausages, and more. Open our shop in a new tab and explore!
The fresh lemon juice helps to tenderize the leftover roast beef, and the result is a hearty stew with Mediterranean flavors. The other ingredients in this stew are:
Chopped red onion
Garlic cloves
Dried oregano (or fresh oregano)
Fresh thyme (or dried thyme)
Dry white wine
Olive oil
Black pepper
Salt to taste
To make this Greek stew, brown the shredded or cut-up leftover roast beef until it is crusty and brown. Once you've prepared all of the ingredients, simmer this stew on the stovetop. However, this is also an excellent recipe for your slow cooker or Instant Pot.
2. Slow Cooker Roast Beef Stew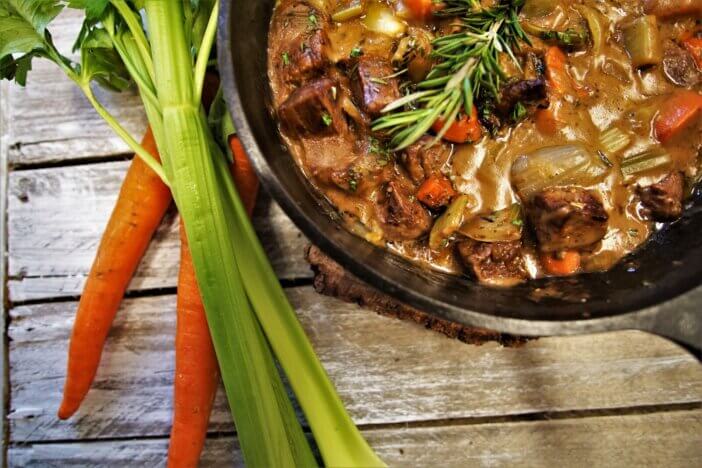 One of the easiest ways to use up tough roast beef leftovers is by making a slow cooker beef stew. However, there is nothing simple about how this stew tastes.
Here are just some of the ingredients in this savory stew.
Red potatoes
Baby carrots
Celery
Onion
Roast beef gravy
Mushrooms
Leeks
Minced garlic
Stewed tomatoes
Green beans
Thyme
Sage
Chives
Chicken broth
Bay leaves
Worcestershire sauce
3. Leftover Pot Roast Ragu
For an elegant dinner made with your leftover roast, you can turn to this beef ragu. For a classic ragu, you need just a few ingredients.
Leftover pot roast
Olive oil
Onion
Garlic
Red wine
Canned tomatoes
Salt and pepper
Pasta
Parmesan cheese
4. Roast Beef Breakfast Hash
Hash is the perfect recipe to make for a quick and easy Monday morning breakfast using Sunday's pot roast leftovers. We love corned beef hash, but you can also make a wonderful hash with tough roast beef leftovers.
Here is what you need for this recipe, in addition to your leftover roast beef.
Cubed potatoes
Butter
Olive oil
Yellow onion
Green onion
Steak seasoning
Paprika
Cheddar cheese
5. Beef Stroganoff
Who knew you could make a traditional beef stroganoff recipe using leftover roast beef? For this recipe, you need:
Mushrooms
Garlic
Onion
Beef stock
Tomato puree (tomato paste)
Smoked paprika
Dijon mustard
Italian seasoning (similar to Italian beef)
Parsley
Creme fraiche (or sour cream)
Serve your leftover beef stroganoff over rice or pasta.
6. Homemade Hot Pockets
It's nice to have some Hot Pockets in the freezer for quick meals or snacks. But did you know you can easily make these delicious little hand pies in your own kitchen using leftover roast beef?
This homemade hot pockets recipe uses store-bought refrigerated pizza dough, but you can make your own dough if you prefer. Other ingredients in these hot pockets are:
Shredded leftover pot roast
Diced onion
Shredded cheddar cheese (or any type of melty cheese)
Sour cream
Egg white
7. Leftover Roast Beef Shepherd's Pie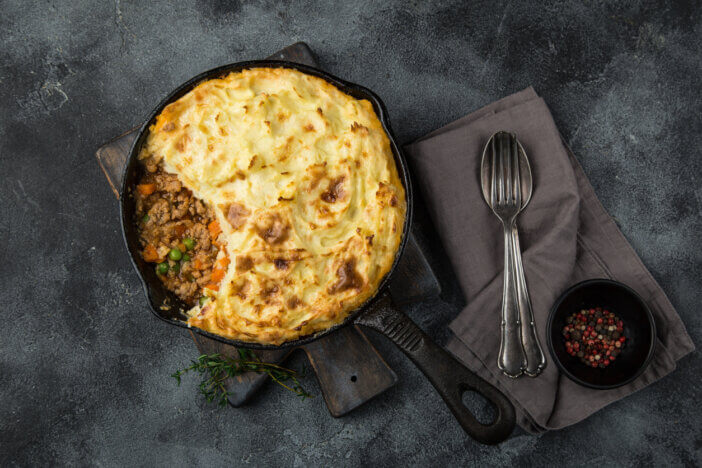 Traditional shepherd's pie is made with lamb, and cottage pie is usually made with ground beef. However, you can use leftover roast beef to make your own version of this beloved classic.
To make this shepherd's pie, you need mashed potatoes. You can make homemade mashed potatoes or use a shortcut and use good-quality instant mashed potatoes. Here are the other ingredients for this dish.
Mushrooms
Onion
Frozen carrots and peas
Brown gravy mix
Paprika
Black pepper
Dried thyme
Butter
While this recipe doesn't call for cheese, some home chefs like putting shredded cheddar cheese on top of their shepherd's pie. If you do that, be sure to cover your shepherd's pie lightly with aluminum foil so that the cheese doesn't scorch.
8. Roast Beef Pot Pie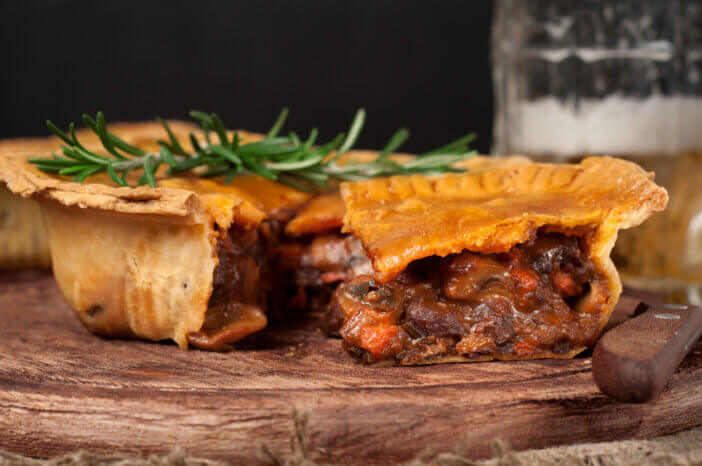 A pot pie is always a welcome treat and is considered to be comfort food in most households. When you start a beef pot pie with leftover roast beef, you have a head start on a quick and easy meal that can feed your family.
While this recipe calls for an entire pound of roast beef, you can adjust the recipe to work with smaller amounts of leftover roast. Here are the ingredients in this yummy beef pot pie.
Leftover roast beef
Green pepper
Onion
Beef broth
Dried oregano
Canned tomatoes
Olive oil
Dried basil
Fresh basil (for garnish)
Sliced mushrooms
Salt
Black pepper
For this recipe, you can use a storebought pie crust or make your favorite pie crust recipe.
9. Beef Enchiladas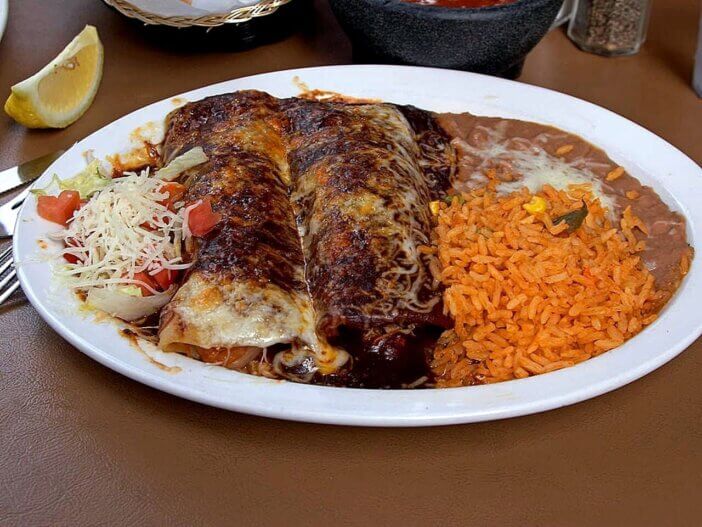 Enchiladas can be a time-consuming recipe, but when you start with cooked roast beef, you're ahead of the game. For these enchiladas, you need
Shredded roast beef
Corn
Red enchilada sauce
Canned green chiles
Shredded Mexican cheese
Tortillas
10. Easy Beef and Noodles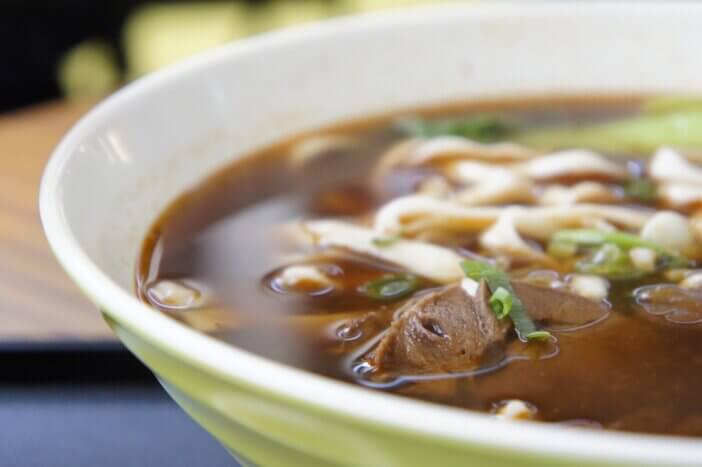 Beef and noodles are a family favorite, and when you start with your roast beef leftovers, this meal comes together in minutes. Whatever you used to season your pot roast will add all of the flavor you need. This recipe calls for Mississippi Pot Roast, but you can use any roast beef leftovers to make this main dish.
In addition to the pot roast, you need uncooked egg noodles, water, beef broth, and chopped fresh parsley.
11. Beef Sundae
If you're looking for a leftover roast beef recipe that will delight young eaters, this roast beef sundae will do the trick.
To make a sundae with leftover roast beef, add mashed potatoes to the cup, then top with roast beef and gravy. For the "whipped cream," use sour cream, then top it all off with a cherry tomato.
12. Roast Beef Chili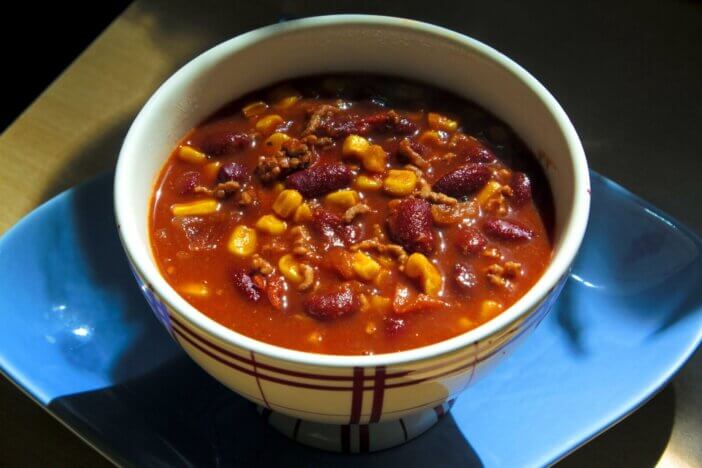 Usually, chili is made with ground beef, but you can make a unique chili using roast beef leftovers. This chili has all of the classic ingredients you normally find in chili, but you make it with your leftover roast beef.
Onion
Garlic
Olive oil
Chili powder
Chili flakes
Canned tomatoes
Kidney beans
Beef stock
13. Pulled BBQ Beef Sandwiches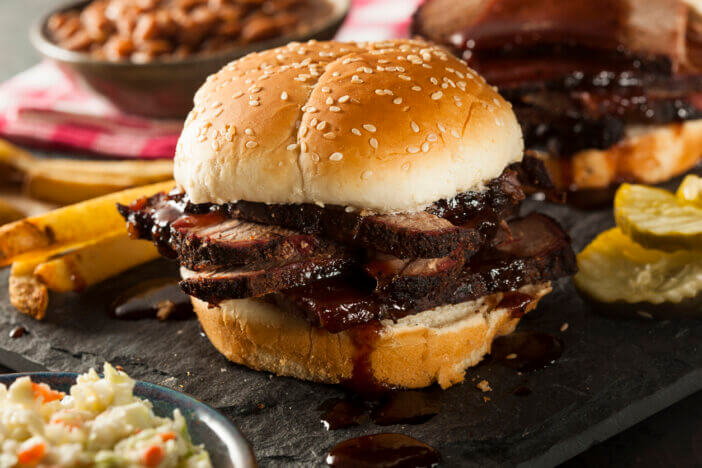 Everyone loves a saucy BBQ sandwich, and instead of using brisket, you easily make these beloved summer treats with your leftover roast beef, red onion, chili powder, and BBQ sauce.
Serve your BBQ roast beef on Kaiser rolls or regular hamburger buns.
Final Thoughts on Recipes to Make with Tough Roast Beef Leftovers
Hopefully, this comprehensive list of recipes to make with tough roast beef leftovers has inspired you to get super creative in the kitchen.
When your roast beef turns out tough in the future, you may even actually look forward to being able to use up that good meat to make some of your favorite new recipes.