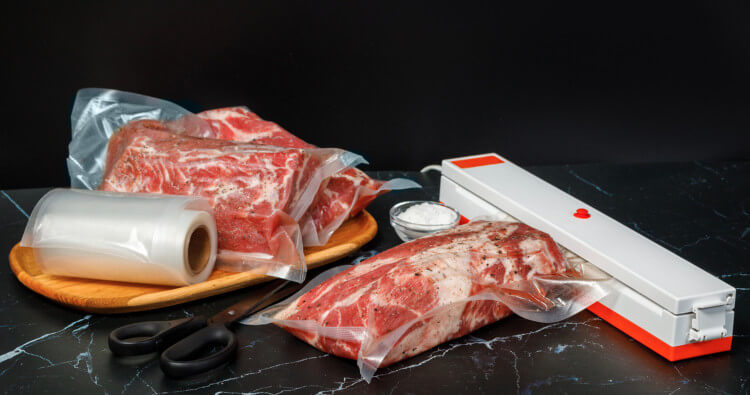 The popularization of cheap, simple, and effective vacuum sealers for home use has been a huge boon for preserving, storing, and preparing food in the comfort of your kitchen. But as with any kitchen gadget, there are plenty of imitators on the market that can't deliver the results you're looking for. How can you know that you're getting the best vacuum sealer for meat?
We'll take care of that for you. To make this guide, we compared our personal and professional experience using vacuum sealers with reviews and specifications of the most popular sealers available today — and ended up with what we hope is a complete guide to finding the best vacuum sealer to use for meat.
Follow along as we explain what exactly a vacuum sealer is (and how it works), as well as the different types of vacuum sealers you'll be choosing amongst, considerations to take into account before buying, and our recommendations on two vacuum sealers for meat that really get the job done.
What Is A Vacuum Sealer for Meat?
What's the number one cause of spoilage? Oxygen, of course.
Vacuum sealers work on the principle of removing oxygen from the environment around food and thereby extending its shelf life. The technology was originally developed for use in professional kitchens, and has since been modified to create small and affordable vacuum sealers for home kitchens.
At its most basic, a vacuum sealer includes three things: A fan for removing air, a heat strip for sealing the plastic bags used for storage, and a control panel to streamline operation. Combined with appropriately sized plastic bags, this is all you'll need to create an airtight seal around cuts of meat, perfect for freezing to extend their shelf life.
Vacuum sealers have achieved their greatest popularity for usage with meat through the work of French chefs. Using a technique known as sous vide (without air), they have achieved culinary feats that would have otherwise been impossible. As a cooking method, it was invented by Dr. Bruno Goussault in 1971 as he was search for a way to make the most tender roast beef in the world. Here's what he has to say about cooking sous vide:
The power of sous vide is that it enables you to precisely prepare food with more tenderness and flavor than can be obtained through traditional cooking techniques. Sous vide makes it possible to unlock the full potential of food.
Types of Vacuum Sealers for Meat
There are two main types of vacuum sealers available on the market today: Countertop and chamber. Let's take a closer look at each of them in turn:
Countertop vacuum sealers are the most commonly available type of sealer for home kitchens. Often weighing not more than a few pounds, and rarely exceeding two feet in length, they're a compact and convenient choice for vacuum sealing small portions of food. Quality of fans and sealing strips can vary, however, making them a less reliable choice. They are significantly cheaper than chamber sealers, and much easier to buy in stores.
Chamber vacuum sealers are the gold standard for food preparation, and a necessity in today's high class kitchens. By holding the product to be sealed in a pressurized chamber, they achieve a much tighter seal than countertop vacuum sealers. They're large and expensive, but create a seal that is guaranteed to preserve your foods' freshness for as long as possible.
Before You Buy: Considerations for Choosing A Vacuum Sealer for Meat
Choosing the best vacuum sealer for your needs comes down to three main considerations:
What Quantity of Meat Will You Be Sealing?
Are you looking to seal the occasional bulk quantity of meat to stow away in the freezer, or planning on using your vacuum sealer for commercial purposes? Or maybe somewhere in between, where you'll have large quantities of meat to seal and store come hunting season? For smaller meat sealing projects, a countertop sealer will do the trick; larger or more commercial quantities of sealing will require the safety, reliability, and efficiency of a chamber sealer.
What Is Your Kitchen Equipment Budget?
The difference in price between countertop and chamber sealers is quite striking, with the former being readily available under $100 and the latter starting at $400. Be sure that your budget matches the project that you have in mind, because even the best countertop sealer won't be able to keep up with a large volume or frequent use in the same way a chamber sealer can.
Which Type of Sealer Should You Get?
With those things in mind, which type of sealer is best for you? If you need a chamber sealer, the choice is quite easy as there are many fewer models on the market. Countertop sealers, on the other hand, have become the latest hot kitchen gadget — so if you're looking to add one to your kitchen, beware the many low-quality imitators available online.
Where to buy a Vacuum Sealer for Meat
Now that you know which type of sealer is right for your kitchen, lets take a look at a great example of both styles:
The Countertop Vacuum Sealer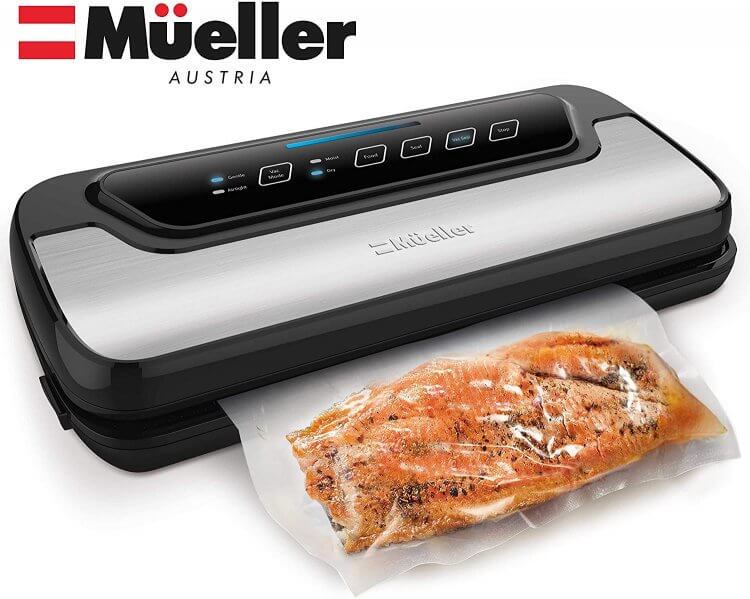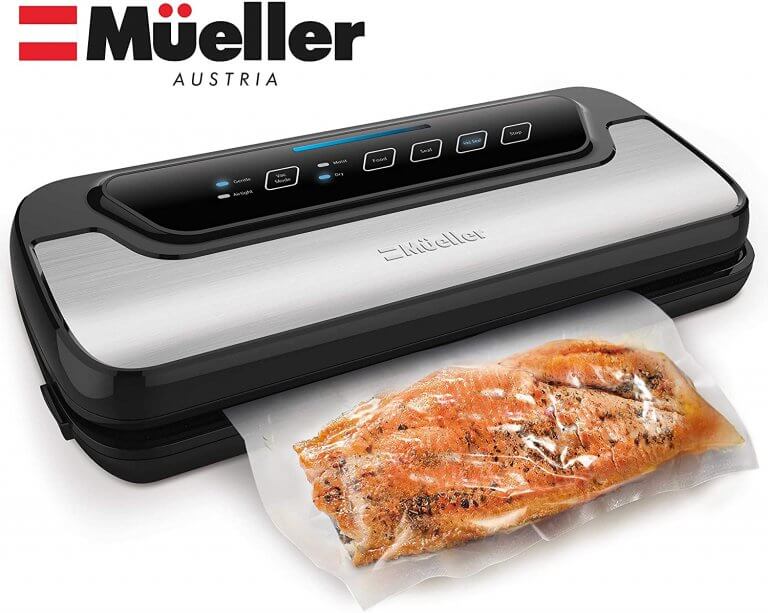 Mueller Austria's countertop vacuum sealer gives you everything you want from a home use sealer, and is available for a remarkably affordable price. It's exceptionally easy to use, and has the best longevity of any countertop sealer we've seen for under $100. Highly recommended for the home kitchen, though it would struggle to keep up with a large volume of meat packing. See on Amazon.
The Chamber Vacuum Sealer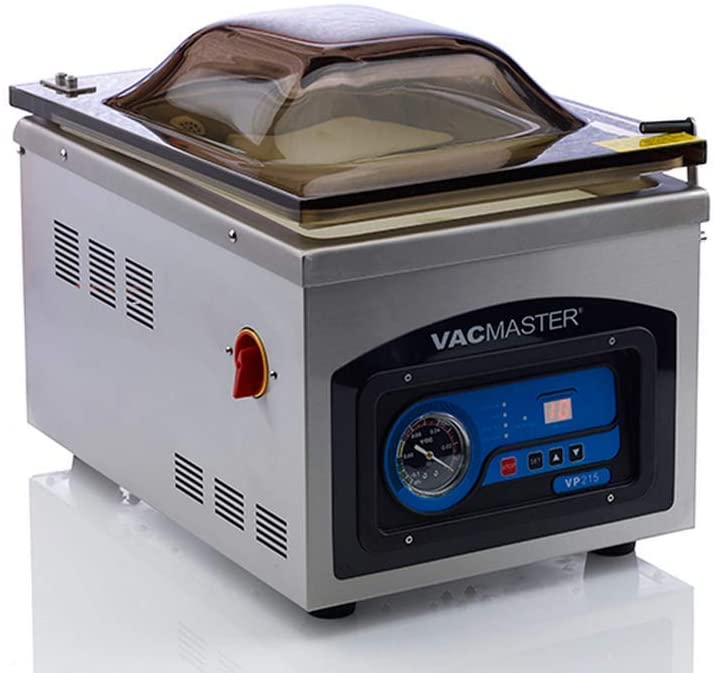 VacMaster is the go-to vacuum sealer for the restaurant industry, and for good reason: They're nearly indestructible, incredibly efficient, and can handle large volumes of sealing without losing any quality. The VacMaster VP215 Chamber Vacuum Sealer is their flagship model, and though it's quite pricey compared to a countertop sealer, it's actually the most reasonably priced of chamber sealers. If you're going to be sealing large cuts of meat, it's an absolute must. See on Amazon.
Thanks for taking the time to read, and best of luck with your next vacuum sealing project!