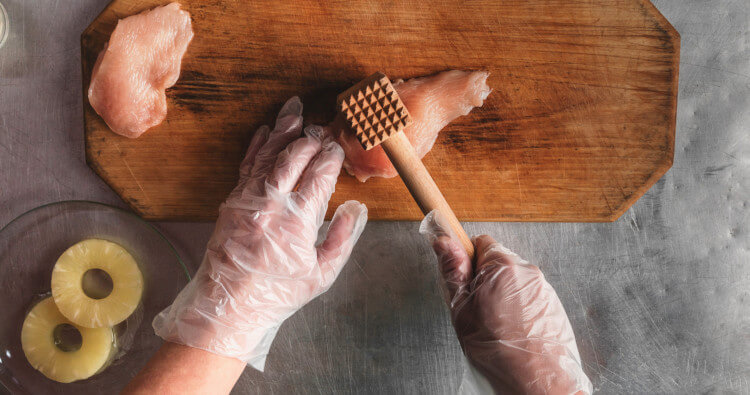 Meat tenderizers might just be the most important tool for a thrifty chef to get the most out of their grocery money. While expensive cuts of meat are renowned for their natural tenderness and ability to sear into succulent perfection, humbler cuts are often just as flavorful — but less prized because of their tougher texture. The solution? Meat tenderizers, of course.
The thing is, there are plenty of types of this basic kitchen tool, and not every one is appropriate for all the types of meat you might want to tenderize. We've combined our professional kitchen experience with a thorough review of meat tenderizers available online to bring you this: Our complete guide to meat tenderizers, with explanations of what they are, how they work, the different types you'll find, special considerations to take into account before buying.
Explore our recommendations for the 4+ best meat tenderizers here.
What Is A Meat Tenderizer?
A meat tenderizer's job is simple: Taking a tough cut of meat, and applying plenty of brute force to it to separate the muscle fibers, thereby making for a more tender cut. The most common meat tenderizer style resembles a hammer, allowing you to maximize your leverage and impact with minimal effort.
In a pinch almost any large, heavy object can work as a meat tenderizer — but we wouldn't recommend using anything that's not completely metal, such as a wooden rolling pin. The closer a tool is to being one piece and made of metal, the safer it is to use with raw meat without having to worry about cross contamination.
Why Use a Meat Tenderizer?
One of the main reasons to use a meat tenderizer is for its considerable cost savings. While the most expensive cuts of meat might set you back $30 (or more) per pound, some types of cheap cuts can be had for as little as $5 per pound — but that bargain price certainly doesn't come with any guarantees of quality or tenderness.
There are plenty of cuts that can be transformed into tender, delicious feasts with just a few minutes spent working them over with a meat tenderizer. The problem is, these cheaper cuts are so tough that they require significantly more cooking time to get the job done — and because there's no guarantee you'll have an accurate idea of how long it will take, an entire meal can be ruined as a result.
Tenderizing meat ahead of time solves this problem entirely. In fact, you could even buy the cheaper cuts and tenderize them at home without any additional cost whatsoever — if you have a meat tenderizer or two on hand, that is. The same holds true for preparing larger quantities of meat, such as for a party or large family gathering.
Types of Meat Tenderizers
Let's look at each of the three main styles of meat tenderizers in closer detail:
Hammer Meat Tenderizer
Hammer style meat tenderizers are the tool that most people think of when they say "meat tenderizer". They strongly resemble a carpenter's hammer, with a long shaft and a heavy, squared-off head. We have a whole post on "meat mallets" – which are basically the same thing. They're great for applying maximum force to a tough cut of meat, but can be hard on the wrists and hands if used for long periods of time.
Sale
KitchenAid Gourmet Meat Tenderizer, One Size, Black 1
TEXTURIZED SURFACE : One of the sides surface is textured for optimum use on a variety of meats
SMOOTH SIDE INCLUDED : The opposite side of the meat tenderizer is smooth for pounding and flattening For cutlets
ALUMUNUM CONSTRUCTION : Aluminum construction provides a lightweight, strong and durable tool for the kitchen
MULTIPLE STORAGE OPTIONS : There is a hole in the ergonomic handle that gives you the option for convenient hanging storage
Hand wash only
Paddle Meat Tenderizer
Paddle style meat tenderizers look like an air hockey striker with an extended handle. They take a little bit more effort to get meat fully tenderized, but have the advantage of being extremely easy on the hands, wrists, and elbows. Great for anyone who's going to be tenderizing a lot of meat.
Sale
Norpro Grip-EZ Stainless Steel Meat Pounder
Measures: 4.75" x 3.25" x 3.25" / 12cm x 8cm x 8cm; Weighs: 28 ounces
Pound meat into uniform thickness, allowing meat to cook evenly
The shape and heft of this vertical-style model provides the right combination of control and force
Heavy enough for quick work but small enough for precise maneuverability
Stainless steel over iron.
Bladed Meat Tenderizer
Bladed meat tenderizers are the most recent invention in the category, and totally unlike the previous two styles. They consist of around 50 super-thin blades housed in a spring-loaded handle, with guards on the sides and bottom. They're operated just as if you were stamping a letter, and can tenderize even the toughest of meat with minimal effort. The downside is that they're so efficient, you can sometimes end up with a pulpy and over-processed cut of meat.
Jaccard 48-Blade Meat Tenderizer, Original Super 3 Meat Tenderizer, 1.50 x 4.00 x 5.75 Inches, White
Original Hand Held Meat Tenderizer: Reduces cooking time by up to 40% and provides pathway for marinades to be absorbed deeper into the meat and increasing absorption by up to 600%. It is ideal for both professional chefs and home cooking enthusiasts.
Commercial Meat Tenderizer: The meat tenderizer has double sided razor-sharp stainless-steel knives that effortlessly cut through the connective tissue in meat that can cause it to be tough.
Steak Tenderizer, Meat Tenderizer: Achieve better cooking results from less expensive cuts of meat with the original multi-blade hand-held meat tenderizer.
48 Blade Meat Tenderizer: Enhances any type of meat, including but not limited to beef, pork, veal, chicken, venison and fowl; Incredible results on boneless chicken breasts including even cooking, retention of meats natural juices and flavors.
Achieve better cooking results from less expensive cuts of meat with the multi-blade hand-held meat tenderizer
How Do You Use a Meat Tenderizer?
There are a few main guidelines to follow when using a meat tenderizer:
Make sure you've got very cold meat to work with, as this will make it easier to separate the fibers.
Whether you're working with a hammer style or paddle style meat tenderizer, use a straight downward motion and try not to wiggle the tool at all in the meat.
If you're using a bladed meat tenderizer, carefully pull out all the blades by the roots when your task is complete so they won't rust from being exposed to moisture in the air.
Most people assume that the most efficient way to tenderize a piece of meat is to pound it from all angles, but in reality…it's actually just beating it to the center.
So the most effective approach is to start with a series of rapid blows targeted directly at the center of your meat, and then move out in concentric circles, elongating each successive circle by about 25% so that you can cover all sides of the meat evenly. You may need to repeat this process up to 3 times for the most solid results.
Before You Buy: Considerations for Choosing A Meat Tenderizer
When we're making a recommendation for a meat tenderizer to friends, we take the following three things into consideration:
Make It Dishwasher Safe
There's no compromising on this one: Do not buy any meat tenderizer that's not dishwasher safe! Working with raw meat requires extra attention paid to sanitation, and even if you don't have a dishwasher you'll want to buy a meat tenderizer that's rated as dishwasher safe. This will ensure that it's designed to not have any potential crevices or ability to soak up bacteria-producing juices from your meat, and guarantees your safety after a proper wash.
Comfort Comes First
Of the three types of meat tenderizers listed above, each is going to be more appropriate to a certain type of person. If you have a larger frame and healthy wrists, a hammer style tenderizer will be great — but people with fragile wrists and elbows or smaller frames relative to the weight of the tool should go for a different style.
Don't Skimp On Price
Even at their most expensive, meat tenderizers will rarely cost more than $20 — but the difference between a $5 tenderizer and a $15 tenderizer in the same style is remarkable. Invest just a little bit more in your meat tenderizer, and you'll have a kitchen tool that will last for the rest of your lifetime.
Meat Tenderizer Alternatives
It's not just tenderizing meat that a meat tenderizer is good for — it's also great to use as a mallet when making chicken piccata or other recipes where you need the 'pounding' sensation without actually crushing your food.
So if you're looking for an alternative to a meat tenderizer, we'd recommend finding a solid rubber mallet that's dishwasher safe to use in its place. Make sure it has a handle, and you'll be good to go!
Where to Buy Meat Tenderizers
Now that you've got an idea of what type of meat tenderizer to look for, the question becomes where you can go online or in your local grocery store to purchase one.
Also explore our curated list of the best meat tenderizers here.
We recommend purchasing a meat tenderizer through the following channels:
Williams-Sonoma – Offers very high quality meat tenderizers, using imported German designs and materials.
Amazon – Great selection, great prices, plus some of the best consumer protection policies in any retail store.
Williams-Sonoma will likely be selling the most expensive types of meat tenderizers on this list — but they're also by far the highest quality. If you love cooking and want a meat tenderizer that you'll use for the rest of your life, it might be worth the investment.
Amazon is usually cheaper than Williams-Sonoma, but also comes with a few more caveats. Some people have noticed that Amazon's selection changes over time, so you may not be able to find what you want when you place your order. Similarly, Amazon isn't always great about handling returns and refunds, especially if the merchant doesn't have a good return policy themselves.
For most people, Amazon will be a great place to buy a meat tenderizer for their kitchen. There's no time limit on returns, and the prices are often significantly lower than other retailers. Just keep in mind that your experience may vary slightly from person to person, and that Amazon isn't always the cheapest option.
Here's a list of Amazon's current bestsellers.
Sale
Bestseller No. 1
Aliglow Meat Tenderizer Hammer Tool/Pounder For Tenderizing Steak Beef Poultry
New release-MULTIFUNCTIONAL DOUBLE SIDED MALLET style - Use the textured sides surface for optimum use on a variety of meats. Or Use the smooth flatten side for pounding and flattening For cutlets. Using this tool to create perfect, tender, juicy steaks that are easier to chew and digest.
PERFECT ERGONOMIC DESIGN TOOL - A balanced design that allows the mallet and gravity to do all the work in less time. Zinc-Alloy ,8.9 inch length,head diameter 2.0*1.6inch,Unit Weight 10 ounces
Recommend wash by hand. SOFT HANDLE helps to absorb pressure and is comfortable for both left and right handed users. The sleek, Original metal color,fully protects the metal making the Meat Tenderizer
MORE THAN A TENDERIZER: Crush ice for cocktails, loosening frozen vegetables, crack crab, and crush garlic, Great for baking: shell nuts, and crush hard candy like toffee or peppermint and even break up ice cubes for drinks and make bread crumbs
SATISFACTION & QUALITY :Comes with One-year-warranty,[Note: If the plastic piece fall off just snap it back on. If the item you received has following issue please contact us for refund or replacement: a. the sticker is damaged/opened... b. accessories missing ,...c. some scratches/surface come off or damaged..or any other issue]
Sale
Bestseller No. 2
KitchenAid Gourmet Meat Tenderizer, One Size, Black 1
TEXTURIZED SURFACE : One of the sides surface is textured for optimum use on a variety of meats
SMOOTH SIDE INCLUDED : The opposite side of the meat tenderizer is smooth for pounding and flattening For cutlets
ALUMUNUM CONSTRUCTION : Aluminum construction provides a lightweight, strong and durable tool for the kitchen
MULTIPLE STORAGE OPTIONS : There is a hole in the ergonomic handle that gives you the option for convenient hanging storage
Hand wash only
Bestseller No. 3
OXO Good Grips Meat Tenderizer
Textured side is optimized for tenderizing meat
Smooth surface is ideal for pounding meat
One-piece aluminum construction for durability and strength
Handle is non-slip, even when hands are wet
Bestseller No. 4
NEW OXO Good Grips Meat Tenderizer
Two-in-one tool for pounding and tenderizing poultry, pork and beef
Textured side has pyramid-shaped teeth ideal for tenderizing meat
Smooth side maximizes surface area to flatten meat quickly
Angle and weight of head are optimized for efficient flattening
Soft, non-slip grips for comfort and safety, even in wet hands
Bestseller No. 5
Vovoly Meat Tenderizer Tool, Stainless Steel 24 Sturdy & Sharp Needle, Easier-Use for Kitchen Cooking Tenderizing Steak Beef Poultry BBQ & Marinade than Meat Hammer Mallet Pounder Beater Flattener.
LIFETIME GUARANTEE – We're proud of this meat tenderizer tool, for its unique design and premium quality. Just click and add to cart now, you'll get 100% satisfaction. If the item you received has any issue, please contact us for refund or replacement.
EASY TO HOLD & USE - Ergonomic design with non-slip handling, it's very comfortable to hold and use. Unique Spring Action Mechanism makes Vovoly meat tenderizer easier to use than meat mallet, hammer, pounder, beater, flattener or tenderizer machine - When you press down, the stainless steel needle extends into the meat and automatically retract when you lift it.
STURDY AND DURABLE – Unique integrated injection molded handle & high-quality plastic material, make the meat tenderizer tool sturdier and more durable.
KITCHEN COOKING & CHEF ASSISTANT – 24 pin premium stainless steel needles on the meat tenderizer can cut through meat fibers & connective tissues, let marinade or seasoning powder be absorbed by steak, chicken, poultry, pork belly faster, creating tastier and juicier results. More efficient than 20 pins.
EASY TO CLEAN - Just soak meat tenderizer in dish detergent for a few minutes after use it, and then wash it with our professional brush. It can be safe washed in dishwasher, easily remove the greasy gravy.
FAQs about Meat Tenderizers
Here are some common questions about meat tenderizers.
What types of meat can you tenderize?
You can tenderize any type of meat with a meat tenderizer, although it might be easier to do beef, pork, or turkey.
Which meat parts need to be softened?
Any type of meat can be softned with a tenderizer, although it may be easier if you choose beef, pork or turkey. The only requirement is that the parts you want to soften should be about an inch thick. If sharper cuts are desired by your taste buds, they're going to have a tendency to need more tenderizing because they're not as moist when prepared.
What other methods are used to tenderize meat?
A few other methods include:
Completely freezing meat and then thawing it (throwing roasts in the deep freezer for a couple hours before you take them out), which will make it easier to cut, or
Using rubber bands or plastic wrap to hold two different pieces of meat together overnight, and cooking both sides. This won't soften the outside as much as trying to use a hammer style tenderizer, but is great for another purpose — helping foods maintain their shape.
How do you keep meat from getting tough?
Some people try to keep their meats from getting tough by cooking their meats longer. However, if you cook your meats too much, they could become dry and lose a lot of the flavor that originally made them delicious. Others simply use a meat tenderizer before they cook it — this can help to prevent the meat from drying out and will make your meats more tender.
Why is there a hole in my meat?
The hole in your meat could be because the meat was pushed too far together, which lead to this gap. However, it could also mean that you missed a spot when you were using a mallet to tenderize your meats.
Who said meat tenderizing should be so complicated?
Nobody said meat tenderizing should be so complicated!
The thing about the Internet is that *all* food knowledge is all in one place. It's just as easy to come across a professional chef's forum as it is a Facebook thread with a friend's Mom. Take what makes sense for your cooking and roll with it 🙂
What else can you use to make the steak even tenderer?
Steaks can be tenderized by pounding them with a mallet, or by alternately freezing and thawing the meat. When cooking all types of steaks, you should also let them rest before serving.