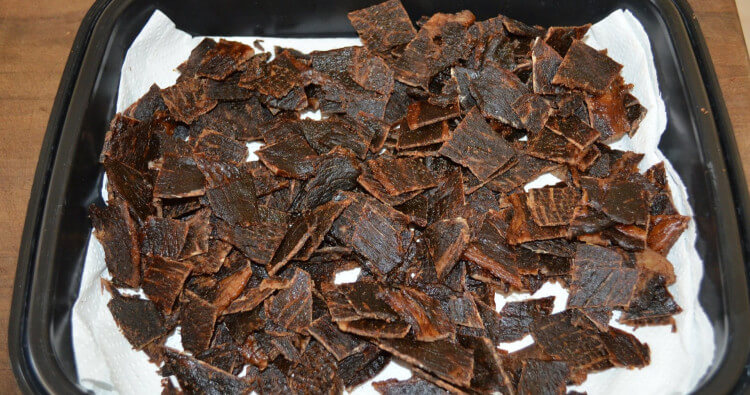 Jerky can be made from almost any meat. In addition to the always-popular beef jerky, you can make it from goat, elk, bison, and even ostrich, moose, or bear! But how can you now that you're picking the best cuts of meat for making jerky? We're here to lend a hand with this comprehensive guide to choosing cuts of meat for jerky, whether beef or a more exotic meat.
Though you're more likely to find it in a roadside convenience store today, jerky's origins are from a much more distant time and place. Invented by the Quechua people of Peru, whose word ch'arki gives us the modern "jerky", it was commonly made from alpaca or llama meat before being adopted in the United States.
In this guide, we'll be covering everything you need to know about choosing the best cuts of meat for making jerky, including considerations you should always take into account before buying your meat, as well as our top 7 favorite cuts for jerky, and a summary of where to go for your next jerky experiment.
Before You Buy: Considerations for Cuts of Meat for Making Jerky
To get a thorough understanding of the best cuts of meat for making jerky, it helps to understand a little bit more about the entire jerky-making process. Here's what we take into account before choosing a cut of meat for jerky:
What Type of Meat?
Your first decision will have the biggest effect on the outcome of your jerky making: Will you go for the classic beef, or choose a more exotic meat? Beef has the advantage of being readily available in any grocery, with plenty of options for grass-fed or organic beef that's better tasting, better for you, and better for the environment. On the other hand, uncommon meats can make for different and exciting flavor experiences, though they may be better sourced online.
What Type of Heat?
How will you be drying your jerky? Whereas a standard home oven will do a fine job of making beef jerky, more exotic cuts of meat benefit significantly from being dried in a grill. Cooking elk or bison, for example, over an open flame will balance their stronger flavors, making for a better finished product with less use of seasonings. In short, if you only have access to an oven or dehydrator, beef is a better choice for making jerky.
What Type of Seasonings?
Though not directly related to the cut of meat you'll choose for making jerky, the type of seasoning you choose can impact how well-preserved your final product is. Fat is the main culprit in spoilage of beef jerky, but it also gives a fuller and richer flavor. A compromise is to use larger portions of salt and spice, to prevent any bacterial growth that could make your jerky go bad.
Our 7 Favorite Cuts of Meat for Making Jerky
Since beef is everyone's favorite meat to use for jerky, we'll cover five beef cuts before introducing you to two other meats that make for excellent jerky.
1. Flank/Bavette Steak
We like flank steak so much that we wrote a whole article on Bavette steak detailing its characteristics and uses. It's at the top end of price ranges for jerky cuts, but the flavor you get from it can't be beat. You'll need to cut against the grain to get the best final texture for your jerky, and a little fat trimming goes a long way towards keeping your jerky safe to store indefinitely.
2. Bottom Round
Taken from the leg of a cow, the bottom round is our favorite of the three "round" cuts — though all of them are great for making jerky. It's remarkably affordable and exceptionally lean, making it the cut of choice for first-time jerky makers. Its texture falls right in the middle between chewy and tender, and it has a pronounced flavor that can stand up to significant amounts of seasoning. All in all, an excellent cut of meat for making jerky.
3. Eye of Round
Made from a single muscle found in the cow's leg, eye of round is the most tender of the rounds. It's not a great choice for beginners, since you'll have to do some processing and cut off the fat cap before slicing along the grain. A lack of interior fat makes it less flavorful than our previous two cuts, but much more likely to make a successful batch of jerky every time.
4. Top Round
The last of the rounds, top round falls right between eye of round and bottom round. It's quite tender, yet lean and flavorful, and does not require the trimming necessary for eye of round. It's the most expensive of the three round cuts, but not by much. The grain runs in different directions through the cut, so be prepared to do quite a bit of creative slicing to get it jerky ready.
5. Sirloin Tip
Also known as a tri-tip, the sirloin tip comes from the area where the bottom sirloin, round, and shank meet. It's the most expensive of the jerky-making meats featured here, but has a wonderful flavor and is easy to prepare. Choose this if you're looking for a cut of meat that will shine as jerky with almost no spices and seasonings.
6. Elk Steak
Any member of the deer family makes for excellent jerky, but elk meat is a particular favorite of ours. Elk USA has a huge variety of cuts available for this exotic meat, as well as pre-made elk jerky for anyone who wants to taste it without going to the work of smoking it themselves. Elk flank steaks work fantastically for making jerky, as do any of the elk rounds.
7. Bison Steak
Also known as buffalo, bison meat is remarkably similar to beef, but with a stronger and more pronounced flavor across all of its cuts. Go for flank steak or round cuts, just as with beef, and you'll be in great shape. Once again Elk USA comes in as our favorite distributor for bison meat; check out their stock of bison cuts here.
Next Steps
And with that, you're fully prepared to choose the best cut of meat for making jerky! Whether from beef or a more exotic animal, always go for whatever cut is the leanest, most flavorful, and most economical. And if you're having trouble making a jerky that you love on your own, consider signing up for a jerky subscription box to get ideas for flavorings and processing methods.