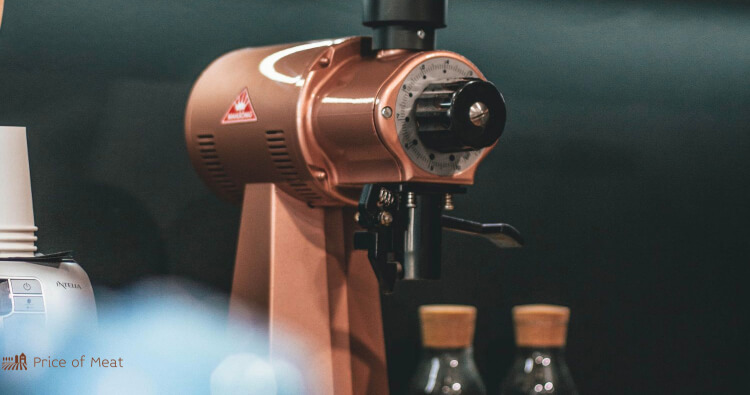 If you've been salivating over the possibilities of fresh bison burgers, elk sausage, or perfectly processed bavette steak, an electric meat grinder should be on your to-buy list. For anyone intending to get serious about only consuming the highest-quality, ethically sourced meats, an electric meat grinder will open up a world of culinary possibilities.
In this guide, we'll be introducing you to everything you need to know before purchasing an electric meat grinder. Follow along as we explain the fine details of the two major types of electric meat grinders, as well as what considerations you should take into account before purchasing one for your home kitchen. To round things out, we'll include our top recommendations for the best electric meat grinder in each category.
What Is An Electric Meat Grinder?
At its most basic, an electric meat grinder includes a top-loading chute that safely carries meat into an electrically-powered rotating drum. Inside that drum, a variety of attachment sizes and shapes can process the meat into everything from a fine paste to a lightly tenderized strip.
A vast improvement over the hand-cranked models of old, electric meat grinders can make quick work of grinding meat for burgers and sausages. Choose the right type of electric meat grinder, and you'll even have settings dedicated to tenderizing tougher cuts of meat while maintaining their structural integrity.
Types of Electric Meat Grinders
Essentially, there are two types of electric meat grinders that are suitable for home use:
First, there are attachments for electric mixers, or stand-alone grinders. Depending on what equipment you already have in your kitchen, as well as what type of recipes you want to be able to make, one or the other will be a better choice for you.
Second, there are electric meat grinders that come as attachments for a KitchenAid mixer are an inexpensive, convenient, durable, and versatile solution — if you already own one of KitchenAid's famous stand mixers, that is. If you don't, a new KitchenAid mixer will set you back around $500. It's a worthwhile investment if you plan on doing any baking or preparing your own meat and sausage mixes, but not the most economical way to dip your toes in the water for ground meat or sausages.
Stand-alone electric meat grinders, however, are an all-in-one solution for grinding meats and making sausages. They're exceptionally affordable, with decent quality grinders starting at around $80, and a high quality model retailing for about $150. If you don't have a KitchenAid mixer already, or don't need the added functionality of one, then a stand-alone model is the way to go.
Considerations for Buying An Electric Meat Grinder
To help you decide on the right meat grinder for your kitchen, we recommend weighing the following considerations against your budget:
Type of Grinder
As discussed in the previous section, a KitchenAid mixer with grinder attachment is the most versatile and durable option — but also the most expensive. If you don't have a KitchenAid mixer, and don't need the added utility of owning one, then a stand-alone electric meat grinder is a better choice.
Ease of Use
If you do choose to go with a stand-alone grinder, picking one that is simple and intuitive is better than going for one with a lot of moving parts. The more individual parts the machine has, the higher the chance of it malfunctioning while you're grinding.
Ease of Cleaning
Going along with ease of use, the number of separate parts in an electric meat grinder will also make it much easier or much harder to clean. The fewer parts the machine has, and the tighter its connections, the easier the grinder will be to clean.
Attachments and Feed Capacity
The final extruder of an electric meat grinder can be fitted with a variety of grind types, from pastes that are better for sausage to large grinds that make for great burgers. Once again, go for the grinder with the simplest and most elegant construction, and you'll prevent cleanup and maintenance hassles in the future.
Where to Buy An Electric Meat Grinder & Best Options
There are plenty of options available for electric meat grinders online, but they're definitely not all of the same quality and durability. We've compared and reviewed dozens of meat grinders, and are confident in our recommendations of the two found below: One stand-alone, and one KitchenAid attachment.
First, in the stand-alone category, is Cuisinart's upright electric meat grinder. It's made of solid stainless steel, with a minimum of moving parts that makes it durable, easy to use, and easy to clean. Powered by a top-of-the-line 300 Watt motor, it's capable of grinding up to 3 pounds of meat per minute. Included with the grinder are both coarse and medium grinding plates, as well as two sausage attachments for breakfast sausages and standard links. Coming in at just under $100, it's a fantastic choice for a stand-alone electric meat grinder.
For those fortunate enough to have a KitchenAid mixer in their kitchen, the KSMMGA Metal Food Grinder Attachment is a heavy duty addition that will make quick work of sausages and burger grind. The attachment keeps the meat completely separate from the gears of your mixer, making it the easiest to clean of any meat grinder that we've seen. Fine, medium, and coarse grinded plates are included for a wider range of recipes, as well as two sausage extruders and specialized cleaning tools. If you're invested in making the widest range of ground meat recipes possible, the KitchenAid mixer attachment is the way to go.