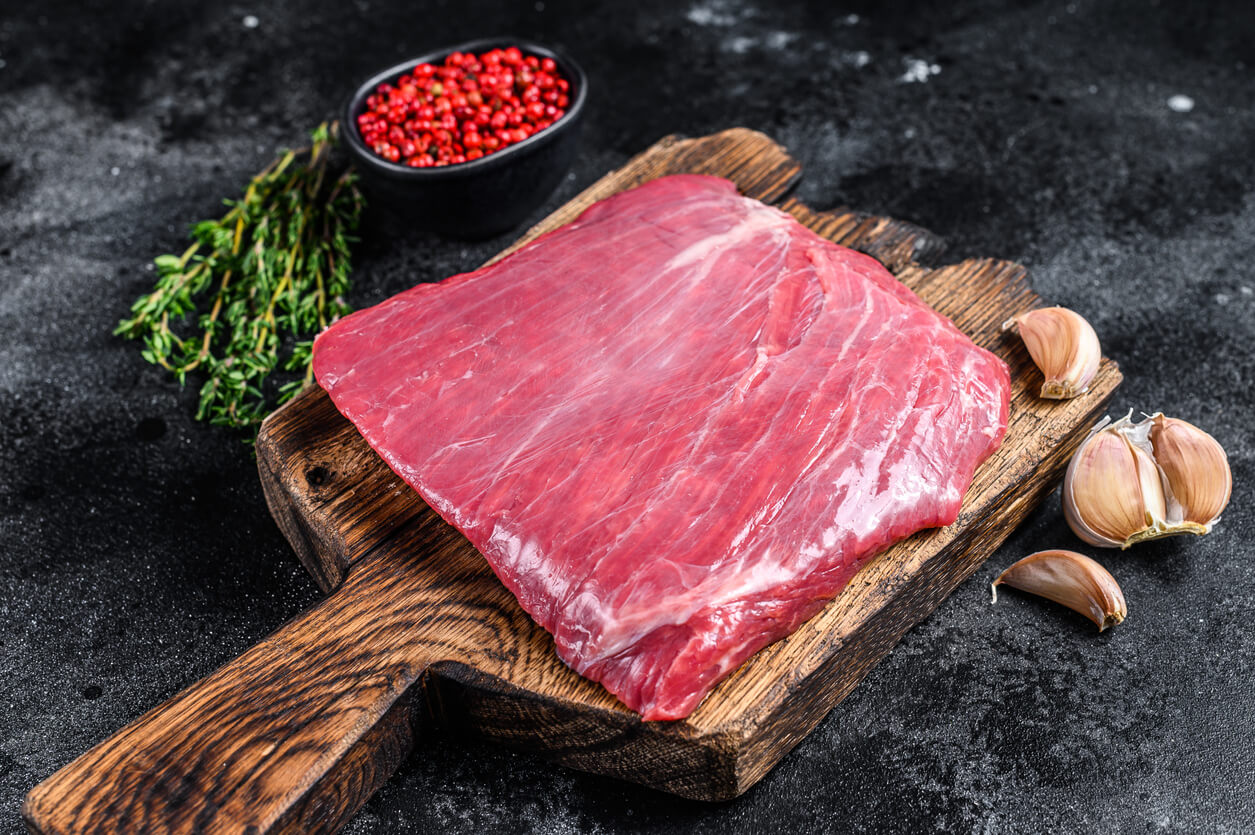 What's in a name? In the case of Bavette steak, quite a bit. French butchers will refer to flank steak as "bavette" steak because of its literal translation: Bib, the part of the cow that bavette steak is cut from. But that's far from being the whole picture of bavette steak.
Bavette steak is a cut of beef from the flank region of the cow, which also includes skirt steak and hanger steak (both are great alternative cuts). This area of the cow's anatomy can be quite tough and chewy, but bavette steaks are characterized by their pronounced grain and relatively tough texture: For this reason, they're not as popular as cuts with a finer grain. Bavette steak is an excellent choice for pho, though!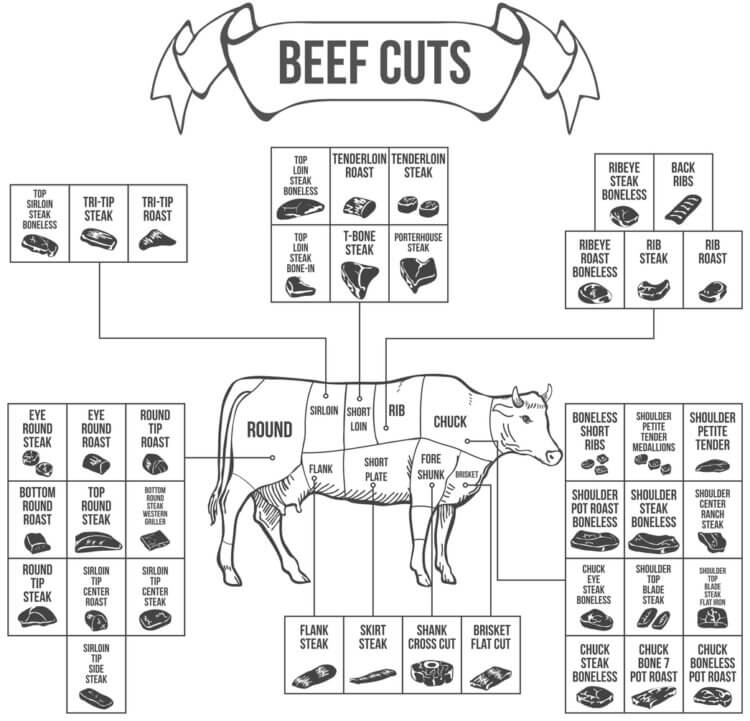 Also known as London broil or flank steak, Bavette steaks have a reputation for being affordable but somewhat difficult to cook compared to all other cuts of steak. In this guide, we'll be giving you the full picture of this oft-misunderstood cut of meat, with notes and recipes for how bavette steak tastes, the best ways to cook bavette steak, and where to buy the best quality bavette steak around.
What Does Bavette Steak Taste Like?
Similar to skirt steak, bavette steak has a rich and beefy flavor that is high in minerals and savory proteins. It's one of the most fiber-dense of all beef cuts, as it comes from one of the most well-exercised parts of the cow. This makes it a favorite in Asian and South American cuisines, where a liberal use of marinades and tenderizers reduces the chewiness and emphasizes the powerful umami flavor.
There are three dishes that almost entirely rely on the taste of bavette steak to provide their signature flavor: London Broil, fajitas, and broccoli beef stir fry. Grilling, pan-frying, broiling, and braising are commonly implemented as cooking methods to achieve maximum tenderness and flavor from this tricky cut of meat.
How to Cook Bavette Steak
Getting the best flavor and texture out of bavette steak requires some additional effort in preparation and execution of recipes. It's not the best sort of meat to grill as a main steak dish, and is better featured as one part of a balanced recipe.
Let's take a look at three different ways to prepare bavette steak, with each providing a different method of tenderizing its tough muscle fibers:
London Broil
Despite its name, the London Broil is an American steak recipe through and through. It makes use of a strong marinade to coax the best flavor and texture out of bavette steak, and is often served with potatoes and carrots.
Ingredients
2 pound bavette steak
1 cup beef broth
2 tablespoons olive oil
2 tablespoons white vinegar
2 tablespoons Worcestershire sauce
1 teaspoon salt
1/2 teaspoon black pepper
Preparation
Combine beef broth, olive oil, vinegar, worcestershire sauce, salt, and pepper in a resealable plastic bag; add bavette steak and seal.
Refrigerate overnight, or at least 12 hours, before draining marinade and removing steak from bag.
Preheat broiler and place steak on a rack in a broiler pan.
Broil for 25 to 30 minutes, turning steak once at halfway point.
Remove and let rest for 10 minutes, then carve into thin slices.
Garnish with butter and herbs before serving
Fajitas
Though most commonly made with skirt steak, bavette steak makes for an excellent fajita. They're a south of the border specialty that can be served with any Mexican accoutrements you desire, such as guacamole, salsa, and pico de gallo.
Ingredients
1 pound bavette steak
2 tablespoons lime juice
2 tablespoons olive oil
1 jalapeno pepper, seeded and diced
2 cloves garlic, minced
1/2 teaspoon ground cumin
1 large yellow onion, sliced lengthwise
1 red bell pepper, seeded and sliced
1 green bell pepper, seeded and sliced
Preparation
Prepare the marinade by mixing all ingredients except steak, peppers, and onions in a resealable plastic bag.
Add the steak and refrigerate for up to 24 hours to marinate, then drain and remove steak.
Heat a cast iron skillet or heavy-bottomed pan over high heat, add 1 tablespoon olive oil, and sear steak on high for 3 minutes on each side. Set meat aside to rest.
While the meat is resting, add more oil to the pan and sear the onion and both colors of bell peppers, then remove from heat.
Slice the meat into thin slices, being sure to cut across the grain.
Serve with tortillas and any side dishes you enjoy.
For extra acidity, squirt lemon juice.
Broccoli Beef Stir Fry
A staple dish at Chinese-American restaurants, Broccoli Beef Stir Fry is best when prepared in a seasoned wok — but any heavy-bottomed pan will work for this recipe. Start your rice cooker before heating the pan, and everything in this meal will be finished at the same time.
Ingredients
1 pound bavette steak, thinly sliced
4 cups broccoli florets
1 small yellow onion, sliced
2 tablespoons corn starch
1/4 cup soy sauce
1 tablespoon brown sugar
1 teaspoon ginger powder
1/2 teaspoon garlic powder
1/2 cup water
Sesame oil, for frying
Preparation
Add enough sesame oil to barely cover the bottom of your pan, then heat over medium-high heat. Add bavette steak and fry, stirring continuously for 3 to 5 minutes, then set aside.
Add more sesame oil to the pan, then add onions and fry, stirring continuously for 5 to 7 minutes.
While the onions are cooking, combine soy sauce, brown sugar, corn starch, ginger powder, garlic powder, and water. Mix until smooth.
Add broccoli to pan and stir while heating, 3 to 5 minutes. Return beef to pan.
Add soy sauce mixture or your favorite stir fry sauce and stir while cooking, until sauce reduces.
Remove from heat and serve over freshly steamed rice.
Where to Buy Bavette Steak
Bavette steak is a fairly easy cut of meat to source locally, with butchers at major grocers always having access to it. But if you're looking for the highest-quality grass fed beef, we have a few suggestions for where to buy online:
Martson Farms is an organic and grass fed beef producer located outside of Portland, Oregon. Their bavette steak has a fantastically beefy flavor and refined texture, and would be perfect for any of the recipes featured above.
For a truly unique take on bavette steak, though, we'd have to go with Porter & York's aged bavette. They mature the cut for 28 days, concentrating the beefy flavor while altering the texture to a more buttery finish.
Bestseller No. 1
Bestseller No. 2
Signature Seasoning, 5oz by Nebraska Star Beef - Steak and Meat Seasoning, Rub, Summer Grilling
Signature Seasoning; Developed in house as the ultimate steak and meat seasoning
All Purpose Grilling Season Perfection; Specialty blend of spices designed to unlock the natural flavor of beef not cover it up, great on pork chicken wild game and eggs
Gifts for Men Women the Cook in Your Life; Add NSB Seasonings to gift baskets or any celebration, great for birthdays, summer grilling, holiday cooking, all occasion
Bestseller No. 3
Aged Premium Angus Ribeye and NY Strip and Filet Mignon by Nebraska Star Beef - All Natural Hand Cut and Trimmed Steaks Gift Packages - Gourmet Steak Delivered to Your Home
Grilling Gift Basket Package; Treat your special somebody to the best meats including a choice of Ribeyes and New York Strips as well as Petite Cut Filet Mignon and our Signature Seasoning
Grilled celebration; Perfect for the griller in your family these selections can also be done justice cooked in the oven as well and either way don't forget the sides such as potatoes and stuffed jalapeno poppers
Your Corner Store Butcher; Think of our family as your personal connection to premium meat that is packaged up and set for delivery directly to your doorstep so you can spend more time with your loved ones and less time in line
Birthday Gifts Done Right; Forget the tie and go big this year with a pack of thick and delicious steaks that your entire bday list can enjoy especially with a combo of apple pies and chocolate cake for dessert afterwards
Holiday Celebrations; From Thanksgiving to Christmas to Father's Day this Petite Excellence box will bring a smile to everyone especially dad
Bestseller No. 4
Bestseller No. 5
Aged Angus New York Strip by Nebraska Star Beef - All Natural Hand Cut and Trimmed and Includes Seasoning - Gourmet Grilling Bundle-10 Pack Steak Bundle
The NY Strip aka KC Strip; A legendary steak with a hard to match the combination of texture, tenderness and flavor this cut delivers every time it hits a plate
All American Gift Baskets for the Grilling Season; Whether it's finding the perfect Birthday or Father's Day gift or just to say thank you our steak gift packages are the perfect way to show your appreciation
Steakhouse Dinners; Treat yourself to all the tenderness taste and flavor of a quality cooked meal from your local restaurant in the convenience of your own home and don't forget the sides like fries and casserole or toppings like bacon and cheese
Steak Seasoning; The seasoning that started it all for NSB. This is a classic steak house flavor that is bright and vibrant. It adds a new dimension to all meats but it particularly good on steak
Delivered to Your Doorstep; Skip the restaurant and grocery line and get this steak pack sent directly to your house so you can spend more time with family and less time shopping for groceries
FAQs about Bavette Steak
Here are some common questions about bavette steak.
What is bavette steak used for?
Bavette steak is a cut of beef from the flank region of the animal. Bavette steaks are characterized by their pronounced grain and relatively tough texture. If you want to whip up a traditional dish, try making a bavette steak with some guacamole.
What is wagyu bavette steak?
Wagyu is a type of beef that was originally imported from Japan. Waguyu cattle are considered to be the tastiest and most tender beef available, and their meat is sought after for its rich flavor and highly satisfying texture. Most cows in the United States consume corn grain-based feed, but wagyu cows eat a special diet of cereal grains such as rice or barley, so it can achieve higher levels of omega-3s than other cuts because these fats are formed in the animal's fat cells while they're alive.
How do you tenderize a bavette steak?
The best way to tenderize a bavette steak is by cutting it into smaller pieces and boiling, poaching or braising them. Though this technique might not be the fastest option (especially compared to using a meat tenderizer – find a really good one), it will create the most tender texture among all three methods listed above. Cooking in liquid will denature some of the tough connective tissue in bavette steak. In order to cut your meat as small as possible, try using a knife or meat cleaver instead of scissors to do so. With the exception of stir-frying over high heat, braising at low temperature with liquids is usually preferable for tougher meats since they require more time and gentler cooking methods for breaking down the connective tissue.
What cut is a bavette steak from?
A bavette steak is a cut of beef from the flank region of the animal. Bavette steaks are characterized by their pronounced grain and relatively tough texture. If you want to whip up a traditional dish, try making a bavette steak with some guacamole.