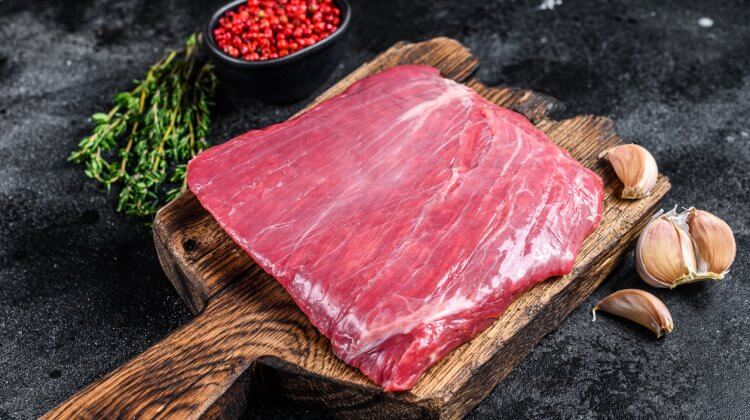 What's in a name? In the case of Bavette steak, quite a bit. French butchers will refer to flank steak as "bavette" steak because of its literal translation: Bib, the part of the cow that bavette steak is cut from. But that's far from being the whole picture of bavette steak.
Also known as London broil or flank steak, Bavette steaks have a reputation for being affordable but somewhat difficult to cook. In this guide, we'll be giving you the full picture of this oft-misunderstood cut of meat, with notes and recipes for how bavette steak tastes, the best ways to cook bavette steak, and where to buy the best quality bavette steak around.
What Does Bavette Steak Taste Like?
Similar to skirt steak, bavette steak has a rich and beefy flavor that is high in minerals and savory proteins. It's one of the most fiber-dense of all beef cuts, as it comes from one of the most well-exercised parts of the cow. This makes it a favorite in Asian and South American cuisines, where a liberal use of marinades and tenderizers reduces the chewiness and emphasizes the powerful umami flavor.
There are three dishes that almost entirely rely on the taste of bavette steak to provide their signature flavor: London Broil, fajitas, and broccoli beef stir fry. Grilling, pan-frying, broiling, and braising are commonly implemented as cooking methods to achieve maximum tenderness and flavor from this tricky cut of meat.
How to Cook Bavette Steak
Getting the best flavor and texture out of bavette steak requires some additional effort in preparation and execution of recipes. It's not the best sort of meat to grill as a main steak dish, and is better featured as one part of a balanced recipe.
Let's take a look at three different ways to prepare bavette steak, with each providing a different method of tenderizing its tough muscle fibers:
London Broil
Despite its name, the London Broil is an American dish through and through. It makes use of a strong marinade to coax the best flavor and texture out of bavette steak, and is often served with potatoes and carrots.
Ingredients
2 pound bavette steak
1 cup beef broth
2 tablespoons olive oil
2 tablespoons white vinegar
2 tablespoons Worcestershire sauce
1 teaspoon salt
1/2 teaspoon black pepper
Preparation
Combine beef broth, olive oil, vinegar, worcestershire sauce, salt, and pepper in a resealable plastic bag; add bavette steak and seal.
Refrigerate overnight, or at least 12 hours, before draining marinade and removing steak from bag.
Preheat broiler and place steak on a rack in a broiler pan.
Broil for 25 to 30 minutes, turning steak once at halfway point.
Remove and let rest for 10 minutes, then carve into thin slices.
Garnish with butter and herbs before serving
Fajitas
Though most commonly made with skirt steak, bavette steak makes for excellent fajitas. They're a south of the border specialty that can be served with any Mexican accoutrements you desire, such as guacamole, salsa, and pico de gallo.
Ingredients
1 pound bavette steak
2 tablespoons lime juice
2 tablespoons olive oil
1 jalapeno pepper, seeded and diced
2 cloves garlic, minced
1/2 teaspoon ground cumin
1 large yellow onion, sliced lengthwise
1 red bell pepper, seeded and sliced
1 green bell pepper, seeded and sliced
Preparation
Prepare the marinade by mixing all ingredients except steak, peppers, and onions in a resealable plastic bag.
Add the steak and refrigerate for up to 24 hours to marinate, then drain and remove steak.
Heat a cast iron skillet or heavy-bottomed pan over high heat, add 1 tablespoon olive oil, and sear steak on high for 3 minutes on each side. Set meat aside to rest.
While the meat is resting, add more oil to the pan and sear the onion and both colors of bell peppers, then remove from heat.
Slice the meat into thin slices, being sure to cut across the grain.
Serve with tortillas and any side dishes you enjoy.
Broccoli Beef Stir Fry
A staple dish at Chinese-American restaurants, Broccoli Beef Stir Fry is best when prepared in a seasoned wok — but any heavy-bottomed pan will work for this recipe. Start your rice cooker before heating the pan, and everything in this meal will be finished at the same time.
Ingredients
1 pound bavette steak, thinly sliced
4 cups broccoli florets
1 small yellow onion, sliced
2 tablespoons corn starch
1/4 cup soy sauce
1 tablespoon brown sugar
1 teaspoon ginger powder
1/2 teaspoon garlic powder
1/2 cup water
Sesame oil, for frying
Preparation
Add enough sesame oil to barely cover the bottom of your pan, then heat over medium-high heat. Add bavette steak and fry, stirring continuously for 3 to 5 minutes, then set aside.
Add more sesame oil to the pan, then add onions and fry, stirring continuously for 5 to 7 minutes.
While the onions are cooking, combine soy sauce, brown sugar, corn starch, ginger powder, garlic powder, and water. Mix until smooth.
Add broccoli to pan and stir while heating, 3 to 5 minutes. Return beef to pan.
Add soy sauce mixture and stir while cooking, until sauce reduces.
Remove from heat and serve over freshly steamed rice.
Where to Buy Bavette Steak
Bavette steak is a fairly easy cut of meat to source locally, with butchers at major grocers always having access to it. But if you're looking for the highest-quality grass fed beef, we have a few suggestions for where to buy online:
Martson Farms is an organic and grass fed beef producer located outside of Portland, Oregon. Their bavette steak has a fantastically beefy flavor and refined texture, and would be perfect for any of the recipes featured above.
For a truly unique take on bavette steak, though, we'd have to go with Porter & York's aged bavette. They mature the cut for 28 days, concentrating the beefy flavor while altering the texture to a more buttery finish.