How To Get Melted Plastic Off Metal Grill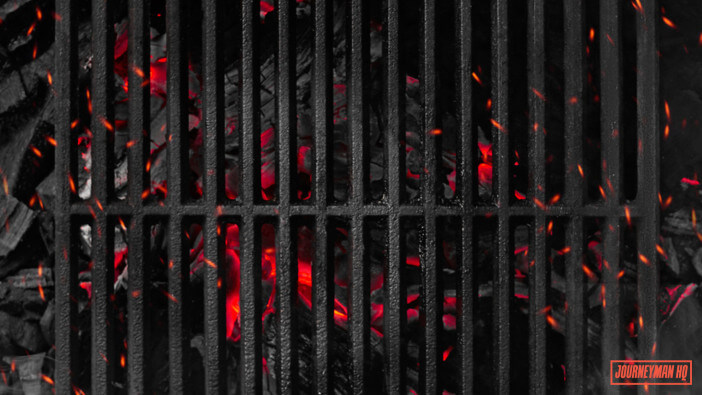 Warmer weather is quickly approaching, and many people will be firing up their grills for the first time this season to cook up some burgers or steaks what happens when there's melted plastic stuck to your grill from last season, or it happens this year?
Whether you have left your plastic spatula on or near your grill and it melted onto the metal rungs of your grill or plastic wrap somehow melted on your grill, it can be very annoying and tedious to remove the plastic from the metal.
Read on for tips on how to clean melted plastic off your grill.
Disclosure: As an Amazon Associate, this site earns from qualifying purchases. Thank you!
Quick Sidenote – check out our shop for a curated selection of the best meats, cuts, sausages, and more. Open our shop in a new tab and explore!
How To Get Melted Plastic Wrap Off Metal Grill
Plastic wrap residue is one of the most difficult substances to remove from a metal grill grate because the metal is porous.
There are, however, many ways to remove even the most stubborn plastic wrap residue from any type of metal, including a grill.
You may have to try a few different processes before finding the one that works, but it is possible to remove the plastic wrap from your grill.
First of all, put a damp rag around the blade part of some type of knife, preferably a putty knife, and scrape as much of the plastic wrap residue from the grill as you possibly can.
You can even soak the corner of the cloth you are using in some nail polish remover, then rub that all over the plastic wrap to loosen it from the metal grill. This may take several minutes if the plastic wrap is very well stuck on the grill or there is a lot of it on the grill to remove.
You can also try using a spray lubricant that is normally used for vehicles all over the plastic on the metal, then allow it to sit on it for about 10 minutes.
You can then wipe away the lubricant from the metal to remove every single piece of the plastic wrap, but you may have to apply some pressure to peel away all of the plastic.
You can also dip the corner of a rag into some rubbing alcohol and rub that over the surface of the metal to help remove the stuck plastic. Simply use a very firm rubbing-type motion to remove the plastic residue from your grill.
Another option is to heat the metal. Simply fire the grill up which will help soften the plastic and make it a little easier to get it off.
Just fire up your grill and lay the grilling area on top of the heat for as long as it takes to loosen the plastic.
If you have a charcoal grill (or disposable grill), it's even better because the flames will shoot up through the slats and help burn off some of the plastic.
You can then try taking some petroleum jelly and spreading it on the plastic wrap, then leave it to sit for about five minutes. Most of the plastic wrap should wipe away with the petroleum jelly.
You should use a scrub pad or steel wool to try rubbing the rest of the plastic off of the metal then wash the metal with dish soap to ensure that all the residue is removed.
It's important to then heat your grill back up and close the lid so it can burn off any leftover residue that you missed or in the cleaners and other products that you used to remove the plastic wrap.
After you clean your grill again, you should be able to start cooking your delicious food and have a wonderful cookout.
Melted Plastic Spatula Clean-Up
If you have accidentally left a metal spatula or some other utensil on or near the grill and the plastic melted onto your grill top, you will want to remove it before you can cook any food on your grill
You should first try heating the grill up with the lid shut, then wait for a bit for the plastic to soften, then a tip to remove it with a wooden spatula
You can move any leftover residue with a powdered cleaner such as Bon Ami, Comet, Ajax, or Bar Keepers.
BON AMI Powder Cleanser for Kitchens & Bathrooms - All Types of Surfaces, Cleans Grime & Dirt, Polishes Surfaces, Absorbs Odors (Single 1 Pack)
Hypoallergenic, No Chlorine, No Perfume, No Die
Cleans without scratching
Easily cleans Kitchens, Baths, and other surfaces
Bon Ami was born taking that waste product feldspar and mixing it with soap to make a cleanser that polished away dirt and stains without scratching
The ingredients are simple, effective, and proudly listed right on the package
Bar Keepers Friend Powder Cleanser (12 oz) - Multipurpose Cleaner & Stain Remover - Bathroom, Kitchen & Outdoor Use - For Stainless Steel, Aluminum, Brass, Ceramic, Porcelain, Bronze and More (2)
All Purpose Cleaner: Bar Keepers Friend Powder Cleanser is a grease and rust stain remover that powers through bathroom and sink stains, hard water stains, tarnish & grime. Perfect for use on cookware, kitchen surfaces and as a tile cleaner
Heavy Duty Degreaser: The powerful degreaser agents in this multipurpose cleaner remove grease from oven doors, stove tops and oven racks. Use as a stainless steel cleaner, corian countertop cleaner, bathroom cleaner, grill degreaser or drip pan cleaner
Safe On Surfaces: This multi purpose cleaner is a gentle and effective rust buster, soap scum and tarnish remover that deep cleans without damage to surfaces. Safe for stainless steel sinks and cookware, on porcelain tile and more
Once Tried, Always Used: Bar Keepers Friend deep cleaning powder is effective as a kitchen cleaner and a bathroom cleaner. Try it on cookware, shower glass, doors, grills and porcelain - you'll never look back
America's Trusted Cleaning Products Since 1882: Trusted by homeowners and professionals for over 100 years, we are proud to offer a wide range of home cleaning supplies that are tough on stains and gentle on surfaces to help keep your home looking pristine
If it worked to remove the melted plastic, you are ready to cook those delicious steaks for your guests at your next cookout.
If you waited a while into the spring and summer grilling season, you may have some sun-baked plastic stuck on the grill area.
To remove this type of stuck-on plastic, you can actually put your grill back in the sunshine then spray it with WD-40 and let it sit there for an hour or so. Simply use some type of non-scratch scraper and remove the plastic and it should peel right off.
Final Clean-Up
After you have tried these steps and finally gotten the plastic removed from your grill, you can create a paste made of lemon juice and baking soda, then spread it onto the grill and allow it to sit for about an hour.
You can also use a similar method by sprinkling baking soda onto some fresh, halved lemons then rubbing the grill after it is warmed up but not hot yet with the paste or the baking soda and lemon halves, then spray off with your garden hose.
This will make your grill look like it is brand spanking new and you will be ready to have some great food that you are now able to grill for your family and friends.
Remember that melted plastic is not good for you or your family and friends to consume since it can contain harmful chemicals that can leach into your food so removing all plastic that has melted onto your grill before using it to cook food is extremely important, not only for the overall taste of your food that you grill but for your safety and the safety of others as well.
Now you can simply enjoy the summer and grilling out with your neighbors without having to worry about melted plastic being part of your meal. Happy Grilling!