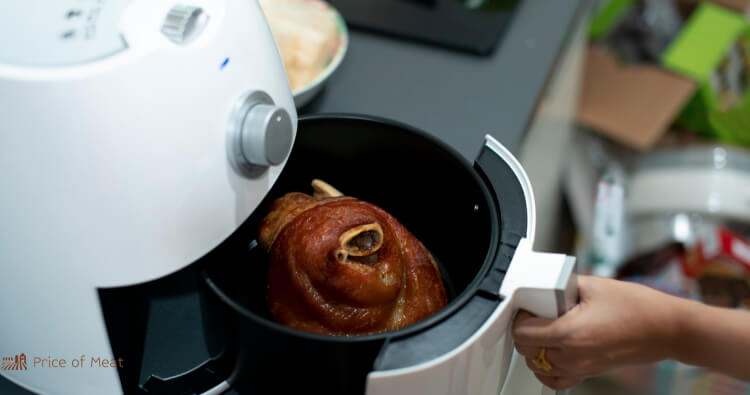 An adaptation of a commercial kitchen appliance, air fryers are the hottest new item for home cooks. And with good reason: They're an exceptionally versatile tool that can give a crisp almost as good as deep frying, but without the added calories and waste of frying in oil.
Are you considering adding an air fryer for meat to your collection of kitchen appliances? If so, you've come to the right place — because we've collected the opinions of expert reviewers and professional chefs to help point you towards the perfect air fryer for meat for your home.
Where to Buy An Air Fryer for Meat: Our Top 3 Recommendations
With all of those considerations in mind, let's take a look at the three air fryers for meat that we think represent the best product in each category:
Featuring a generous basket capacity paired with some of the easiest controls to use of any air fryer we've seen, GoWise USA's air fryer seems ideally suited for meats. Its vertically-oriented design saves space on countertops, and its fan is one of the quietest of any air fryer on the market today.
Perhaps the only downside of the GoWise is that its basket is just slightly more difficult to clean than we'd like. But considering the price and one-year warranty, we're confident that this is still the best air fryer for meat.
Small, simple, and affordable, Farberware's air fryer is a tiny powerhouse of an appliance that is ideally suited for small kitchens. Its 3.2-quart capacity is nothing to marvel at, but the foolproof controls and ultra-quiet fan make it our choice for the best value air fryer for meat.
As with our top pick, Farberware's air fryer basket is more difficult to clean than we'd like. If you're looking to try out an air fryer for the first time, though, it's an excellent choice — and the two-year warranty certainly doesn't hurt anything, either.
For the dedicated air fryer enthusiast, upgrading to NuWave's BRIO is an excellent investment. It has a best-in-class 6-quart fryer basket that is the easiest to clean of any air fryer we've seen, as well as a quiet fan that won't disturb anyone. If you have the space and budget for this model, it can easily make enough food for entire dinners.
The only downside, of course, is the NuWave's higher price tag. Thankfully, it comes with a one-year warranty to protect your investment — making it our choice as the best upgrade for an air fryer for meat.
In this guide, we'll explain the ins and outs of air fryers before going into detail on which air fryers are best for meat. After taking into account a few important considerations to make before buying one, we'll give you our choices for the three best air fryers for meat that you can add to your kitchen.
What Is An Air Fryer, After All?
For the kitchen savvy, the term "air fryer" might sound like a bit of an oxymoron. As a cooking method, frying tries to avoid introducing air and water, preferring the higher temperatures possible in oils and fats. So what is an air fryer, exactly?
In fact, air fryers are tiny at-home versions of an appliance found in nearly every commercial kitchen: The convection oven.
Convection ovens (and therefore air fryers) differ from your home oven in one important way: They include a small fan for circulating hot air inside of the oven. By constantly keeping the air moving, air fryers will cook food from the outside in — giving it a wonderfully crisp outside and fluffy inside that mimics the texture of deep fried foods.
Additionally, air fryers are equipped with a wire basket that makes it even easier to achieve evenly-crisped foods. Overall, they're a wildly popular tool thanks to their ease of use, consistent results, and small space requirements in comparison to other ovens.
The Best Types of Air Fryers for Meat
Most air fryers are built to produce excellent results for America's favorite fried food: French fries. But if you're more inclined towards cooking wings, chicken nuggets, corn dogs, or stuffed pastries, you'll want to choose air fryers that are better suited for larger and thicker foods.
Because of this, the best types of air fryers for meat are often those with the largest capacity basket. Within reasonable bounds, our favorite air fryers for meat are those that offer the most cooking space possible, so you can spread your meats out evenly and ensure that they are cooked fully and evenly.
Additionally, you'll want to keep in mind that air frying meats can make for tougher cleanup than just cooking French fries. For this reason, we recommend looking for air fryers whose interiors are spacious and well-designed enough to make for easier cleanup; otherwise, you may notice off smells developing after a few weeks of frying meats.
Considerations When Buying An Air Fryer for Meat
With those types of air fryers in mind, let's discuss the specifics of the qualities you should look for in an air fryer for meat:
Overall Size
If you're lucky enough to have ample space on your kitchen countertops, then the overall size of an air fryer may not be your first concern. For most kitchens, however, it's particularly helpful to imagine exactly where your air fryer is going to live — and measuring the dimensions of the space to compare to the dimensions of air fryers you might want to buy.
When you're choosing a space for your air fryer in your kitchen, take into account that the space immediately around an air fryer can get very hot. Their fans do an excellent job of circulating hot air, and this means that they tend to vent a lot of heat; don't plan to put your new appliance next to your Tupperware collection, or in the vicinity of fresh fruits and vegetables.
Basket Capacity
After the overall size, an air fryer's basket capacity is easily its most important quality. This is especially true in air fryers for meat, where you'll want to have as much space as possible to get the best, crispiest results.
The smallest basket capacity that we've seen for an air fryer was a meager 2 quarts; this may be suitable for making a single serving of an appetizer, but leaves a lot to be desired when preparing meats. In contrast, the largest basket capacity is nearly triple this size at a whopping 5.8 quarts — easily enough to air fry a dinner for two.
We recommend not choosing an air fryer with a basket capacity under 3 quarts, with 4 quarts and above being excellent for frying meat.
Ease of Use
Because air fryers are a relatively recent invention, there is no standardized model for the layout of their controls. Every manufacturer seems to have a slightly different take on their setup, with the result that some air fryers can be much easier (or more difficult) to operate than others.
We judge an air fryer's ease of use based on the clarity of the labeling on its controls, as well as whether they include preprogrammed settings for one-touch frying. Try to avoid any air fryer that seems overly complicated to use, as this will diminish your enthusiasm for the cooking process and lead you to use the appliance less.
Ease of Cleaning
Perhaps the surest way to spoil a wonderful dinner is to find that you have hours of cleanup to deal with afterwards. To avoid this fate, we recommend seeking out only those air fryers that are designed to be easy to clean.
Look for fryer baskets that have sufficiently large holes that they can easily release food particles when scrubbed, as well as fryer basket areas that aren't filled with small nooks and crannies for crumbs to get caught in.
Noise
The fans used in air fryers differ greatly in quality and construction, with high-end models running quietly and cheaper products tending to produce a lot of noise. Since you can't examine this for yourself while shopping online, we've included information on noise ratings for each air fryer covered in the next section.
Wrap Up
Air Fryers are one of the most interesting kitchen technologies to come along in a while. They require a bit of learning curve, but have a huge upside in less waste, better health, and better taste.