A good cut of meat is all and good, but sides can be just as important. You want something that accents the well-cooked Wagyu beef without robbing the flavor.
What to serve with Wagyu beef?
Creating the perfect meal is everyone's dream. And certainly, no one wants to take the chance of ruining such an expensive type of beef like Wagyu or even a Wagyu Picanha (or cuts like Tomahawk, Skirt, or even burgers, etc). Come with and explore the perfect pairings that play with your palette.
Rice Pilaf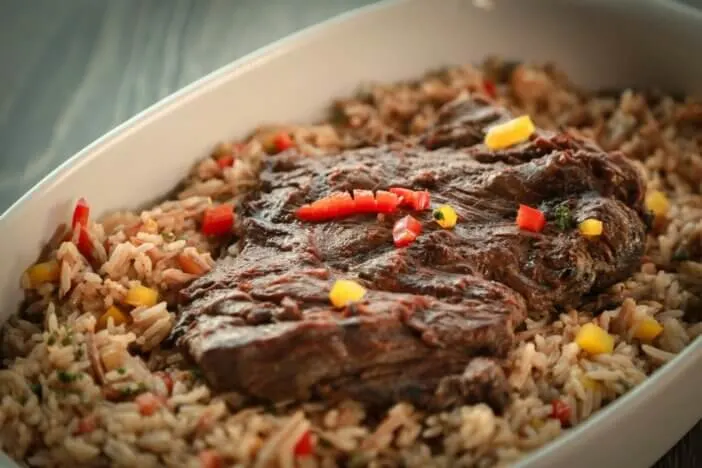 Rice pilaf is just fancy people's rice. It takes a tad longer because you're infusing more in-depth flavors like garlic or soy sauce, and you use broth for cooking it instead of water.
Do a little sautéeing, and voilà, rice pilaf that pairs perfectly with some Japanese Wagyu beef.
Colorful Side Salad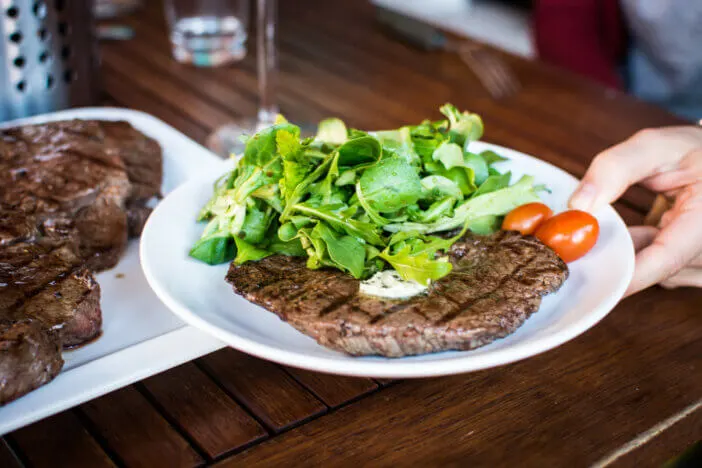 A salad seems too simple. But, hear us out!
Wagyu beef is tender and delicious and makes a perfect steak. But it's just a hunky chunk of meat.
A brightly dressed salad helps you get a healthy dose of produce, and you're adding some color to the meal.
Fresh or cooked fruit and vegetables
Choose your cheeses
Crunch croutons
Nuts and seeds
Sprouts
Edible flowers
Micro shoots
Mushrooms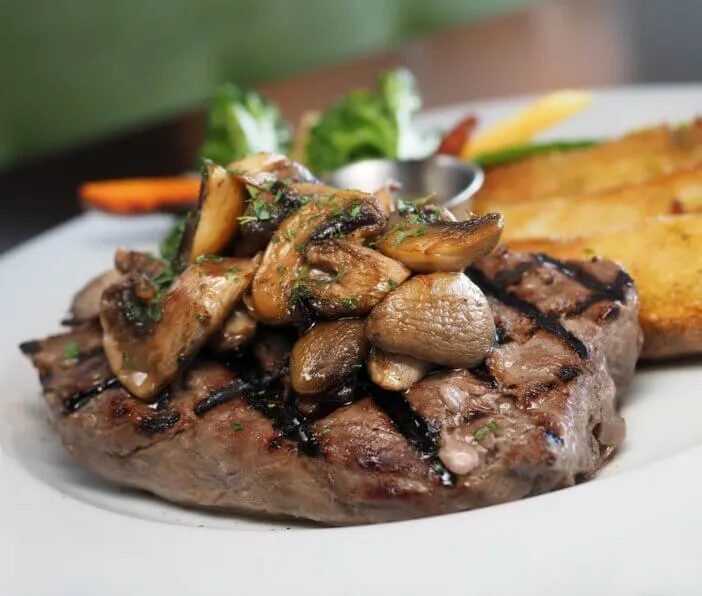 Sautéed mushrooms are quick and easy. The earthy flavors combined with the buttery taste make a great companion to Wagyu beef (or use a rub like Porcini for the same taste).
Add a little garlic for an extra punch, but don't add too much; you don't want to take away from your expensive steak.
Asparagus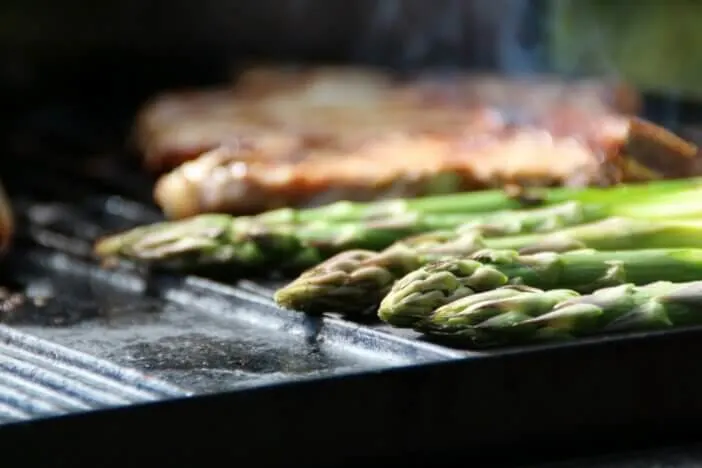 You are going to want to pair light veggies with your Wagyu steak. Anything more and the heaviness will take away from your enjoyment.
If you enjoy asparagus, it adds a specific bitterness that accents the beef. The only seasoning you'll need is salt, pepper, and a little olive oil.
Loaded Potato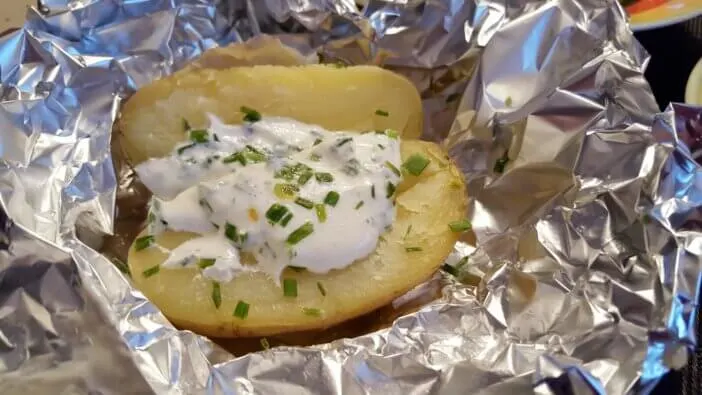 Meat and potatoes are a marriage that just makes sense. Smashed potatoes feel too simple, though. A loaded baked potato is the way to go maybe with some minced garlic.
It is heavy, and you will feel like you may pop when you're done. But, sometimes it is just hard not to want a steak and a potato (or mashed potato). At least make it the best one you've ever had.
The Wine Menu
It is perfectly fine to enjoy a simple beer when you're nomming on a Wagyu steak. But for the perfect pairing, try an excellent red wine.
Cabernet Sauvignon and French Bordeaux are the two that come most highly recommended.
If you want a little more variety and something a lot stronger, traditional Japanese sake has always been a soulmate to Wagyu beef.
Cook a Wagyu Steak in 3 Simple Steps
You will want to salt and pepper your steak several hours before you plan on cooking it.
Next, use medium-high heat to cook each side for 2-3 minutes.
Remote the Wagyu steak from the direct heat and let it rest. Do not cut into the steak for 5-10 minutes (as seen in the video above from Crowd Cow).
What this says about Wagyu beef, in general, is that it tastes magical without much help from you.
What else can you cook with Wagyu?
You have heard a lot about Wagyu steaks so far, but you can do a ton more with this beef. If you want to make a sandwich with it, feel free. It will be the most expensive one you make, to be sure.
But let's start with the basics.
Wagyu Beef Spaghetti and Meatballs
You can pretty well make spaghetti using any meat. But, Wagyu beef spaghetti puts a new spin on a family recipe.
Grilled Wagyu Beef Burger
An outdoor gathering is always better when the grill is on and ready to go. A Wagyu beef will impress and give everyone a taste of the good life.
Crank your grill up to medium heat.
Brush the burger patties with the oil or seasoning of your choice. (avocado, grapeseed, peanut oil)
Season the Wagyu beef with salt and pepper.
You will cook your burger for 4-5 minutes on each side. But keep an eye on them, so you don't overcook.
The internal meat temperature needs to be at least 160°F.
Don't press down or do a ton of flipping; you will lose the juiciness and taste.
Let the burger patties reset for 4-5 minutes.
More Wagyu Beef Dishes
Here is the thing, you can make just about anything that calls for beef using Wagyu. But, always check cook times and meat temperature to create that perfect dish.
Waygu BBQ brisket
Wagyu beef curry
Meat pies and casseroles
Bolognese sauce
Tacos
Is Wagyu beef healthier than other breeds?
Wagyu beef has marbled fat that does more than taste good and glistens beautifully. It contains a higher concentration of monounsaturated fatty acids (MUFAs) than any other type of meat on the planet, even lean meats.
The health benefits don't stop there.
Wagyu beef is full of essential amino acids, including omega-3 and omega-6 fatty acids. The benefits include lowering the risk of heart disease, Alzheimer's, and inflammation.
Signs Your Wagyu Beef Has Gone Bad
Food shouldn't just sit in the freezer for months. But things happen, and maybe you've defrosted and refrozen your Wagyu beef.
You will need to watch for red flags that your beef has seen better days and toss it out.
A gross slimy surface.
A foul odor.
Dry.
It is a grey color. (any discoloration is bad)
More Wagyu Beef FAQs
Here are a few questions that come up with creating a meal around Wagyu beef.
Can I eat raw Wagyu beef?
In Japan, wagyu beef is probably eaten raw more than cooked. You can use it in sushi and other dishes that call for raw meat.
Eating it raw is its own unique experience. The marbling of raw Wagyu beef has an entirely different look, texture, and taste when sliced.
What does Wagyu beef taste like?
Wagyu beef has it all, salty, sour, and bitter with a sweet-tasting finish. Of course, how you season it and your cooking method influence the taste.
If you want the optimal experience, ensure that you let it rest 5-10 minutes after it is done cooking.
How much Wagyu beef should I eat?
The actual answer is – ever how much you want to eat.
But, you should probably stick to around 2-3 ounces of Wagyu beef in one sitting. It is rich-tasting, it is healthy, and it is expensive.
Can I freeze Wagyu beef?
Only if you must, but don't keep it in the freezer for more than a month, please.
You will want to get your Wagyu beef out of the freezer to thaw 2-3 days before you plan on cooking. There are other routes to speed it up – like thawing trays, etc.
What are the best ways to store Wagyu beef?
If you plan on freezing it, a vacuum seal with good bags via a good sealer is the only way your Wagyu beef will retain its juices and flavor.
Beef doesn't always come vacuum sealed. You will need to wrap the Wagyu in cling wrap before freezing it tightly.
How do I thaw Wagyu Beef?
Thawing any meat should be done in the fridge. It is the safest way to defrost it before you cook it.
Avoid thawing your Wagyu beef at room temperature, and please don't try and use the microwave to defrost. It will ruin your beef.
Can I refreeze Wagyu Beef?
It is uncommon that someone needs to refreeze Wagyu beef. But, if you do, the only safe way to refreeze is if the vacuum seal has not been tampered with.
Beef, in general, should not go back into the freezer if it's been exposed to air. Growing bacteria in your beef is not something you want to risk.