Have you ever had a sandwich with spicy turkey that had just the right kick to it? You probably had Salsalito turkey. This can also be called Sausalito turkey, especially when referring to sandwiches native to Sausalito, California.
There are tons of recipes using Salsalito turkey, like soup, wraps, and sandwiches. For people who like living on the spicy side of life, Salsalito turkey has all the right ingredients.
Many people also use turkey meat during breakfast by putting it in eggs or making a breakfast sandwich. Salsalito Turkey can add an interesting spin on these dishes for variety.
Known for its flavors, the Boar's Head Bold Salsalito turkey breast is very popular in the marketplace (just like Honey Baked Ham Company's Turkey Breast).
A specialty deli meat, this turkey is only found in the Boar's Head line and can only be acquired through supermarkets and delicatessens that carry their products.
This meat is an all-natural turkey with no fillers, making it a premium selection wherever it's sold.
Where did the concept of Salsalito turkey come from?
Because of its Southwestern ingredients, this turkey was inspired by that area and its choices of spicy foods. In California, there are many spicy food places due to the large influence of Mexican food.
A cute spin on the city, it includes all the rich spices that can make your eyes burn, mouth water, and tongue sing. While not as potent as entire dishes of this nature, there is enough kick in the crust of this turkey to make an impact.
Who makes Salsalito Turkey?
Created by Boar's Head meats, this premium chain has been sold in supermarkets, gourmet stores, and fine eateries all over the U.S.
There's something to be said about great sandwiches. For people who love spicy food, this is a good introduction without being overpowered by the taste.
Boar's Head was founded in 1905 in New York City where it remained until 2001. Then, the company moved its headquarters to sunny Florida.
Known as a premium deli meat, most people are asked if they want the generic or the Boar's Head version when getting lunch meat from the deli.
Boar's Head also experiments with different flavors and toppings, which is where Salsalito turkey came from. Boar's Head deli meats are gluten-free. Salsalito turkey is a premium delicacy.
There is no MSG added, it's milk-free, and has no nitrates. It is among some of the other premium varieties of meats Boar's Head carries, like the Blazing Buffalo Style Roasted Chicken Breast, Bold Chipotle Chicken Breast, Ichiban Teriyaki Style Chicken Breast, and Cracked Pepper Mill Smoked Turkey Breast.
When it comes to taste, Boar's Head leads the industry with its selections of deli meat. Also known for their ingenuity and pairings, they have a reputation of delivering new products that create a lasting demand. Salsalito turkey is one of those products.
What is Salsalito Turkey?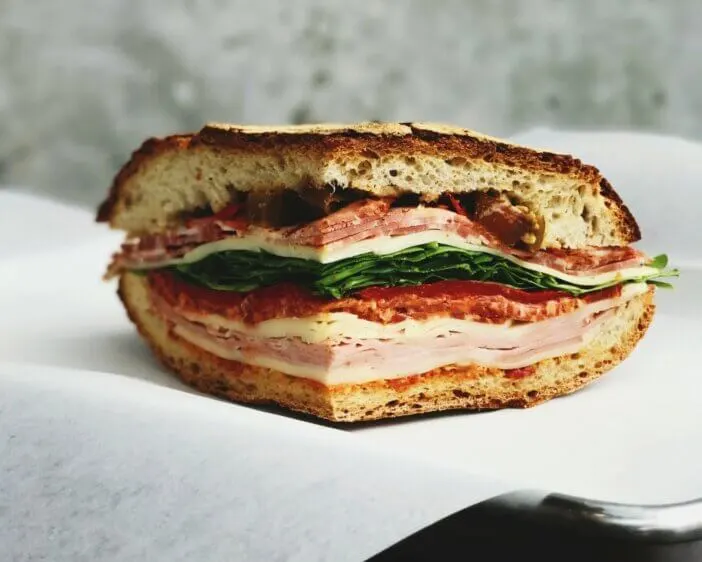 Or should you ask, "What is Sausalito Turkey?" Salsalito turkey is a turkey breast creation made with a coating of salsa that has sundried tomatoes, cilantro, jalapeno peppers, and onion. Designed to mirror the southwest part of the country, it provides a southwestern flair to any meal.
When it comes down to it, turkey deli meat is the preference and most bought of all cold cuts in America. It is very lean and can be prepared in multiple ways.
It is also popular because it is gluten-free, which means it can be eaten by more people who suffer from food allergies. This turkey is recommended under grab-and-go healthy recipes.
For people who like the aromas of spicy food but can't take too much of it, Salsalito turkey is a good medium for getting the best of both worlds.
What is Salsalito deli meat?
Salsalito deli meat is sold in delicatessens and used for sandwiches and wraps. It is fresh and ready to serve or carve at the deli. Deli meat is precooked.
Alternative names for deli meat include lunch meat, sandwich meat, sliced meats, or cold cuts.
Deli meats are so popular because they are easy to acquire and can be used in a variety of ways. You can use them for sandwiches, on salads, eaten alone, in lettuce wraps, and more. In fact, deli meat is 15% off all meat consumed.
Deli meats are the easy go-to, especially during lunchtime or throughout the day. Turkey meat is high in protein but can help lower blood sugar and cholesterol levels.
That means people who are suffering from heart problems choose this meat over the others.
What is in a Sausalito sandwich?
Different places make their Sausalito sandwiches to fit the palate of their customers. Publix deli's Sausalito sandwiches have Sausalito turkey, jalapeno peppers, onion, paprika, rapeseed cheese, yellow onion, salt, garlic, cayenne pepper, spices, and sundried tomatoes on a Ciabatta bun.
At Ralphs Sandwich Shop, the Sausalito turkey sandwich has Sausalito turkey, Swiss cheese, horseradish mayonnaise, roasted red pepper, sweet honey mustard, lettuce, tomatoes, pickles, and olives on a Ciabatta bun.
At Venice Gourmet Delicatessen & Pizzeria in Sausalito, CA, the sandwich has seasoned Salsalito turkey breast with mild salsa, mayonnaise, tomatoes, lettuce, and red onion.
There are some Salsalito turkey sandwich recipes that also add guacamole, bean sprouts, yellow mustard, and toasted whole wheat bread to the other ingredients used.
Different Ways to Prepare Salsalito Turkey
One of the popular ways to prepare Salsalito turkey is the Sausalito turkey soup. This includes tomatoes, tomato juice, green chiles, lime juice, onion, water, cubed Salsalito turkey, minced onion, and chicken bouillon cubes. Add sour cream on top and it takes you directly to the southwest part of the nation.
Another inventive way to prepare Sausalito turkey is the Salsalito turkey salad or spicy Southwestern Salsalito turkey breast wraps.
Salsalito turkey is adaptable enough to be used in various forms. Whether for a Southwestern style luncheon or dinner party with sandwiches, to rollups on event platters.
Paired with jalapeno jack cheese, it becomes an instant hit for those who want a flavorful take on lunch meat.
When the Southwest and healthy eating merge, you get Salsalito turkey.