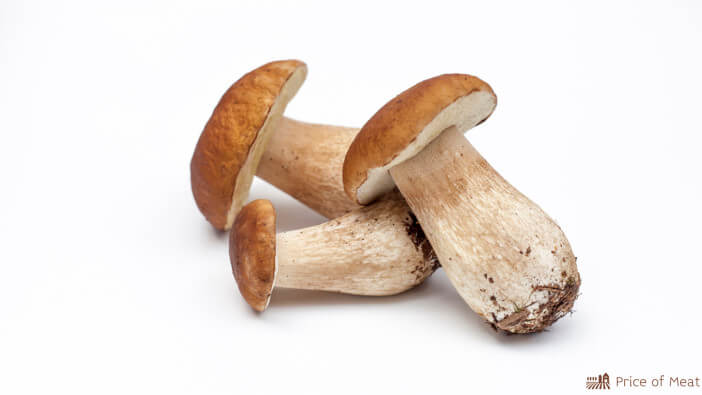 If you're ever looking for a flavorful, easy to make rub for a steak or roasted chicken recipe, a porcini rub delivers a hearty, nutty taste. Porcini rubs can be made with a variety of spices and ingredients, but it centers around the dried Porcini mushroom.
Rubs can be dry or wet, and consist of a mix of seasonings that are applied to the outside of meat or poultry prior to cooking. Porcini rubs are typically dry and have a salty, savory flavor. 
Porcini Mushrooms: An Italian Delicacy with Disputed Origins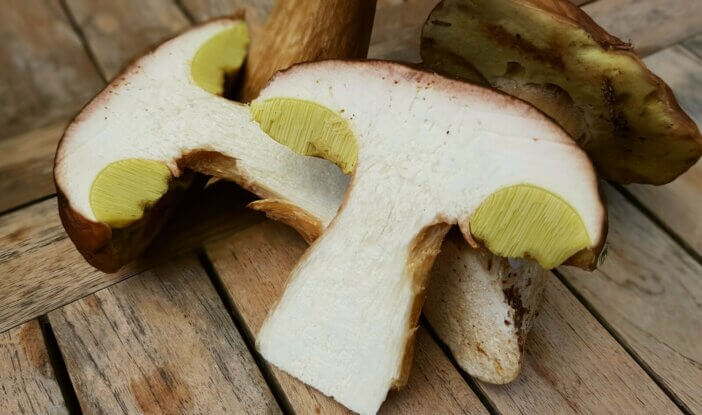 Porcini mushrooms have been around for centuries and can be traced back to the ancient Greeks and Romans, who were believed to be the first to hold these mushrooms in such high esteem.
The latin name Boletus edulis means "clod of earth", which is quite fitting for this hearty fungi that grows from the ground. Native to Europe and North America, Porcini mushrooms have spread to other regions across the world, including New Zealand and South Africa.
Today, there are more than 25 species of Boletus edulis, and they are most popular in Italian and French cuisine. 
However, there is still some dispute as to where the porcino mushroom originated from. Some recent studies have shown evidence for an Asian origin of Porcini mushrooms.
DNA sequences were analyzed in three gene markers from porcini samples across China and compared to other regions. Today, the Yunnan Province in southwestern China is one of the largest producers in the Eastern hemisphere.
What does Porcini taste like?
Porcini mushrooms have a strong, nutty, earthy flavor, making them popular in creamy pasta dishes, soups, side dishes with meat, and sautéed on their own.
They are also popular among vegetarian dishes, as they have a tender, meaty texture when cooked, due in part to their thick stem and rounded cap. While most porcini mushrooms used in cooking are a few inches wide, their caps can grow up to 12 inches in diameter.
Porcini mushrooms are delicious on their own when braised or sautéed, or can be added to many savory Italian, French, or American dishes. 
Why Are Porcini Mushrooms Expensive?
Most fresh Porcini is found in Europe, while you'll typically find dried versions in the United States.
Fresh Porcini can cost anywhere from $30 to $60 per pound, while a bag of dried Porcini could be anywhere from $10 to $50 depending on the quality.
Porcini mushrooms are typically more pricey because:
Can be hard to find fresh, and not easily cultivated
Oftentimes have to be imported
They have a relatively short season (late spring to the fall), which means they are not available fresh year-round
They are not available in all regions of the world
They are highly sought after mushrooms because they are versatile in cooking and rich in nutrients like protein and fiber.
What makes Porcini mushrooms especially unique is their mycorrhizal quality. This means that fungus has a symbiotic relationship with the roots of plants nearby, especially hardwood trees like pine, hemlock, and spruce.
The fungus gets access to sugars from the plant's roots, while the plant receives water and nutrients from underground growth of the mushroom called the mycelia. 
When To Use Dried or Fresh Porcini Mushrooms
Fresh Porcini Mushrooms
Fresh porcini is used in a variety of pasta dishes, such as pasta fettucini, creamy ravioli, tagliatelle, and pappardelle. Because the mushroom is so flavorful and hearty, it's also often served alone as a side dish and can be grilled, braised, fried, or sautéed.
When buying fresh porcini, you should also look for caps with a reddish, brown tint and avoid a porcino with a dark under-cap or black spots.
Brush off any dirt with a paper towel, and when you're ready to use them, you can wash them lightly in cold water.
Dried Porcini Mushrooms
When making a porcini rub, you'll definitely want to use dried porcini mushrooms. The dryness allows you to grind the mushrooms into a fine powder and combine it with other seasonings and ingredients.
Dried porcini also goes extremely well in soups, broths, sauces, and risotto, since they absorb the liquid for a chewy, soft texture and provide a nutty flavor. When looking for dried porcini in the supermarket, make sure the bag has full pieces of mushrooms instead of crumbly pieces and dust.
The more intact the mushroom is, the better the flavor. While they may not be as versatile as fresh porcini, they can add a deep flavor to many recipes.
Finding the Right Porcini Rub Ingredients
Porcini rubs can be as simple or elaborate as you want them to be. You can have a long list of spices and seasonings, or keep it minimal with the porcini mushrooms and a few other ingredients.
In addition to standard salt and black pepper, popular ingredients in porcini rubs include:
Minced garlic
Onion
Red pepper flakes
Oregano
Parsley
Fennel seeds
Rosemary
Soy sauce (for a wet rub)
Porcini rubs are ideal for big cuts of steak or poultry (even quail!). Experiment with different ingredients based on what else you're serving to complement flavors.
How to Prepare a Porcini Rub for Steak
Porcini rubs can turn any piece of meat into a savory, flavorful cut of steak. You can grill or sautée in a pan after covering both sides with your preferred porcini rub.
When preparing a porcini rub, you'll want a bag of dried porcini mushrooms, which you will need to grind in a spice or coffee grinder. The mushrooms should be ground into a fine powder, then mixed with the other seasonings.
Once you coat the steak, you can grill in a pan with olive oil over medium-high heat, typically for 5-7 minutes per side.
Classic Porcini Rub Recipe
This simple recipe from the Food Network brings out the porcini mushroom fragrance and lets it dominate the rub flavor.  
¼ c. dried porcini mushrooms
2 tbsp. Kosher salt
2 tbsp. black pepper
2 tbsp. granulated sugar
1 tbsp. minced garlic
1 tbsp. red pepper flakes
To make the rub, grind the porcini mushrooms separately first. Next, grind the minced garlic and granulated sugar, also separately. Add all ingredients together for a rub mixture and coast on either side of your steak with olive oil. 
Are Porcini Mushrooms Good for You?
Porcini mushrooms are high in dietary fiber, iron, B vitamins, potassium, zinc, and selenium. They are also low in saturated and unsaturated fat, and the dietary fiber can help stimulate digestion.
Additionally, they are high in antioxidants, which can reduce inflammation in the body. All in all, they're a great, nutrient-dense food that anyone can incorporate into their diet. While a porcini rub may not have a high volume of mushrooms, you can still feel good knowing it's a healthy, flavor-rich addition to any cut of meat. 
Today, mushroom powder is all the rage and you see it being added to smoothies, coffee, bread, soups, and more.
Studies show that incorporating mushroom bioactive compounds can have a medicinal effect, improving energy, reducing inflammation, and supporting healthy nerve function.
In fact, mushrooms are being researched and explored in the pharmaceutical industry for their beneficial properties. Many mushroom powders on the market use porcini, including Four Sigmatic, Laird Superfoods, and Spice Jungle.  
Bestseller No. 1
Bestseller No. 2
Bestseller No. 3
Bestseller No. 4
Chef's Palette Porcini Espresso Spice Blend – Gourmet Spice Rub for Seasoning Meats – Porcini Mushroom and Espresso Coffee Bean Flavors - Home Cook Pantry Staple – 4 fl. oz Glass jar
VERSATILE FLAVOR PROFILE Not a big fan of prime rib but you are intrigued by the mixture of coffee and porcini mushroom? No problem! The Porcini Espresso seasoning mix has a very versatile flavor profile that plays well with all sorts of meats, as well as portobello mushroom caps and seitan. Add this blend to your pot of chili for extra depth, or add it to your beef bone broth for a savory treat on a cold night or an intermittent fast.
SEASONING USES The possibilities for how to use this seasoning mix are almost endless! Whether you use is as a spice rub for prime rib, beef, turkey, or whatever meat you are in the mood for, it will surely be a hit. This spice rub works best AFTER you sear your product. Applying the spice blend before you toss it into a hot pan may cause the seasoning mix to stick and then all you have is a delicious pan....but who wants to eat that?!
HAND-CRAFTED BY A CHEF While many spice blends claim to have been made by pros, this one really is! Originally designed as a signature concoction and short cut for his menus as Executive Chef for Hahn Estate in the Santa Lucia Highlands in California, the Porcini Espresso Spice Blend is part of an assortment that was created by classically trained Chef/Owner Dyon Foster. Now you can bring the "Chef's touch" to your home kitchen without having to spend time in culinary school!
PALEO/KETO-FRIENDLY This gourmet spice blend is free of artificial coloring, preservatives, sweeteners or flavor enhancers (not to mention grains, legumes, or dairy products). Just pure goodness, ready to be added to your favorite cut of meat!
MADE IN USA Our spice rubs and seasoning mixes have been manufactured and packed in the United States with love which means that not only do your taste buds get to be happy but your conscience as well.