Brining Bags 101: Everything You Need to Know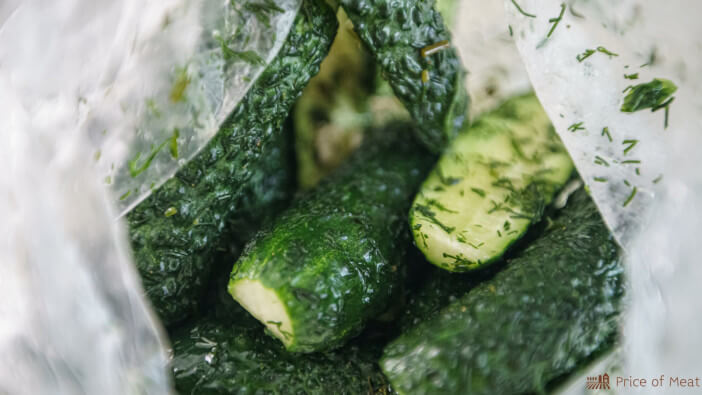 Have you ever had meat so tender, flavorful, and juicy that you wondered how it was cooked? Chances are they used a brining bag. This is a tried-and-true way to keep the moisture in the meat.
For instance, have you ever had turkey that was so dry you couldn't eat it? If it had been brined, the turkey would have been bursting with flavor even when cooking an entire trussed turkey.
Another term used instead of brining is marinating. It's the same thing – you're submerging food into a liquid that's been seasoned for several hours.
While this helps with adding moisture, it's also a way to tenderize the meat. Brining meat during the holidays is traditional, but it is perfectly fine to brine meat for any occasion.
Quick Sidenote – check out our shop for a curated selection of the best meats, cuts, sausages, and more. Open our shop in a new tab and explore!
Many restaurants brine meat on a regular basis to have flavorful dishes. You may find brining happening in high-end restaurants to make sure their poultry and seafood are succulent and tender.
You'll often find cooking shows talking about brining the meat, especially if it's poultry.
Disclosure: As an Amazon Associate, this site earns from qualifying purchases. Thank you!
What meats are good for brining?
Poultry is mostly known for being brined. This includes chicken, turkey, and Cornish hens. Some people also brine pork and seafood.
Meat with a high-fat content do not need to be brined. There's something to be said about brined chicken wings and chicken breasts.
Pork belly and pork chops also benefit from brining because it cuts the dryness, introducing flavorful, juicy meat.
When barbecue ribs or brisket are long-smoked, brining them helps retain moisture for a great, slow-cooked flavor.
What is brining?
While brining was originally used before, there were refrigerators to preserve meat. Now, it's to bring out the best flavor. The meat is placed in a flavorful salty liquid.
When it's cooked, the meat loses the original amount of moisture, but because of the higher salt level, it is much juicier and tender.
A better way to think about brining is to bring back science. Remember osmosis? This is where the salt and water distribution are balanced.
Brine solutions vary based on the individual. Some use water, salt, herbs, and spices. Others use maple syrup and honey, and some use sugar and water. Some turkey breeds don't need it at all.
The brining process changes the structure of the muscle's proteins. Salt is used because it provides a better texture to processed meats (though sometimes too salty). Once the food has been brined, the solution should be thrown away to avoid contaminating other foods.
While the brining process is usually for long periods of time, seafood and vegetables have a shorter brining period. It is perfectly fine to brine something for 20 minutes before putting it on the grill or cooking (just don't let the bag sit on the grill).
Brining is just a process to add additional moisture and herbs for exceptional flavor. While a brining bag is ideal, a container may suffice if it is large enough.
What is a brining bag?
A brine bag is large and clear, designed to hold food and the brining liquid. Most meats are brined for about an hour per pound. Brining bags are made of durable plastic and come in various sizes to accommodate the type of meat.
Brining bags look like normal food storage or vacuum sealer bags but are much thicker in nature and can be as small as 12 inches wide up to almost 20 inches wide. Some brining bags have resealable closures, and others have ties that seal the bag.
What is a brining bag used for?
The brining bag is used to soak the meat. In most cases, meat is brined overnight or for a few hours. Since it is a salt solution, the bag is needed to hold the meat without the worry of spills.
A brining bag makes sure all the meat is properly immersed. Some people also use brining bags for fish, vegetables, and other types of meat besides poultry.
Is a brining bag necessary?
Many cooks use containers to brine their meat or vegetables. Some choose to use large pots and cover them with plastic wrap.
While this may work, the bag makes sure the food is completely immersed. Additionally, there is less clean-up needed after the brining process. Halfway during the process, the food should be rotated to make sure every part is covered with brine.
It may be difficult to do that in a container. Because the container needs to fit into a refrigerator, it may be difficult based on the size.
Brining is the best way to ensure the food is completely brined the right way. Some people use brining containers depending on what it is and how much liquid is needed.
While the containers serve their purpose, brining bags are designed for this purpose and can be immediately thrown away. Brining bags should not be reused.
When using a brining bag, it's important to have enough room so the air can be released before securing. To make sure the bag doesn't open, many people use string or twine.
Unlike in the past, when brining, the meat and solution must be refrigerated. The recommended temperature is below 40 degrees.
What can I use for a brining bag?
When using a brining bag, you want to make sure it is specifically designed for that purpose. Many stores carry brining bags. It's important to know the size of the food being immersed before purchasing to ensure you don't get the incorrect size.
If you can't find a dedicated brining bag, using a 1- or 2-gallon Ziploc bag, or Big Bags XL will work.
If you don't have either, a strong plastic bag will work. It's important to make sure it does not have any chemicals in it. If possible, check to make sure it is food safe.
Food grade plastic bags are protective to ensure the contents aren't contaminated. They are also durable enough to protect the food during the brining process, and if it must be moved.
Finally, they must be chemically safe. There should be no way for the bag to allow seepage in or out of the bag once it has been sealed.
Bags that are not deemed food grade could be harmful, as they may affect the taste of the food or cause additional issues like food poisoning.
Most food-grade bags have this indicator on them. While they may be found in stores, a restaurant shop or food supply warehouse is one of the best places to find these types of bags in a variety of sizes.
Can you cook in brining bag?
It would be wise to follow the directions on the brining bag if bought commercially. In most cases, brining bags should not be used in a situation with heat.
Newer commercial brining bags are designed for one-time use but can be used for marinating, brining, roasting, steaming, or freezing meat, vegetables, fish, and poultry.
Are brining bags safe?
Commercial brine bags are designed to be food grade, which makes sure no harm comes to the food. Some people have been known to use a garbage bag, but this is not recommended because you don't know what the bag was made from, and it could have scents, chemicals, or dyes that are harmful.
There's nothing wrong with improvising if there are no brining bags around. Again, Ziploc bags work well unless the food is too big for the bag.
Sale
Bestseller No. 1
Turkey Brining Bags Set of 2 - Extra Large Holds up to 38lb - 25.5 x 21.5 inches - Heavy Duty with Gusseted Bottom - Double Track Zippers to Avoid Leaks
PROVEN TECHNIQUE: Brining is your ticket to a juicy, full-flavored turkey, even if you have no prior experience with turkey roasting. During brining, the turkey absorbs extra moisture, which in turn helps it stay more moist and juicy both during and after cooking. Since the turkey absorbs salt along with the water, it also gets nicely seasoned from the inside out. Even better, the salt breaks down some of the turkey's muscle proteins, which helps with the overall moisture absorption.
EVERYTHING INCLUDED: These two, extra large turkey sized brining bags have wide gusseted bottoms for extra volume and stability, as well as double track zippers. Also included are two removable zipper assist clips for easy closing and two 18-inch long strings of twine for trussing your turkey.
FREE FROM BREAKAGE: Don't risk your expensive bird with a flimsy bag, this high-quality bag has incredibly thick seams, which is especially important since a turkey and brine can easily weigh over 40 pounds! The worry-free thick seams completely protect against any potential leakage, tears, or rips, ensuring a mess free roasting experience. Our brining bags are built with heavy duty, BPA-free, food-grade standard materials, ensuring safety in your cooking.
MULTIPURPOSE: Not only are these 21.5" x 25.5" bags perfect for any large turkey, but they also work for many other types of meats, as well! The thick materials and durable seams make these bags also ideal for: wild game, ham, roast, deer, or even jerky! If you want an alternative to brining, you can also safely marinate your meat right in these bags, creating a flavor profile that is out of this world! When the meal is over, you can safely throw away bones and food waste into the bags.
Bestseller No. 2
5 Gallon Bucket Liner Bags for Marinating and Brining, Food Grade, BPA Free, Extra Heavy Duty Leak Proof (10 pack)
10 bags per pack, Extra Heavy Duty 100 Percent leak proof, Disposable bucket liners, 2 mil thickness with double bottom seal,
Food Grade & BPA Free, Specifically designed to fit perfectly A 5 gallon bucket,
Easly Marinade large cuts of Meat, Seafood, and Poultry, Or to store pet food,
High-density food grade material with a wet load capacity of 50 lbs, and dry load capacity of 75 lbs.
For use with 5-gallon buckets and pails, or 22 qt. cambro food storage containers,
Bestseller No. 3
5 Gallon Bucket Liner Bags for Marinating and Brining, Food Grade, BPA Free, Extra Heavy Duty Leak Proof (10 pack)
10 bags per roll, Extra Heavy Duty 100 Percent leak proof, Disposable bucket liners, 2 mil thickness
-Made in the USA- Food Grade & BPA Free,
Easly Marinade large cuts of Meat, Seafood, and and Poultry.
High-density food grade material with a wet load capacity of 50 lbs, and dry load capacity of 75 lbs.
For use with 5-gallon buckets and pails, or 22 qt. cambro food storage containers
Sale
Bestseller No. 4
Brine Bags for Turkey, 3 Pack, 26"×22", Extra Large Brining Bag Holds up 35lb, Thickened Turkey Brine Bag with 3 Cotton Strings, Brining Bags for Turkey, Chicken, Beef, Pork, Ham
Perfect Sealing - Worry-free thick seams and 0.4-inch wider edges are designed to prevent potential spills or breaks, ensuring a mess-free brining experience. And our brining bag comes with 3 pieces of string to tie to make sure there are no leaks.
Heavy Duty Brining Bag - Our turkey brine bag are made from food-grade standard materials(an extra-thick 120-micron), which is much stronger than other brining bags of only 80 microns, no need to worry about these bags, breaking or tearing.
Larger Capacity - 26"×22" heavy duty turkey brine bag can easily hold up 35lb thanksgiving turkey or huge Ham without a struggle. Its generous size accommodates all your brining needs, with plenty of room even when liquids and turkeys are placed together.
Marinating Is A Breeze -The brining bag is easier to use, avoiding making a mess in kitchen. Simply twist the top of the bag shut to remove excess air and tie shut with provided string. Plus, our extra large brining bags have a gusseted bottom for easy upright storage.
Multi-purpose - Brine turkey, chicken, pork, fish, beef, ham, lamb, bacon, shrimp really just about anything you want to in this bag. Please note that these are "brining bags," not cooking bags. Feel free to contact us if you have any problem, we will reply within 24 hours ASAP and a satisfactory solution will be given.