Jamaican Jerk Sauce: Taste and Ingredients Explained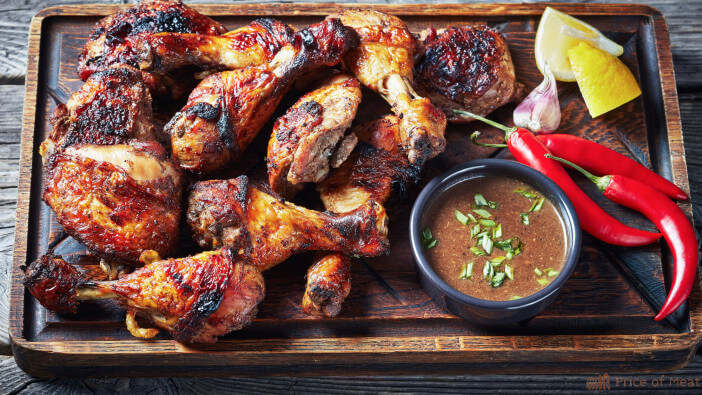 Jamaican jerk sauce is a uniquely complex blend of spices and flavors that capture the senses. Its warm and piquant flavors are not so powerful that they overwhelm its smoky, salty, and sweet undertones.
Disclosure: As an Amazon Associate, this site earns from qualifying purchases. Thank you!
What's in Jamaican jerk seasoning?
Classic Jamaican jerk seasoning or jerk marinade always includes allspice, black pepper, cumin, garlic or garlic powder, and onion or onion powder. When making a sauce instead of a rub, the moisture of whole garlic and whole onions provides most of the liquid for the sauce. (The rest can be oil, bouillon, broth, water, or vinegar.)
Quick Sidenote – check out our shop for a curated selection of the best meats, cuts, sausages, and more. Open our shop in a new tab and explore!
It is possible to make Jamaican jerk sauce and Jamaican jerk spice rubs without Scotch bonnet peppers.
Most cooks, however, add a little to a lot of the super-hot Scotch bonnet peppers. They may also add coriander seeds, ginger, habanero peppers, lime zest, mustard, nutmeg, rosemary, thyme, and brown sugar to taste, changing their recipes depending on how they plan to use the sauce.
Wait a minute. You can make Jamaican jerk sauce without Scotch bonnet peppers?
Scotch bonnet peppers are so hot, scientists have discovered, that they burn the bugs that otherwise would eat them. Pepper weevils land on Scotch bonnet peppers and may even start to lay their eggs in them, but they quickly fly away.
The medical literature records the case of a man presenting symptoms like appendicitis after eating four Scotch bonnet peppers (or, more precisely, the Asian version of a Scotch bonnet pepper).
Some people have bad experiences and just won't eat Scotch bonnet peppers. Use them in moderation, like in the recipe below, and you won't have any problems.
Does Jamaican jerk seasoning always taste the same?
Flavor profiles may vary, and that's OK. Jamaican jerk sauce doesn't have to taste the same every time.
Can You Duplicate the Flavor of Jamaican Jerk Sauce Outside of Jamaica?
Gastronomic purists argue that home cooks just can't duplicate the taste of Jamaican jerk sauce at home, and it's true you won't get exactly the same flavors you can enjoy on the Jamaican jerk chicken (and beef patties) served in restaurants at the home Jamaican jerk sauce, Boston Bay in Kingston.
But the differences between your Jamaican jerk sauce and "authentic" Jamaican jerk sauce have more to do with cooking techniques than sauce recipes.
Many Jamaican cooks roast chicken, shrimp, steak, and fish over pimento wood.
If the term "pimento wood" sounds like it should be something spicy, you are on the right track. What Jamaicans call pimento, we call allspice.
In Jamaica, jerk seasoning flavor comes from wood used for cooking, not just spices.
The smoke from this tropical wood adds its own peppery flavor to whatever is roasted over it (similar to wood with brisket).
But if you are concerned about the flavor of the smoke from the source of heat you use to cook the meat for your Jamaican jerk sauce dish, you can get nearly the same flavor profile by placing an aluminum foil packet filled with water-soaked herbs and wood chips over the coals you use for heat.
(For your homemade faux pimento smoke, soak 1 cup of wood chips, 2 tablespoons of rosemary, 2 tablespoons of dried thyme, and 2 tablespoons of whole allspice berries in 2 cups of water overnight. Pour off the water, and place the soaked woodchips and herbs into an aluminum foil pouch. Poke holes in the top of the pouch to let the steam out. Place the pouch holes-side up directly on the coals under the part of the grill where you place your protein.)
Jamaican jerk sauce and Jamaican jerk rubs are applied one to 24 hours before cooking.
Cooking experts will also insist that "real" Jamaican jerk sauce and Jamaican jerk rub have to be inside the meat, not just on the meat.
They must be applied to the protein you intend to cook at least an hour to as long as 24 hours before cooking for proper flavor. This is a Jamaican cooking technique you can easily duplicate at home.
Just don't leave the mixture on fish or fatty beef for more than an hour.
How Can I Make Jamaican Jerk Sauce?
Here is one way to make a great Jamaican jerk sauce.
First, assemble this list of ingredients:
1 tablespoon whole allspice berries
1-1/2 tablespoons whole coriander seeds
1 tablespoon whole black peppercorns
3 habanero chiles
8 scallions
6 garlic cloves
2 tablespoons finely grated lime zest (2 to 3 limes)
2 teaspoons dried basil
1 tablespoon ground ginger
1/2 teaspoon ground nutmeg
1/2 teaspoon dried rosemary
1 tablespoon dried thyme
2 tablespoons yellow mustard
1 tablespoon packed brown sugar
2-1/4 teaspoons salt
2 tablespoons soy sauce
3 tablespoons vegetable oil
Coarsely grind the allspice berry, coriander seeds, and whole black peppercorns in a spice grinder. Then add the freshly ground spices to a blender to get a good jerk spice blend.
Remove the stems from the habanero peppers (and Scotch bonnet pepper, if you choose to add one), dice into quarters, and add to the blender. Chop the garlic and scallions roughly, and add them to the blender, too. Then add all the other ingredients to the mix and process until smooth.
Be careful not to rub your face or eyes after handling the peppers.
How to Use Jamaican Jerk Sauce
Jamaican jerk sauce was traditionally used as a marinade and serving sauce for pork. It is commonly used on chicken, and can be used to flavor steaks, firm white fish, and even beans.
Here are some hints for getting the greatest possible flavor from your Jamaican jerk sauce:
Loosen the skin on chicken parts and rub the sauce under the skin as a marinade up to a day before roasting.
Score the fat on pork shoulder and rub the sauce into the cuts.
Use Jamaican jerk sauce on firm-fleshed fish, such as grouper, and larger shellfish. To avoid overwhelming the flavor of the fish or shellfish, don't marinate in Jamaican jerk sauce for more than an hour.
Jamaican jerk sauce can be stored in the refrigerator for up to three months or frozen for up to a year.
Now let's consider some frequently asked questions about Jamaican jerk sauce.
Is Jamaican jerk sauce sweet?
Jamaican jerk sauce stimulates all of the tongue's taste receptors, sweet, salty, sour, and acrid. It brings out the umami flavor of pork, chicken, and even egg.
Just a little brown sugar provides contrast so you can appreciate all the other flavors. Salt brings out the sweet flavor.
Why put two kinds of peppers into Jamaican jerk sauce?
Peppers aren't all about heat. Habanero and Scotch bonnet peppers also have floral and chocolate notes that you will notice if you don't use so much that you burn your tongue.
What do Jamaican jerk wings taste like?
Jamaican jerk chicken wings have a smokey flavor that Buffalo sauce / wings don't, especially if you cook them over pimento woods (available in kitchen specialty shops).
They also have sweetness from the brown sugar in the sauce and just enough of a kick that you keep wanting more.
Bestseller No. 1
Walkerswood Traditional Jamaican Jerk Seasoning, 10 oz, Mild
TRY JAMAICAN JERK WITH A LITTLE LESS HEAT: Try this mild jerk as a great introduction to Jamaican cuisine, designed for those who have always wanted to try us but were afraid of the heat level
VERSATILE: Walkerswood traditional jerk seasoning is really versatile and adds a Jamaican kick to chicken, lamb, pork, fish and vegetable dishes.
SIMPLY RUB A SMALL AMOUNT - 1oz jerk seasoning: 2.2lbs / 1kg - into your meat or fish, for best results marinate overnight to absorb the spicy flavor and then cook until done on your barbeque or in your oven.
BEST WORLD FOOD SEASONING: Walkerswood Jerk Seasoning has been included in the list of 2015 Men's health 125 Best Foods for men. Men's health Magazine named Walkerswood Jerk Seasoning as the best world food seasoning.
TIP: mix a small amount of Jerk Seasoning into mayonnaise to really spice up your hamburger and sandwiches.
Sale
Bestseller No. 2
Bestseller No. 3
Bestseller No. 4
Walkerswood Hot & spicy Jamaican Las' Lick Jerk Sauce
water, tomatoes, sugar, vinegar, salt, molasses, scotch bonnet peppers, scallion, ginger, modified corn starch, hot peppers, garlic powder, thyme, allspice, black pepper, cinnamon, nutmeg, citric acid, preservative: potassiom sorbate