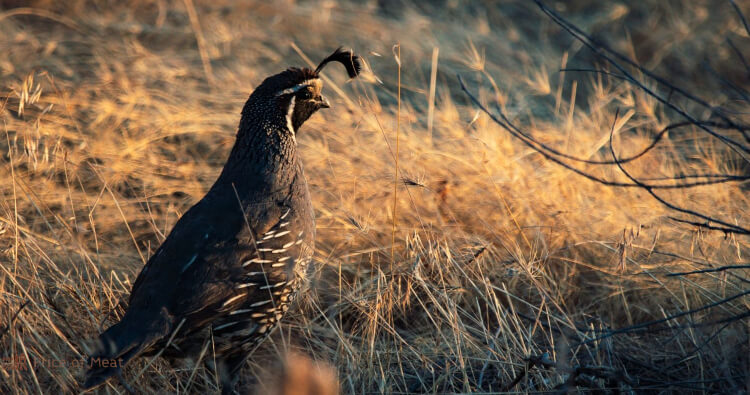 Though better known for its eggs than its meat, quail has been featured in cuisines from around the world for centuries. Today, we'll be taking a deep dive into everything the first time quail eater needs to know — from what the meat tastes like, to simple recipes for preparing flawless quail every time, as well as where to source the best quality quail meat available today.
Often described as a cross between a chicken and a duck, this little bird is full of culinary contradictions. It's a game bird, but most often raised in captivity; neither completely white meat nor dark meat; and unlike any other avian, it can be cooked and served bones and all. Let's take a closer look at what makes the quail such a special treat, as well as quick cooking methods that make it an easy dinnertime solution.
What Does Quail Meat Taste Like?
The first thing you'll notice about quail is how tiny the bird is: Weighing in at about 4 ounces each, you'll usually need to serve two quail per person for a meal. This small size lends a delicate texture to the meat, with much less chewiness than chicken or even duck.
In contrast to chickens, however, most quail is raised free range, giving it a taste that is somewhere between dark meat and white meat thanks to its moderate activity levels and frequent foraging. It's a wonderfully rich and flavorful bird, with much of the fatty and savory element of duck without the greasiness.
Depending on which of the nearly 200 varieties of quail you find to cook, the flavor can be somewhat different. Overall, though, the density of this bird's body structure shows through in its flavor no matter what — leading to a strongly flavored meat that needs much less seasoning than chicken to yield delicious results. Short marinades and fast cooking methods will preserve the natural flavor of the bird better than the long braises or bakes favored for larger fowl.
Can too much of a good thing like quail meat be a problem, though? That seems to be the basis of a long-running myth stating that it's impossible to eat quail every day for 30 days. While the myth likely has its grounding in a biblical story, plenty of people have put it to the test — including a host of professional poker players using it as a prop bet. In the end, it turns out that most of the contestants found it easy to continue eating quail as long as it was fresh and properly prepared.
How to Cook Quail Meat
There seem to be as many ways to cook quail meat as there are people who eat quail, with each quail-eating cuisine professing the superiority of its recipes. Whether fried, grilled, smoked, baked, broiled, or sautéed, it's hard to go wrong cooking this delicious bird so long as you don't overcook or over season it.
With that in mind, let's take a look at two recipes for simple preparations of quail: One continental, and one occidental.
Mediterranean Style Grilled Quail
A quick marinade adds the finishing touches to quail's naturally distinctive flavor, and throwing them on a hot grill means dinner will be ready in no time. Plan on serving two per person as an entrée, or one per person as appetizers.
Ingredients
One or two fresh quails per person
Olive oil
Freshly chopped garlic
Sage
Salt
Pepper
Preparation
Prepare the marinade by combining a generous amount of olive oil with small seasonings of each other ingredient.
Brush the marinade on every quail, and let sit for no more than 15 minutes to absorb the flavors.
Bring your grill to high heat, and use tongs to place each quail directly on the grill.
Cook for 3 to 5 minutes per side, or until the birds have noticeable grill marks
Serve with a side salad, grilled vegetables, and/or potatoes.
East Asian Pan-Fried Quail
Offering a bolder take on additional flavors, this Asian-inspired dish works exceptionally well when cooked in a cast iron skillet. If you don't have one available, any heavy-bottomed pan will do.
Ingredients
2 quails per person
Sesame oil
Freshly chopped garlic
Freshly grated ginger
Soy sauce
Rice wine vinegar
Preparation
Combine sesame oil with small portions of freshly chopped garlic and grated ginger, then brush each quail with this mixture.
Pre-heat your cast iron skillet or pan on high heat; you can test if it's ready by placing a few drops of water in the pan. If the water drops sizzle immediately, then the pan is hot enough for the next step.
Add two tablespoons of sesame oil to the hot pan, then gently place each quail in while being careful to avoid oil splatters.
Sear quail for three minutes on each side, then pour in enough soy sauce and rice wine vinegar to cover the bottom of the pan.
When the liquid has reduced by about half, remove the quail from the pan. Serve over rice, and drizzle with the pan sauce to finish.
Where to Buy Quail Meat
Frozen quail meat is relatively easy to find in major cities, where it is regularly stocked at specialty and Asian grocers. For the best taste and texture, though, we strongly recommend sourcing the freshest quail meat available — which can be quite tricky if you don't live in an area where it can be hunted in the wild.
In our opinion, D'artagnan is the best online source for fresh quail. They have multiple offerings, including semi-boneless quail, whole quail, French jumbo quail, and even quail eggs. Since all of their quail is raised cage-free and without chemicals or antibiotics, you can be assured that it will taste as fresh as possible.
For a stateside alternative, Manchester Farms (based out of Columbia, South Carolina) is an excellent choice. Like D'artagnan, their birds are raised cage-free and without hormones or antibiotics, ensuring an amazing flavor. They have plenty of options for serving sizes and styles, and make it easy to host a small dinner party with quail as the main course.