Shredded beef jerky is a popular snack that is often referred to as jerky chew. This finely shredded beef jerky product is made from whole muscle beef jerky that has been shredded or ground to make it easier to eat (still just as good).
It can be eaten by putting a pinch in your mouth and savoring its flavor, chewing it like gum, or adding it to sauces and other recipes.
How do they make shredded beef jerky?
Shredded beef jerky begins with traditional whole muscle beef jerky. Because beef jerky can be tough and challenging to chew, shredding it makes it easier to eat, particularly for those who enjoy its flavor but have difficulty chewing traditional jerky.
Once the beef jerky is shredded, it is then packaged and sold as either shredded jerky or jerky chew. The terms shredded beef jerky and jerky chew are often used interchangeably and refer to the same product.
How to make shredded beef jerky at home?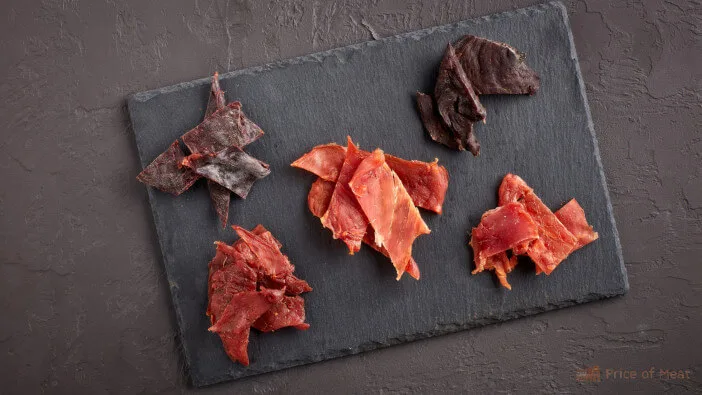 To make your own shredded beef jerky at home, you will need a supply of whole muscle beef jerky.
Break or cut the beef jerky into small pieces.
Add the pieces of beef jerky to the blender or slicer.
Use the pulse option to shred the beef until it is light and airy.
Use the shredded beef jerky as a snack or add it to your favorite recipes.
How do you dehydrate shredded beef?
Shredded beef jerky is made by shredding whole muscle beef jerky that has already been dehydrated and cured. You do not need to dehydrate shredded beef to make shredded beef jerky.
Is shredded beef jerky healthy?
Shredded beef jerky provides a good source of protein, but it can also be salty. One serving of shredded beef jerky contains 16g of protein, 490g of sodium, and 2.5g of fat.
While small amounts of beef jerky are good for you, it is not intended to be eaten in large quantities.
How do you eat shredded beef jerky?
The most common way to eat shredded beef jerky is as a chew. Take a pinch of the shredded beef jerky and either chew it like gum or pack it into the side of your cheek.
The saliva in your mouth causes the beef jerky to break down and release its intense flavor.
Shredded beef jerky can also be used in a variety of recipes. Mexican recipes containing machaca are similar to recipes using shredded beef jerky.
Is machaca the same as shredded beef jerky?
Machaca is a type of traditional Mexican dried (and shredded) meat very similar to shredded beef jerky. It may be made from either beef or pork. Shredded beef jerky can be substituted for machaca in recipes.
How do you pack beef jerky chew?
Store beef jerky chew in an airtight container. A small food storage bag makes a convenient storage container for beef jerky chew and can be carried in your pocket or a backpack to always have a high-energy snack at your disposal.
Store larger amounts of beef jerky chew in food storage containers or sealed jars.
Can you swallow beef jerky chew?
When used as a chew, shredded beef jerky releases its flavor over time. Some enjoy packing the cheek and savoring the intense flavor, while others prefer to chew it like gum.
The juice and softened beef jerky do not need to be spit out like traditional tobacco chew. The juices and the softened jerky can be swallowed without concerns.
Recipes Using Shredded Beef Jerky
Here are a couple recipes that features shredded jerky.
Tacos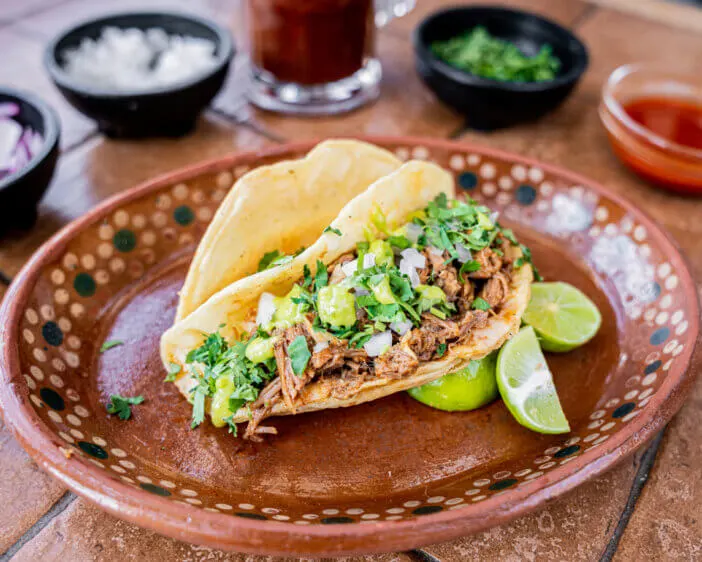 Shredded beef jerky is an excellent substitute for ground beef or barbacoa in tacos, but it does take a little more work.
Determine the number of tacos you want to make.
Mix 1 oz. of shredded beef jerky and ¾ cup of water for each taco shell.
Simmer the mixture on low until the water has evaporated and the beef is rehydrated. The beef should be soft and warmed through.
Serve in a warm tortilla or taco shell topped with tomatoes, onions, lettuce, and cheese.
Con Huevos Machaca
This breakfast dish can be made with shredded beef jerky (including gluten free).
Add 2 to 3 tablespoons of olive oil to a pan and heat over low heat.
Add ½ cup diced onion, 1 chopped tomato, ¼ diced jalapeno pepper, and 1 oz of shredded beef jerky.
Simmer until the shredded beef is rehydrated and soft.
Add a few tablespoons of water, if necessary, to fully rehydrate the shredded beef jerky.
Whisk 5 eggs together in a bowl.
Pour the eggs into the veggie and shredded beef mixture.
Cook until the eggs are set.
Garnish with cheese and serve warm.
Note: As an alternative, you can make an omelet with this filling by covering the filling with cheese and folding the eggs over the top.
Chili
Shredded beef jerky can be added to chili recipes to heighten the flavor of the chili, but it does not take the place of the ground beef or sausage in the recipe.
Follow your favorite chili recipe and add 2 to 3 ounces of shredded beef jerky and allow it to rehydrate in the simmering chili. Too much shredded beef jerky may overpower the chili. Start with a small amount and adjust to your preferences in taste.
Fried Rice
Shredded beef jerky makes a tasty addition to your favorite fried rice recipe. Add ½ cup shredded beef jerky for every 3 cups of rice.
You may wish to rehydrate the shredded beef jerky ahead of time. Otherwise, add some liquid to your recipe as the dehydrated beef absorbs moisture during cooking.
Pasta Sauce
Shredded beef jerky can be used in pasta sauce along with your favorite meat or as a substitute for ground beef. To substitute the beef jerky for ground beef, place 3 to 4 ounces of shredded beef jerky in a bowl and cover with 1 cup of boiling water to rehydrate it.
Add the rehydrated beef to your pasta sauce and serve over hot pasta.
Note: Shredded beef jerky is salty and can add considerable salt to recipes. Omitting or reducing the salt in your recipe may be necessary. Taste-testing the recipe after adding the shredded beef will allow you to adjust its saltiness. It can also be a bit expensive, so err on the side of being able to fix it.
You can also buy pre-shredded beef jerky. Here are a few top sellers from Amazon.