Pork or beef neck bones can be cooked in many different dishes, and they are often used to flavor large pots of beans, cabbage, greens, and stews. If you've never cooked neck bones before, then you're probably nervous about ensuring that you cook them properly (same with other underused pork dishes like chitlins, fatback, rose meat, jowls, stomach, or skins).
Here is an overview of how to cook neck bones in a pressure cooker, as well as a great deal of other helpful information.
Cooking neck bones in a pressure cooker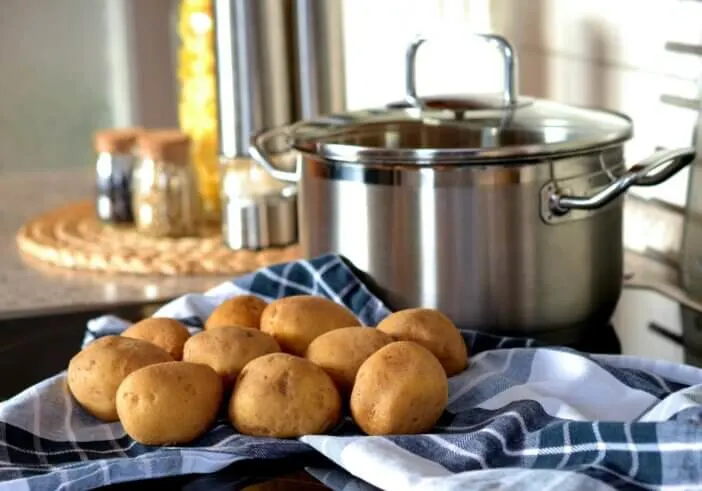 By cooking your neck bones in a pressure cooker, you will have the ability to tenderize your meat a lot more quickly than if you were to rapidly boil them on the stove, which can save significant amounts of time.
You may have never used a pressure cooker before, let alone cooked neck bones before, so you might feel a bit intimidated.
However, most pressure cookers are easy to use, and here are step-by-step instructions for cooking your pork neck bones in a pressure cooker.
Clean & season your neck bones with whatever seasonings you desire.
Cut up an onion and a bell pepper, and set aside.
Place the neck bones and the diced onions and bell peppers into the pressure cooker with an adequate amount of water.
Set the pressure cooker on the "meat' or "normal" setting and let cook for about 45 minutes.
Remove the neck bones from the pressure cooker and enjoy!
How long does it take for smoked neck bones to cook in a pressure cooker?
As stated above, it takes approximately 45 minutes for neck bones to cook in a pressure cooker, and they will be in perfect fall-apart condition.
However, if you only want to tenderize the neck bones, but you don't want them to fall apart, because you're going to be adding them to greens, beans or a stew and cooking them for an additional period of time, then you can always opt to cook them in the pressure cooker for a shorter period of time.
Cooking them for about 20 minutes should suffice in such a case.
How long do neck bones take to cook?
The time it takes to cook neck bones depends on how you opt to cook them. If you're not into pressure cooking pork neckbones, you can cook them in a large pot on the stove, in the oven, in an air fryer, or in a crock pot. Here are approximate cook times for each method.
Cooking neckbones on the stove
If you prefer cooking your neck bones in a pot on the stove, then you're not alone, as this is a popular cooking method. It will take approximately 1 1/2 to 2 hours to cook your neck bones on top of the stove.
Cooking your neck bones in an air fryer
A good air fryer is an easy way to cook your neck bone as well, and all you have to do is season your neck bones and place them in a marinade of your choice.
Allow them to marinade overnight. The next day, preheat the air fryer and cook for 1 1/2 to 2 hours, ensuring that you baste them every 1/2 hour.
Cooking your neck bones in a crock pot
Many people enjoy cooking their neck bones in a crock pot, because they can start the slow cooker before leaving for work and by the time they get home from work, the meal should be ready to eat.
Cooking the neck bones on low for 8-10 hours should leave you with the tenderest, most delicious meat ever. You will also have excellent pork bone broth. You can also opt to cook them for 5-6 hours on a high setting.
Cooking your neck bones in the oven
Cooking your neck bones in the oven is very similar to cooking them in an air fryer, but you'll need more time. All you have to do is season the neck bones, place them in a pan, add a shallow amount of water and cover with foil.
You should then place them in the oven for about 2 hours 45 minutes, making sure to baste them every 1/2 hour. Remove the foil after 2 hours.
How do you cook neck bones?
There are many ways to cook neck bones, and it all depends what taste you're trying to achieve, as well as what you plan to cook them with.
For instance, if you want to cook some pinto beans with your neck bones, then you should simply add the neckbones and pinto beans to a slow cooker and allow them to cook slowly all day.
Again, when using a crock pot, you can cook the neck bones (and pinto beans) on high for 5-6 hours or on low, for 8-10 hours.
Alternately, you can choose any of the other methods of cooking your neck bones, whether you want to cook them in a pressure cooker, the air fryer or the regular oven.
Obviously, there is no one way to cook neck bones, and as long as you choose the method that you feel most comfortable with, your neck bones should turn out great.
How do you cook store-bought smoked neck bones?
Store-bought smoked neck bones can add an immense amount of flavor to any dish that you wish to prepare. By cooking your soups, beans, greens and other foods with smoked neck bones, it won't be necessary to add as much seasoning, because the smoked flavor from the neck bones will season whatever you decide to cook with the meat.
You should cook smoked neck bones in the same manner that you cook neck bones that haven't been smoked.
Are neck bones healthy?
With more and more people discovering the many benefits of switching to a healthier diet, healthy diets are becoming increasingly common.
So, if you're trying to incorporate healthier foods into your diet and you're interested in cooking neck bones, then you should be aware that they're somewhere between healthy and unhealthy.
Neck bones are very high in protein, contain no carbs, but they are also very high in saturated fat. The fat from neck bones is what gives this meat its delicious flavor that is used to make stews, soups and broths.
As long as you consume neck bones on an infrequent basis, then it shouldn't negatively affect your health.
However, if you consume them regularly, then you might notice an increase in your cholesterol levels, depending on the other foods that you eat on a daily basis.
Do neck bones contain many small bones?
Neck bones may contain many bones, and some of them may be small. Whether you're using neck bones to make a soup, stew or something different, it's a good idea to cook the neck bones separately and then remove the meat from the bones before adding in your beans or whatever other vegetables, legumes or grains you desire to add.
If you fail to remove the bones beforehand, you could end up with small bones in your mouth, which you could possibly chomp down on, so be careful.
If possible, you can also remove the meat from the bones before cooking them. However, many cooks rave about how the bones actually provide a great deal of flavor to certain dishes, so if you aren't worried about sacrificing flavor, then removing the meat and cooking the meat alone might be best for you. Be sure to also read about cooking beef bone marrow!