What Is Polish Ham? How To Buy, Cook & Serve It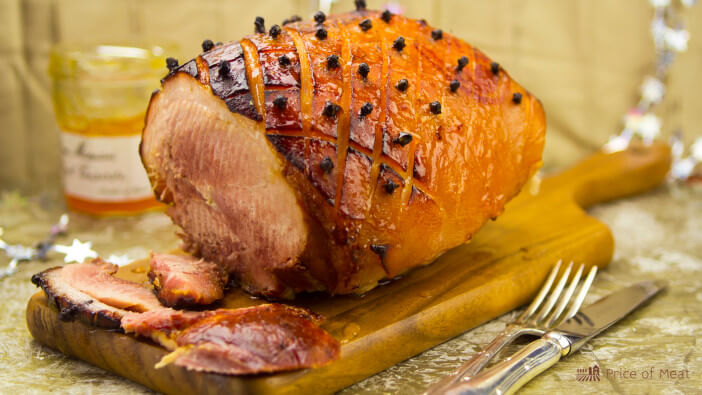 For many families in Poland and the United States, Polish ham is a staple food on the dinner table during the holidays.
While it can be served on its own, there are a number of great recipes that incorporate this delicious meat. If you've recently been gifted one, or if you just want to try this food, try some of these suggestions.
Polish ham was one of the first types of canned ham. In the United States, most people are more familiar with its salty spiced ham cousin, Spam. And it is very different than Kielbasa, a Polish sausage.
It's important to realize, however, that these two products are not the same. Polish ham is a much higher quality product, with many people choosing to serve it as the main dish at Christmas or Easter dinner.
Quick Sidenote – check out our shop for a curated selection of the best meats, cuts, sausages, and more. Open our shop in a new tab and explore!
When shopping for a Polish ham, try to find a brand that is imported directly from Poland (like Krakus!). If that isn't available, look for hams that have been processed in the United States.
Polish hams that have been processed or cured in China tend to be much lower quality, and many people have compared the texture to watery Spam.
A good Polish ham will have a soft but firm texture; it should not be chewy, tough, or watery. Expect to pay around $8 a pound, but watch out for a good sale and stock up.
Disclosure: As an Amazon Associate, this site earns from qualifying purchases. Thank you!
What is Polish Ham Made From?
Polish ham is made from cuts of meat from the leg of a pig. Most people report that it is most similar in taste to American ham, but slightly saltier.
Polish ham will not taste as salty as Spam (or though a bit more expensive), and it will have none of the sweet flavor of a honey-roasted or Virginia ham. Polish hams are made from premium cuts of meat that are cured before being canned.
How to Cook Polish Ham
Before we begin, be aware that you don't actually have to cook a Polish ham. Because the meat is canned after it has been cooked, smoked, and seasoned, there is no health or sanitation reason why you have to cook it.
In fact, many people slice it and use it cold on sandwiches and deli meat platters (or charcuterie boards with sauces!). In fact, several stores will sell Polish ham from their deli counters and will slice it to order.
Be aware that there are purists who will insist that buying Polish ham this way detracts from the flavor; there are a number of people who firmly believe that they have to take the ham out of the can themselves in order for it to taste the best.
Unless you're a real ham aficionado, however, you probably won't notice a difference.
If you want to eat your ham, however, there are several different ways to cook it; which one you choose will be up to your personal taste.
Microwaving Ham
The quickest way is to use your microwave. While this will get the ham warm in about two minutes (we recommend warming up about a pound at a time for two minutes), it's probably the worst way to heat the ham if you don't want to compromise the taste.
Because Polish ham has such a low fat and water content, it's very easy to dry out the ham when it is microwaved. Try to avoid this method unless you're desperate.
Because it can look very similar to Spam, many people try to pan fry Polish ham. While this will get the ham hot, it's not an ideal cooking method.
Polish ham is typically only 2% fat; simply placing slices in a pan will dry out the ham rather than fry it.
The result is usually a ham slice that is hard to chew rather than crispy. If you really want to try this method, be sure to add an oil to the pan. Be aware, however, that the quality of oil you use will likely effect the taste of the ham.
Roasting Ham
Roasting the ham in the oven is a much better method to heat it. While time consuming, roasting the ham will preserve the flavor of the meat and produce a ham that retains the texture of the ham when it comes straight from the can.
As a side note, do not attempt to heat up the ham while it is still in the can. There is rarely enough water in the can to make the ham moist, leaving you with a chewy, dried out result.
Favorite Recipes With Polish Ham
This method is one of our favorite ways to prepare Polish ham. Don't be afraid to experiment with this formula; we've included some substitution suggestions where appropriate. This recipe will produce a glazed ham that will look lovely on a dinner table and taste great too.
Start by placing a ten to fifteen pound Polish ham in a shallow roasting pan and add a cup of either broth, white wine, juice, or water for every five pounds of ham that you're cooking.
Place the ham in a 325 degree oven for ten to fifteen minutes per pound. Check the ham every thirty minutes, baste and add more liquid as needed.
While the ham is cooking, make a glaze. Combine 1 ½ cups of firmly packed dark brown sugar, 2 tablespoons of Dijon mustard, 2 teaspoons of ground cloves, and ¼ cup of white or rosé wine. You may also want to try orange juice or cider in place of the wine.
Once the ham has heated to 140 degrees, remove the ham from the liquid and pour the glaze mixture over the ham. Use pineapple rings and raspberries or cherries to decorate the outside of the ham, attaching them with toothpicks.
Return the ham to the oven for about thirty minutes, then remove and let rest for five minutes before serving.
Don't be afraid to experiment with different types of glazes. Brown sugar and pineapple is certainly one of the most common and popular ways to serve ham, making this a good recipe to start with if you've never served Polish ham before.
Just be sure to cook the ham with more liquid than you would use with an American style ham; Polish hams have less moisture and can dry out much faster if they don't have extra liquid.
FAQs about Polish Ham
What is a Polish ham?
A Polish ham is a cured, cooked, and pressed deli meat that is commonly shaped into a rectangular form. It is known for its juicy and consistent texture, making it a popular choice for sandwiches or as attractive slices on platters.
What is Polish ham made of?
Polish ham is made from the finest hand carved pork, which is slowly cured and cooked using a family recipe passed down through generations. It is 95% fat and packed with flavor.
What is Polish deli ham?
Polish deli ham is a type of ham that is naturally cured based on traditional recipes that have been handed down for generations. It is crafted using the highest quality ingredients and is directly imported from Poland. Krakus is the genuine imported Polish ham, known for its authentic taste and delightful flavor. It is conveniently sliced and packaged in 1 lb portions.
What does Polish ham taste like?
Polish ham has a taste that is not overly salty compared to other hams. Its texture is both firm and tender, never tough or watery. The flavor is distinct but not overpowering. It offers a pleasant porky taste, although not exceptionally strong.
How do you eat Polish ham?
You can eat Polish ham by topping butter soft-but-crusty bread with thinly sliced Polish boiled ham and crisp slices of cucumber. Afterwards, you can serve these dainty sandwiches with black tea (hot or iced) sweetened with cherry syrup (see related recipe).
Is Polish ham good for you?
Polish ham is good for you as it is a rich source of vitamins and minerals, providing 40.4% of the recommended daily intake per calorie. It contains essential nutrients such as Vitamin C, Selenium, Potassium, Zinc, Vitamin B12, and Phosphorus. While it does contain a moderate amount of risky components like saturated fat, cholesterol, and sodium (0.03% per ounce), it can still be enjoyed in moderation. Additionally, Polish ham is a good source of proteins, contributing to 35% of the recommended daily value per 100 grams.
Is Polish ham smoked?
Polish ham is cooked and undergoes natural hardwood smoking.
Is Krakus ham good?
Krakus ham is indeed good because it is America's top imported deli ham. Its thin-sliced nature allows for customizable sandwich portions, while its extra lean and 98% fat-free composition ensures guilt-free enjoyment.
What is the highest quality ham?
The highest quality ham is Dry-cured Ham, such as Dalmatinski pršut from Dalmatia, Presunto do Alentejo from Beja District, Prosciutto Toscano from Tuscany, Jabugo, Prosciutto di San Daniele, Jamón Serrano, Prosciutto di Parma, and Jamón Ibérico.
Is krakus ham real ham?
Krakus ham is indeed real ham, made with the finest select ingredients and directly imported from Poland. It is the genuine imported Polish ham, known for its authentic taste and delightful flavor.
Is Krakus ham considered processed meat?
Krakus ham is considered processed meat due to its low nutritional value, high level of processing, and estimated moderate carbon and water footprints.
Is Krakus ham still made in Poland?
Krakus ham is still produced in Poland, utilizing premium ingredients to create a pre-sliced deli meat that is convenient and ready to eat. This ham lunch meat is crafted from carefully chosen components, ensuring a leaner option with 98% less fat, while still delivering the expected flavors of traditional Polish ham.
Who makes Krakus Polish ham?
Krakus Polish ham is made by Smithfield Foods, which is the brand responsible for its production.
Is Krakus ham precooked?
Krakus ham is fully cooked.
What does Krakus Polish ham taste like?
Krakus Polish ham has a taste that can be described as porky but not overpowering, with a subtle saltiness. The ham is rectangular in shape with softly rounded corners, and it has a rosy light pink color with integrated white streaks.
What is Krakus ham made of?
Krakus ham is made of ingredients such as water, salt, glucose, sodium phosphates, sodium ascorbate, and sodium nitrite, which are used for curing.