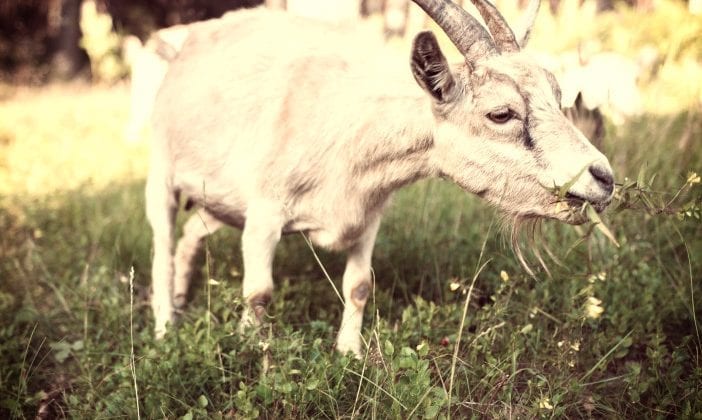 Worldwide, goat meat carries a mixed reputation: Considered a delicacy in some cuisines, it's often considered an exotic meat in American cooking. But with a long history of inclusion as a staple in South Asian and Mexican gastronomy, we're of the opinion that goat meat deserves a prominent place in kitchens here in the United States, as well!
What's more, goat meat could be an effective solution to the environmental dangers posed by widespread beef cultivation, since goats are much easier to raise than cattle and even provide a healthier form of red meat. If the average American citizen can get on board with the virtues of this under-rated meat, we would be well on our way to taking better care of the planet without giving up too many of our culinary luxuries.
To give better context to this wonderfully flavorful meat, we've put together a guide to explain its use in various food cultures — including information on what to expect from your first taste of goat meat, two recipes that show off goat meat's unique character, and our recommendations for where to buy goat meat both online and in person.
What Does Goat Meat Taste Like?
It's interesting to note that goats were one of the first animals to be domesticated by humans, more than 10,000 years ago. Because our societies have grown in tandem with goat cultivation, they're one of the easiest animals to raise — making it well worth the exploration into how to cook and eat goat meat.
Part of the reason for goat meat's dubious standing in the United States is due to the conditions under which it used to be prepared. Often harvested from older goats that were no longer of use on American farms, goat meat quickly developed a reputation as being exceptionally tough and gamey; but the reality of commercial goat meat production couldn't be further from the truth.
Now, most goat meat comes from animals under 1 year of age — making it much more tender, with a milder flavor. Similar to lamb or beef, young goat meat is a culinary delight that is also surprisingly healthy, making it a versatile protein worthy of inclusion in almost any diet.
Television personality and globe-trotting gastronome Andrew Zimmern has this to say about the flavor of goat meat:
Most people believe goat is a tough, barnyard meat that is somehow less desirable than pork, beef or lamb. I just don't get it… I've had superb goat curries in the Caribbean, roast baby goats with chile vinegar and onions in Venezuela, spicy wok-tossed goat and lemongrass in Vietnam, elegant Michelin-starred plated goat rib and loin plates in Europe, goat head soup in Argentina, raw goat in Ethiopia, goat with lemons and chiles in Cyprus and goat cooked with yogurt and flatbread in the Levant…"
Which only goes to show that goat meat is highly regarded in the food traditions of many cultures for good reason: Properly prepared, it offers a near-perfect combination of hearty flavor and healthy nutritional content.
How to Cook Goat Meat
Goat meat is a healthy alternative to other red meats for one simple reason: It is quite low in fat.
Because of this, dishes cooked with goat meat require a lighter hand while cooking so as not to dry out. By avoiding high heat and dry heat methods and employing frequent use of marinades, mallets, and wet preparations, you can retain both the flavor and health benefits of goat meat without making it tough and unpalatable.
With that in mind, let's take a look at two recipes that make the best of goat's unique flavor and texture: One from Mexico, and one from India.
Indian Goat Curry
Depending on which part of India a curry is from, you can find wildly different flavors and ingredients employed in its construction. This simplified Punjabi-style curry gives a rich and flavorful kick to goat meat without adding too much heat or spice.
Ingredients
2 pounds goat meat, cut into 1-inch cubes
2 large yellow onions, thinly sliced
1 6-oz can tomato paste
2 cloves garlic, minced
2 inch piece ginger, minced
2 teaspoons garam masala
1/4 cup ghee or vegetable oil
Salt, to taste
Directions
Heat ghee (clarified butter) or vegetable oil over medium-high heat in a heavy-bottomed skillet.
Add sliced onions, and sweat down for 8-10 minutes (until translucent).
Remove onions from heat; set aside to cool briefly.
In a food processor, grind the onions as well as ginger and garlic to a fine paste; return to pan set on medium heat.
Add tomato paste and garam masala to ginger, garlic, and onion paste, and stir to combine. After 10 to 15 minutes on the stove, the oil will begin to separate out of this puree.
Add the goat meat chunks, completely covering each piece with the curry paste made in the previous steps. Cook goat for 8-10 minutes, until tender.
Add 1/2 cup of water to the pan, and stir to evenly distribute the curry. Let simmer for 15 minutes, then serve with rice or flatbreads.
Easy Slow Cooker Mexican Goat Stew (Birria)
Birria is a traditional dish from the Mexican state of Jalisco, where it is often served on special occasions. While the original recipe is much more involved, this easy version can be made in your slow cooker with only a small investment of your time.
Ingredients
2 pounds goat meat, cut into 1-inch cubes
2 cups vegetable or beef broth
1/4 cup vegetable oil
1 large yellow onion, diced
6 cloves garlic, minced
1 14-ounce can fire roasted tomatoes
1/4 cup apple cider vinegar
1 tablespoon chili powder
1 tablespoon dried oregano
1/2 teaspoon powdered allspice
1/2 teaspoon powdered cumin
Directions
In a slow cooker, add vegetable oil, onion, and garlic over high heat; let cook for 1 hour, or until translucent.
Add all other ingredients, and return to cook on high for 6 hours. Serve as a stew with bread, or on tacos garnished with queso fresco, cilantro, and lime.
Where to Buy Goat Meat
If you're curious to taste goat meat for yourself, you're in luck: Since it's not classified as an exotic animal, there are many purveyors of fine goat meat both online and in person.
For the widest variety of cuts at completely reasonable prices, ElkUSA is an excellent resource. Their cleaned and trimmed stew meat packages are ideal for either of the recipes listed above.
It's worth noting, however, that many Asian and Mexican markets in cities across the United States will carry goat meat. Inquire at the butcher counter of your nearest ethnic market, and you'll be well on your way towards developing a relationship with your local butcher — an effort that will be worth its weight in gold the next time you're looking for a specialty cut.